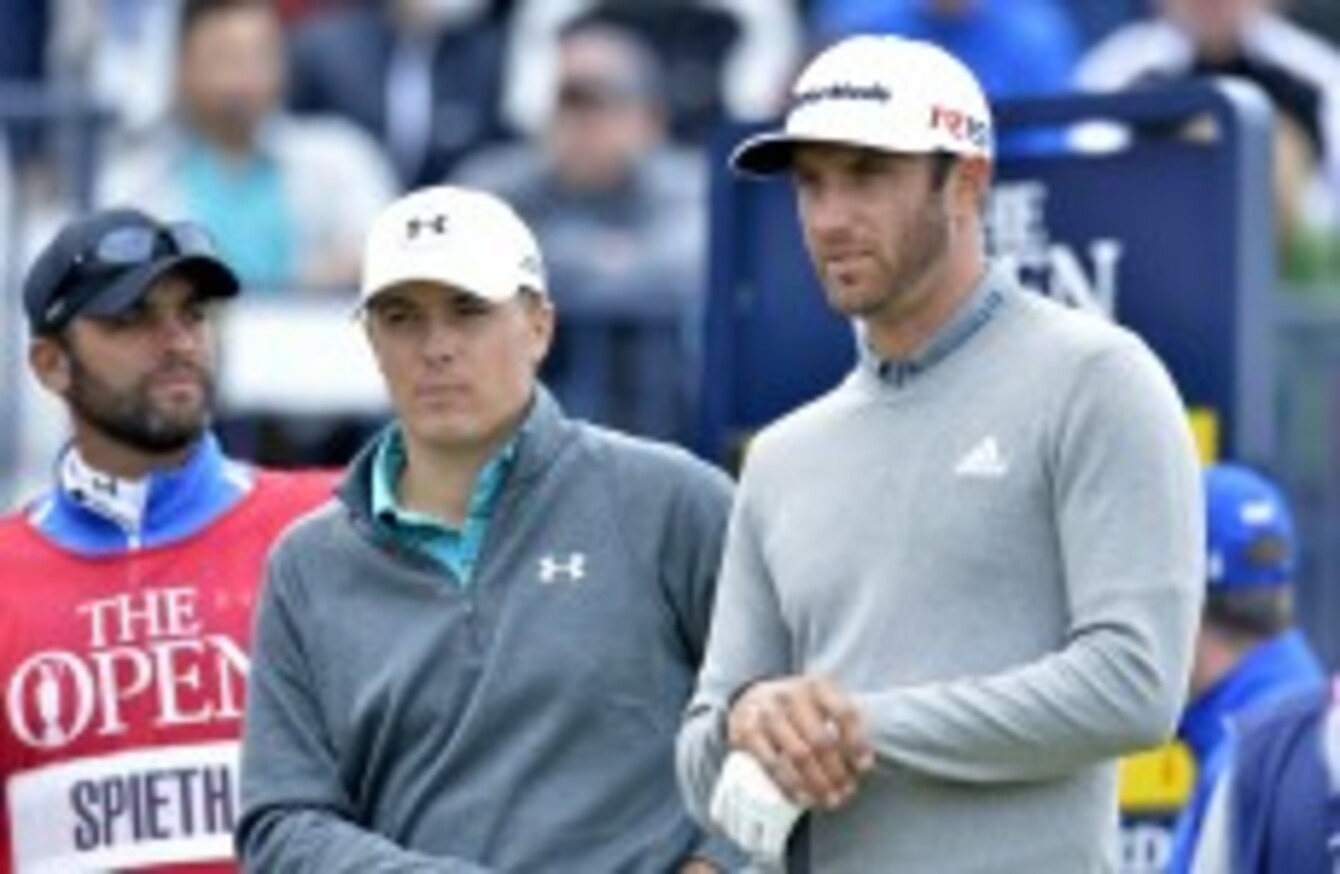 Spieth and Johnson played with each other on Thursday.
Image: Owen Humphreys
Spieth and Johnson played with each other on Thursday.
Image: Owen Humphreys
Updated at 22.30pm
JORDAN SPIETH GOT his Open campaign off to a promising start at St Andrews on Thursday, but in the end he had to bow to playing partner Dustin Johnson who leads after the first round.
Tiger Woods meanwhile had another day of major misery and already he is facing a battle to avoid a third missed cut in the last four majors.
Spieth got the better of Johnson on the 18th hole last month when he added the US Open to his breakthrough win in April at the Masters.
But no hard feelings were evident between the American pair as they happily bantered away together and bagged birdies on a morning of low scoring on an under-sieged Old Course .
Both reached the turn at five under 31 after which it was Johnson who excelled going down the more difficult back nine.
He moved out to seven under 65, while Spieth's normally reliable putter suddenly sputtered, coughing up bogeys at 13 and 17, the notorious Road Hole.
The 21-year-old Texan, however, sunk a snaking 20-footer for birdie at the last and a round of 67.
Both Americans clearly stated their case that they are among the main men to beat at the fabled Old Course this week.
In the absence of the injured Rory McIlroy, Spieth is the focal point of the tournament as he can add the British open crown to the Masters and US Open titles he already owns, thus becoming just the second player, after Ben Hogan in 1953, to do so.
Johnson just wants to win a major after near misses in all four Grand Slam tournaments in recent years.
His mid-morning draw, he agreed, had been beneficial.
"Everybody knows the weather Friday and Saturday is going to be very difficult, so today I thought was very important to get off to a good start and try to make as many birdies as you can today because the next couple days it's going to be very difficult," he said.
Spieth said that he had been impressed by "somebody who's splitting bunkers at about 380 yards and just two-putting for birdie on five or six of the holes when there's only two par-5s.
"I don't have that in the bag, so I've got to make up for it with ball-striking.
"I've played enough golf with him to where I believe in my skill set that I can still trump that crazy ability that he has."
Johnson's seven-under 65 gave him the first round lead, one clear of a group of six led by Scotland's 1999 champion Paul Lawrie, who warmed the hearts of the home fans, most of whom were wisely well wrapped up to counter the elements.
Lawrie was joined on that mark by Australian shotmaker Jason Day, South African veteran Retief Goosen, Danny Willett of England and Americans Robert Streb and Zach Johnson.
Johnson, the 2007 Masters champion, looked set to join his American namesake atop the rankings, but he took a bogey at 17.
Still, he now feels that at 39 he has the right mindset to challenge for titles on links courses.
"I've embraced the fact that you don't have to be perfect. You've just got to try to hit that ball solid. Solid shots usually pan out," he said.
"They may not be phenomenal, but I hit solid shots. I don't know, I'm just getting more and more experienced. I don't want to be cliché here, but that's the truth."
Woods easily bettered Spieth and Johnson in the gallery stakes, but his play, sadly for him, was far from being up to scratch and some of the fans started drifting away
The former world number one, mired in the worst slump of his career, limped out in four over 40 at which point he was next to last in the standings.
He finally bagged a birdie at 14 to give himself some hope and came in with a 76 that leaves him with a big battle on his hands just to make the cut.
There was heartache too for Tom Watson, the 65-year-old, five-time former champion playing in the Open for the 38th and final time.
He went out in a handsome 35, but three double bogeys down the back nine saw him resigned to a 76 that makes his goal of making the cut nigh on impossible.
Others in with good scores were the 2010 champion at St Andrews, Louis Oosthuizen, and fellow South African and former Masters winner Charl Schwartzel, who both had 67s.
With conditions far more testing in the afternoon, the late starters found it tough going.
Champion in 2013 Phil Mickelson had a 70, England's top hope Justin Rose a 71 and last week's Scottish Open winner Rickie Fowler a 72.
Ireland's Paul Dunne took advantage of his early tee-time with a sensational round of 69 to lie in a tie for 21st. It is the amateur's second Open having only qualified two weeks ago.
Graeme McDowell finished level par and Shane Lowry carded an opening round 73.