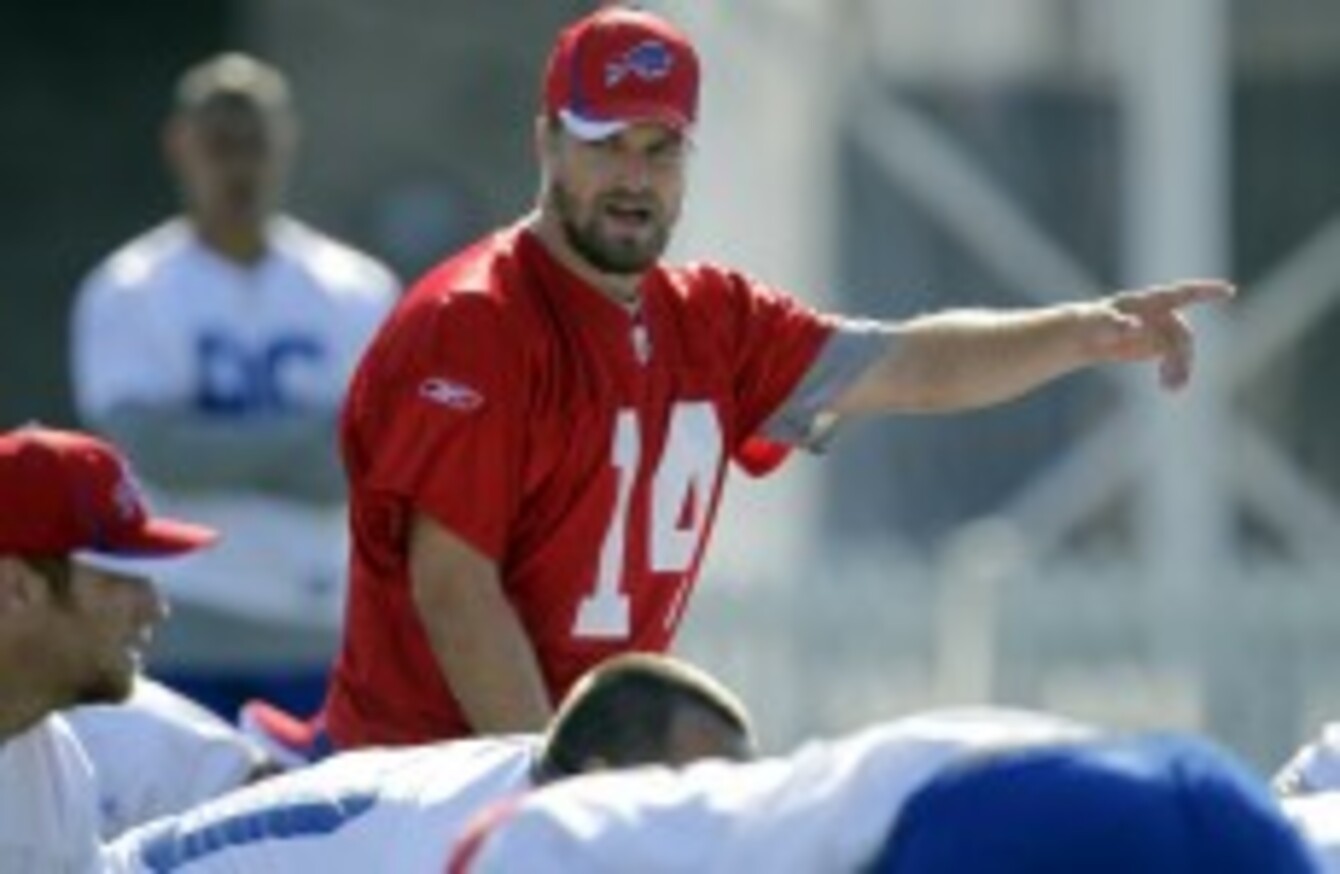 Buffalo Bills quarterback Ryan Fitzpatrick signals during a training session.
Image: (AP Photo/David Duprey)
Buffalo Bills quarterback Ryan Fitzpatrick signals during a training session.
Image: (AP Photo/David Duprey)
BUFFALO HAVE HAD some fantastic results this season but they face the Eagles in week five on the back of their first defeat.  Steven O'Rourke walks us through a season defining game for both teams.

Philadelphia Eagles (1-3) @ Buffalo Bills (3-1)
If you'd told me, entering week five of the regular season, that Bills QB Ryan Fitzpatrick would have more touchdowns (9) than Michael Vick (5), I wouldn't have believed you.
However, the Bills have had a great start to the season and they are currently sitting atop the AFC East. Most of their success is down to Fitzpatrick who averaged over 280 yards and three touchdowns a game in their 3-0 start.
Last week though, the wheels came off for Fitzpatrick and the Bills stuttered as a result, ultimately losing to a Cincinnati Bengals field goal as time expired.
The Eagles also suffered a second half collapse last week, blowing a 20-point, third-quarter lead to the San Francisco 49ers. The result came as no surprise to Eagles fans who have seen their team outscored 36-0 in the fourth quarter of their last three games.
Philadelphia's problem remains their offensive line who, along with that of the New York Jets and Dallas Cowboys, appear to be really suffering for the NFL's new rules which allow for only one padded practise per week.
Why would that matter I hear you ask? Well, in practise, an O-Line will almost exclusively work on technique. If they're practising in shorts and t-shirts all week and then have to put on equipment on a Sunday, it will make a difference.
However, the Bills have the fewest sacks in the NFL and if you don't put pressure on Michael Vick, you won't beat the Eagles, regardless of how bad their O-Line is.
Verdict: If they want to make the playoffs, the Eagles can't lose this game. If they can shut down Fitzpatrick the way the Bengals did, they should win this one. Eagles by 10+.
Green Bay Packers (4-0) @ Atlanta Falcons (2-2)
You'd think, being in the Georgia Dome, that this rematch of last year's NFC divisional playoff game would be an opportunity for the Falcons to avenge that crushing defeat.
It won't be.
Instead, this will be a damage limitation exercise for the Falcons. Only the Buffalo Bills have fewer sacks than Atlanta and there's a chance that Rodgers could have another six touchdown game if something doesn't change.
While the Falcons do have a vast array of weapons on offence, including Julio Jones who has superstar written all over him already, they won't win this game if it turns into a shootout.
Verdict: There's no way the Falcons defence can put the required pressure on Rodgers. Packers by 14+.
What are they
really like?
Rare insights on sport's biggest names from the writers who know them best. Listen to Behind the Lines podcast.
Become a Member
Kansas City Chiefs (1-3) @ Indianapolis Colts (0-4)
What's going on here? Why aren't you previewing the Jets at Patriots? Well, the first reason is that New England will comfortably win that game as the Jets don't have an O-Line that can protect the quarterback.
The second reason is that these are two of the teams involved in the 'race' to be the worst team in the NFL. Along with Miami, Minnesota and the St. Louis Rams, the Chiefs and Colts are being encouraged by some sections of the media and their fans to 'suck for Luck'.
They're not going to make the playoffs and they're not even capable of posting winning records. However, if they're really terrible, if they finish 1-15 or 2-14, they could 'win' the opportunity to draft Stanford quarterback Andrew Luck as the first overall pick next year.
Now, I'm not saying that teams are losing on purpose, but they might not be trying quite as hard as they would be if they were even 2-2 at this stage. Personally, I think it's a terrible strategy, regardless of how good Luck undoubtedly is. It short changes both fans and players and ensures at least two seasons of mediocrity.
B The Colts haven't started a season 0-5 since 1997 when they finished last in the NFL and 'won' the opportunity to draft Peyton Manning. Just saying. Chiefs by 6+.
All fixtures and predictions
Philadelphia Eagles @ Buffalo Bills – Eagles
New Orleans Saints @ Carolina Panthers – Saints
Oakland Raiders @ Houston Texans – Texans
Kansas City Chiefs @ Indianapolis Colts – Chiefs
Cincinnati Bengals @ Jacksonville Jaguars – Jaguars
Arizona Cardinals @ Minnesota Vikings – Cardinals
Seattle Seahawks @ New York Giants – Giants
Tennessee Titans @ Pittsburgh Steelers – Titans
Tampa Bay Buccaneers @ San Francisco 49ers – Buccaneers
San Diego Chargers @ Denver Broncos – Chargers
New York Jets @ New England Patriots – Patriots
Green Bay Packers @ Atlanta Falcons – Packers
Chicago Bears @ Detroit Lions – Lions
Steven O'Rourke is the Offensive Co-ordinator of Tullamore Phoenix American Football Club, winners of the IAFL DV8s national title in 2010 and 2011. Tullamore are always recruiting new players so, if you'd like to play football and not just read about it, Steven would love to hear from you.