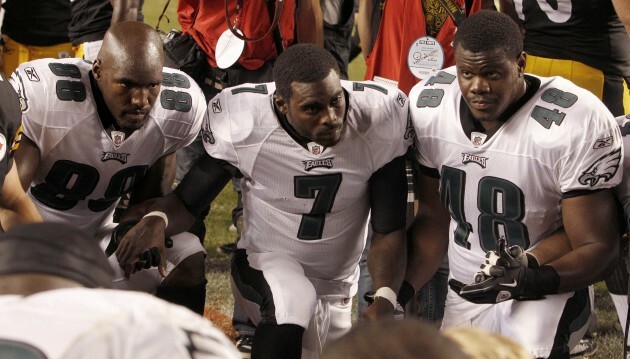 Philadelphia Eagles (1-0) @ Atlanta Falcons (0-1)
WHEN ATLANTA SHOCKED everyone by moving up 21 places to take Julio Jones in the 2011 NFL draft, many believed the Falcons had identified the key ingredient missing from their previous Super Bowl bids.
However, you don't get to the big show, let alone win the thing, with draft prospects and the fact that fifteen year veteran Tony Gonzalez had more receiving yards than Jones speaks volumes.
Five receptions for 71 yards and no touchdowns is not what you expect from a first round receiver that you've essentially bet the franchise on, especially against a Chicago Bears team that most observers had written off.
While the Falcons are a different team in the Georgia Dome, they come up against an Eagles franchise for whom anything less than a Super Bowl win will represent a disappointing season.
Sure, there remains a whole host of questions regarding the Philadelphia offensive line – questions like "do they actually exist or are they a figment of Andy Reid's imagination?" – but with Vick in the team the Eagles essentially have 12 players between the tramlines and that is very hard to defend against.
On top of that, you're likely to see as many Falcons fans with old Vick jerseys this weekend as you are wearing Matt Ryan ones. That's as damning an indictment on the Atlanta fanbase as it is on their Super Bowl ambitions.
Verdict: Expect the Eagles to move to 2-0.
Chicago Bears (1-0) @ New Orleans Saints (0-1)
Never has an NFL player looked more bored with his lot than Jay Cutler. Mind you, I'd find it hard to get excited if I knew a good day at the office was taking four sacks and throwing an interception.
Despite that, the Bears still had more than enough to beat the Falcons last week. This week however, they face a New Orleans Saints team still stinging from their opening game defeat to the Green Bay Packers.
To win though, the Saints defence will have to turn up before the start of the second half. Do that and their offence will make sure they don't come up one yard short this week.
Verdict: The Saints by 13+
Kansas City Chiefs (0-1) @ Detroit Lions (1-0)
If you've Matthew Stafford in your fantasy team, break out the champagne now, because the Detroit QB is going to post Tom Brady type figures this week.
They face a Chiefs team, minus the services of Eric Berry in the secondary, humiliated by the Buffalo Bills 41-7 last week. Ryan Fitzpatrick does not have the potential to be an elite NFL quarterback, Matt Stafford does.
Should Stafford stay upright, this could get really ugly.
Verdict: Given that the Lions are now on their longest winning streak since 1995, I can't see how they don't stretch that run to six straight victories
Other fixtures and winners
Oakland Raiders (1-0) @ Bufallo Bills (1-0) – Bills
Green Bay Packers (1-0) @ Carolina Panthers (0-1) – Packers
Cleveland Browns (0-1) @ Indianapolis Colts (0-1) – Browns
Tampa Bay Buccaneers (0-1) @ Minnesota Vikings (0-1) – Vikings
Exclusive Six
Nations Analysis
Get Murray Kinsella's exclusive analysis of Ireland's Six Nations campaign this spring
Become a Member
Jacksonville Jaguars (1-0) @ New York Jets (1-0) – Jets
Seattle Seahawks (0-1) @ Pittsburgh Steelers (0-1) – Steelers
Baltimore Ravens (1-0) @ Tennessee Titans (0-1) – Ravens
Arizona Cardinals (1-0) @ Washington Redskins (1-0) – Redskins
Dallas Cowboys (0-1) @ San Francisco 49ers (1-0) – Cowboys
Cincinnati Bengals (1-0) @ Denver Broncos (0-1) – Bengals
Houston Texans (1-0) @ Miami Dolphins (0-1) – Dolphins
San Diego Chargers (1-0) @ New England Patriots (1-0) – Patriots
St. Louis Rams (0-1) @ New York Giants (0-1) – Giants
Steven O'Rourke is the Offensive Co-ordinator of Tullamore Phoenix American Football Club, winners of the IAFL DV8s national title in 2010 and 2011. Tullamore are always recruiting new players so, if you'd like to play football and not just read about it, Steven would love to hear from you.