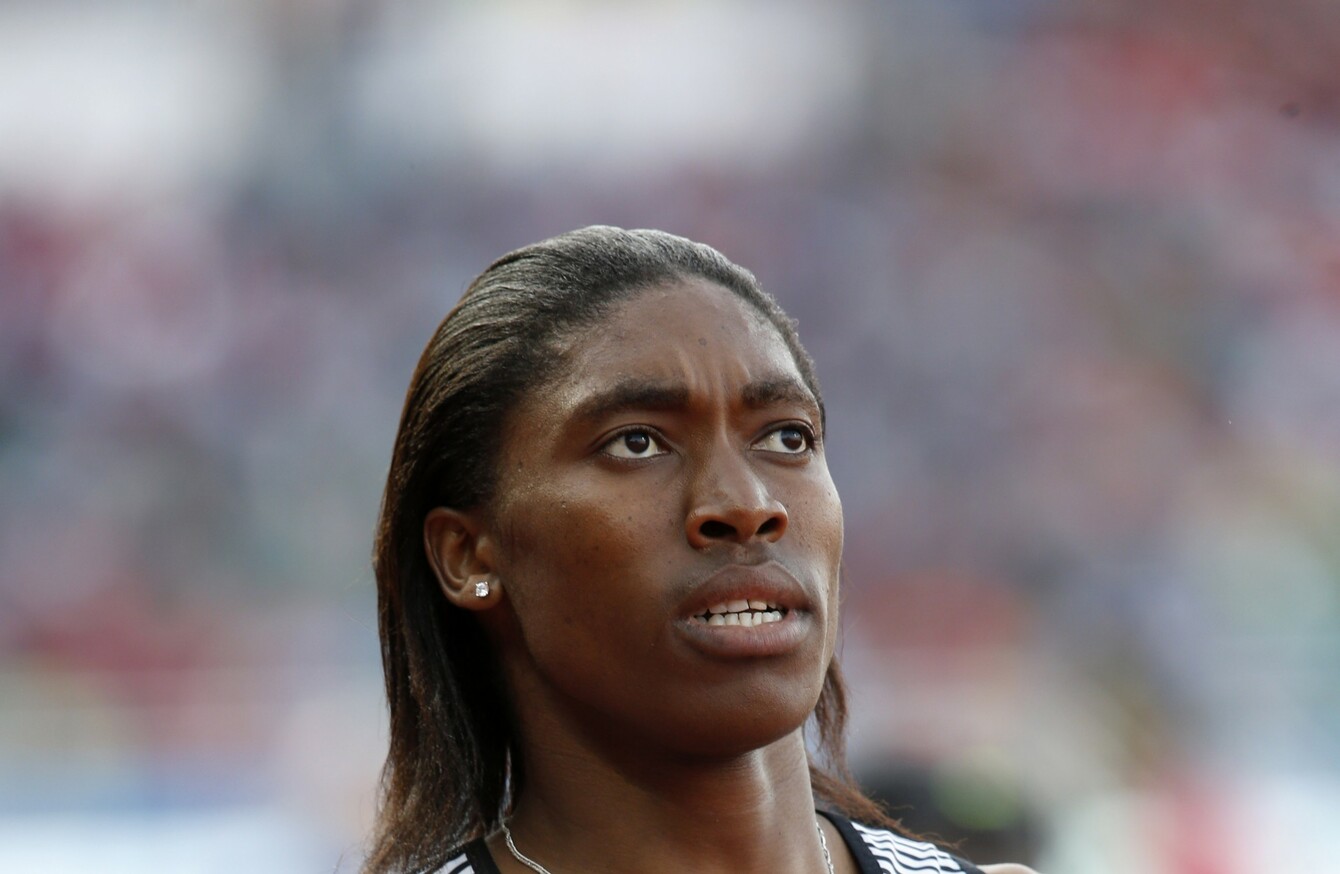 Semenya Caster from South Africa.
Image: AP/Press Association Images
Semenya Caster from South Africa.
Image: AP/Press Association Images
1. Kurt Angle glanced for a brief moment at the picture staring back at him.
It was him, 15 years younger, hand on heart standing in front of the Stars and Stripes. Only a winged eagle perched on his shoulders would have made him look more patriotic.
The man in front of him had a lot more hair, was dressed in a stylish Team USA Olympic tracksuit and looked full of vigour.
Angle, the 2016 version, was shaved bald, decked out in sweatpants and a sweatshirt — and he looked weary.
ESPN's Nicolas Atkin on how Kurt Angle won an Olympic gold medal 'with a broken freakin' neck'.
2. Sometimes the most magical moments happen when no one expects them to – and football is the reigning champion when it comes to these moments in sports. There's nothing like a good underdog story to inspire us and give hope to the dreamers that anything is possible. It's stories of that ilk that make us fall in love with football all over again and remember why we love this sport so much. Much like Leicester City's 15/16 triumph or Greece's victory in 2004 , and the many more David vs. Goliath-esque triumphs that continue to inspire us.
Writing for Copa 90, Diana Al Shammari recalls African football's first-ever gold.
3. James pauses at a jump hook by Kevin Love on Klay Thompson with 10:35 remaining: "Kevin was struggling, but this is a mismatch. Our 6'10″ power forward has a two guard on his back. That's the only thing I see. I'm giving him the ball. Who knows, maybe this is part of the reason he shuffles his feet 35 times against Steph in the last minute." He stops again at a three-pointer by Curry over Tristan Thompson from the top of the circle at 6:57: "Steph is probably the best shooter I've ever seen [off the dribble]," James says. "Do not let him go left or right crossover. He gets the ball so fast to his pocket in rhythm. Double T is shading him to his left. He has the right stance, good lift, but Steph was able to cross it over." He halts once more at 6:18 on a jumper by Klay Thompson over Iman Shumpert: "I could have stayed high on Klay, but I didn't. It's my fault. I'm seeing it happen, but my antenna is not as far up as it should be."
Sports Illustrated's Lee Jenkins on how LeBron James chases the ghost from Chicago and basketball immortality.
4. "It's a ticking timebomb," Daniel Mothowagae says quietly on a winter's night in Johannesburg as he anticipates the furore that is likely to explode when Caster Semenya runs in the Olympic Games. Apart from being described by many athletics specialists as an almost certain winner of the women's 800m in Rio, Semenya will suffer again as she is made to personify the complex issues surrounding sex verification in sport.
Donald McRae on the return of Caster Semenya is well worth a few minutes of your time.
5. Athletes from 196 nations are coming to a very different city than the one that was awarded the Olympic Games seven years ago, but the competition still figures to be fierce and fun, and the Cariocas wouldn't have it any other way. Below, we predict the winner for each gold, silver and bronze medal that will be awarded in 306 events in Rio, starting August 6 and ending August 21.
Sports Illustrated make their Olympic medal predictions, and it will make for pleasant reading for Katie Taylor and Michael Conlan.
The42 is on Snapchat! Tap the button below on your phone to add!