IF YOU HAVE been following any of the coverage of Ireland's rugby tour to New Zealand, there is a massive possibility that you have also seen the pictures of Billy Stickland.
Stickland is the sole photographer touring with the Irish team on their summer tour and is on his twelfth working trip to the Land of the Long White Cloud.
He began working as an advertising photographer before taking the plunge into the world of sports reportage in 1982.
TheScore.ie caught up with Strickland as he finished up a photoshoot for Ireland's final press conference in Auckland.
How did you get you get started?
I was kind of lucky. In 1982, Vincent Browne had Magill magazine and I showed him my portfolio, which wasn't up to much really, and he said he might use me.
He then asked another photographer to go up north to cover a Northern Ireland qualifying game for the World Cup. The other photographer said no as he was too scared to go up, so Vincent called me.
That was the start of my relationship with Vincent. I worked for Magill and when he moved over to the Sunday Tribune, I went with him.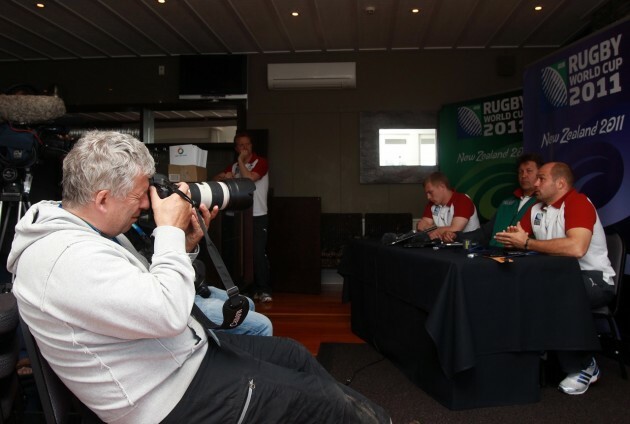 Billy Stickland at the Rugby World Cup last year.
How did Inpho get off the ground?
I started it up with a fella called James Meehan and he was with me for about 12 years before he went off – he is now the Pictures Editor of  The Mail on Sunday.
It was the two of us with maybe a secretary and someone working in the old-fashioned dark-room.
Early forays?
When I was on my own there was the 1985 Tour de France, which led on to '86 and '87, which Stephen Roche won. I also went to the World Cup in '86 with All-Sport (now Getty Images).
I just remember the Brazil game. As a kid you just wanted to photograph Brazil and not in Wembley but over there (Central America – Mexico) in their own environment. They played in Guadalajara. I remember having to pinch myself and thinking 'this is brilliant'.
And what was your first big rugby tournament?
It was the World Cup in 1987. In terms of the organisation and the spectacle it is now, it was pretty amateurish.
Donal Lenihan was the Irish captain and he would be able to tell you some stories. In the first match, when they played Wales, they didn't want to play the national anthem because there were some Ulster players, obviously, in the team.
The Irish team moments before their first Rugby World Cup match, against Wales. (©INPHO/Billy Stickland)
But the organisers said you had to play something so Noel Murphy went out the night before and picked up a copy of Danny Boy.
So Danny Boy blared out and it was weird because nobody could sing it. It was in Athletic Park in Wellington with the winds blowing and 'Oh Danny Boy'.
You covered more than rugby of course?
There was Euro '88 too. I went to Stuttgart and it was an extraordinary game. The English game was phenomenal and then you had Ronnie Whelan's goal. Everything changed there – it was such a pivotal moment in Irish soccer.
Then you had Italia '90, which was the height of everything, in my opinion. It was the height of the team doing well, the support coming over in such numbers and everything coming together. It was a huge party and we were very subjective about it. We only scored two goals, of course, yet got through to the quarter-final.
It was also a time when, photographically speaking, I was feeling really good. It all worked out so well. I was able to get into a position for that Packie Bonner penalty save.
Other good ones were Niall Quinn's goal, Paul Gascoigne crying, the Cameroon players jumping on top of each other.
So it was you that captured that iconic image of Bonner's save?
It was the first penalty shoot-out of the competition and none of the Italians on the ground, who were dressed very officially, could do anything about it.
They made no contingency plans apart from the penalties needed to be taken on one side. At the final whistle, everyone came streaming over the hoardings because they wanted to get the best shots.
Packie Bonner saves in the penalty shoot-out against Romania. (©INPHO/Billy Stickland)
But (the officials) came and pushed and pulled everyone back but two of us were lucky enough to stay there.
For some reason, myself and another photographer, Simon Bruty, were lucky to stay there and we were lucky enough to stay there and get the shot.
Is it tough to control your emotions at big sporting moments like that?
It isn't really. I know some photographers that do celebrate. I'm usually just concentrating on what is going on.
If it is a really good game but you get bad photographs then it is a shit game for you. It happens vice versa.
Sometimes you don't even know the score. It all happens really quickly. When a goal is scored, it is all pretty instantaneous – the running, the celebrating. If you start thinking 'that's brilliant' then you've missed your shot.
Exclusive Six
Nations Analysis
Get Murray Kinsella's exclusive analysis of Ireland's Six Nations campaign this spring
Become a Member
All change now?
In the old days, there wasn't the immediacy of wiring over digital pictures like you have now. Nowadays you can sent a picture and have it up in every newspaper in Ireland in five minutes.
Back then, you would have to process the film and all that stuff so you'd miss all the deadlines (if you were abroad).
So, you would have to do the match, without having processed the film in the bag, and go to the airport and, if someone was queuing up for a flight back to Dublin, you'd ask if they would take the pictures with them. Then there would be someone waiting for them at the other end, when they landed, with a plaque.
Sometimes, too, we would bring our own developer and it was like we were emigrating. The developer powder was very white, with crystals, so it would look like heroin or cocaine. So you'd often get stopped at customs.
Nowadays you have the camera hooked up to the computer and either and Ethernet cable or very fast wifi. Within 45 seconds of a photograph being taken it can go to our photodesk.
Favourite photos?
The Bonner save, when Stephen Roche won and Paul Gascoigne crying. They would all stand out.
The ones I like best are the ones where I got in a good position, where nobody else did.
Action photography is so good now but the best pictures are often the behind the scenes ones. I did a book with the Irish rugby team back in 2001 called Putting It On The Line, where I spent a year with the team – in the changing room, on the bus, it was really great stuff.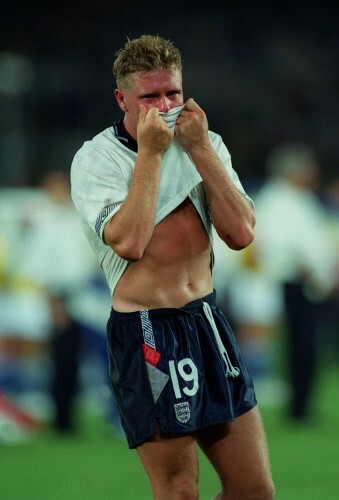 Paul Gascoigne wells up at Italia '90. (© INPHO/Billy Stickland)
Sport is, as you know, all human emotions are on show for an hour and a half then everyone goes for a cup of tea or whatever. It's extraordinary.
The facial expressions that you get in sport – unless somebody has been killed or something – is like no other. People are in absolute despair or absolute joy.
What are Ireland's chances in New Zealand this time?
I think it is going to be very difficult and that is putting it mildly. The All Blacks are great. Their speed of movement is something else.
I'd be amazed but I would be delighted if we were to get the win.
*You can follow all the latest news, comments and goings on from the Irish camp by following @patmccarry on Twitter and by regularly checking in with TheScore.ie.