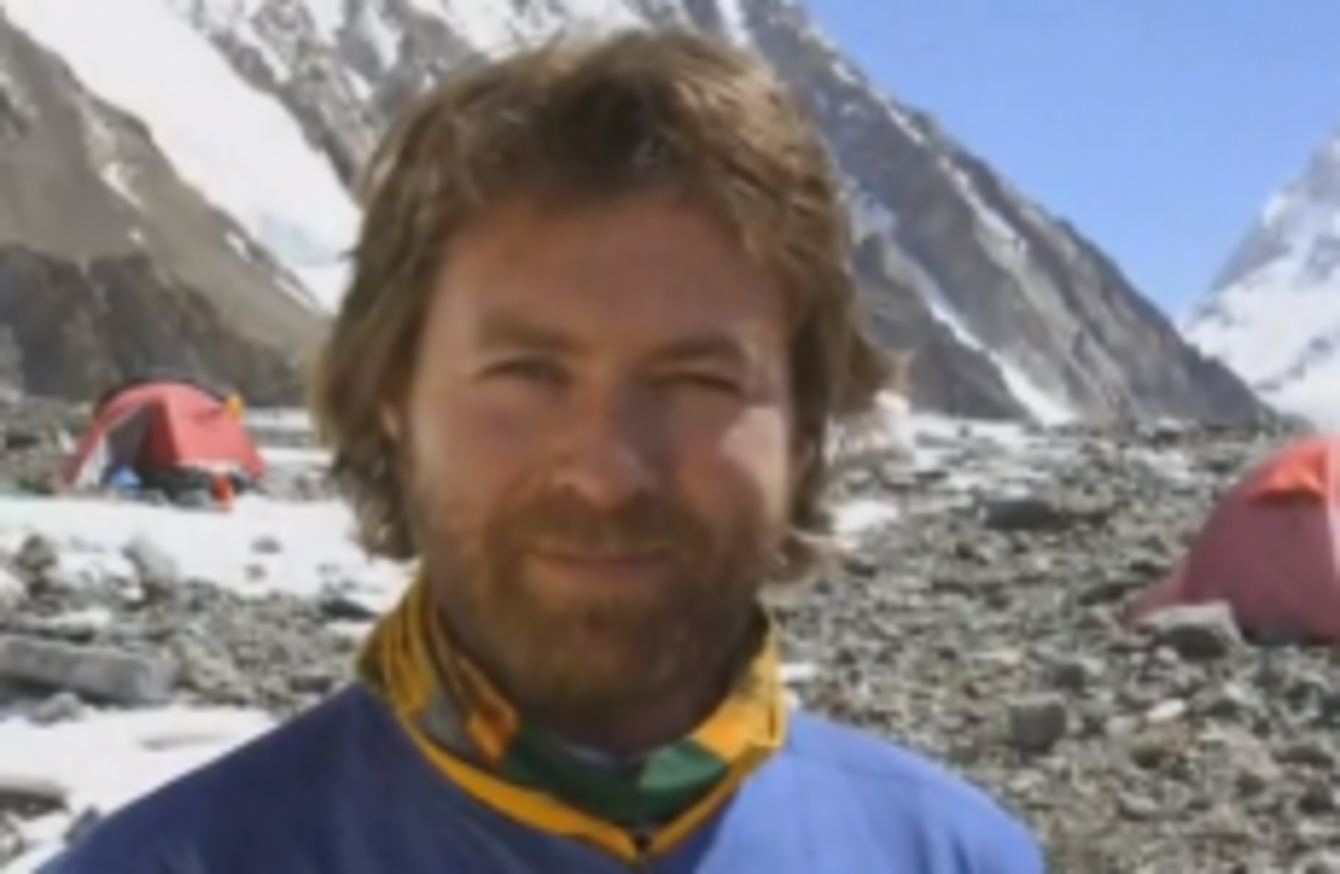 Ger McDonnell perished on K2 in 2008.
Image: YouTube screengrab
Ger McDonnell perished on K2 in 2008.
Image: YouTube screengrab
"25 CLIMBERS WENT up. 11 never returned."
So goes the gripping new trailer for the Irish-produced documentary The Summit, which follows the disastrous attempts of climbers to reach the pinnacle of K2 in 2008.
The film, which got its world premiere at the Sundance Film Festival last year, focuses on Irishman Ger McDonnell and a 48 hour period during which 11 of the climbers perished. The Kilcornan native was the first Irishman to reach the summit of the world's second highest mountain but lost his life, following an avalanche, on the descent.
The Summit will be premiered in Limerick this Friday, 13 September. Nick Ryan, director the documentary, told TheScore.ie how he felt it was an important gesture to the family of a heroic man.
"It's a breath-taking story. Horrific," he said. "When we set out to make the film, we were driven by the knowledge that we were getting a very, very important story out there. It's not just a film, it's a true story."
One in four climbers dying in their efforts to reach the summit of K2. Ryan admits, as a non-climber, that his initial reaction to tragic stories would have been 'It's their choice'. "Before going into this film," he added, "I thought 'why would someone take that high a risk?'"
McDonnell and his fellow climbers display the tricolour in a screen-shot from The Summit.
Through his interviews with surviving members of the climbing team, Irish moutaineers, an army of experts — and through studying hours and hours of first-hand video footage from team members — Ryan and his crew gained an insight into what motivates and drives climbers. 80% of the film is pure documentary, with the remainder coming from reconstructions that were shot high up in the Swiss Alps.
Ryan spoke with McDonnell's fellow climbers Pemba Gyalje, Fredrik Strang and Wilco van Pooijen, among others, and a narrative began to emerge of McDonnell fatally risking his life to save others. Video footage and photography often proved valuable resources as the interviewees often had different takes on events. Ryan said:
It became apparent that nobody, individually, knew exactly what happened. You try and tell me what you did last weekend and you might get half of the details right, if you're lucky. These people were up 26,000 feet, the oxygen levels were one third of what's considered normal. You're basically liquefying from the inside, just standing there."
McDonnell perished as he went against a climber's code of not going back to save others. With three of the team in extreme danger, the Limerick native, as is doumented in the the film, returned to assist them. It proved to be a fatal decision.
Ryan commented, "There is evidence there, photos that were taken, that prove certain facts [about the contributions of McDonnell and Gyalje]. We showed a Swedish climber the photos and he was gobsmacked."
Here is the latest trailer for The Summit:
What are they
really like?
Rare insights on sport's biggest names from the writers who know them best. Listen to Behind the Lines podcast.
Become a Member
YouTube credit: joblomovienetwork
Ryan showed the film to most of McDonnell's family before its premiere last year. He describes them as 'incredibly open' and inspirational and is hoping a couple of McDonnell's relatives will attend the screening on Friday.
"There are a myriad of reasons for why these people do what they do. Some do it professional or are sponsored. Ger climbed because he loved climbing. His family would say it is because he felt closer to his late father when he was up there. He climbed for the pure joy of it."
The gala charity screening of The Summit takes place on 13 September in Limerick as part of the Elemental Arts and Culture Festival.