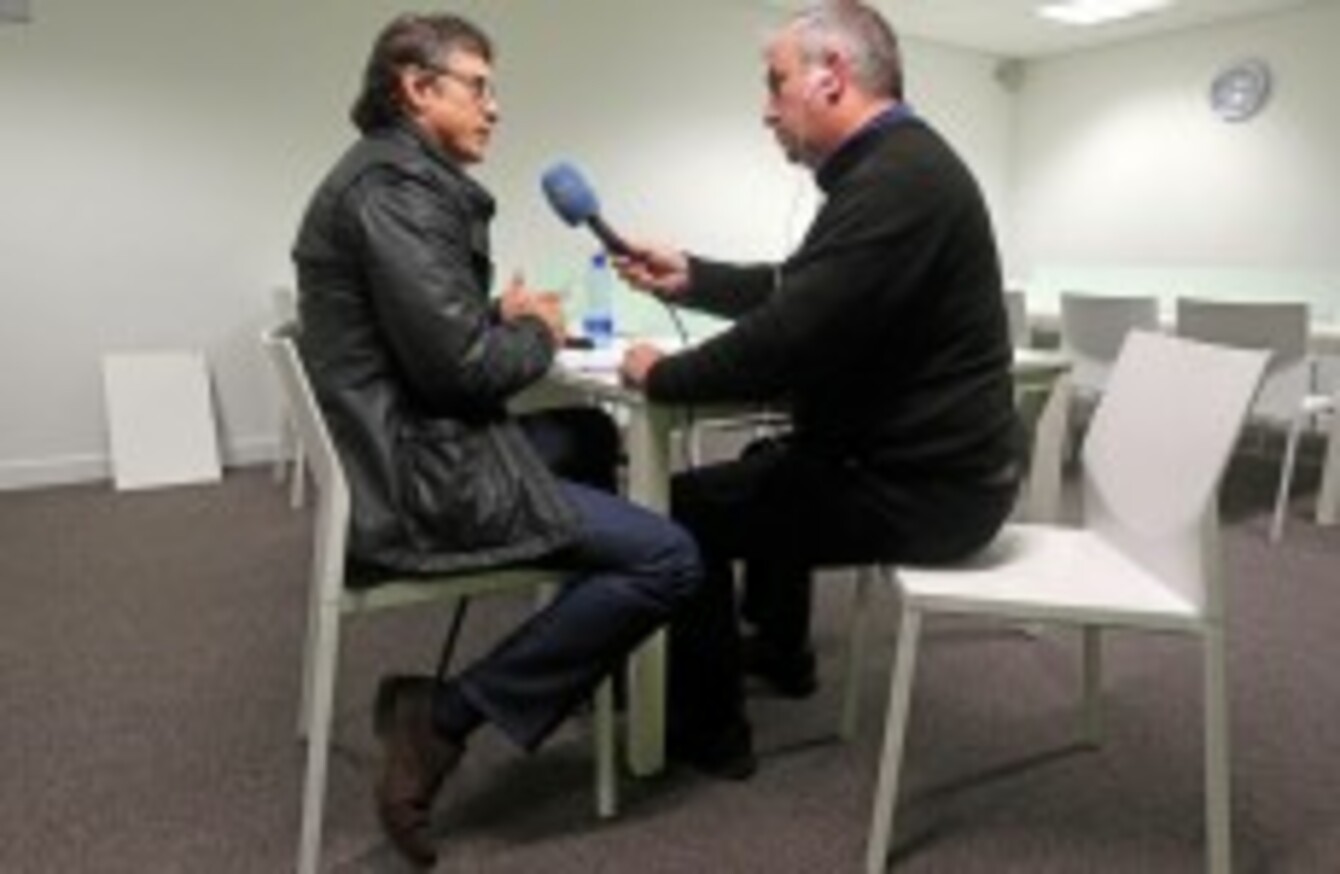 Ireland assistant coach Les Kiss speaking to RTE Radio's Michael Corcoran at the squad announcement for the 2012 Guinness Series games against South Africa, Fiji and Argentina.
Image: INPHO/Dan Sheridan
Ireland assistant coach Les Kiss speaking to RTE Radio's Michael Corcoran at the squad announcement for the 2012 Guinness Series games against South Africa, Fiji and Argentina.
Image: INPHO/Dan Sheridan
1. "I'm sorry I had to dope to be great, but this problem didn't start with me, and didn't end with me. So while I accept my lifetime ban, I call on the UCI and WADA and the USADA to agree to a one-time truth and reconciliation commission, to allow other riders to tell the truth without fear of repercussions. The sport created us; the sport needs to let us talk about it."
Bruce Arthur delivers the apology Lance Armstrong never will at the National Post.
2. There was criticism from a lot of people who questioned my credentials. It was difficult; I felt isolated. I'm quite strong mentally, but equally, I don't have extra layers of skin. I've had to grow them over the years. But I also had a lot of support. And I realised I just had to take it and not complain about it because it was such a privilege to do. There was a lot of misunderstanding too – people assumed I'd been offered a job, when really I'd been asked to commentate on one game, in the same way my colleagues had. I didn't see it as groundbreaking. I certainly didn't foresee a big sexism row over it.
Match of the Day commentator Jacqui Oatley on why a woman's voice is still hard to accept for some football fans.
3. "To understand Phil Coke, you need to understand chimney repair.
'You have to have a limited fear of heights. Of anything, really. You have to be able to put up with being dirty. I mean nasty dirty. Coal-colored dirty. You're covered in ash from head to toe. And you smell terrible. You're rebuilding the innards of chimneys. You have to go in, put a liner in there, install a wood-burning insert in the actual fireplace. You learn how to use a plasma cutter. An acetylene torch. All kinds of cool, fun stuff.'"
Jonah Keri profiles the Detroit Tigers' Phil Coke who's path to the World Series was 'full of late nights and fast food'. Good stuff on Grantland.
4. "McQuaid is responding to a direct question about the Usada report's account of Floyd Landis and Tyler Hamilton, who both attested that Lance Armstrong had told each that he had made a positive test in the 2001 Tour de Suisse go away following discussions with the UCI and agreeing to donate $125,000 for anti-doping programmes. The UCI, Verbruggen and McQuaid strongly deny the allegation of corruption and cover-up.
While McQuaid and Verbruggen have sued Floyd Landis, the same accusation has been made by Tyler Hamilton on CBS's 60 Minutes programme and in his recently published book The Secret Race. Verbruggen and McQuaid have not sued Hamilton. The Irish former professional racer and sports journalist Paul Kimmage is, however, being sued for running Landis' account of the story."
There's plenty of good analysis of the Lance Armstrong report and the UCi's response this week. In the Guardian, Matt Seaton picks apart Pat McQuaid's press conference on Monday.
5.
"Liverpool were a dangerous, free-flowing side who created umpteen chances in the two league games against United that season: a 2-2 draw at Old Trafford and a 2-0 win at Anfield that could have been 8-0 but for Peter Schmeichel. Keane did not play at Anfield, but he grudgingly respected Liverpool's abundant attacking talent: Robbie Fowler, Jamie Redknapp and Steve McManaman all played the most progressive football of their career under Roy Evans. The unpredictable brilliance of Stan Collymore was also worthy of respect. Keane's fear of Liverpool's capabilities was accompanied by loathing. In short, he couldn't stand them. The notion of the Spice Boys was anathema. Lee Sharpe tells a story of him and an "absolutely smashed" Keane bumping into the Liverpool players in a bar one Saturday night. Keane went through them one by one, dismissing their England B caps, England under-21 caps and League Cup winners' medals. The gist, frequently expressed, was simple: 'What the hell have you done in the game?'"
The brilliant Rob Smyth pens an absolute love letter to 'marmite-figure' Roy Keane.
6. "Frankel is a horse. That is not, admittedly, the level of insight you would normally expect in a national newspaper, but after a giddy few days at Ascot, perhaps it bears repeating. Frankel has long pointy ears and a tail. He has never used a telephone or signed an autograph or danced the Gangnam. He defecates standing up. All the available evidence suggests that he is a horse. Clearly, however, some wish it were not so."#
Jonathan Liew in the Telegraph marvels at how the wonder horse makes the racing public 'go weak at the knees'.