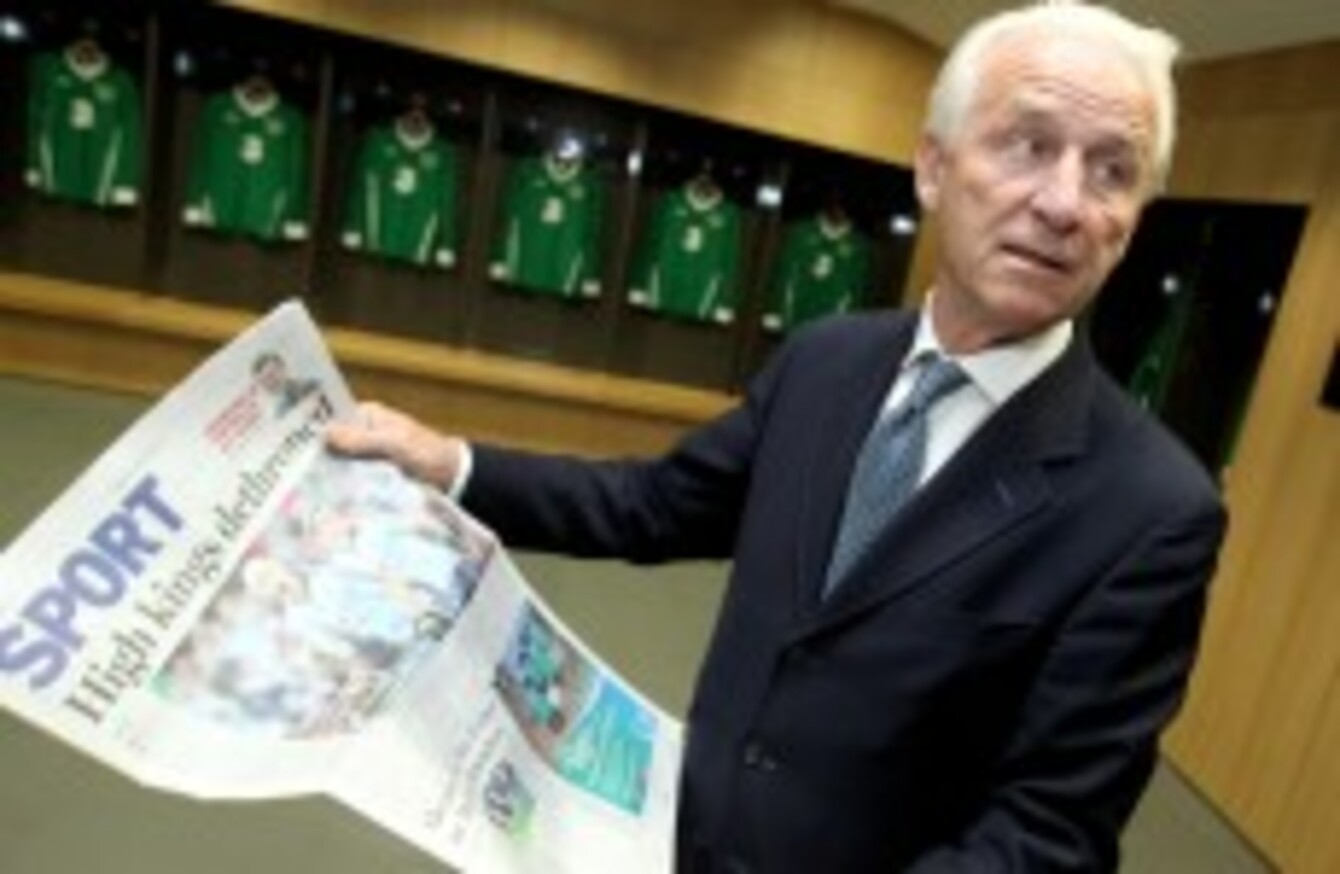 Image: INPHO/James Crombie
Image: INPHO/James Crombie
EVERY SUNDAY MORNING we get the kettle on, put our feet up and flick back through some of our favourite pieces from the week's newspapers, websites, blogs and backs of envelopes.
1. "Moments after King George VI had declared the Games of the XIV Olympiad open and the former Cambridge University 400m runner John Mark had lit the Olympic flame in Wembley Stadium, the Archbishop of York, Cyril Garbett, stood to make his dedicatory address.
'When the Games are over," he said, "those who have taken part in them should return to their homes as torch bearers, not indeed bearing the visible light just carried into the arena but with the flame of goodwill burning in their hearts and continuing to burn there long after the Olympic flame has been extinguished.'
Fanny Blankers-Koen, named the women athlete of the 20th century by the International Association of Athletics Federations in 1999 at a gala in Monte Carlo, was not there to hear his words. Her husband and coach, Jan Blankers, had refused her permission to walk with the Netherlands team in the opening parade, deeming it "too tiring". But the Dutchwoman, who went on to emulate Jesse Owens's four gold medals at the Berlin Olympics 12 years earlier, embodied the archbishop's aspirations more than anyone else, demolishing prejudices about gender, age and motherhood and, as a pioneer and standard-bearer who inspired millions, establishing the legitimacy of women's sport in an Olympic movement that had been the preserve of male competitors until 1928."
This piece by Rob Bagchi in the Guardian is a treat whether you've heard of 'the Flying Dutchmam' or not.
2. "Hunter and I were in New Orleans to attend the hugely anticipated rematch between Muhammad Ali and Leon Spinks, the former Olympic champion who, after only seven fights, had defeated Ali in February. The plan was to meet up at the Fairmont, a once-elegant hotel that was located in the center of the business district and within walking distance of the historic French Quarter. Although Hunter was not in his room when I arrived, he'd instructed the hotel management to watch for me and make sure I was treated with great respect.
'I was told by Mister Thompson to mark you down as a VIP, that you were on a mission of considerable importance,' said Inga, the head of guest services, as we rode the elevator up to my floor. 'Since he was dressed quite eccentrically, in shorts and a Hawaiian shirt, I assumed he was pulling my leg. The bellman who fetched his bags said he was a famous writer. Are you a writer also?' I told her I wrote movies. 'Are you famous?'
'No.'
'Do you have any cocaine?'
I stared at her. Her smile was odd, both reassuring and intensely hopeful. In the cartoon balloon I saw over her head were the words: I'm yours if you do. 'Yes, I do.'
This piece by screenwriter John Kaye in the LA Review of Books is about boxing, kinda.
3. "Whenever there's a debate raging over the internet, it tends to go one of two ways. In one scenario, you have an extremely divisive topic which has keyboard warriors on both sides in full flow locking horns for comment after comment, tweet after tweet, long into the early hours, without ever actually reaching a conclusion.
In the other, you have a topic on which the vast majority agree. But normally even in this case, there's always one or two who seem to derive endless pleasure from chirping in with a comment that basically says : 'See all you 99% of people who think the same thing? Well you're all stupid and I'm special because I see it a different way and I'm right.'
With the announcement of Declan Kidney's squad for the upcoming Six Nations, it seems even the trolls are in agreement with the masses."
Rugby writer Harpin on Rugby gets stuck into the announcement of Ireland's Six Nations squad this week, the way it was handled and the reaction to it.
4. "[I]n Milan, at the beginning, it was purely spontaneous and local. Kickoff was coming. The visiting Belgians moved out into the city center, still singing. They kept chanting it in the stands of the San Siro—Oh…oh-OH-oh oh OHH OHH—as Peruvian striker Andres Mendoza stunned Milan with a goal in the 33rd minute and Brugge made it hold up for a shocking 1-0 upset. Filing out of the stadium, they continued to belt it out. The song traveled back to Belgium with them, and the Brugge crowd began singing it at home games. The club itself eventually started blasting 'Seven Nation Army' through the stadium speakers after goals."
Deadspin's Alan Siegel traces how the White Stripes' anthem was adopted by those in the stands throughout the world.
5. "While my ability to watch Blake Griffin highlight reels is by no means the most important thing at risk in Congress' debate over SOPA and its Senate counterpart PIPA, the bill also would undermine the entire framework of modern sports. It might not shock you to learn that people posting highlights online usually haven't gone through the process of acquiring the copyrights for the footage. Under SOPA, not only would the individuals be criminally liable for uploading copyrighted material, the websites would be, too. YouTube could be forced to shut down unless it found a way of policing the 48 hours of video uploaded every minute. And because at least two of the three [highlight] videos I link to above are likely copyright violations, this magazine and I would be criminals, too."
The Classical's David Roth explains – slowly for those of us at the back of the class – what SOPA (Stop Online Piracy Act) means for those of us who consume sport online.
6. "Those in the spotlight of high-level sport, managers, coaches and athletes, are all defined by their performance to some degree. We call them elite, World Class, champions, natural-born winners, instead of Gary, Kenny and Martin.
Their own identity too, is anchored on their performance and performance is one variable in sport that always changes. What is argued here is that if sports performance undulates, do we have sufficient safeguards in place to ensure that our athletes, coaches and managers are supported when they are at their most vulnerable?
Losing, by definition is part of competitive sport and intuitively we would associate it with feelings of anxiety or insecurity. However, this outcome-based viewpoint (win vs loss) is a crude metric and athletes tend to judge themselves more often on their perceived performance."
Cheeky maybe… but we're cheeky chappies. Check out this column by sports psychologist Tadhg MacIntyre on our own Read Me section.
7. "As José Mourinho prepared to leave the Santiago Bernabéu press room and the clock ticked towards one in the morning, he had one last message to deliver. "Victory," he said for the third time, "has many fathers; defeat has only one and that is me. That's the way football is and I am used to it." Then he added a request: "Hit me, not my players – leave them alone." In part, he got what he wanted but only in part. They did indeed hit Mourinho but they hit his players too."
Sid Lowe. El Clasico. Get it done.
8. And one, non-sports one for luck? Michelle Williams' interview with GQ is worth a read…