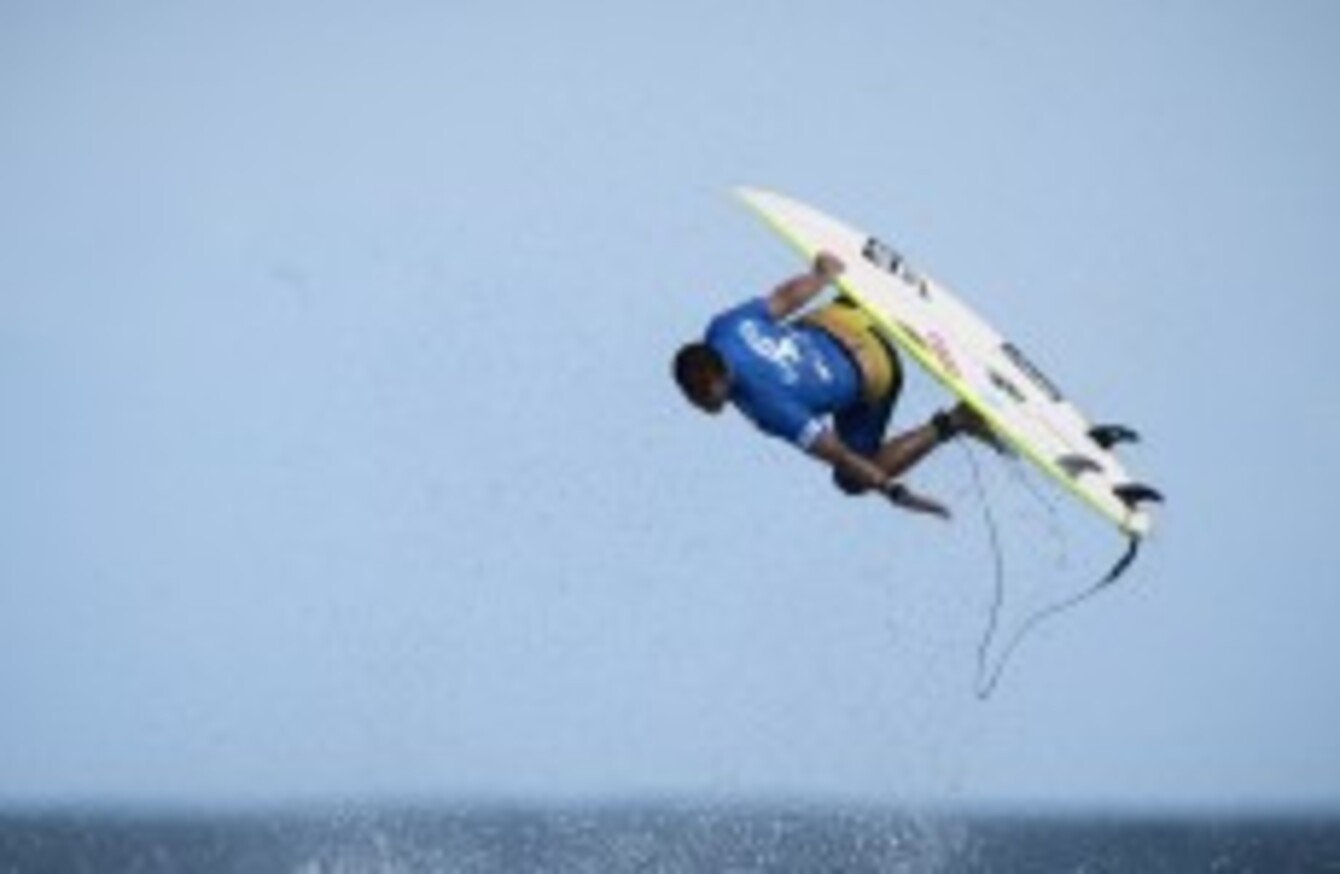 Damien Hobgood competes in round three of the Billabong Rio Pro tournament.
Image: (AP Photo/Victor R. Caivano)
Damien Hobgood competes in round three of the Billabong Rio Pro tournament.
Image: (AP Photo/Victor R. Caivano)
THE EUROPEAN CHAMPIONSHIPS of surfing 'Eurosurf 2011′ are being held at Ireland's so-called surf capital Bundoran this September.
The 10-Day event will showcase the best of Irish and international surfing as they carve up the world famous breaks at The Peak and Tullan.
Yesterday 12 of the 13 members of the Irish team who will take on the rest of Europe were selected. The one space left will be decided at a surf-off held at the Sea Sessions Festival on 24-26 June.
Ronan Oertzen originally from Belfast but now living in Donegal will bring his experience to the Open section having represented Ireland in Eruosurf 2009. Also in the open section are 2010 Irish National Open Champion Stephen Kilfeather from Sligo, Cain Kilcullen of Enniscrone and Ollie O'Flaherty of Lahinch.
Lahinch surfer Stephen Kelleher will partner three-time National Champion John McMurray from Portrush in the Long Board Division.
While in the Masters event, legend of the Irish surf scene Ritchie Fitzgerald will be charging in Green. Ritchie competed in Eurosurf 97, the last time it was held in Bundoran.
Darragh McCarter, another Ulsterman now living in Bundoran and a former Irish Champion will compete in the Men's Body Board event with Sligo's Shane Meehan, a former quarter-finalists of the IBA World Tour.
Shauna Ward will compete in the Women's section of the competition and hopes to improve on her 4th place finish last time out on her home break. Shauna will of course be joined by four-time Irish champion and Billabong XXL Nominee Easkey Britton.
Ashleigh Smith who placed 3rd in the event in 2009 will represent in the Woman's Body Board section.
We here at TheScore and Finn McCool's Surf Co would like to congratulate everyone who made the team, and wish them the best of preparations for the event.
Good waves everyone…
Weather Overview
The buzzword for this weekend surf report is 'small' but hey, at least the winds have dropped! Most of the swell will be generated from the north, early on in the weekend.
Other than that there are no real weather systems to get the waves rolling as the Atlantic fills up with occluded weather fronts and cloud. Have we really had our summer already?
The north – 1.2m swells will push in til late Saturday. These will deliver decent but small waves perfect for beginners or long boarders.
Co Donegal/Sligo – Max 2ft sets today, again perfect for learning on. This should continue before dropping off on Sunday as the swell recedes.
Co Clare – The north swell will fail to wrap into the beach at Lahinch. Under 1ft all weekend.
Dingle Peninsula – Keep on the northern side of the peninsula and you could be rewarded with small infrequent waves. It will be the patient surfer who waits for the sets that prevails.
Cork and the south – Please step away from the water. There is nothing to see here. Sorry Cork.
Disclaimer – These weather reports are intended as a general overview of swell running in that area. These are predictions and actual wave size may vary. Do not enter the water alone or without adequate equipment and do not enter surf that is too large for your abilities. We cannot be held responsible for any decisions you make based on this information. For daily weather information follow @dinglesurf on Twitter.com.