Reproduced with permission from Action81
Dublin suffered a resounding defeat in Mayo on Saturday night. Emmet Ryan breaks down the tactical battles in this one-sided affair.
Mayo's exquisite distribution
Stylistically this game began in a way that should have suited Dublin. Pat Gilroy's men were getting into the positions they like in defence and forced Mayo onto the flanks.
The home side however was having just as much success at the other but looked far more comfortable breaking from defence. Much of this was down their far neater passing play.
Mayo created a lot of room around their own 45 and this allowed them to develop attacks accurately at speed. It also allowed them to mix up their creative play. David Vaughan's runs throughout the game were notable, particularly one on 19 minutes, where he burst from defence for a long gain. Vaughan was surrounded by Dublin players and despite his momentum he kept his cool and earned a free which was quickly turned into an Aidan O'Shea score.
This quality passing also allowed Mayo to mix up their attack. It didn't hurt that Mayo's long-range shooting form on the evening. Credit however must go to the build-up play which allowed the likes of O'Shea, Conor Mortimer, and Alan Dillon to convert quality chances from distance. This success from far out eventually told as Mayo found more room inside.
With Dublin being forced to respect long range efforts more, room was created closer to goal and Mayo made Dublin pay with several scores late in the half. The home side never let up with this high calibre passing. Even when the game was well in hand in the second half and the scoring rate had slowed, Mayo broke Dublin down at will.
Turnovers help Mayo pile on
Divine distribution helped Mayo develop a advantage early, turnovers made that lead insurmountable. Mayo utterly dominated Dublin's kick outs, forcing play into the blue half of the field for the bulk of the first half. When Dublin weren't losing possession via the boot of Stephen Cluxton, they found plenty of other ways to give up the ball.
The hosts were tenacious in chasing down Dublin's backs. This added pressure clearly got to Gilroy's charges. Mayo shook them and even frees at the back were turned over to Mayo at ease. Conor Mortimer's point on 34 minutes epitomised the psychological pressure Mayo were putting on the Dublin defence. From a free deep, Dublin quickly turned the ball over and with one touch Mortimer had padded the Mayo lead.
Dublin's major execution issues
Dublin's distribution and shape were simply shocking. In defence Dublin started out playing their style of game but the abject failure to contend at kick outs placed far too much pressure on the backs as the first half wore on. Mayo's territorial advantage was clear from the outset but the defence kept the scoreboard from ticking over at speed for the first 10 minutes. Once the flood started however there was no turning back as Dublin failed to move the ball upfield.
Even where Dublin had possession, the panicked nature of their attempts to press forward did little to ease the tide. The emphasis was on moving the ball up-field more than finding a blue jersey, never a tactic likely to inspire confidence. It was also one that did nothing to help Dublin's issues creating scoring opportunities.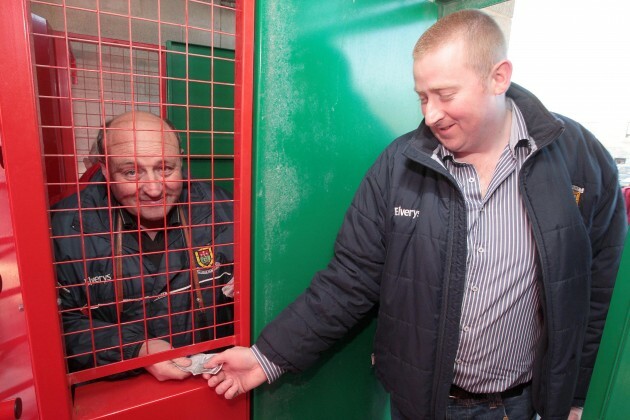 Football fans donate to charity instead of an entrance fee to watch Mayo take on Dublin. Pic: INPHO/Morgan Treacy
Lack of adjustment in attack
Dublin didn't record a wide until the 53rd minute, from a long range Diarmuid Connolly free. Mayo's defence didn't just stop the visitors from scoring; Dublin were prevented from even getting the chance to try. The big success here was for Mayo came in isolating attackers. Connolly in particular was boxed out with ease by the defence. Only Bryan Cullen found room to operate and charge forward but in truth the problem was in the approach.
With Mayo intent on isolating ball-carriers, Dublin needed to play a more lateral game. One that would have looked to move the ball patiently in much the same was as last year's quarter-final with Tyrone. The half time introductions of Eamon Fennell and Craig Dias both looked like efforts to improve Dublin's shot at busting through the middle. The game looked largely out of hand at that stage and neither man played poorly but extra oomph wasn't the issue. Dublin's ball movement simply wasn't on the same level as Mayo's and having extra power players to counter the likes of Vaughan wasn't going to change that.
The verdict
Before this game Willie Joe* at the excellent Mayo GAA blog had said Mayo's free taking and discipline would both be concerns. Mayo's two first choice options Cillian O'Connor and Alan Freeman had been dropped but Mortimer proved a more than adequate replacement from the place ball on this occasion. Discipline was never really a factor for the hosts as Dublin's attackers let their frustrations boil over.
*Not his real name but we respect a nom de guerre around here.
Finishing the game with 13 players is never something for a manager to be pleased about but the wider issue here is the performance. Dublin's disciplinary issues stemmed from frustrations at their inability to break Mayo down. As has been seen in the past, an individual defeat should not be a cause for panic. The major concern for Gilroy should be the lack of consistency in performance with four rather different displays in as many weeks from his side. As for Mayo, this win all but secures top flight status for next season. With a complex set of permutations for the final round of games, next weekend promises to be interesting for both outfits.
Follow Emmet Ryan on Twitter.