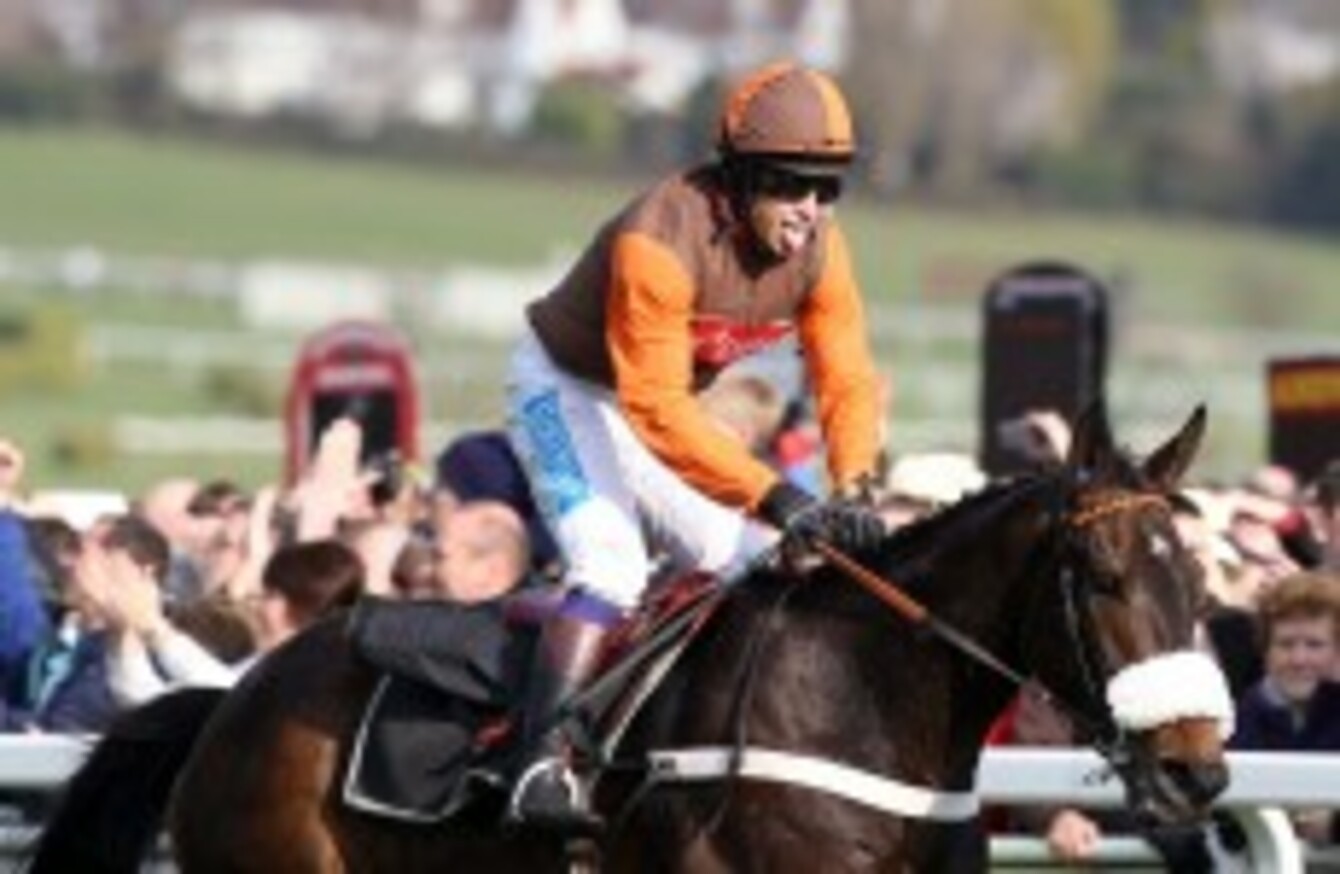 Image: ©INPHO/Dan Sheridan
Image: ©INPHO/Dan Sheridan
AND SO IT came to pass that on the fourth day, a star was born – but not before some old favourites had a chance to have their say one last time at Prestbury Park.
Before this afternoon's totesport Cheltenham Gold Cup got underway, it was described in some quarters as "the Gold Cup of Gold Cups" with three previous champions taking to the track in an attempt to assert their dominance for one final season.
Though we hoped beyond all hope, few gave the ageing Kauto Star and Denman any real chance at glory. "Too old," the naysayers cried, brandishing the disappointing performances in last year's event as evidence that the champions were past it.
In the end, the pair ran races which will almost certainly prove to be the perfect swansong, battling bravely into second and third while the new king in town, Nicky Henderson's Long Run, outpaced them all on the flat to win an impressive King George-Gold Cup double at just six years of age.
If the day belonged to Henderson and Long Run, then the week belonged to Ireland. Hovering dangerously on the record-equalling mark of ten festival winners at the close of play yesterday, the raiding party smashed all expectations, picking up three more wins this afternoon to finish off their week's work on lucky number thirteen.
Then after months of hype and hours of top-notch enjoyment, it all came to an end as Oiseau de Nuit crossed the finish line to take the twenty-eighth and final race for Colin Tizzard, bringing the festival to a close until this time next year.
What a week.
What we learned today
1. Our new government could do a lot worse than investing in the equine industry: Without a trace of irony or insincerity, I found myself wondering aloud today if Leo Varadkar likes horse-racing. I hope so because if he does, our new Minister for Sport couldn't have missed the stunning performance sustained by the Irish raiding party over the past four days. Though Wednesday's six-timer may have been the highlight, the fact that it was supplemented with a rake of winners both before and after made it all the sweeter. A lot of our industries may be struggling at the moment but horse-racing certainly isn't one of them. Time for Leo to loosen the purse-strings a little?
2. Ruby Walsh and Willie Mullins are on the top of their game: This wasn't so much something that we learned today as something which was confirmed powerfully as the 2011 festival drew to a close. In a year of unprecedented success for Ireland, it was only fitting that both Champion Jockey and Champion Trainer should both hail from these shores. Something tells me that they won't give up their crowns without a fight next year.
3. Age is just a number: All week, we've listened to horses be ruled out of the Gold Cup on the basis of their age. Kauto Star and Denman were "too old", aiming to becoming the first 11-year-olds since the Fulke Walwyn-trained Mandarin in 1962 to win the blue riband event. Long Run was "too young", seeking to emulate the achievement of Mill House in 1963 when he won the race as a six-year-old. The three may have been battling against each other as they came across the line but in a way, they were fighting together to send a message to the world of racing.
Friday's big winner
Horse-Racing. Clichéd as that might sound, this afternoon's Gold Cup was one of the finest races which the sport is likely to see for a long time. It was perfectly scripted with the young up-and-comer Long Run soaring over the penultimate fence, splitting the champions Kauto Star and Denman before running on to record an impressive seven length victory. With that, the torch passed to the new generation of chasers as the winners' enclosure rose to acclaim their champions, old and new.
Friday's big loser
Spare a thought for the Irish punter who held these three dockets at the start of play today, waiting only on a victory for Paul Nicholls' Sam Winner in the JCB Triumph Hurdle to bag himself in excess of €1 million. As an each-way accumulator, even a third place finish would have netted him a tidy sum. Unsurprisingly given the way these things tend to pan out, Sam Winner rocked up in fourth. Ouch.
Quote of the Day
"Pity the boss isn't here to see it but he was looking down on us"
Champion trainer Willie Mullins pays tribute to his late father, Paddy, who trained Dawn Run to Gold Cup glory 25 years ago this week.
Tweet of the Day
Crime doesn't pay – but backing Long Run does.
Want more? Catch up with the minutiae of today's action in TheScore.ie's liveblog >