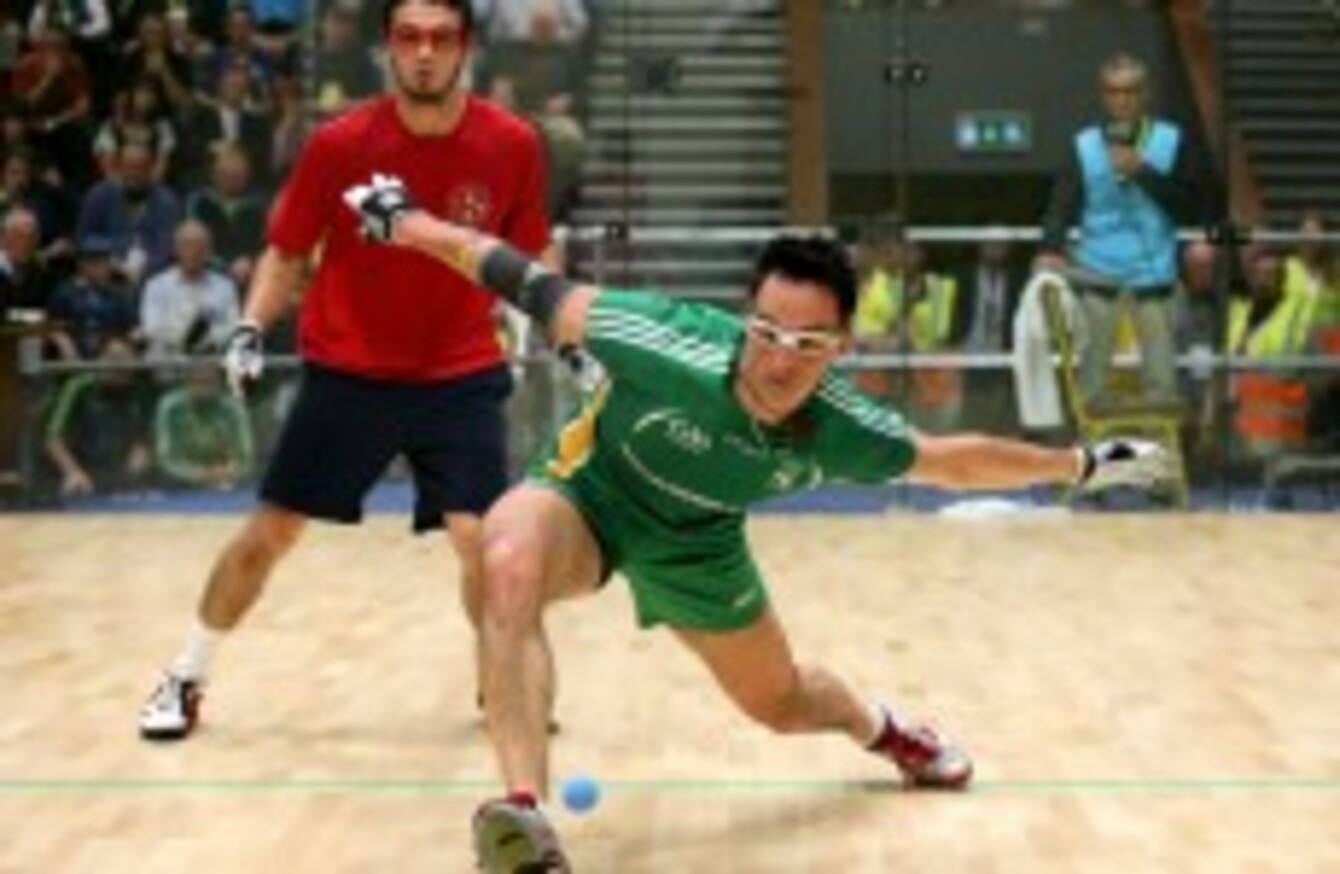 Brady and Moreno last night during the finale.
Image: INPHO/James Crombie
Brady and Moreno last night during the finale.
Image: INPHO/James Crombie
TO APPRECIATE THE height of the summit, you must first know the hardship of the ascent.
Paul Brady made the papers this morning and trended on Twitter last night, after playing his last international singles handball match.
It's taken him 10 years, as one supporter — marvelling at the cameras and press pack descending on CityWest — grinned, to become an overnight success.
Don't get us wrong; this final with Luis Moreno was an epic that swooped and soared and threw up everything that's amazing about sport.
The back story was straight from Hollywood — Moreno, the young Mexican immigrant making his way in the US, has been struggling with VISA issues and was ravenous.
He was the only man to have beaten Brady in singles handball in seven years and, unlike some of the other top Americans, he was here for one reason only — to win.
But Brady is Brady. He finds a way. He beats the odds. He wins.
I watched him courtside in Croke Park in 2003 and it seems a lifetime away. A few hundred spectators crammed the ramshackle little gallery as Brady, streaky and skinny and still finding his way, qualified for his first world final against Tony Healy, just a year older but by then already a three-time Irish senior singles champion.
INPHO/James Crombie
Brady won the first but found himself treading water in the second and, soon, gasping for air. He went down with cramp – an indication of the anxiety and tension he let dominate his build-up at that stage of his career – and he lost the second heavily.
When ref Danny Bell — the Canadian champion who, in a curious twist reffed last night's final, too — told him he couldn't take an injury time-out for cramp, it looked like he'd lose by default. But Healy and Brady had a bond. They had been travelling to the US together, rooming in cheap west coast motels as they attempted to become the first Irishmen to break into the American pro circuit.
Healy didn't want to win it that way and informed Bell that he'd let Brady take his [Healy's] time-outs to recover. And that was how he came through the tiebreaker, on one leg, serving and attempting to end the rally with the second shot; he had no other choice.
Maybe that was the moment that the Gunner's "serve and shoot" strategy was born?
What are they
really like?
Rare insights on sport's biggest names from the writers who know them best. Listen to Behind the Lines podcast.
Become a Member
El Gato
That style was pioneered by Naty Alvarado Sr, a gunslinger from Juarez, Mexico, who started crossing the border for tournaments in the 70s and became the greatest ever — until last night, that is.
They called Naty El Gato – The Cat. After the events of the past few days, maybe the Hispanic handball community will come up with a new sobriquet for Brady because now, there is no doubt as to who is the greatest that has ever laced a pair of gloves.
Heavy, though, is the crown. Brady has been numero uno for a decade now, winning the title in 2006 in Canada, grinding it out with a torn quad against a teak-tough Texan fireman. It never gets easier. Two years ago, he saw off a fired-up Charly Shanks in the final, playing with a badly-broken left index finger. His solution? Strap it, eye on the ball, win. Next.
Last night, he played before the biggest handball crowd of his career, 4,000 paying punters, many of whom will have been watching the sport for the first time. The strain showed on Brady. He was nervous and rushed his shots and Moreno was mesmerising, moving 13-2 ahead.
Brady had no right to win the first game but somehow, he found a path and took it.
"This is going to be the fairytale and I know how it's going to end," he told me yesterday afternoon. When he screamed at the sky and punched the backwall after winning game one 21-19, 4,000 rose as one. He was never going to lose from there, and he didn't.
We never should have doubted him.