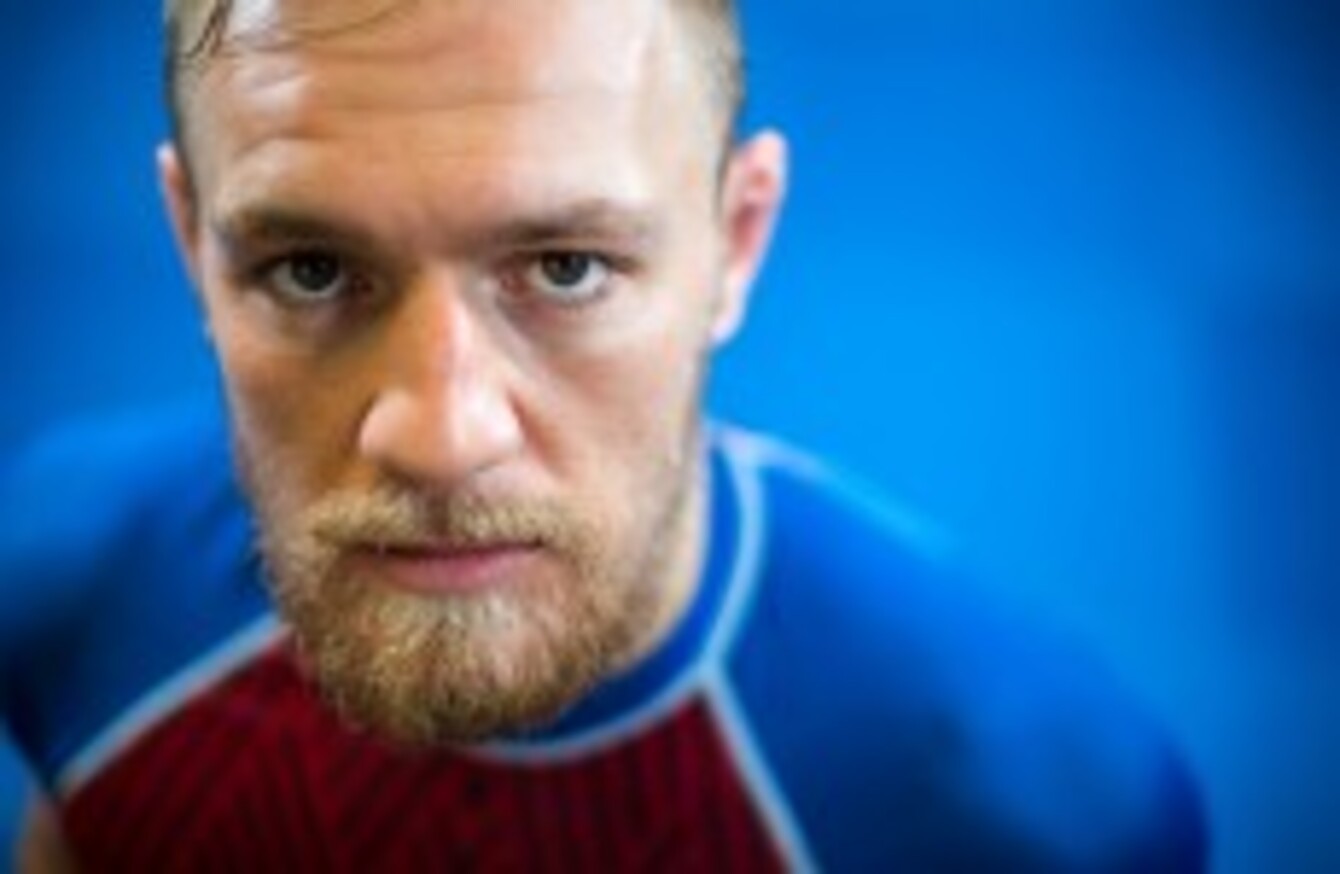 The much-discussed Conor McGregor features in the best sportswriting of the year.
The much-discussed Conor McGregor features in the best sportswriting of the year.
"When you think of someone learning to walk again and getting better, you have the image of the person with their hands on the walking frame and sweat pouring through them when they are trying to take a step. That is the glamorous stuff. That's the stuff you are dreaming about doing.
"The rotten stuff like the shower chair. Having to negotiate how to get in and actually just wash yourself. Stuff you take for granted that you don't realise. There is still no getting up, walking around. But I have had massive improvement in the nitty gritty, the less glamorous side of things. Just managing your whole body. Managing stuff like transfers in and out of a chair."
The sliding sports — luge, bobsled and skeleton — are particularly prone to misapprehension, particularly among casual observers who look at them and think of glorified sledding.
"What is the stupidest question?" said the American bobsledder Dallas Robinson, the brakeman on a two-man team. "The problem is that when I say 'stupidest question,' I've probably asked all those same questions, so I'm admitting to my ignorance of the sport prior to becoming an athlete of the sport."
At first glance, Hockey Fights is merely an exotic research tool. What other site could tell you that Martin and Glass's last bout was one year ago? And that their previous bout was two years before that? What site could give you video for both those fights, declare a crowd-sourced winner (Glass both times), and supply Zagat-like analysis: "monster shot … great tilt"?
Lying past a cemetery, at the end of a dirt road and without electricity or running water, the makeshift PovoDog shelter is already giving refuge to about 80 animals, including about a dozen puppies. One is a chocolate-colored Shar-Pei and her two mostly Shar-Pei puppies. Another is a large, reddish-brown sheep dog named Kasthan, who likes to jump up and kiss the shelter workers, who are mostly volunteers.
Local animal rights workers say many of the strays were pets, or the offspring of pets, abandoned by families whose homes with yards were demolished over the past few years to make way for the Olympic venues and who were compensated with new apartments in taller buildings, where keeping a pet is often viewed as undesirable.
Of all major professional sports, tennis is the cruelest to its non-stars. King and Jung both graduated from the University of Michigan. Fellow Wolverine Trey Burke, rookie point guard for the Utah Jazz, will make $2.439 million this year, but even his teammates who don't make the National Basketball Association can earn six-figure salaries abroad. Thanks largely to players' unions, pine-riding baseball and football players also earn a comfortable living. And golf's lesser players stand to make far more than their tennis counterparts. American golfer Chad Collins, ranked 330th in the world, earned more than $190,000 for two weeks' work in January. Meanwhile, after graduating last May, King earned just over $9,000 in 2013, while Jung, who graduated two years earlier, has made $22,198 so far.
I scoffed at FIFA. It was little better than an arcade game: a button-masher whose spiffy graphics and meticulous licensing couldn't make up for cheap goals and controls that felt like a handful of jelly. Winning Eleven, on the other hand, was a soccer simulator, and wore its unsexiness proudly. Fun is for kids, it said. This is for serious fans—and I so desperately wanted, at that age and where this sport was concerned, to be serious. I would debase myself, suffer whatever humiliation it would take, to learn the intricacies of the sport that had captured my imagination. Winning Eleven was built to humiliate, and so our toxic relationship was born.
Pass a ball to a marked man, and he would be dispossessed. Pull a defender out of position, and the computer would score. Try to turn while running full speed, and you'd lose control. Unlike FIFA, whose main selling points were stepovers and nutmegs and other flashy nonsense, Winning Eleven's ball had a life of its own. To make it behave, you had to learn how to treat it. It was, possibly, harder than actually playing soccer with your actual body.
From Giles to George Best, Liam Brady to Paul McGrath, Roy Keane to David O'Leary, Irish players have been among the most successful footballers in England. The great Liverpool and Arsenal teams of the 1980s had a strong Irish contingent, as did Manchester United during the same period. Ireland once had a healthy representation at Arsenal and, during the Premier League era, the all-conquering United team, captained by Keane, featured stalwarts Denis Irwin and later John O'Shea. Last season the largest contingent of Irish players in the Premier League was at Hull City.
In the 2007-08 season, Irish players made up 6% of footballers in the Premier League, the second most represented nationality after England. In the 2013-14 season, Irish players accounted for 4.7% of top flight participants, down to the fourth most represented nationality. Observers might argue this is not a particularly alarming drop, but Irish football is clearly in a state of decline.
Like countless other middle-aged American men, some of my happiest childhood memories involve watching professional sports with my dad. So it was an unexpected delight when my eight-year-old, previously largely indifferent to my New England Patriots obsession, showed sudden interest a few weeks ago. Last Saturday night, he proudly dug out a long-unused Patriots jersey and joined me on the couch late into the night as the Patriots dispatched the Indianapolis Colts.
It was wonderful. And it made me a little sick.
Source: OnlyPreviews/YouTube
3. Never be afraid to stand out in a crowd.
Junior Beville: "Seemin' to you nobody likes us?"
Yul Brenner: "We're different. People are always afraid of what's different."
I have an honest suspicion that whoever coined the rallying cry "let your freak flag fry" got the idea from seeing four Jamaicans in puffy coats show up to a Winter Olympic Games in Canada. For most of the people there, the way they looked was enough reason to think Sanka (Doug E. Doug), Derice, Yul (Malik Yoba) and Junior (Rawle D. Lewis) had no place competing among the sea of WASPs and Slavs around them. It takes a kind of righteous confidence to accept, much less embrace, the fact it you're different from your peers.
His father, Jimmy, has always thought United should have done more to care for his son during and after that long rehabilitation. The truth is the "Doc", as the other players called him, was not the classic superstar-in-the-making. He was different: bohemian, slightly eccentric in a football context. He was not particularly interested in haircuts or cars or looking the part, often turning up at the Cliff, United's old training ground, in a baggy old Aran sweater with a guitar over his shoulder. Robbie Savage, from the year below, remembers him "strumming in the next room". Doherty took that guitar to the Christmas do where he played a song, possibly a Bob Dylan track, to his team-mates. He did not really follow football, preferring to write poems. "He was a fearless, strong and skilful footballer but what I remember most was his personality and his intelligence," Brian McClair says. "He loved to chat about music, books and poetry."
"I'm not even sure why we're in Leicester. He's carrying a battered old cue case, which he duly brandishes for the photographer, but he isn't here to play snooker. He has driven up from Surrey for some "meetings", he explains vaguely. About what? "Gritting." Gritting? He's gone into business with "some Indians" who have cornered the market in grit for icy roads, apparently. Might he not want to focus on publicising his book, I suggest? He grins. "Well, I was going to do some of that next week, but I've had to cancel it." A snooker tournament has come up instead. Having just written a book about how he blew his dazzling talent on drink and drugs and mayhem for the past 30 years, White feels confident that at 52 he could yet still become the world champion. "Oh yeah," he nods. "If I didn't think I could still win it, I'd stop playing."
Like a lot of people, I watched Conor McGregor's performance on the Late Late Show last Friday night week and I smiled. He's quite the character the way he tells his story, talking up his sport and his place in it. After a lifetime dealing with monotone soccer players and inter-county stars who've been muzzled by paranoid managers, it was refreshing to watch a sportsman put on a bit of a performance during an interview. It was so obvious he was embracing the opportunity to promote himself rather than shying away from it. Of course, there was just one major problem.
At this point in his career, McGregor is the most overhyped athlete in the history of modern Irish sport. Never has one man garnered so much publicity out of so little.  That was his second appearance on the country's flagship talk show. What are RTE going to do if he ever achieves anything? Give him his own show. The cynicism might sound harsh but it's worth pointing out that to this juncture McGregor has achieved much less than a whole lot of hurlers, footballers, soccer and rugby players. And a lot of them are never likely to be invited to sit across from Ryan Tubridy any time soon.
Rousey is the woman who made women's UFC possible, and now she may signal its downfall, as Kelefa Sanneh details in a New Yorker profile this week. To make it into the UFC, Rousey had to be the most captivating women's MMA fighter the world had ever seen: An unapologetic trash-talker, a California beauty, and so far, totally unbeatable in the cage. Since 2011, Rousey has won all ten of her pro MMA fights, all decisively—she's won eight by forcing her opponent to submit and two by knocking her out. None of her fights have been decided by a post-fight decision among judges. In theory, Rousey's stardom can only boost the careers of other female fighters. When the UFC signed her in 2012, it began building a women's bantamweight division to supply her with competitors. The company gave Rousey a coaching gig on the UFC reality show "The Ultimate Fighter," along with a fleet of up-and-coming female fighters to shape up. Even a loss to Rousey raises her challenger's media profile, and her success encourages more young women to view the sport as a serious option.
"Cork's offer of £1,000 per match must have been a shining light for Best, who was struggling financially in late 1975. He had been attempting to sort his life out at a recovery clinic while paying the bills by turning out for Stockport County's home games in the Fourth Division. Best was set to make his League of Ireland debut against Drogheda United on 28 December 1975. In expectation of a big crowd, officials moved the game to the much larger Flower Lodge venue and the people of Cork did not disappoint. An estimated 12,500 fans turned out, with the club receiving over £6,000 in gate receipts."
There's a myth that grew as my career went on. Some people said that if it was raining on the morning of a race, I would draw back the curtains and rub my hands together in glee. The perception was that I relished the bad weather, enjoyed it even, but that was certainly not the case. No one likes to be cold and wet, it was just that my body coped with the conditions better than a lot of others. I was just as miserable as everyone else, it's just that I was able to keep pushing hard.
The week before the 1984 Paris-Roubaix, I got totally worked over by a bunch of Belgians and my team manager Jean De Gribaldy was not happy. He wasn't in the mood for me to make the same mistake twice.
The Ultimate Warrior had a tumultuous relationship with the professional wrestling industry in general and the WWE in specific. He entered the then-WWF in 1987. His meteoric rise culminated with him defeating Hulk Hogan for the WWF Championship at WrestleMania VI in 1990. It was meant to be a passing of the torch, the ushering in of a new era of wrestling, with the Warrior supplanting Hulkamania as a worldwide phenomenon.
The following year's WrestleMania had Hulk Hogan winning the WWF Championship from Sgt. Slaughter in the main event. By the fall, the Ultimate Warrior had left the company. He returned at WrestleMania VIII in 1992 (to rescue Hulk Hogan), but was gone by November. Fans didn't see him again until 1996. He lasted about four months in the company that time. He popped up in WCW to terrify "Hollywood" Hulk Hogan with the "One Warrior Nation" (the acronym was "nWo" backwards) and stayed for four matches. Then he was gone. For American audiences, he was gone for good.
Woods could have called in a rules official to oversee the drop or asked LaCava for counsel, but he chose to do neither. Scott Piercy and Luke Donald, Woods's playing partners, and their caddies were also of no use as they were waiting near the green. Says Donald, "You respect the player that they know the rules and they're going to get it right. You're not over their shoulder, watching every little thing."
Woods's reload from 87 yards landed four paces short of the flagstick, took one big bounce and spun to a stop four feet below the hole. He made the putt to salvage a good bogey, but his troubles were only beginning.
"In the seasons that have followed, that rosy-cheeked kid in the baggy green shirt came to define the tournament. More Six Nations games than anyone else, more minutes played; most tries, most games as captain. No-one could lay a hand on him at the Stade de France that afternoon. No-one has been able to touch him since."
What are they
really like?
Rare insights on sport's biggest names from the writers who know them best. Listen to Behind the Lines podcast.
Become a Member
"Like everyone else involved with this story, I spent my weekend alternating between feeling miserable, hating myself and wondering what we could have done differently. The answer lay within that 56-hour gap between "GREAT PIECE!" and "WHY WOULD YOU POST THAT????" We read every incarnation of that piece through a certain lens — just like many readers did from Wednesday morning to Friday afternoon. Once a few people nudged us and said, Hey, read it this way instead, you transphobic dumbasses, that lens looked totally different.
Suddenly, a line like "a chill ran down my spine" — which I had always interpreted as "Jesus, this story is getting stranger?" (Caleb's intent, by the way) — now read like, "Ew, gross, she used to be a man?" Our lack of sophistication with transgender pronouns was so easily avoidable, it makes me want to punch through a wall. The lack of empathy in the last few paragraphs — our collective intent, and only because we believed that Caleb suddenly becoming introspective and emotional would have rung hollow — now made it appear as if we didn't care about someone's life.
We made one massive mistake. I have thought about it for nearly three solid days, and I've run out of ways to kick myself about it. How did it never occur to any of us? How? How could we ALL blow it?"
"I surrendered," Mike Tyson says simply as the ghosts of his past swarm around us on a hazy winter afternoon in Henderson. We're only a half-hour drive from the jittery Las Vegas Strip but here, on a couch in his office, Tyson sits quietly. He rests his familiar tattooed face in the palm of his hand. After Muhammad Ali he remains the world's most recognisable boxer, and one of sport's most infamous characters. Yet Tyson looks most like a 47-year-old man trying hard to understand his tumultuous life.
He was once a frightened little boy, beaten often by his mother in a condemned building in Brownsville, Brooklyn, who turned himself into the self-proclaimed baddest man on the planet. Tyson made and then lost almost a billion dollars as the last great undisputed heavyweight champion of the world whose controlled fury in the ring was eventually disfigured by madness and violence. He has had distressing problems with women, been to jail and then imprisoned even more tightly by alcohol and drug addiction.
Over the past two weekends, I have been deeply invested in a single football match. The two teams played to a tie a week ago. They played each other again this weekend, in another epic game, and the proper team won. The two teams were Kerry and Mayo, and the game they played was called "football" — Gaelic football, to be specific, in a semifinal match in the annual All-Ireland championship.
Down on the field David Luiz and Júlio César were holding aloft the shirt of Neymar like a holy relic. The camera picked out a woman holding a placard that read, "Don't worry—Neymar's soul is here!" It was as though Neymar had died and was looking down at his former teammates from heaven, rather than watching them on television. The collective emotional frenzy of the scene was awe-inspiring. For a moment every Brazilian, and many neutrals, succumbed to the same seductive illusion. What force could stand against the combined passion of these 11 Brazilian warriors, the soul of Neymar, the heart of Thiago Silva, and 200 million supporters?
The fall from an ordinary perch is a universal story. Few of us get through life without one taste of failure and disgrace. But the fall from a very great height is a different order of experience altogether, because it happens to a different kind of person—the kind who was driven to climb that high in the first place. Should it come as a surprise that such a person—this man right here—makes a lousy penitent?
Depression? Self-loathing? Emotional paralysis? Lance Armstrong will not indulge, thank you. A year and a half after the scandal that ended his career, after being stripped of all his trophies and confessing the ugly truth to his children and losing in a single day an estimated $150 million, these are the circumstances to which he has been reduced.
A glass of wine, perhaps? Or is it time yet to mix up some of his special margaritas—Lanceritas he calls them—with the ice crushed just so? He loves his Lanceritas, and he loves his crushed ice.
"There are three groups of players in the GAA rights war. The terrestrial broadcasters, like RTE and TV3, pay TV providers, like Sky and Setanta, and the rights holders themselves, in this case the GAA. As has been made abundantly clear the only two games protected for free to air broadcasters are the All-Ireland football and hurling finals. Sky could, if the GAA were willing, buy the rights to everything but those two games. There is a third option, rights retention.
Earlier this year the professional wrestling promotion WWE launched its own digital network, realising that a core subscriber base paying it directly could yield far more income than dealing with intermediaries. The company set a target of 1 million subscriptions by year end. It has already surpassed the 700,000 mark. While men in tights jostling to pre-arranged results may not seem like an immediately relevant business model, the US firm has taken a logical leap from formats established by professional sports leagues in North America."
Sorely tested because, although he undoubtedly had good value from Keane over the years, having publicly to defend the clearly indefensible at times made the United manager's job very difficult. At least in part, Ferguson's famous withdrawal from post-match press conferences came about because hard-nosed news hacks had worked out a fault line to explore. Every time Keane did something inexcusable, such as taking a swing at Alan Shearer, Ferguson could be asked whether he condoned the player's actions or not, or whether he would be having a word with him about his future behaviour, and the manager would be trapped between his loyalty to his player and the impossibility of ticking him off in public. Ironically, Keane now specialises in ticking people off in public, though in a role removed from that as manager.
What were your favourite sports articles of the year? Let us know in the comments section below.