Updated at 21.48
Fintan O'Toole
1. Best moment of the year
Picking out the best moment from the greatest hurling season in memory proves impossible. Thus allow us the leftfield selection of the madcap finale to May's play-off semi-final between Watford and Leicester. And the Sky Sports commentary of those final few moments is very enjoyable as well.
2. Biggest disappointment
Ireland's failure to qualify for next summer's World Cup. It all went wrong once David Alaba hit the net in the 93rd minute at the Aviva in March before autumn losses to Sweden, Austria and Germany killed off the hopes of making it to Brazil. We'll be bystanders next summer but at least MONKeano has brought some enthusiasm back to the setup.

3. Shock of the year
A recent win trumps all. Toulouse hadn't lost in the Heineken Cup at home in five years. Connacht were 20/1 outsiders against 1/200 favourites. Yet astonishingly Pat Lam's side dug out a 16-14 win. Honourable mention to Antrim who won as 80/1 outsiders for August's All-Ireland U21 semi-final against Wexford and had only 14 players at their final training session on the Thursday before the game.
4. Athlete of the year
Rob Heffernan. For all the plaudits heaped on him after the London Olympics, Heffernan clearly found it a gut-wrenching experience to be just outside the medals as he finished fourth. 12 months on the Cork man experienced redemption in Moscow as he claimed a gold medal in the 50k walk at the World Championships. Dowtcha kid.
5. Personal highlight of the year
The last 15 minutes of the drawn All-Ireland hurling final. Anthony Nash blasts home a 20-yard free, Clare respond to go three points ahead, Patrick Cronin smashes home a third goal, Patrick Horgan looks set to have clipped over the winner in injury-time before Domhnall O'Donovan improbably comes up from corner-back to loft over a levelling point. A ridiculous, exhilirating and amazing passage of play that summed up the hurling season.
6. Score of the year
Zlatan Ibrahimovic, Stephanie Roche, James O'Donoghue (with help from the Gooch) and Domhnall O'Donovan all notched scores to remember. But I'll go with the highlights reel from Conor Lehane below in early November's Cork county final, particularly the extraordinary skill to point at 0.33.

YouTube credit: nemetonSPORT
Steven O'Rourke
1. Best moment of year
As Fintan's already robbed the Watford/Leicster semi-final, I'll have to go with the Ireland women's rugby team winning their first-ever Grand Slam. It was a phenomenal achievement and I think it made a lot of people stand up and take notice of a team that have been continually improving.
2. Biggest disappointment
Kildare's woeful All-Ireland campaign. I really felt we'd a chance to make a run this year — and Niall Kelly of this parish even tipped us to win it all — but the McGeeney experiment has proven to be a failure. The one bright spot is that Leinster success at U21 and minor level means there should be better days ahead.
3. Shock of the year
Mount Leinster Rangers were probably 100/1 or more to win Leinster this year and yet here they are, provincial champions and who would bet against them adding All-Ireland glory before the season is out? Honourable mention for Alex Ferguson's retirement too, I don't think anybody saw that coming.
4. Athlete of the year
It's been an incredible year on so many fronts for Irish athletes but I'll say Tony McCoy. To pass 4000 winners in a career as dangerous as National Hunt racing is remarkable and he continues to go from strength to strength.
5. Personal highlight of the year
A bit of an odd one but Sunday the 13th of October was the first time I'd missed a slate of NFL games in a decade. It was for the best reason though as my wife had given birth to our first child the day before. He has put sport into perspective for me and is probably the reason I don't wake up weeping everyday wondering where it's all gone wrong for Manchester United.
6. Score of the year
This. A thousand times this:

YouTube credit:
G4MarchMadnessHD
Sinead O'Carroll
1. Best moment of year
Domhnall O'Donovan making corner backs everywhere (except in Cork) fist pump the air in delight. His last-gasp equaliser in the All-Ireland Hurling Final epitomised a surprising, mesmerising and brilliant year of hurling. The ensuing reaction from Davy Fitz, the equally-brilliant replay and the emergence of some new hurling blood could have been scuppered if not for that wonder point.
2. Biggest disappointment
The Leinster Football Championship. A whole lot of 'meh'.
See also: the last 20 seconds of Ireland v New Zealand in the International rugby series. The atmosphere in the last two minutes at the Aviva was building to an almighty crescendo and to have that deflated so quickly was devastating for all involved.
3. Shock of the year
Mount Leinster Rangers taking the Leinster Club Championship. Yes, there are hurlers in Carlow.
4. Athlete of the year
Shout outs to a few people this year. Thoroughly enjoyed watching Anthony Nash's rise to becoming Ireland's top keeper. To second Steven's choice, seeing Rob Heffernan take gold after the heartbreak that is fourth in the Olympics was a special morning for Irish sports fans.
It seems like longer than a year ago but major kudos to Ireland's Grand Slam-winning women's rugby team. And, finally, Therese Maher, whose 'next year' eventually became 'this year' when she claimed the O'Duffy Cup at Croke Park with the rest of the Galway camogie team.
5. Personal highlight of the year
As may be betrayed by this Q&A, I'm first and foremost a hurling fan so seeing the game take centre stage again honestly made my year. I can't remember the last time I enjoyed a championship so thoroughly. To the point that watching games back on Monday or Tuesday was just as enjoyable as the live games on Sunday afternoons.
On a more personal note – and one the writers at thescore.ie have heard me bang on about for months – seeing Kildare camogie reach the dizzy heights of Croke Park on All-Ireland Final day was the absolute highlight of 2013. The little sister bagging 2-2 was just the icing on that Lilywhite cake.
6. Score of the year
Back to Clare hurling for this one. Many people think that handpass was the moment of his year, but Podge Collins' score from the sideline in Croke Park on 8 September was sublime.
The commentary is pretty stellar too, including the words 'impishly' and 'egg and spoon'.

YouTube credit: MarcasOCallanain
Rónán Duffy
1. Best moment of year
I didn't think it was possible for the All-Ireland Hurling Final Replay to live up to the drawn game, and indeed, the championship that went before it. But it did. And more. My words here are not worthy.
2. Biggest disappointment
It simply has to be the All Blacks. Losing out last year by three points in Christchurch was awful, but the way it happened in the the Aviva after the high of the first 20 minutes had me curled up in the corner of the room with my head in my hands. Brian O'Driscoll was robbed of the ending he deserved to his Lions career and another achievement was cruelly taken from him by Ryan Crotty.
3. Shock of the year
I would say O'Driscoll being dropped but nothing surprises me with Warren Gatland. Instead, I will have to say Martin O'Neill and Roy Keane being appointed as the Irish management team. A shock appointment worthy of the cliché.
4. Athlete of the year
He almost taunted his rivals by giving them a sniff in the early stages of this year, but the way Sebastian Vettel won the last nine races in a row to win his fourth successive F1 World Championship was just staggering. He is undoubtedly the most dominant sportsperson on the planet right now and before people go harping on about his car being the best, his 397 points this year was double that of his teamate Mark Webber.
5. Personal highlight of the year
Ronnie O'Sullivan making a complete joke of the snooker world by not playing all season and then successfully defending his world title without even leaving third gear. Thus becoming the first man in 17 years to do so. His five world titles are now approaching a fair representation of his place in the history of the game.
6. Score of the year
Not a score per se, but Phil Mickelson's second shot to the Par 5 17th during the fourth round at the Open Championship. He was the only player to reach the green in two that day, but the way he made it look so easy was the mark of genius that Murifield historically tends to reward. His 66 that day was best round of professional golf in 2013.
Patrick McCarry
1. Best moment of year
For sheer drama (with a happy ending) I'll pick the final moments of the Lions' first Test win over Australia. The home side sprung from the blocks before George North arrived in the series in style. Leigh Halfpenny kept the Aussies at arms' length before bad-boy-turned-good Kurtley Beale kicked his team to the brink of success. Into injury time and the Lions gave up a stupid scrum penalty. Beale looked odds-on to slot it over but slipped at the worst possible moment. The Lions won 23-21. It was all down to Paul O'Connell's death stare.
2. Biggest disappointment
The biggest body blow was the All Blacks game. I told myself all game that Ireland could not win; that New Zealand would snatch it at the death. BUT with 30 seconds left and the ball in Irish possession, for the first time that afternoon I thought 'We could do this. We could bloody do this'. Of course, we did not.
Biggest disappointment however was the England game in the Six Nations. Having torn Wales to shreds and with Simon Zebo bringing feckless brilliance to the backline, hopes were high for our first championship in four years. Brian O'Driscoll became a father that morning for God's sake! Chris Robshaw, Owen Farrell and company did not give us an inch and ground Ireland into the sodden Lansdowne Road turf.
3. Shock of the year
Connacht beating Toulouse at Stade Ernest Wallon in the Heineken Cup. As former Connacht player Adrian Flavin told us, 'No-one outside of Connacht expected this'. Not many in the province believed it either. Pat Lam's men had only beaten lowly Zebre this season, lost another nine from 11 and were coming up against the four-time Heineken Cup champions.
Dan Parks gave Connacht a great start but a 39th minute try saw them trail 7-6 at the break. The lads kept the faith and continued to play the game, and show trust in each other. Kieran Marmion sniped over for a crucial try and they held on for a miraculous 16-14 win. They were 25-1 against getting the win but I would be surprised if even 10 people took those odds.

YouTube credit: nemetonSPORT
4. Athlete of the year
The IRB gave player of the year to Kieran Read but I believe Leigh Halfpenny was as close to flawless without being boring for club, country and Lions. He kicked Wales to a Six Nations championship (superb against Scotland and France) and bore the responsibility of being the Lions go-to guy against the Australians. Showed off his line-breaking skills in the triumphant Third Test.
5. Personal highlight of the year
Manchester United giving Alex Ferguson a league title to take with him as a retirement present. All the leading contenders melted away as Robin van Persie had a stormer and David de Gea cut out the errors but kept the shot-stopping. Ferguson's 13th league win as United boss and there was still time for blustering indignity when Nani was scandalously sent off against Real Madrid.
6. Score of the year
So many great goals blasted in from all angles this year but I love this Matt Lowton goal against Stoke back in April:

Sean Farrell

1. Best moment of year
2013 in rugby will be remembered mostly for the events later in the year, but Munster's heroic push for an unlikely Heineken Cup final appearance was riveting viewing.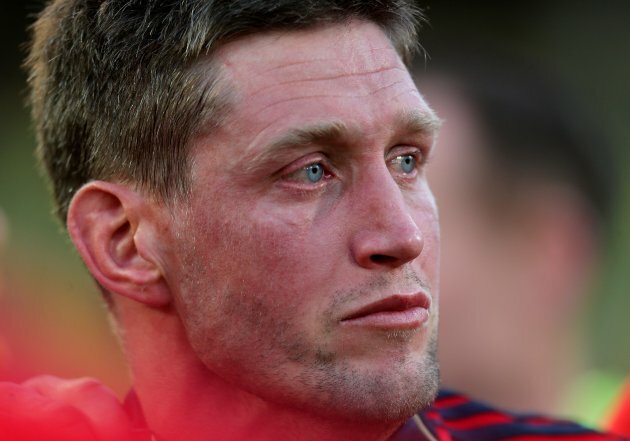 (INPHO/James Crombie)
Of course, it all ended in tears. But how fitting that Ronan O'Gara shed those tears, in his last professional game, in a Heineken Cup semi-final. His stage.
2. Biggest disappointment
The Six Nations, everything that followed the first 40 minutes in Cardiff and then Rory, the disappointment that kept on giving.
2013 was the year the most exciting golfer on tour was taken down several pegs. Some were delighted to see it, I was not. With Tiger midway through year number six without a major, golf needs a star. If Rory McIlroy can get his act together, few can touch him.
3. Shock of the year.
It's so close, it's impossible to ignore. Lam's Legends went to Toulouse having only beaten Zebre in their 11 games up to that point in the season, and they bloody well won!
There's not much I can say here that hasn't been said already, but it truly was an astounding victory.
4. Athlete of the year
Cristiano Ronaldo. The man's a hero. Sure, he doesn't have the natural ability or tiny weird face of Lionel Messi, but damn it, he's worked hard his whole life to make himself into this supreme footballer with all-round athletic capabilities we all should aspire to.
Same deal with LeBron James, but I prefer big Ron.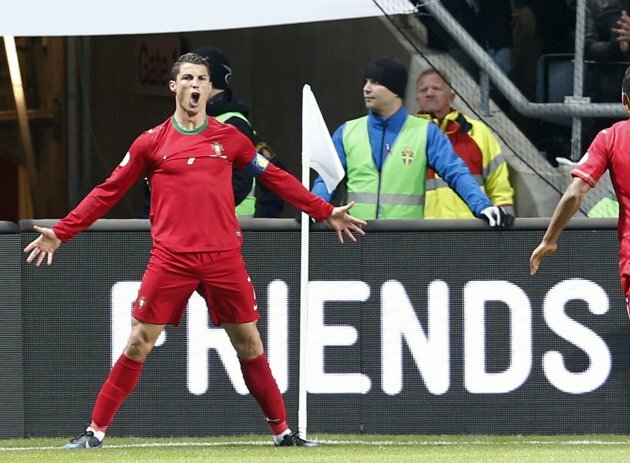 (Frank Augstein/AP/Press Association Images)
5. Personal highlight of the year
Watching Rob Kearney pick off Israel Dagg's knock-on and race 60 metres to put Ireland 19 – 0 up against the All Blacks.
It's been a long time since Lansdowne Road was engulfed with such madness (for starters, it was called Lansdowne Road), but hopefully we'll soon see the likes again.
6. Score of the year
Probably, like, the best goal ever.

Niall Kelly
1. Best moment of year
2013 was the greatest hurling summer of all-time™ so it's only right that I pick a hurling moment. For the sheer "OHMYGODDIDTHATJUSTHAPPEN?" factor, it has to be Domhnall O'Donovan's point in the drawn All-Ireland final… I mean, what was he even doing that far up the field? The fact that I had backed a draw as well makes it twice as sweet.
2. Biggest disappointment
Lansdowne Road, 9.36pm, 26 March: I've never seen the energy sapped so quickly from a stadium as when Austria's David Alaba scored in the third minute of stoppage time. That was the moment that effectively ended Ireland's World Cup qualification chances so not only did Alaba ruin this year — he ruined next year too.
3. Shock of the year
Lance Armstrong sitting there, publicly admitting to his doping. Even in a scenario where the whole house of cards came tumbling down, I didn't see that coming.
4. Athlete of the year
There are plenty of deserving candidates but Jason Quigley stands out above the rest. This time last year, he was almost a complete unknown outside boxing circles. Now he's the Irish senior champion, the European champion and a world silver medallist. He's had a truly remarkable year.
5. Personal highlight of the year
As a Dub, it's hard to pick anything other than the All-Ireland football semi-final against Kerry. I'm too young to remember the legendary rivalry of the 1970s and 1980s but I'm old enough now to appreciate a spectacular game of football when I see one — and to be fair the word spectacular doesn't come close to capturing the quality and enjoyment served up that day. A pleasure and privilege to be there.
6. Score of the year
It only happened a few weeks ago and so probably wins by virtue of being the freshest in my memory but Auburn returning a missed field goal the length of the pitch to end Alabama's reign was jaw-dropping.
Murray Kinsella

1. Best moment of year
I was delighted to see Joe Schmidt appointed as Ireland rugby coach. It wasn't a great 'moment' maybe, but I think it's going to prove a smart move in the long-term and it's exactly the direction I was hoping the IRFU would go. The Kiwi's technical excellence, honesty and intelligence mean I'm excited about Irish rugby in 2014.
2. Biggest disappointment
Ryan Crotty crossing to score after 12 phases of All Blacks' attack against Ireland. Heartbreaking.
3. Shock of the year
Connacht's incredible win over Toulouse in the Heineken Cup for me. The fact that it wasn't just the typical underdogs, blood and guts-spilling win made it all the more memorable. Pat Lam's men actually took the game to Toulouse and their try was of high quality. Their line speed in the closing minutes was impressive too, and Connacht thoroughly deserved the victory.
4. Athlete of the year
Kieran Read for me. I think he was the best rugby player in the world all year long and because I'm biased towards rugby, that makes him the world's best athlete too. The All Blacks No. 8 has everything to his game, but it is his on-pitch intelligence that makes me such a fan. Understands when to take risks and when to play it safe, when to be aggressive and when to use his skills. As close to a complete rugby player as I can remember seeing.
5. Personal highlight of the year
My personal highlight was being at the Ireland v All Blacks game. It not only showed Irish people that our players are good enough to compete with the best, but I think that game finally launched the Aviva Stadium as Ireland's rugby home. The atmosphere was absolutely deafening throughout and it was just an excellent match.
6. Score of the year
My favourite try of the year was Tim Nanai Williams' for the Chiefs against the Highlanders in Super Rugby after just over three minutes of non-stop play. The ball changes hands several times, and there were so many examples of brilliant attacking play. The show of fitness and desire to keep the ball in play was just inspirational. It's exhausting even watching it!

YouTube credit:
fifabafana
Paul Fennessy
1. Best moment of year
Watching the Dublin footballers (yes, I'm slightly biased in this regard) and seeing them play such scintillating football. The final against Mayo may not have been a great game, but their semi versus Kerry was certainly a contest fit for the occasion.
2. Biggest disappointment
The two that spring to mind are both rugby-related. Of course the heartbreaking loss to the All Blacks was hard to take, while at the same time illustrating perfectly why we all love sport — it contained all the elements necessary to make a great occasion: courage, skill, the underdog almost triumphing, an intensely dramatic conclusion. And it makes the prospect of a potential re-match all the more enticing, given that the losing record (somehow) continues.
Both Brian O'Driscoll's absence from the third Lions test and a section of the Irish public's reaction was also disappointing. While disagreement and criticism is understandable, people saying they were no longer supporting the Lions because of it was ridiculous. And having grown up watching the sport as BOD grew into the Irish jersey, there was a slight feeling of sadness amid the realisation that his incredible career would be tainted slightly by this unfortunate moment.
3. Shock of the year
MONKeano actually happening. I never thought I'd see the day when Roy Keane and the FAI would be working in tandem, and I would have had doubts as to whether he would be willing to accept the role of assistant boss, but he's never been a predictable person, so it makes sense in a way.
Lance Armstrong actually admitting to doping in an otherwise relatively tame interview with Oprah was also something I was hoping but not expecting to happen this year.
4. Athlete of the year
Rob Heffernan. Having dabbled in athletics for a few years as a youngster, I experienced a small taste of how tough it can often be. Team sports are difficult enough, but individual ones are an entirely different beast and arguably require even greater discipline — for instance, you may have the odd off day on the soccer field and your teammates can carry you through, but there is no room for mishaps in sports such as race walking. So for Heffernan to win at the World Championships, particularly after his agonising near miss at the Olympics, emphasised his incredible character and admirable mental strength.
5. Personal highlight of the year
Interviewing Eamon Dunphy. As someone who has always found Dunphy to be an intriguing and engaging personality, the prospect of chatting to him was both exciting and challenging in equal measure. And thankfully, he did not disappoint with his endlessly fascinating responses to my countless questions.
6. Score of the year
The obvious one that springs to mind is Stephanie Roche's incredible goal for Peamount. It's no surprise that it went viral fairly quickly — it surely did as much for women's soccer as any glowing newspaper article or elaborately conceived FAI development plan ever could.
Honourable mention too for Ireland underage internatioal Liam Kelly's effort against Sweden.

YouTube credit: amazing videos