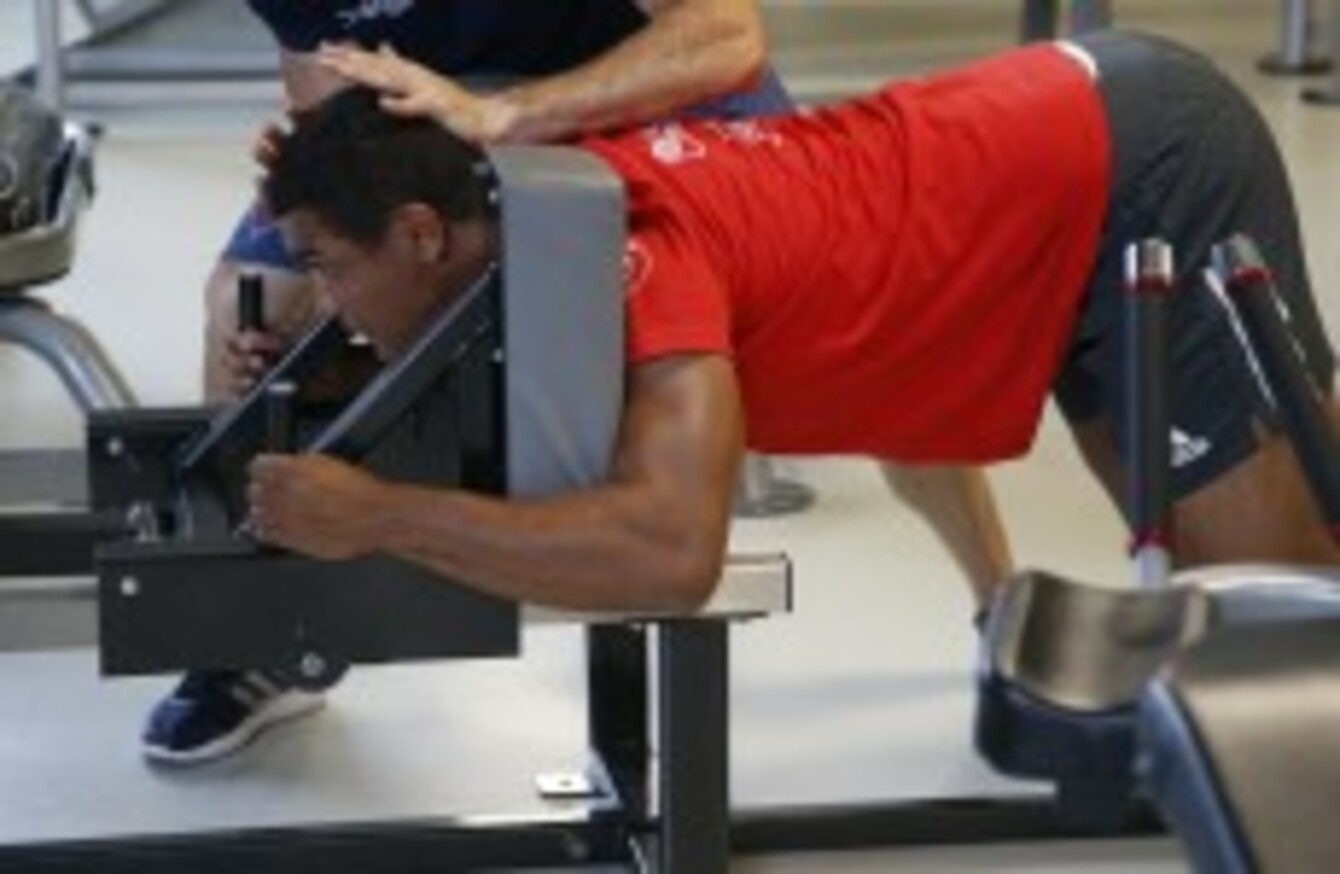 France's Thierry Dusautoir exercises during a bodybuilding session at the National Rugby Center in Marcoussis.
Image: Associated Press
France's Thierry Dusautoir exercises during a bodybuilding session at the National Rugby Center in Marcoussis.
Image: Associated Press
MOST PLAYERS WOULD be content to have captained their country a record 51 times, been named 2011 world player of the year, won a European Cup and five domestic titles but not Thierry Dusautoir, whose final ambition is to become the first French skipper to lift the World Cup trophy.
The Ivory Coast-born Toulouse star — who turns 34 in November — has not enjoyed the best of times either with club or country since he captained France to a surprise place in the 2011 World Cup final where they were judged by many to have been unlucky to lose 8-7 to hosts New Zealand.
Dusautoir, who was named world player of the year on the back of his performances for France in that World Cup, is far from disheartened by his experiences since and is firmly of the camp that looking ahead rather than behind him is the best cure for all ills.
"Playing in a World Cup final has not happened to too many players in the world, and after that it would have been even better to have been crowned champions but we just fell short," said the 'Dark Destroyer'.
That nickname he earned for his fearless tackling especially when France upset the All Blacks in the 2007 World Cup quarter-finals where his total of 38 tackles was two more than their opponents managed altogether.
"It doesn't get much better than playing the All Blacks at Eden Park, but I always think the most important match is the next one and so I hope my best experience is still to come."
Dusautoir, who won the first of his 67 caps against Romania in 2006, said that despite their poor form under national head coach Philipp Saint-Andre he still dreams of playing another final and this time winning the World Cup.
"Of course, maybe not against the All Blacks but in any case that is what we are working towards, we are not, though, training to play in another final but to win it," said Dusautoir, who didn't take up rugby till he was 16 as he preferred judo.
Role model
For Dusautoir, who has swatted away increasing criticism that his best days are behind him, it has been quite a trip and while his captaincy has been questioned because of his decline in form, he has proved to be a role model for the young.
Dusautoir – who has an engineering degree — has at times been accused of not being demonstrative enough when things have gone wrong.
However, people saw a different side to him following the deadly jihadist attack by Said and Cherif Kouachi on satirical magazine Charlie Hebdo in January which left 12 people dead — a third gunman, Amedy Coulibaly claimed another five victims in two separate incidents.
In incredibly difficult circumstances, Dusautoir found the right words to suit the occasion, because of his mixed race origins he struck a chord with many from other ethnic backgrounds who feel, rightly or wrongly, disenfranchised.
See Sport
Differently
Get closer to the stories that matter with exclusive analysis, insight and debate in The42 Membership
Become a Member
Dusautoir addressed this thorny topic in his Huffington Post column by relating his experiences when he first went to school in Perigueux.
"I want to say that what struck me when I first arrived (in France) from the Ivory Coast is the camaraderie and of living together.
"In my early years I quickly learned I was more tanned than the others (his fellow pupils), that I had a funny accent where instead of swallowing my 'r's' I rolled them.
"But my friends in Perigueux laughed with me and not at me. Like one laughs with a clumsy clot, a very tall, fat or shy guy."
With France expected to struggle, Dusautoir may be badly in need of such self deprecatory humour during the World Cup.