WHEN, OVER THE course of just a few months, you represent your country at the European championships, break the national record twice and beat the reigning world champion on home ground, you would think it might be difficult to pick just one highlight.
For Waterford's Thomas Barr though, the answer is easy.
Earlier this year, Barr beat world champion Jehue Gordon to win the 400 metre hurdles at the Morton Games in Santry and you can sense the joy in his voice as he talks about that July evening.
"It was, by far, the best year of my life on the track and it felt like it kept going from high onto high onto high.
"But the pinnacle has to be the Morton Games. To get within .04 seconds of a personal best, on home soil and beating the reigning world champion, that was just something special.
"In Ireland at least, I don't think I've ever heard a crowd so loud and it was just amazing to hear and experience. It was a privilege to be there."
Ryan Byrne / INPHO Barr celebrates his win. Ryan Byrne / INPHO / INPHO
That's not to say that 400m hurdling comes naturally to the 22-year old. Indeed, he's often described a 400m runner who happens to find hurdles in his way, so much so that he's earned the nickname 'Bambi' for the way he approaches the obstacles.
"When I started to take athletics a bit more seriously I really did try my hand at everything. Along the way, I did a bit of every event from cross-country – which I absolutely hated – to shot putt, javlin, discuss and high jump. Actually, thinking about it, the only events I didn't do were pole vault and the hammer throw.
"Eventually, I figured out I was an okay 400m runner. The high jump was probably my strongest event at around 15-16 years old but I kind of reached the end of how far I could go with that but I was still doing a little bit of 400m hurdles.
"The way my coaches looked at it, I was doing a 400m race with hurdles in the way rather than being a 400m hurdler. It was just something I had a little bit of a flair for but I was far from exceptional."
That Barr would try his hand at a number of different events should be no surprise given how much his parents encouraged him to try a variety of sports as a child and it's something he believes made him the athlete he is today.
"When I was younger my parents were very encouraging towards sport so I was involved in quite a few different ones. For a long time I was playing rugby, basketball, GAA, swimming. I tried a bit of everything when i was younger.
"Athletics was just the one I enjoyed the most I suppose. That's where I met a lot of my good friends and that's one of the reasons, the social aspect as well as the active aspect, that kept me coming back.
"I'm a firm believer in trying everything because what you don't try you don't know. I mean, you could have an unbelievable aptitude for a sport but if you never even give it a go, how will you know if you're any good at it?
"It's also great to get a feel for different sports, different sporting cultures. When you're younger that gives you a broader spectrum of friends and that's definitely something that benefits you as you grow up."
While the Ferrybank AC athlete is still relatively new to the 400m hurldes, his improvment over the last few years has been phenomenal, taking nearly eight seconds off his personal best before twice breaking the Irish national record in 2014.
"We don't have a history in the sport I suppose. Up until 4-5 years ago I didn't even really know who someone like Edwin Moses was. Remember I was a high-jumper back then so someone like Stefan Holm the Swedish high jumper would have been my hero growing up.
Exclusive Six
Nations Analysis
Get Murray Kinsella's exclusive analysis of Ireland's Six Nations campaign this spring
Become a Member
"But when I left home in Waterford to move to Limerick for university and when I started training properly with Drew Harrison in UL, I really started to excel at the 400m hurdles, bringing my personal best from 56 seconds down to about 50 seconds in a relatively short period of time."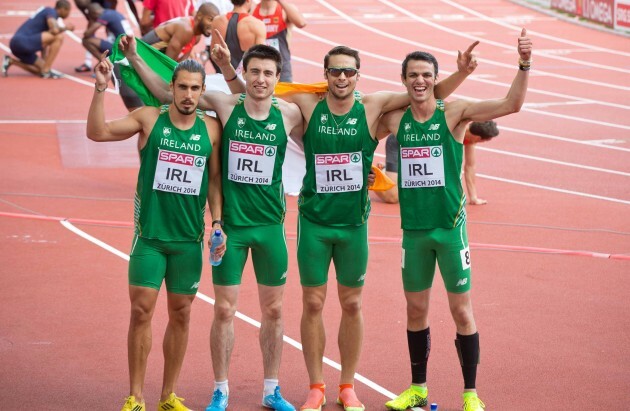 Morgan Treacy / INPHO Barr and his team-mates celebrate a new national record in the 4x400m hurdles in Zurich. Morgan Treacy / INPHO / INPHO
Barr's personal best now stands at 48.90 which he ran in Geneva this year and – like all athletes, the goal is not just the World Championships in 2015 but qualification for Rio the following year.
Training for those, as you can imagine, is not easy.
"I'm training full-time and, because we're in preseason at the moment, I'm in heavy winter training so the volume and intensity is quite high. I'm currently training twice a day, Monday through to Friday, and then I've Saturday off and I do hill training on a Sunday morning.
"On a Monday, Wednesday and Thursday I'd have a strength session in the morning and then, in the afternoon, I'm on the track. I'd mix that up with circuit training on a Tuesday evening and plyometric training on a Friday.
"I don't really count calories. It's something I really must get better at. Basically, if I'm hungry I eat. The main thing is to get a good breakfast in and lunch and dinner will be big but there's a lot of grazing."
That won't stop Barr celebrating his year to remember this Christmas though.
"I'll definitely be able to enjoy my Christmas dinner, there's not worries about that. Over the Christmas there'll be a few nights out and that with a few drinks but I won't be going overboard either."