Updated 21 August, 9.30am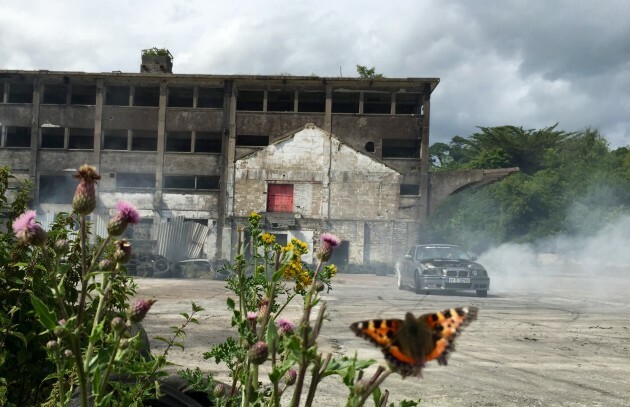 Peter Sweeney / The42 Peter Sweeney / The42 / The42
THOMAS BARR IS quick on the athletics track. Seriously quick.
The recently crowned World University Games 400 metre hurdles champion, the first Irish person to win gold at those championships since Sonia O'Sullivan and Niall Bruton in 1991, is also the national record holder.
He broke the old mark at the Rome Diamond League meeting earlier this summer meaning that the 23-year-old's rapid progress has seen him start to move in some pretty elite circles.
Barr likes speed away from athletics too. His new passion is drifting, which he does with a bunch of friends at a disused tannery about 20 minutes outside Waterford City.
It's far from the glamour of gold medals and the lucrative Diamond League, but the University of Limerick masters student wouldn't have it any other way.
"I don't get home to Waterford that often and I like to switch off from athletics," he explained.
"Obviously I'll do my training or whatever needs to be done at the weekend, but I like to switch off, catch up with everyone at home and do this because it gives me a reality check.
"It lets me know that no matter what I'm doing on the track, I can still come home and do this sort of thing."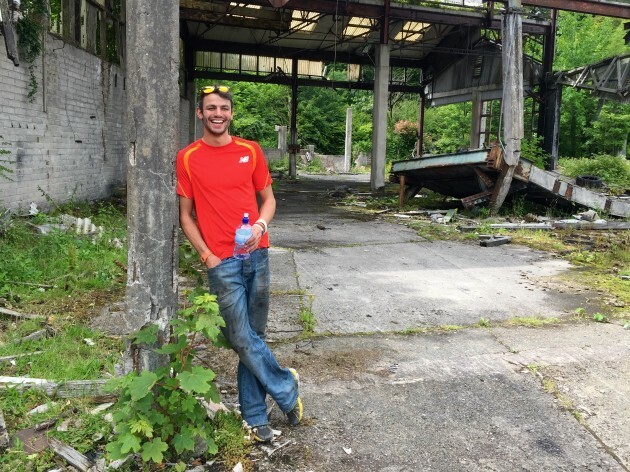 Peter Sweeney / The42 Peter Sweeney / The42 / The42
In case you don't know, drifting is a type of motorsport. The basic idea is to slide a modified car sideways around a track.
It originated in Japan and moved to the United States before hitting the mainstream with popular movie Fast and Furious: Tokyo Drift. There is a small but growing scene here in Ireland, with a five-round national championships currently taking place.
"It's an adrenaline buzz, it's something completely different and I can just switch off. I can come out here, burn through a few tyres and a bit of petrol with my friends and it's a good buzz," said Barr.
The42 Video / YouTube
Whilst he loves the buzz he gets from drifting, Barr's real sporting ambition remains athletics.
The Ferrybank runner, who was born and raised in the picturesque seaside village of Dunmore East, has already run a qualifying time for next year's Rio de Janeiro Olympics.
Because he ran the time so early in the Olympic cycle his qualification isn't certain and he will have to continue to show form next season, but he is hopeful of following in the footsteps of his older sister Jessie, who ran at London 2012 as part of the 4×400 metre relay team.
"I've to show form next year – basically be injury free and be running near enough to the standard I'm running now," said Barr, who is studying for a masters in sports performance at the University of Limerick. "Hopefully it shouldn't be a problem.
"It takes the pressure off, definitely. Even talking about going to the Olympics still sends a chill down by spine."
The42 Video / YouTube
Thomas and Jessie, who has been plagued by injury recently, are close and they often turn to each other for advice. While Jessie was always an international prospect, Thomas' move through the ranks started later.
"I'm a little bit astonished with the progress I have made, first off this year, and in the last five years to see where I've come from," he admitted. "I'm just riding the wave at the moment, things are going really well.
I'm only 23 so there is definitely more to come. A lot of 400 metre hurdlers don't reach their peak until their late 20s because it's such a technical sport, whereas sprinters it might be their early 20s.
"If I can stay injury free and and keep going the way I'm going, who's to say where I might end up at my peak. I'm definitely going to keep going and keep giving it my all until I can't any more."
By his own admission, Barr bombed at last year's European Athletics Championships in Zurich, heading for home after the semi-finals.
That's why success at this year's University Games was so important to him and it has given him massive energy heading into an Olympic year and with the World Athletics Championships in Beijing which start this weekend.

Peter Sweeney / The42 Peter Sweeney / The42 / The42
"The ambition this year is to get to the World Championships final," said Barr.
"The World University Games was an absolute bonus and to come away with a medal from it was the icing on the cake on the bonus. It's a really good year this year because it means I can test out whether or not I'll be able for two championships.
"This year it'll be the University Games and the World Championships, next year it'll be the Europeans and the Olympics so it'll be a good test of whether I should do both of them or one or them; just the Olympics.
"There was pressure on me coming into the University Games because I was ranked one, I won my heat, I won my semi-final and for the final I was ranked first and got a good lane.
"It was just a relief as much as delight for all the hard work having paid off, having lived up to all the expectations. Zurich last year I crashed and burned in the semi-final when maybe I was expected to bring home a medal.
People were saying to me 'next time we see you, you'll have a medal around your neck'. And I believed it all, that was me being naive and perhaps getting ahead of myself.
"I'm nearly glad it happened because it set me up for the World University Games and I knew how to deal with the pressure. It was a huge learning experience.
"I'll always rise to an occasion. I've learned that about myself. When it comes to the track, I'll always mix it with them and keep with them," he noted.
"I really did rise to the occasion in Doha and that just set my mind completely at ease. Even with the driving – I wasn't going so well and then you came out with the camera and I was able to do it no problem!"
Doha was Barr's first Diamond League meeting and since then he has received invites to Rome and London, with more likely to follow. This means he really is moving in the elite of world athletics.
First published July 2015.