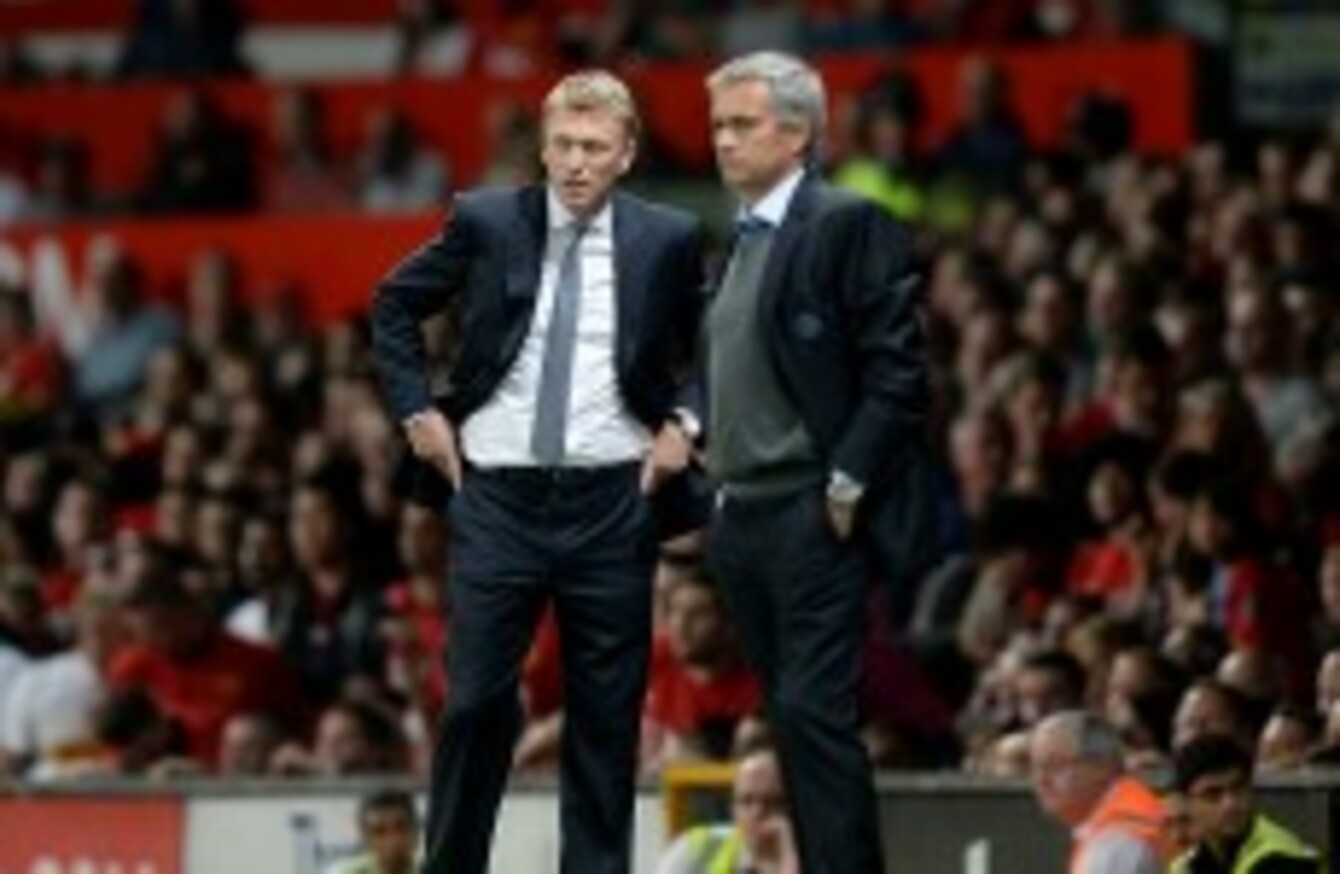 Moyes and Mourinho on the touchline.
Image: Martin Rickett/PA Wire/Press Association Images
Moyes and Mourinho on the touchline.
Image: Martin Rickett/PA Wire/Press Association Images
1. This was far from the classic it was built up to be
IT WAS PACKAGED as the first must-watch game of the new Premier League season. In reality, it promised to be a fascinating spectacle as Manchester United's new guard hosted an older, and seemingly wiser, Jose Mourinho… but turned out to be a damp squib.
The inclusion of Wayne Rooney on the teamsheet was the main talking point in the build-up but Mourinho's decision to start without a conventional striker and go with new arrival Andre Schurrle leading the line in favour of Fernando Torres and Romelu Lukaku wasn't far behind.
The Portuguese manager possibly aimed to pull the ageing partnership of Rio Ferdinand and Nemanja Vidic around with the movement of interchangeable quarter Oscar, Kevin de Bruyne, Eden Hazard and Schurrle. The plan didn't prove very effective, however, and Torres was introduced for De Bruyne on the hour-mark.
For United, Van Persie endured a quiet game and was on the periphery for the majority of the night whereas, in contrast, Rooney looked hell-bent on proving his worth. Danny Welbeck made up their three-man attack and will be disappointed with his finishing after wasting his side's best opportunities a week after bagging two against Swansea.
At the final whistle, Mourinho's satisfaction with a point was evident. Although Moyes stressed that his team went out to win the game, a draw is far from a bad result for the new man with a trip to Anfield next up this Sunday.
2.  Does Mourinho not trust his strikers?
He played down not picking one of Lukaku or Torres in his post-match interview but you do wonder how much faith has in the pair considering that decision and the lengthy pursuit of Wayne Rooney.
When Torres was introduced, he looked leggy and unconvincing as the player who can lead the line as Chelsea seek to win the league for a first time in four years. Lukaku has impressed in pre-season since returning from his loan spell at West Brom and appeared to be favourite to claim the spot as Chelsea's focal point but has only made substitute appearances in their first two league outings.
It will be interesting to see if Mourinho adds to his strikeforce in the coming week and who he picks against Bayern Munich in Friday's Super Cup.
3.  Rooney keen to impress
Wayne Rooney made his first start of the new campaign and from the opening minute was desperate to stamp his authority on the game. There were no signs of ill-feeling towards the player from the Old Trafford faithful as, quite unusually, both fans chanted his name during the first half.
While Van Persie failed to make an impact, his team-mate ran around like a man possessed – chasing down lost balls, throwing himself into tackles and always eager go receive possession in the hope of penetrating the Chelsea back-line.
All summer we've been told that he wants out of United but you wouldn't have known it on this performance. Whether he has done a U-turn or was simply trying to impress the manager who has been chasing his signature is anyone's guess.