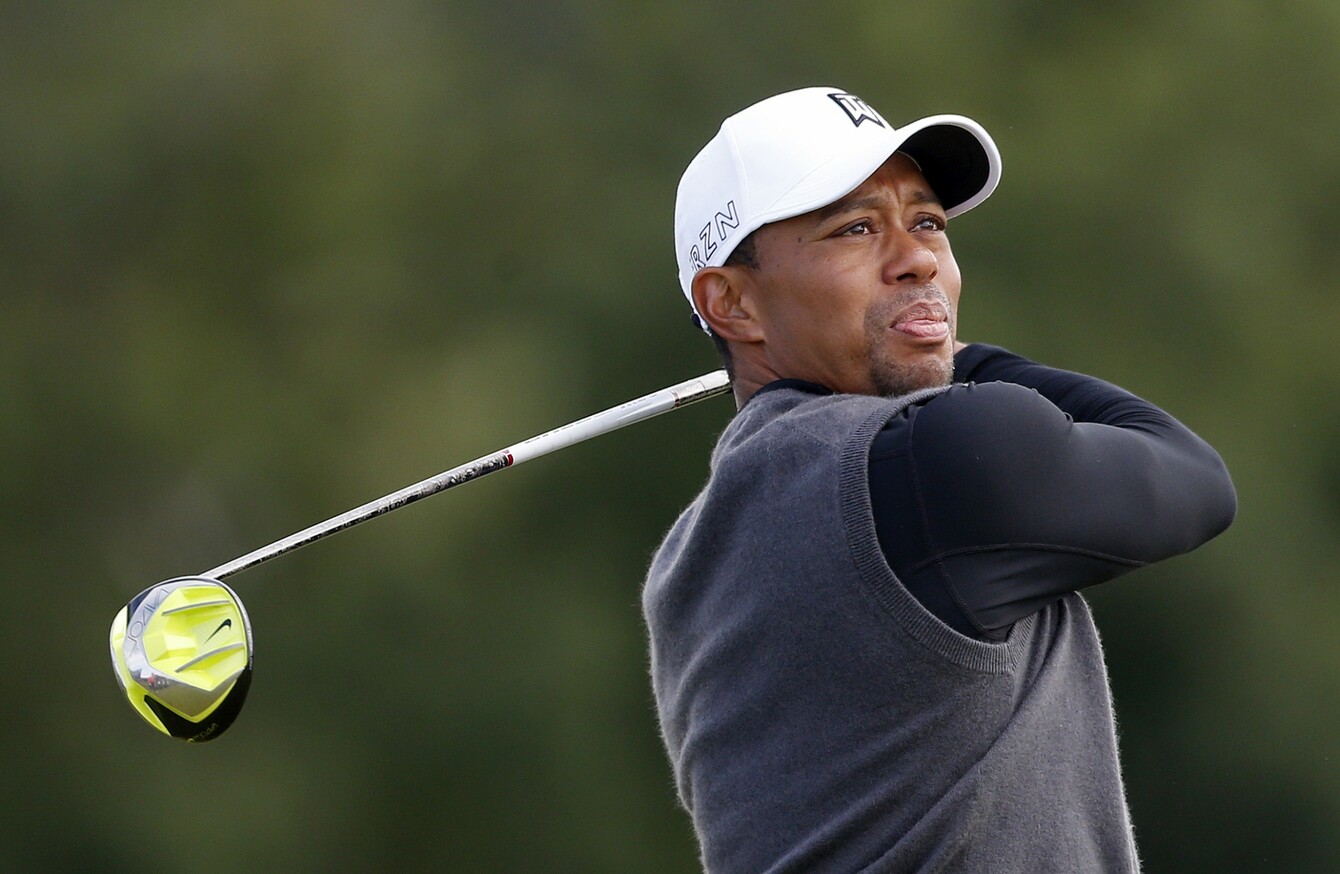 'Words cannot convey how good it feels to be pain-free."
Image: Danny Lawson
'Words cannot convey how good it feels to be pain-free."
Image: Danny Lawson
FORMER WORLD NUMBER one Tiger Woods said last night he is feeling better than he has for years and the 14-time major winner remains committed to playing pro golf again.
In a blog posting through his Twitter feed, Woods spoke for the first time about his April 20 fusion surgery, his fourth back operation since 2010 and one that cut short his 2017 campaign.
"It has been just over a month since I underwent fusion surgery on my back and it is hard to express how much better I feel," Woods said. "It was instant nerve relief. I haven't felt this good in years."
Woods, who last won a major title at the 2008 US Open with a broken leg, missed all four majors in 2016 and skipped last month's Masters as well, saying he was not tournament ready.
"I did everything I could to play at Augusta and was ready to go," Woods said. "Unfortunately, it was kind of like the 2008 US Open. The pain was post-impact when I swung the club. I figured, 'Can I handle it?' This time the answer was, 'probably not.' That shows the effect nerve pain can have.
"Obviously, it was a huge disappointment not to play. I hate to miss any major, especially the Masters, but the reality is I just couldn't play."
The 41-year-old former world number one, whose epic shotmaking stretched the sport's exposure for much of the past 20 years, has won 79 career PGA titles, three shy of Sam Snead's all-time record, and remains second on the all-time major win list, four shy of the 18 won by Jack Nicklaus.
"As for returning to competitive golf, the long-term prognosis is positive," Woods said. "My surgeon and physiotherapist say the operation was successful.
"It's just a matter of not screwing up and letting it fuse. I'm walking and doing my exercises and taking my kids to and from school. All I can do is take it day by day. There's no hurry.
"But I want to say unequivocally I want to play professional golf again."
Woods ended a 15-month layoff for back surgery last December at his Hero World Challenge charity event in the Bahamas, but he missed the cut at Torrey Pines in a PGA event last January and withdrew from a European Tour event in Dubai in February, saying in April he needed the latest operation to ease back and leg pain.
"I could no longer live with the pain I had," Woods said. "We tried every possible non-surgical route and nothing worked. I had good days and bad days, but the pain was usually there, and I couldn't do much. Even lying down hurt."
Woods was back to a level he described as a low point in late 2015 when he struggled to get out of bed and play with his children.
"I had nerve pain with anything I did and was at the end of my rope," Woods said Wednesday. "The process leading up to my decision to have surgery was exhaustive. I consulted with a specialist, and after weighing my options, that's when I decided to go to Texas to have surgery."
- 'I can have a life again' -
Woods said "fusion" was a scary word but cited other players who had disc fusions or replacements.
"They have all come back and played, but more than anything, it made their lives better," Woods said. "That's the most important thing — that I can have a life again with my kids."
Returning to a swing motion is something Woods will not do until August at the earliest.
"Presently, I'm not looking ahead," Woods said. "I can't twist for another two and a half to three months. Right now, my sole focus is rehab and doing what the doctors tell me. I am concentrating on short-term goals.
"There's a long way to go, but as I said, words cannot convey how good it feels to be pain-free."