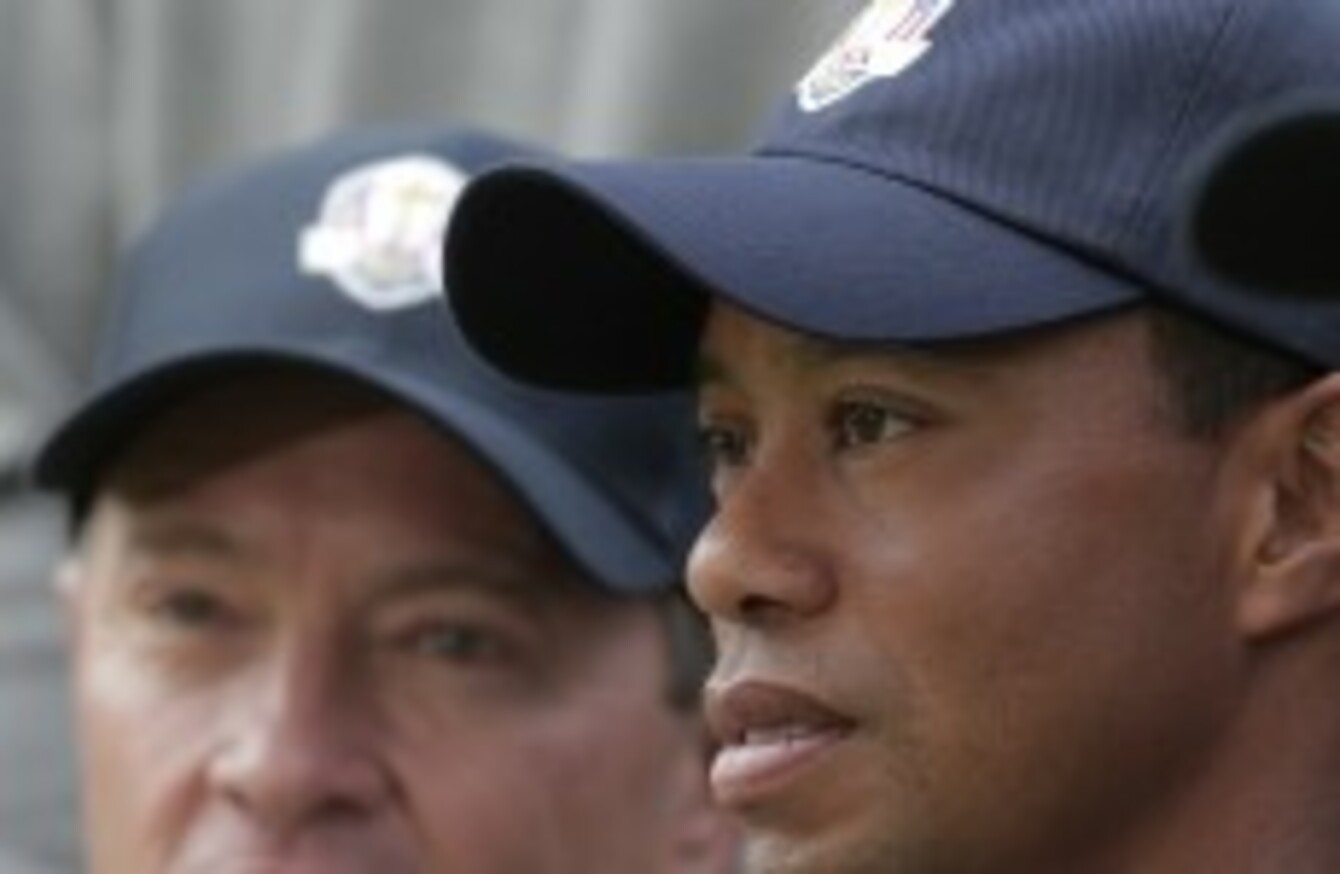 USA's captain Davis Love III and Tiger Woods pose for a photo at the Ryder Cup PGA golf tournament.
USA's captain Davis Love III and Tiger Woods pose for a photo at the Ryder Cup PGA golf tournament.
TIGER WOODS IS hoping that Chicago basketball legend Michael Jordan can be a key motivational figure for the United States in their bid to wrestle back the Ryder Cup from Europe here this week.
Jordan starred for the Chicago Bulls from 1984 to 1998 during which time he became probably the best-known sportsman in the world, a mantle Woods took over once Jordan had retired and he himself had emerged as a superstar.
Jordan has become an avid golfer, rooting for the US team at previous Ryder Cups and he is a member at Medinah Country Club which hosts the event this week.
US team captain Davis Love has actively encouraged Jordan to be involved with his team, which has four rookies in it, and Woods believes he could be a factor this week.
"You know, Michael being who he has been in the sport and what he's done, for him to want to be part of this, is special for us," Woods said.
"This is one of the greatest athletes to ever live, and he wants to be a part of golf and be a part of and share with us what he's been through. For us, that's incredible.
"To have him as a part of this, it's priceless for a lot of these guys. I guess for me, because I consider him like my big brother, gotten to know him so well over the years, I may take that for granted.

"But some of the other guys who don't really know Michael, I think it's a real treat for them."
Woods has a miserable record in the Ryder Cup having been on the winning side just once in his six previous appearances.
That came at Brookline in 1999 and he missed the last US win at Valhalla, Kentucky, four years ago through injury.
The fact that the Americans have won just twice in the last eight Ryder Cups and just once in the past five, he admits, are partly his responsibility as a top player who has a poor record of 13 wins, two halves and 14 losses.
Asked if he felt he had let the side down at times in the Ryder Cup in a decade in which he dominated world golf, Woods said he agreed.
"Well, certainly I am responsible for that, because I didn't earn the points that I was put out there for," he said.

"I believe I was out there, what, in five sessions each time, and I didn't go 5-0 on our side.

"So I certainly am a part of that, and that's part of being a team I needed to go get my points for my team, and I didn't do that.
"Hopefully I can do that this week, and hopefully the other guys can do the same and we can get this thing rolling."
Woods, whose commitment to the Ryder Cup has been questioned in the past, has been given a leadership role this week alongside other Ryder Cup veterans Phil Mickelson and Jim Furyk
That is a role he says he relishes.
"It's amazing how close this core is. We have gotten to know each other not just in The Ryder Cup, but we play team Cups every year with The Presidents Cup, and it's been the same three guys, and for a very long time," he said.
"Phil has obviously been the longest, since '95. It's been a long time, and we certainly have had our experiences. We can certainly help out a lot of the guys who have never been there before."