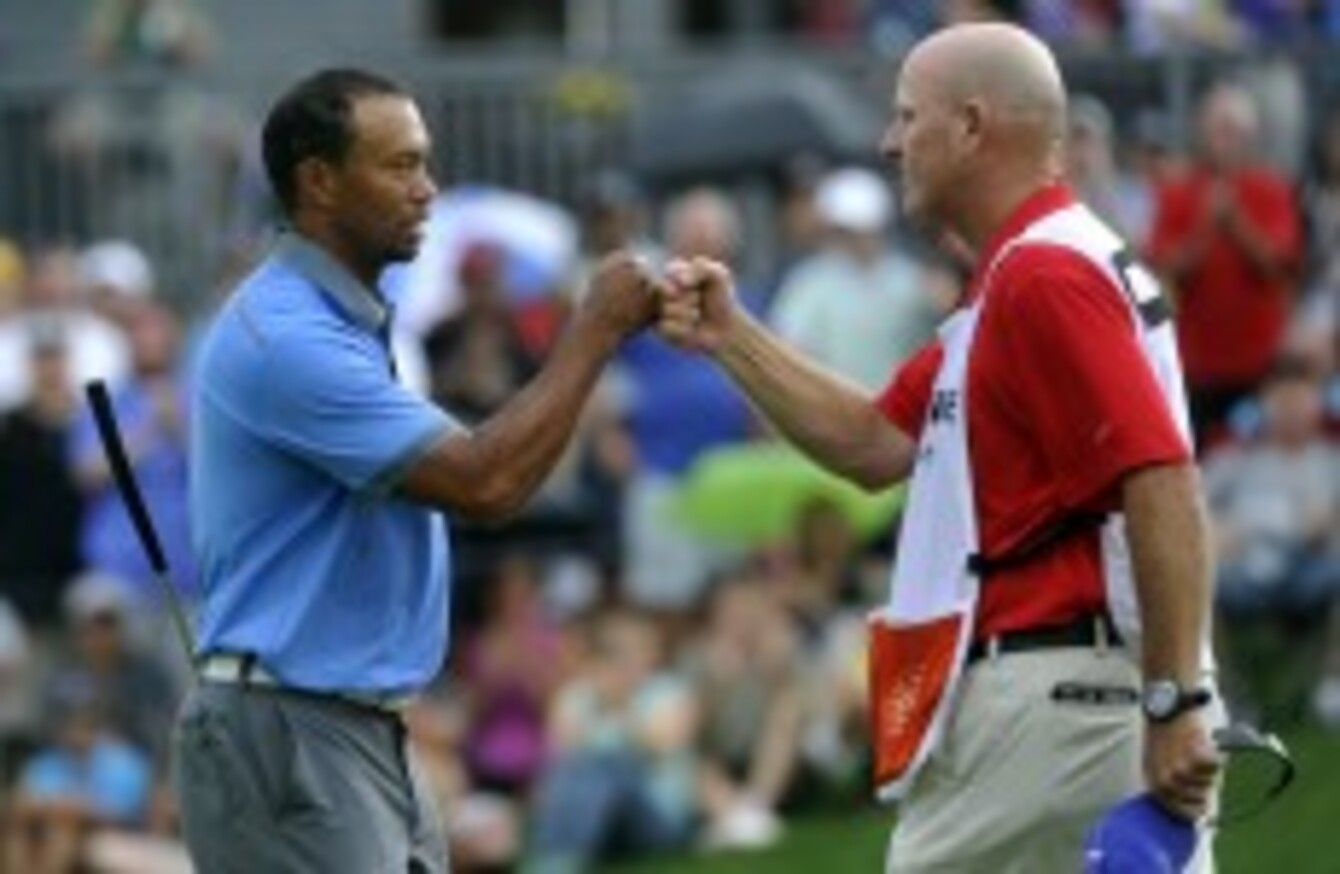 Tiger Woods fist bumps with his caddy, Joe LaCava.
Image: AP Photo/Phil Long
Tiger Woods fist bumps with his caddy, Joe LaCava.
Image: AP Photo/Phil Long
TIGER WOODS WAS the only human being within a 10-mile radius of Firestone Golf Club, Ohio, to rerain from hyperbole after he shot a scintillating round of 61.
The world number one is seven shots clear, on -13, at the World Golf Championship Bridgestone after sinking seven birdies and an eagle. Woods was -4 after his opening three holes and arrived at the 17th green with a birdie putt to stay on course for a round of 59.
His putt was dragged to the left and a dropped shot looked likely on 18 when Woods radar was way off. His recovery iron found the back fringe of the green but the return putt for par, from 22 feet, arrowed in, much to the delight of the crowd.
Woods leads England's Chris Wood and US Ryder Cup teammate Keegan Bradley by seven strokes going into the third round. Speaking after his -9 round on the par 70 course, the American refused to get carried away.
He said, "Well, the thing is I've shot 59 before, so it wasn't a… I was only 9‑under par, so it's not a feeling that I'm uncomfortable with."
Asked to rate his round between 1 and 10, Woods answered, "How about 'just pleased'?" Journalists in the media tent were not letting the story of the day rest with a simple 'just pleased'. The 14-time Major winner was asked if his 61 would rank in his top 10 rounds ever. His response: "I don't know about that."
There are certainly plenty of spectacular rounds to choose from ever since Woods turned professional in 1996.
Having picked up nine shots on a day to remember in Ohio, Woods reflected on the long putt he drained for par on the last. He remarked:
Those are big putts.  I think making big par putts are bigger than making birdies.  It keeps… I don't know what it is, but it's that feeling of never dropping a shot.  I didn't drop any shots today, and I kept the card clean.  Those are nice feelings when you're able to do that, when you're able to keep a card clean like that with no bogeys."
Rory McIlroy is tied for 25th with a score of +1 after two rounds. The fact that he is 14 shots back speaks more for Woods' magic than the Northern Irishman's current malaise.