TIGER WOODS SAYS he has turned a corner with his new swing after finishing tied for 18th place at the Quicken Loans National last weekend, his best finish since the Masters in April.
His performance at the Quicken Loans also followed a disastrous showing at the British Open where he didn't make the cut and finished seven-over after two rounds.
At the Quicken Loans, Tiger's improving swing was the biggest difference in his performance. According to stats from the PGA Tour, Woods' averaged 315.9 yards off the tee, his highest of the year and his driving accuracy was 64% — despite a dismal third round where he couldn't find a fairway — tied for his best of the year.
Woods has been heavily criticized for changing his swing, with some people believing it has completely derailed his career. However, at the Quicken Loans, Woods said his swing was feeling better, even though he still had a terrible third round in which he shot a 74 and effectively ended his chances of winning the tournament.
Woods told reporters afterward that he has turned a corner with his swing change:
"I'm getting some speed back, which is nice. I'm starting to pump the ball out there again and I know my loft of my irons are very weak compared to today's standards. I'm hitting the ball up there with some of the bigger guys again. I got my speed nice on top of that and the fact I was able to make some putts and the short game becoming good again like it used to be."
Tiger also expressed optimism, suggesting he's only going to get better:
"I've got years ahead of me, that's how I look at it, not just this season. I've got years and if you would have asked me that back when I had my back surgery I would have probably — I didn't really know. That was a rough period in my career and my life. But now I'm on the good side of it."
Throughout this year, Woods has stressed patience as he re-worked his swing and recovered from back surgery. However, the golf world has, at times, grown impatient with the inconsistency of his game. At times, his putting and chipping game looks good, other times, it's looked like he's had the yips.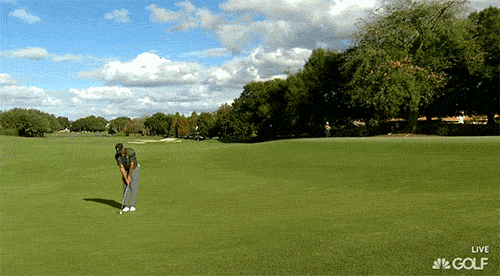 Wordpress Wordpress
Despite the feel-good nature of Tiger's three strong rounds at Quicken Loans — had he shot a 67 in the third round, the median of his 66 and 68 scores in the other three rounds, he would have finished tied for second — there's still one big problem — his mentality.
As noted by Golf World's Jaime Diaz, Woods' inconsistency has become the biggest flaw in his game. After shooting a 66 in the second round of the Quicken Loans, putting him two behind the leaders, Woods lost control and shot that aforementioned 74. In the fourth round, he caught back up and was five-under before bogeying three of four holes. Diaz also mentions that at the British Open at the Old Course, which Woods had previously dominated, Woods quickly unraveled under pressure.
Back surgery and a swing change, at Woods' age, figure to take a while to recover from. Thus far, it's been almost maddeningly slow, with glimmers of hope followed by career-worst rounds.
This past weekend was the best Tiger has looked, perhaps all year, and if he can slowly piece all of these elements back together, he may truly have turned a corner back into contention.
Scott Davis, Business Insider