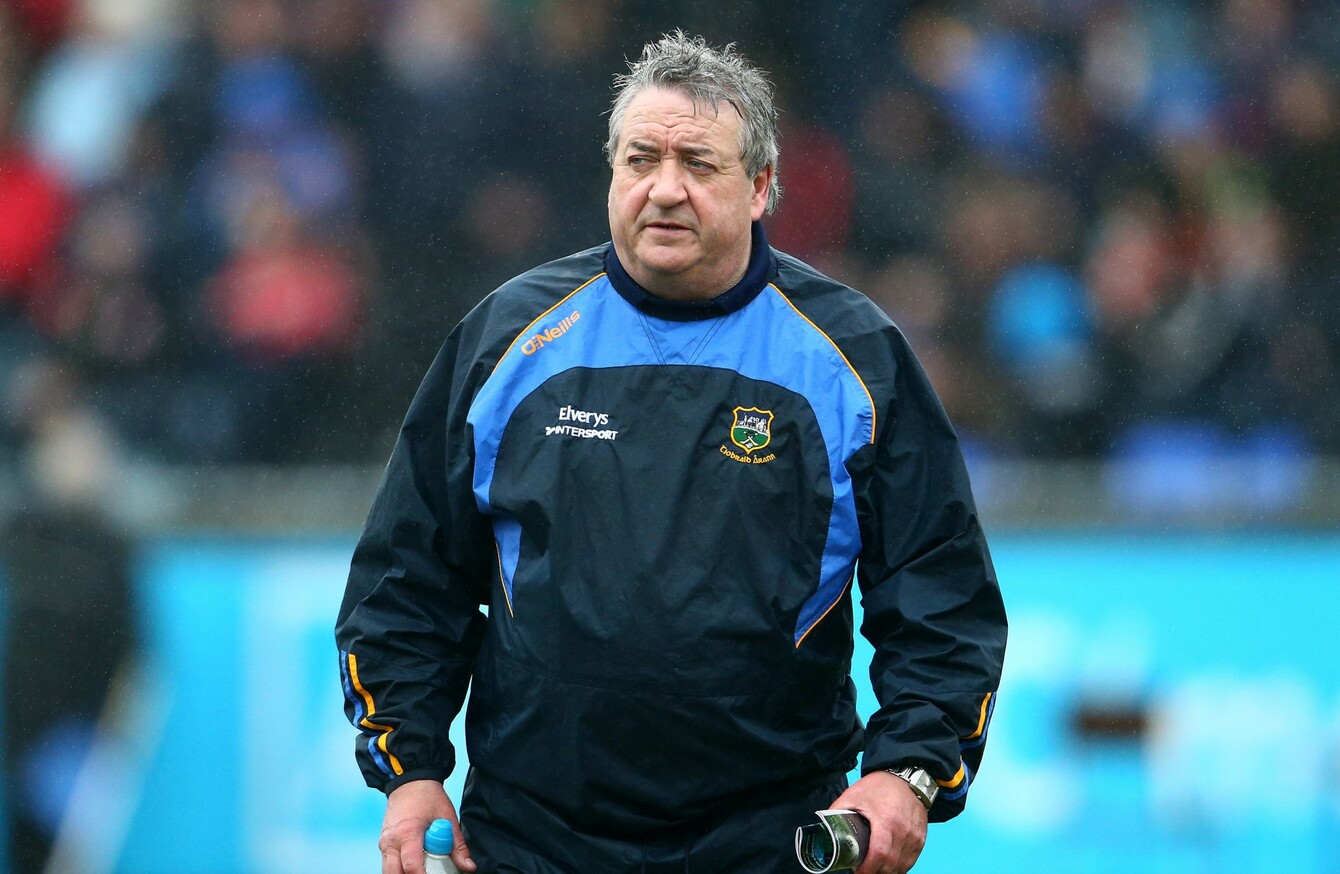 Image: Cathal Noonan/INPHO
Image: Cathal Noonan/INPHO
LONG-SERVING SELECTOR Tommy Toomey has insisted that football in Tipperary is being "undermined" by forces within the Premier County.
Despite the recent progress achieved through the underage ranks, and the landmark Munster SFC semi-final victory over Cork, Toomey doesn't believe that the big ball code is valued enough in Tipp.
And Toomey has pointed to the failure to exploit the football talent of All-Ireland hurling winning captain Eoin Kelly as an example of a missed opportunity.
Toomey was in charge of the county's junior and U21 teams this year – and the Arravale Rovers man also guided the U21s to Munster glory last year and an All-Ireland final appearance.
But he was left desperately disappointed by minor hurling team manager Liam Cahill's directive that prospective dual players could play one code only, but not both, this year.
That flew in the face of Toomey's recent philosophy, as he explained that young players were being developed as athletes first and foremost through development squads.
"This dual word came in around it and all the rubbish that went with that," Toomey said.
"But firstly we were developing athletes to play for Tipperary, to pull on the blue and gold jersey, to get out there and play, whether it was football or hurling.
"Within our own county, we have to decide, is football worth investing in in Tipperary? Is it valued in Tipperary?
"We're still not there. No, I don't believe it is (valued), to be honest. You have to look at the actions of Tipperary this year alone, particularly stopping lads who played in an All-Ireland minor final last year playing football this year.
"Once you make those steps and you decide one is above the other and you decide to stop players playing…and they'll go back and say 'the players consented' and all that, that's rubbish.
"I'm a Tipperary man, I know what happens. I was a selector when Eoin Kelly was young enough to be minor.
"Keith Ricken was the minor football manager and we went after Eoin Kelly to play football.
"He was 16 years of age, playing in trials above in Dr. Morris Park, playing in the divisional competition up there, South Tipperary against West Tipperary.
"The South won 3-18 to 2-16, Eoin Kelly scored 3-14. That was a football game and two months later, he was below in St Kieran's (Kilkenny) and he couldn't play any more football.
"We lost him. That's reality in football in Tipperary, we are undermined from within."
But Toomey acknowledged: "Hurling is the number one game, there's no doubt about that and you have to look at it financially as well.
"The number of supporters that go to hurling games way outweighs football.
"But I still think there's plenty of scope for young players to play all the way up to U21. And then make up their mind after that."
But Toomey pointed to Gearóid Hegarty in Limerick as an example of where a common-sense approach can work at senior level.
Hegarty was a member of the county's hurling and football squads at the start of the year before opting for hurling only before the championship.
And Toomey believes that a similar stance could have been taken in Tipperary with Steven O'Brien, a stand-out footballer for the past two seasons who is struggling to make a hurling breakthrough.
At the start of the year, it was confirmed that dual players Seamus Kennedy and O'Brien had both committed to the county's senior hurling panel.
The move has worked out so far for Kennedy, who lined out against Cork and Limerick in the Munster championship, but O'Brien is on the outside looking in.
He came on as a substitute in the final minute when Tipp lost to Clare in the Allianz League quarter-final but that's the sum total of his game-time this year with the hurlers, during a spell when he could conceivably have lined out with the footballers.
Toomey added: "Limerick were playing in Division 4 League this year, Gearóid Hegarty was allowed to play League football and was also involved in their hurling squads until they were ready to say that he was going to make the hurling panel. In the championship, he was selected at wing-forward (against Tipperary).
"Steven O'Brien is well documented. And I think that should have been handled in a different way.
"There is a lot of controversy around it but the bottom line is that for the player himself that if the development of Steven was a long-term project, Steven should still be playing football to keep his competitive edge because that wears off very easily.
"And what I have noticed from players coming back from the hurling, when they haven't played competitive games, it takes them six to eight months to get the competitive edge back.
"Like Seamus Kennedy, when he came back to football, Seamus had spent 18 months with the hurling lads and never got a game, either.
"And he came back into football and it took him six to eight months to get back that competitive edge, and he got it back."
The42 is on Snapchat! Tap the button below on your phone to add!