A SURVEY BY the Tipperary county board has revealed that over 600 players have emigrated from GAA clubs in the county over the past five years.
The findings have been revealed in Tipperary secretary Tim Floyd's report to the annual county convention which takes place next Wednesday, December 11th, at the Dome in Semple Stadium in Thurles.
639 players from the 72 clubs in the four GAA divisions in Tipperary have left the county since July 2008 with only 40% continuing to play abroad as 270 players have requested or were granted transfers in that time frame. Approximately one-fifth have returned to Ireland and most of these have resumed playing with their home club.
28 clubs have lost at least 10 players while 13 have lost the equivalent of a full 15-man team. Hardest hit has been the Cappawhite club in the west of the county which has lost 36 players with none returning. North Tipperary club Burgess have lost 30 players with nine returning
Other clubs that have been particularly affected by players emigrating are Kilruane McDonaghs (18), Cahir (20), Killenaule (18), Mullinahone (20), Clonoulty-Rossmore (20), Rockwell Rovers (20), Galtee Rovers (17), Lattin-Cullen (17) and Gortnahoe-Glengoole (20). 2011 was the worst year of emigration in the county.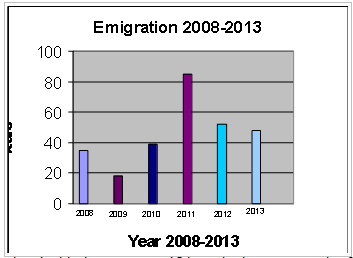 Pic: Tipperary county board
"The survey was carried out by text only, over five days so I cannot stand over the accuracy of the figures returned", outlines Floyd. "I can also presume that much of it was done from memory without thorough research.
"I still believe that the results are a reasonable reflection of the trend over the past five years since the current recession took hold.
"The UK was the destination for 70% of our emigrant players whilst the USA was the second most attractive for about 18% ,with Australia at 12%.
Cappawhite GAA club seems to be hardest hit with little or no record of any returning or any still playing abroad, and Burgess club. It's a credit to both clubs that they continue to be competitive following such an exodus. Would any other organisation survive this?"