INSPIRATIONAL KILKENNY FORWARD TJ Reid took today's Leinster Senior Hurling Championship final victory in his stride as he looked ahead to the next challenge awaiting the Cats.
Reid was in sensational form, scoring 1 – 9 to help his side pull clear of Galway despite the Tribe themselves appearing in excellent form.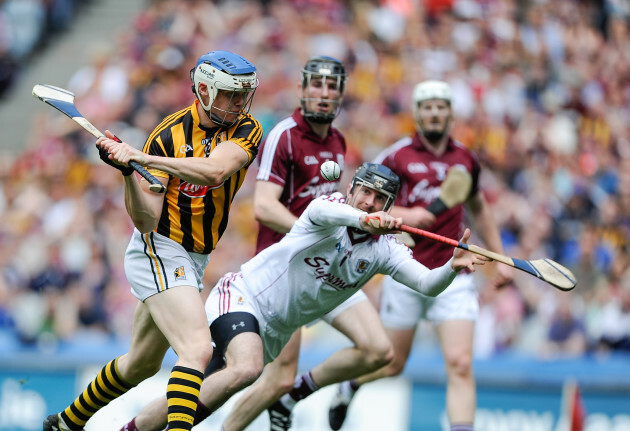 Tommy Grealy / INPHO Reid takes aim after rounding the goalkeeper. Tommy Grealy / INPHO / INPHO
"I done okay, yeah," Reid told RTÉ post-match.
"It's always nice to score in Croke Park, but the team effort, the work-rate the spirit in the team is fantastic.
"I think we have five weeks now until the next game, so we'll train like dogs for the next five weeks and hopefully the same outcome will happen again."
At times, Reid's natural style and eye for the target make the tasks in front of him look almost straightforward, but he insists the westerners were anything but before looking forward to the next big challenge on 9 August.
I wouldn't say easy, but we got the job done. All-Ireland semi-final is a nice place to be: 70 minutes away from an All-Ireland final. We're delighted, but work only starts now.
"It's very important that we didn't let Galway get an early start on us, [that was] most important. We did well, we have things to improve, but we're delighted."