THE RUGBY WORLD Cup's third day was the first in which was put in to serious competition for attention among floating fans.
Rather than sit and see how many points Wales could run up against Uruguay, there were Premier League games and the All-Ireland final available on other channels to tempt away anyone interested in more than just one sport.
The contest in the Millennium Stadium was ticking along nicely enough in the first half, the South Americans were ensuring it wasn't exactly free flowing, but that's how games go.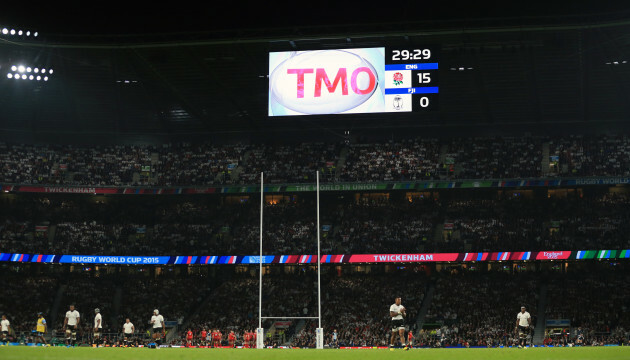 PA Wire / PA Images PA Wire / PA Images / PA Images
Then, suddenly, the Mayday call came through the TV feed and the referee's earpiece.
"FOUL play!"
The game stops, all flow is lost and the world furrows a brow as we wait to see what horrific act has been committed.
Romaine Poite, rarely the voice of reason, looked at the footage of an illegal armless (but shoulder on shoulder rather than shoulder on head) clear-out from Juan Manuel Gaminara with a face that screamed: 'Is that it?
He agreed with the TMO that he had witnessed a clear-out without the use of the arms, but did not think it warranted a yellow card and would only be giving a penalty.
The TMO seemed happy with his intervention and gave a hearty agreement.
Well done, Romaine. Well done on taking my advice… though I thought it was more serious than a mere penalty, but whatever. You're the referee, I'm just the man in the box, I guess.
There was a similar incident in the sunshine of Gloucester on Saturday morning. Nigel Owens was asked by his official to have a good long look at some foul play. Again, the referee had to inflict his common sense on a TMO who seemed to really want to make an impact on the game.
The craziest of all were the two occasions when referees awarded tries, but made a desperate late blow of the whistle before the conversion was kicked so that they could to refer it upstairs after noticing a big screen replay.
Jaco Peyper was a good 20 metres behind the play when Niko Matawalu crossed for what looked like a brilliant try against England, but he awarded the score while still sprinting to the three bodies by the corner flag.
Craig Joubert, the reigning World Cup final referee, needed not one, but two separate trips to the adjudicator. First to check if there had been a knock-on before Noa Nakaitaci touched down. Then again, after awarding the try, he stopped the conversion at the last gasp to confirm that Nakaitaci actually had not touched down at all.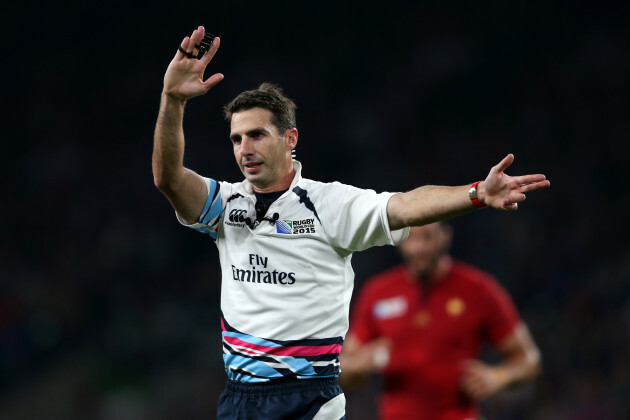 PA Wire / PA Images PA Wire / PA Images / PA Images
As has been pointed out: once a referee points his arm in the air to award a try, a player with the gumption to know he hasn't grounded the ball and take a quick drop-kick conversion is capable of pushing the ref beyond the point of no return for a TMO referral. Now that would be exciting.
It has taken some time, but the opening few days of Rugby World Cup 2015 make it look like we have finally reached the delay-of-game state that the technophobes in opposition to the TMO, HawkEye and Goal Line Technology always warned of.
We have reached the point where there is now too much opportunity in rugby to consult the TMO. The aid of replays is an advantage and a terrific tool, but if it can't be used in moderation, then rugby transforms from absorbing physical test of strength, fitness and skill into an examination of which group can pay attention through fractured, stuttering halves that last as long as 53 minutes.
Exclusive Six
Nations Analysis
Get Murray Kinsella's exclusive analysis of Ireland's Six Nations campaign this spring
Become a Member
In-built limits
Ultimately the stop-start, game-killing interventions we mention above came to the correct call. It's the slow, laborious way they arrive at these conclusion which which frustrates viewers so much.
Tennis and American Football have in-built limits on how often referee calls can be challenged by competitors.
Rugby leaves all the decisions with its officiating crew. In these two days before the tournament is back on our screens, back in competition with other sports, they must sit down and figure out how to return to the practice of using that power effectively, quickly and sparingly.
Given Wayne Barnes was taking TMO advice without stopping play during New Zealand v Argentina (the best contest of the weekend) that process may have already started.