BY HIS OWN lofty standards, Tom Brady had an average night against Green Bay on Sunday. Completing just 22 of his 35 pass attempts for 294 yards and a touchdown; Brady was arguably outplayed by Aaron Rodgers on the night.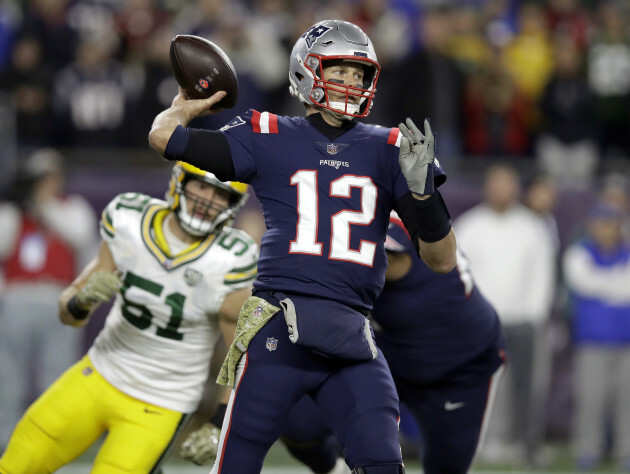 Charles Krupa New England Patriots star Tom Brady. Charles Krupa
Crucially though, with the teams tied at 17-apiece entering the fourth quarter, it was Brady who led his side on two touchdown drives.
First, he completed four straight passes for 34 yards before Julian Edelman and James White combined for 37 yards through the air.
After the Patriots' defence forced a three-and-out, Brady connected with Josh Gordon on a 55-yard pass to seal the deal and move the Patriots to 7-2, the second best record in the AFC.
Rodgers, for his part, completed 24 of 43 pass attempts for 259 yards and a pair of touchdowns.
But consider that Rodgers is seven years younger than Brady and that the latter has 261 games under his belt, the very fact that he can live with the Packers' man at all is nothing short of remarkable.
However, it's his longevity that has probably caused us to take Brady for granted. As Neil Young once sang, it's better to burn out than it is to rust.
Because we've seen him do remarkable things for so long, competing in eight Super Bowls, we watched him throw for 500 yards in his last — with his top-two receivers being Chris Hogan and Danny Amendola, both undrafted free agents — and shrugged as if it was no big deal.
Because he completed his first pass in 2000, we watched him become the first NFL player to total more than 80,000 yards (passing, rushing, and receiving) in his career and talk about how creative Bill Belichick is with his run game this season.
And Belichick is part of the reason we underrate Brady.
Like Bert and Ernie, Bill and Ted, Batman and Robin; it's hard to imagine Brady without his head coach or vice versa.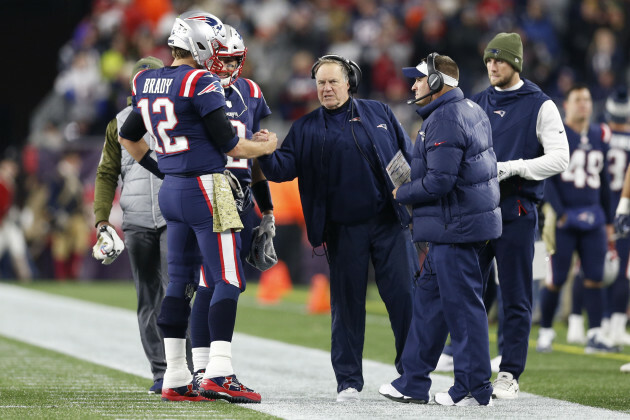 SIPA USA / PA Images TB with Belichick. SIPA USA / PA Images / PA Images
As GM, Belichick routinely brings in waifs and strays — some with more success than others — but it's virtually impossible to tell whether or not the coach has unearthed a hidden gem, or Brady's play makes them better.
When you go back over the list of skill position players who have gone to the playoffs during Brady's time in New England it start to feel the former sixth round pick might have more to do with it.
For example, Reche Caldwell looked like Jerry Rice when he grabbed seven receptions for 80 yards and a touchdown against the Chargers in a playoff game in 2006. A week later he dropped two huge passes as the Colts claimed the AFC title and was unceremoniously dumped before the start of the 2007 season.
David Givens is a two time Super Bowl champion and was Brady's go-to guy in 2004. Despite being a seventh round draft pick, he was the Patriots' record-holder in postseason touchdown receptions until 2015 when Gronk passed his mark.
Even Brady's better weapons — with the notable exception of Randy Moss — fall well below what others who enter the Greatest Of All Time discussion had to play with.
Wes Welker, Julian Edelman and Danny Amendola are all great, but Joe Montana had Jerry Rice and Troy Aikman had Michael Irvin.
The year he won the Super Bowl, Rodgers had Greg Jennings and Jordy Nelson; Brady's last Vince Lombardi came while his best offensive weapon — Gronk — was sitting on the sidelines for the year.
I'll always count myself incredibly lucky to watch that game in person, and not just because of the record-breaking comeback.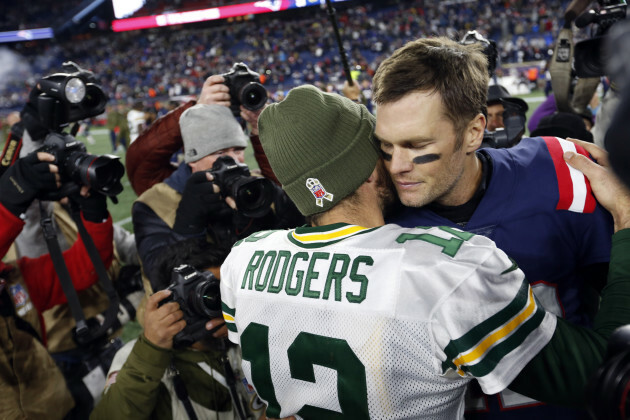 SIPA USA / PA Images Brady with Rodgers last night. SIPA USA / PA Images / PA Images
Like Tiger on the hunt on a Sunday afternoon, LeBron playing all five positions at once, or Roger Federer at his imperious best on the Wimbledon grass; when Brady gets the bit between his teeth, there are few forces on earth can stop him.
During his career we've seen Peyton Manning, Drew Brees, Philip Rivers, and Rodgers put together future Hall of Fame careers and Brady's been better than all of them.
He brings his game to another level, one that other quarterbacks just can't reach. And he does it so often we become complacent about it.
Love him or loathe him, you'll miss him when he's gone.
Subscribe to our new podcast, Heineken Rugby Weekly on The42, here: