TOM COURT HAS always come across as a little different to the average rugby player.
With undergraduate and master's degrees in psychology from the University of Queensland in his native Australia, the 32-times capped Ireland international certainly leads the way in terms of education.
Professional rugby has never wholly defined the 34-year-old, despite his enjoyment of his job and love of the sport. There's more to Court than scrums and mauls.
Now halfway through his first season at London Irish, whom he joined after eight years with Ulster, the loosehead prop is also busy enjoying family life in the "beautiful" west London suburb of Teddington.
He's further occupied with developing an educational app for speech and language therapy. Not surprising really, considering Court is a man who perhaps edges Mike Ross for the title of Ireland's most intelligent prop forward.
The app development has been ongoing for some years now, with Court having received a grant through E-Synergy, early-stage venture capital fund managers with links to the Invest Northern Ireland programme.
This particular app is only the starting point of Court's ambition.
"My wife is a speech and language therapist," explains Court. "So it's a speech and language app which is basically for kids, really aiming to complement the school system and what the education system offers.
"That's in development at the moment, so hopefully the prototype should be ready to trial soon.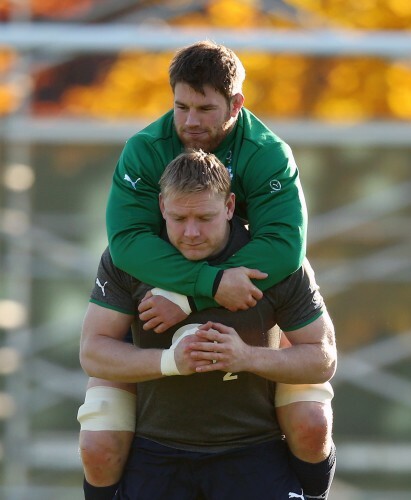 Billy Stickland / INPHO Court at Ireland training in 2013. Billy Stickland / INPHO / INPHO
"We'll get that up and running and if that goes well and all being good, then I'd like to maybe transfer things a bit closer to home [in terms of his education] and develop an app more in the psychometric field, hopefully linking it with rugby."
Psychometrics and its various measurements of personality traits, skills and knowledge is certainly flavour of the month within the business and finance worlds, something Court believes rugby may soon follow.
"You could use it to help with personnel selection and man management, things like that. With regards to not only the psychology of people and how they operate, but just working in teams and everything like that, I think it's very applicable.
"At times in rugby, the old-school approach comes in with coaches and management dealing with players. Sometimes you can take more of a scientific approach and work out an approach for each player rather than 'one size fits all.'
It's one of these things where each player is going to have a certain personality and personality traits, how they work best. Some people work best under criticism, others under praise. Some guys need a pat on the back, others need a kick up the bum.
"Obviously that's a simplified approach, but with each player there's a more suitable way to be managed rather than just one standarised approach of bawling guys out when they've done something wrong.
"I just think there's definitely avenues to explore with regards to rugby, and the psychology side of things is very under-developed I think."
Court would know, given his background in the discipline.
Dan Sheridan / INPHO London Irish sit 11th in the Premiership after a tough season so far, but Court believes the quality is there to rise up the table. Dan Sheridan / INPHO / INPHO
The prop himself has had to deal with some demanding mental challenges, particularly in the aftermath of Ireland's Six Nations clash at Twickenham in 2012, when he was forced to fill in at tighthead against a rampant English pack.
"I probably struggled mentally with a lot of it from time to time, and especially with certain coaches and their approaches to selection and training," admits Court.
"I look at my background as well, where even with years of study in the field of psychology you can still be baffled.
"After Twickenham a few years ago, probably a bit of depression would come into mind. There are lots of different sides to it, even young guys that have to try and manage the rush of getting into the spotlight and everything going well for them.
I think psychology can be used not only in the bad times, but obviously in the good times as well to make sure people stay grounded, don't take things for granted too much."
Court mentions that Ireland often used psychology in their preparations, although never forcefully, while Brian McLaughlin at Ulster was particularly keen on emphasising "team culture and trying to bring the boys together so they'd play."
The space is there for growth in certain quarters of the rugby world though, and professional sides may well be benefiting from Court's psychological developments in the not-too-distant future.
Discussing his plans for these apps, it could be easy to forget that Court's day job involves facing some of the world's best tightheads every weekend in the Premiership with London Irish.
With two kids at home as well, from where does he draw the energy to balance it all?
"It's tough to find the energy and find the time," laughs Court. "I try and explain to some of the young guys here, 'When you're at rugby all day, your wife thinks you're out drinking coffee all day!'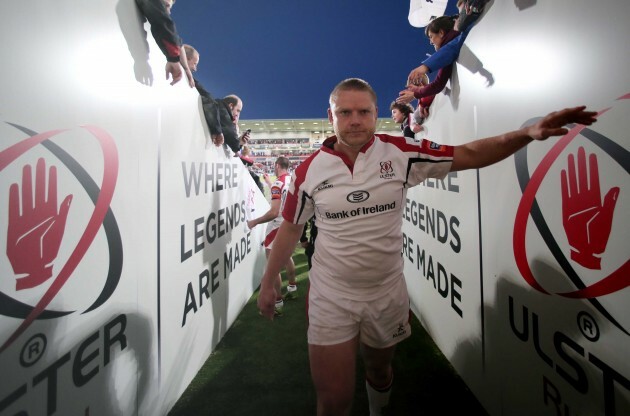 Presseye / Darren Kidd/INPHO Court bid farewell to Ravenhill last season. Presseye / Darren Kidd/INPHO / Darren Kidd/INPHO
"As soon as I'm in the door, I'm going to be looking after the kids and trying to give her a break.
"Once they're off to bed it's seven or eight o'clock, you finally get a minute to yourself and by then, you've had a long day training and you have to have the mental aptitude to work on app development or maybe psychometric-based stuff, it's always going to be tiring."
There's little complaint from Court's corner, however, given that he enjoys the opportunities to switch off from the intense environment that is professional rugby.
"You've got to have hobbies you do purely for enjoyment. I'm an avid reader, so trying to get a quiet coffee for yourself every now and again, then maybe a date night where you can take the missus out to the movies as well. It is a bit of a juggling act at times!"
"Rugby is very intense. I think you add to that the international scene, especially when you're dealing with a camp run by Joe Schmidt. The intensity is at ridiculous levels and it's 24/7.
There's camps when you're down in Carton House and you don't really have too much time to clock off. Now at night time, boys are walking around going through lineouts, going through training analysis.
"Then first thing in the morning, you're up and you're doing your check-in and maintenance stuff, and you're straight back into it again.
"It's very draining and that's where more credit needs to be given to guys like Paul O'Connell and Brian O'Driscoll, guys like that who have been doing it for so long and being at the top of their game. Because I could understand how people would burn out sometimes dealing with the stress and the intensity of it all."
Court readily accepts that his international days are behind him, despite having two further seasons to run on his contract at London Irish and being in excellent physical condition.
Billy Stickland / INPHO Court won 32 caps for Ireland. Billy Stickland / INPHO / INPHO
In a strange way, there is relief in that fact.
"I knew when I made the decision to come to London that that was going to be spelling the end of anything in regards to international hopes.
"But in a way… obviously you always want to play for your country and everything, but in a way it's a bit of a relief because you can relax into a bit more of a routine. Obviously being away for months on end when you've got a wife and kids is very stressful.
"Like I said, full credit to the guys who can keep doing it for as long as they can, because it's taxing not only on you, but everyone else around you."
Out of the Ireland picture, but very much still enjoying life in club rugby, Court is hopeful of playing on beyond 2017, when his current contract at London Irish expires.
Having won 32 caps for Ireland, played for the Lions in 2013 and helped Ulster to many memorable days, the loosehead is nowhere near finished yet.
From a career point of view, I'm signed for another two and a half years with London Irish, but my goal would be to try and get at least another year after that.
"Not only does that keep me motivated to keep playing and stay in as good a shape as possible, I just think as long as the body's going well and, more importantly, I still love playing, that's where I want to be.
"When I stop loving being out there and playing the game every weekend, I'll have had enough. I don't know many boys that actually enjoy training very much, but when you're not enjoying the games anymore you're in the wrong career."
********************
Tom Court was speaking as part of Setanta Sports marketing partnership with London Irish rugby club. The Setanta Sports Pack is the only place to see 69 exclusively live games from the Aviva Premiership each season shown on BT Sport 1, BT Sport 2 & ESPN.