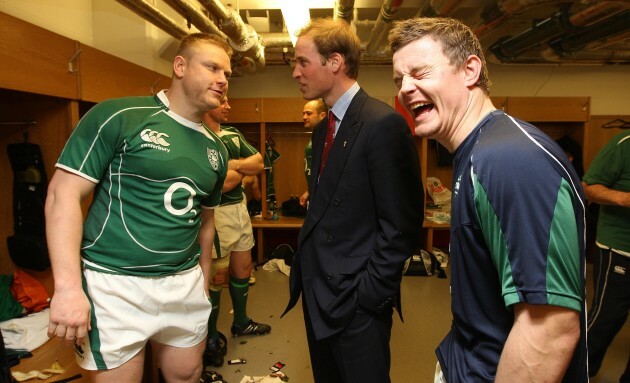 Billy Stickland / INPHO Billy Stickland / INPHO / INPHO
THE SUNSHINE ON Australia's Gold Coast was just the tonic for Tom Court after a long season with club and country.
Seven days earlier he was in Toronto, winning what would prove to be his final cap for Ireland in a victory over Canada. He had been looking forward to this break back home, near where he was raised in Brisbane. So too had his wife Cath, daughter Maddy and son Theo.
Only one thing would have passed as an acceptable holiday interruption, but it was never likely to happen — at least that's what Court thought until his phone rang while Cath went out to pick up a takeaway for dinner.
"I was just in the apartment with the kids," he recalls. "They were running around and enjoying the kind of weather they weren't used to back in Ireland. I think I was just watching TV. The call was from a number I didn't recognise and the person on the other end of the line was claiming to be Mick Kearney, the Ireland team manager."
The following morning, Court was picked up by a car and taken to Brisbane Airport. Three days later he entered the pitch at AAMI Park as a British & Irish Lion, replacing Ryan Grant for the final 25 minutes of a 35-0 win against Melbourne Rebels.
"I was sure the call was a wind-up from one of my team-mates at Ulster. They were always good craic and that's the kind of thing you'd expect from them. I was questioning the legitimacy of it all, which goes to show my frame of mind with regards to being in the reckoning," says Court, who had won 24 of his 32 Ireland caps from the bench.
Dan Sheridan / INPHO Dan Sheridan / INPHO / INPHO
Having been summoned as a replacement for the injured Alex Corbisiero, there was certainly an element of being in the right place at the right time about his call-up. But for an Aussie who first picked up a rugby ball just nine years earlier, facing the Wallabies as one of the British & Irish Lions was a significant milestone.
"For all the other guys, they would probably have dreamt of playing for the Lions when they were kids, hearing stories about guys like Willie John McBride and Syd Millar. For them it was the realisation of a lifelong goal. For me it was just a genuine shock; an appreciation of a very special experience but in quite a different way."
As evidenced by his Lions number — 807 — taking pride of place in the bio on his Twitter profile, Court's involvement in the 2013 tour of Australia represents one of the highlights of a professional career that concluded last month, when London Irish sealed their return to the Aviva Premiership by overcoming Yorkshire Carnegie.
An eight-year spell at Ulster ended in 2014 when he accepted the offer of a three-year deal from the Exiles. Results in England's second tier don't tend to reverberate throughout the rugby world, but helping the club to atone for the disappointment of the previous season's relegation was a satisfying manner in which to sign off. Nevertheless, making noise had never been one of Court's objectives anyway.
He played in a Lions series, a Grand Slam campaign and a European Cup final. A lengthy statement advising of his impending retirement, followed by a lap of honour and an emotional farewell, wouldn't have been unjustified. Instead, Court saw out his contract and sent a tweet the following afternoon to announce that he had reached the finish line.
"A lot of the time — and I don't mean any disrespect to people here — guys put the news out there nice and early as a bit of an ego boost," he says. "Whether it's a PR ploy to get them a bit of publicity for their next role, that will help I'm sure. But I purposely wanted to keep it low-key. I didn't want to make a big fuss about it."
However, given the esteem in which he is held by his peers, Court wasn't going to be allowed to slip away quietly. Former Ulster and Ireland team-mates like Stephen Ferris and Chris Henry were among the many who sent messages of support and congratulations in the 36-year-old's direction.
Court: "For me, the biggest accolade I've had in rugby is the encouragement and support from team-mates. It's been a bit of a rocky ride in rugby with me over the years, and the supporters who have stood by me through thick and thin have always been brilliant. But rugby can be a fickle sport. Getting that support from guys I played with was quite flattering."
Court knows that he's fortunate to have so much success to reflect on from his professional career, but the journey wasn't always smooth. Often consumed by his desire to be better on the field, sleepless nights were common as he struggled to switch his mind off when he needed to.
Throughout Court's time as an Ulster and Ireland player, the pursuit of improvement in his game sometimes had an adverse effect on his mindset. He has spoken of flirting with depression and admits he seldom handled the pressure well. Even the greatest triumphs he was involved in — like Ireland's victory over the country of his birth at the 2011 World Cup — were subsequently often difficult to savour.
"Mental health, not just for rugby players but for everyone, is extremely important," says Court, who hopes to assist future generations of players in his role as an ambassador for mental health charity 'State of Mind', which is geared towards sportspeople.
"I think I experienced first-hand quite a lot of the ups and downs, but luckily I've got an extremely supportive wife and family who are always there to keep me grounded. A lot of other people don't have that luxury. The more people that talk about mental health, the better. It's important that people realise that everyone encounters issues at one stage or another. Everyone goes through ups and downs and there's nothing wrong with that.
"With rugby and sport in general, all anyone sees of the players is that they run on, they play a game, and then they run off. Commentators, pundits, fans, they have a narrow outlook when they try to surmise and guess why a player might have played badly. They don't take into account the players' private lives and the effect that can have.
"You don't get a concession because things in your private life might be difficult at a particular time. When your private life permeates into your professional life, it can be really hard to separate one from the other."
Dan Sheridan / INPHO Dan Sheridan / INPHO / INPHO
He adds: "I didn't have very good coping mechanisms for the pressure that went along with rugby. I was consumed by the game 24 hours a day, trying to get better and the different things I needed to work on. Coming from Australia and then playing for Ireland, and feeling like you're the first person they're looking to get out of the team, I always felt a lot of pressure.
"I was usually coming off the bench as well so a lot of the time you're coming into a situation when you're not sure how the game is being played. Take the game against Australia at the World Cup as an example.
"I came on for the last 10 or 15 minutes at tighthead. I was playing in a position I hadn't played much of for years and you're suddenly in a series of five-metre scrums which the whole game is riding on. Obviously everything went well in that game and we won, but that wasn't always the case.
"I didn't cope with the pressure well but I didn't feel like there was always a huge amount of support for me to stay in the team anyway. I'm very grateful for the very many selections and chances I got — more than most people could ever dream of — but I never managed the whole thing very well.
"The big thing is making sure you put rugby into perspective. For me, rugby was everything and I had everything riding on it for a good while. I did start to realise later in my career that even though it's very important and there's a lot riding on some of the games, the most important thing is family and friends. Sometimes you just need a bit more experience to have that perspective."
Just six months after that win over Australia, Court endured the toughest day of his career. He never expected to play for Ireland again after the 30-9 defeat to England at Twickenham on St Patrick's Day in 2012.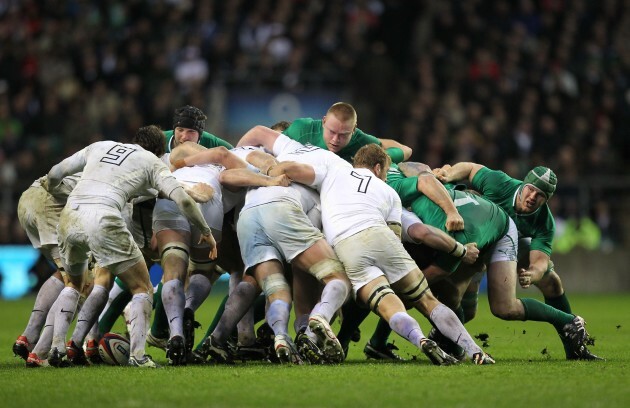 Billy Stickland / INPHO Billy Stickland / INPHO / INPHO
Ireland were second-best from early on in the game. When Court replaced injured tighthead Mike Ross just before half-time, Declan Kidney's side trailed 9-3. With their dominance at the scrum providing an effective platform, England eventually ran away with the game in the second half. When the post-mortem began, Court became the scapegoat for an abject Irish performance.
"Especially with the fall-out from the game, that was the lowest point for me," he says, "even though I always say that you should look at the guys who started the game — Cian Healy, Rory Best and Mike Ross, all top players — and look at all the scrums up until half-time, just before I came on.
"Then come and talk to me about how you felt the scrum was going that day before the change was even made. We were under a lot of pressure from the start. It was just one of those occasions where England had a head of steam, then obviously Mike Ross went off injured and I came on.
"I suppose it was the recency effect, where people only remembered how things ended instead of the start. People will remember what they want to remember and some guys are easier targets than others.
"There were many times when I didn't play as well as I could have with Ireland, but on that occasion in particular the team hadn't been going well from the start, particularly in the scrum. But I know as well that if you're willing to put on the jersey and you say 'I can do the job', you have to be willing to deal with the consequences as well."
Court understandably struggled in the aftermath. However, a return to action with Ulster three weeks later accelerated his recovery from a setback that severely tested his resolve. Ulster would come up short in that season's Heineken Cup decider, but Court played his part in a landmark quarter-final victory over Munster at Thomond Park along the way.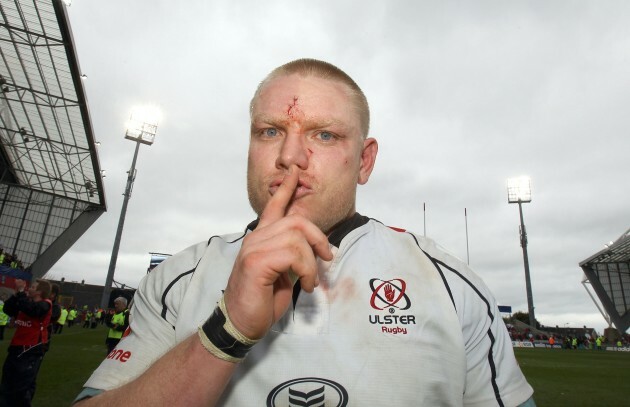 Dan Sheridan / INPHO Dan Sheridan / INPHO / INPHO
"For the week after the [England] game I don't think I said more than 20 words to my wife. That was probably the darkest part of my career. I can look back and joke about it now, but when you're experiencing those feelings it's hard to see much light at the end of the tunnel," Court admits.
"Supporters can be fickle and have short memories. One month they'll be baying for your blood and the next month they're roaring you on. I didn't really follow a whole lot of media coverage of it but obviously a lot of the papers — certainly in southern Ireland anyway — went to town and picked out the guys who they wanted to make sure copped the flak. It was a tough few weeks.
Exclusive Six
Nations Analysis
Get Murray Kinsella's exclusive analysis of Ireland's Six Nations campaign this spring
Become a Member
"Your family does as much as they can but obviously it can be hard for them to understand about the actually rugby context. In that respect you're relying on the support of your mates in the team at Ulster. They accept you back in as if nothing's happened and they're the ones who tell you to get on with it and help you through it. They know whether you need a kick up the bum or an arm around the shoulder.
"I didn't think I'd ever play for Ireland again, that's for sure. I wasn't even sure how long more I'd be playing for Ulster, with the way it all played out. But you're a stronger person when you emerge and it gives you perspective.
"You can't get from A to D without going through B and C. There's a broader picture to difficult experiences like that too. If I was to look back and say 'I wish it hadn't happened', then maybe I wouldn't have played for the Lions."
After living in the UK for the past three years, Court and his family will spend a month in Ireland this summer before making the move back to Australia, where he plans to pursue a career in psychology with the masters degree he's been studying for.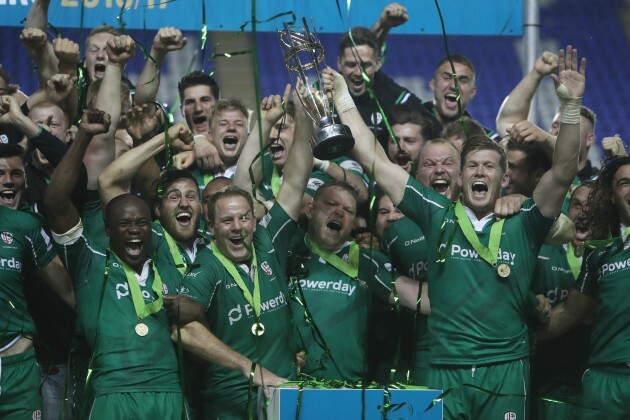 David Davies David Davies
He's a born and bred Aussie, but the Irish connection provided by his grandfather only grew stronger after he moved here in 2006 to play for Ulster. Two years earlier, at the age of 24, Court played rugby for the first time.
He previously excelled in the shot put and narrowly missed out on a place at the Sydney Olympics in 2000. Instead, he went on to become part of an Ireland squad that won the country's first Six Nations Grand Slam in 61 years — an achievement he cherished, irrespective of his birthplace.
During the 2009 championship, Court won his first Ireland cap as a second-half replacement for Marcus Horan in the defeat of Italy. He then made a brief cameo as a blood sub in the decider against Wales at the Millennium Stadium.
Court: "The guys who won that Grand Slam were a really special group. They were such warm, welcoming characters to start with. My grandfather was raised in Limerick so he'd tell us bits and pieces about Ireland when I was growing up, but it wasn't until I got over here that I got an understanding of what the people are like and I realised how special a country it is.
"Looking back, the feeling for me throughout that championship was a little bit like what I experienced with the Lions. I don't know whether this shows an underestimation of my ability or some kind of humility, but because it was so far out of your imagination of what you think you could achieve, I was still just in shock that I was part of it.
"I was just doing my best to contribute when I could. If I'm honest, I was playing for a Grand Slam with Ireland and I still didn't really know how to play rugby. I was still getting a feel for the game because I only started playing four or five years before. I was still developing an understanding for what I was doing and what my role was.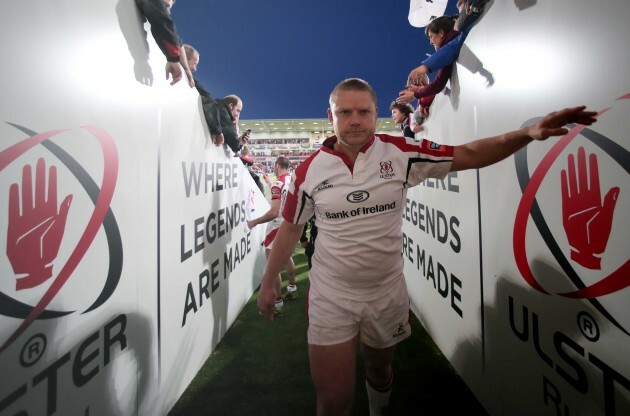 Presseye / Darren Kidd/INPHO Presseye / Darren Kidd/INPHO / Darren Kidd/INPHO
"Being around guys like John Hayes, Paul O'Connell, Brian O'Driscoll, Ronan O'Gara — legends of the sport — you're sort of overwhelmed at the start and you're just trying to fit in and do as much as you can to play a part. Obviously I didn't play a lot of minutes through that series, but it was more afterwards when you get an appreciation for it.
"Even now when I look at some of the photos, where you're standing next to Ronan O'Gara and meeting the Queen, you're bringing the trophies to President McAleese, then you realise how rare it is for anyone, let alone an Irishman, to actually achieve a Grand Slam.
"I'll probably appreciate it more and more the older I get. It's the same with the Lions. I only saw the other day the number of people who have played for the Lions. I think it's 833 now. To be able to say that you're one of that small number in the whole of history in this amazing tradition is something that's hitting me more and more since it actually happened."
By the way, the main image at the head of this article: of Tom Court in conversation with Prince William in the dressing room after Ireland's 2009 Grand Slam triumph, as Brian O'Driscoll seemingly erupts into uproarious laughter — you may be curious as to the story behind it. Unfortunately, so is Tom Court.
"I'll be honest, I didn't even remember meeting Prince William until you showed me that," he laughs. "It's probably another example of how much shock and awe I was in during those times. I'm assuming it's to do with my accent. Brian was probably introducing him to the players and I'm hoping I said 'Hello' instead of 'G'day mate' or something stupid like that. Great pic though."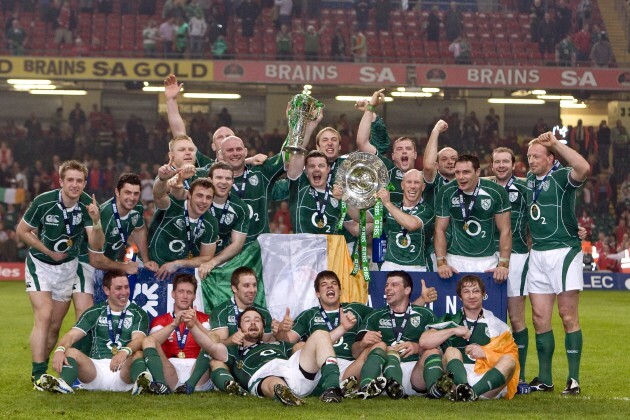 Morgan Treacy / INPHO Morgan Treacy / INPHO / INPHO
When tales of Ireland's 2009 Grand Slam winners are passed down through the generations by those who witnessed the achievement, kids will learn about O'Driscoll and O'Gara, O'Connell and O'Callaghan.
Tom Court's name may not stand the test of time as well as many of the players he shared that Ireland dressing room with, but that won't diminish the strength of the memories he has taken into retirement and the experiences he'll share with his own children.
In life, you make the most of the cards your dealt. On that basis, Court — the man who became a Grand Slam winner, a European Cup finalist and a British & Irish Lion within a decade of taking up rugby — won't carry many regrets back to Brisbane.