WHO KNOWS, MAYBE things could have turned out a very differently for Tom Court.
The Brisbane-born Irish international prop formed part of a mass exodus from Ulster this year before Ravenhill was renamed, the province's poster-boy turned director of rugby jetted off and the head coach was asked to pack his desk.
Court is nothing if not adaptable. He arrived in Ireland in 2006, a late-comer to rugby, but not the slightest bit hesitant in upping sticks and heading for the far side of the world.
"It was pretty much halfway through the Super Rugby season," remembers the prop approaching his 34th birthday.
"I played the first three games and then because of contract issues I had a decision to make."
Eight years older; with Belfast his new home, his fiancée now his wife and five-year-old Madeline and three-year-old Theo in tow, he looks back a little bemused by how quickly he was able to settle on a plan of action.
"I made the decision within a week and was on a flight a week later.
"I was working full-time, managing a company, I had a contract pretty much lined up for the following season with the Reds and I'd just got engaged and bought a house. But I bit the bullet and flew over here for the opportunity to see how it went."
His move to London Irish took a considerable longer period of soul-searching.
By this time last year he had spoken informally with head coach Brian Smith and Bob Casey, but he was more than comfortable where he was.
"I think I just wanted [Ulster] to say say 'no, no, don't go', but it doesn't happen like that," says Court before he quickly brings reality back into the equation.
"It's just one of those things where there were a lot of things in play. Anyone who says money wasn't an issue is lying, because it always comes into play. But with Ulster it wasn't a massive issue, it was regards to 'did I feel I could keep pushing myself as hard as I could for two years?' And I said probably not.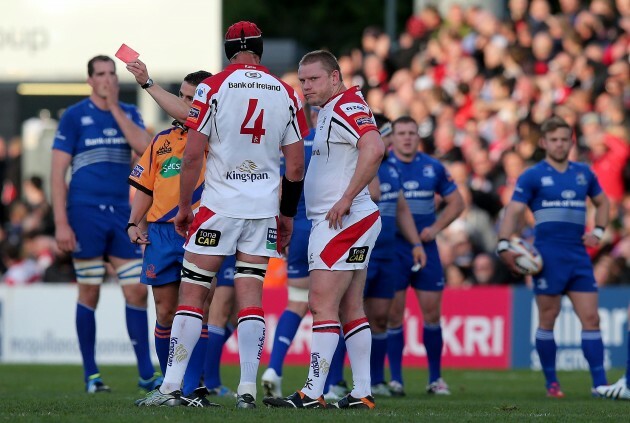 Dan Sheridan / INPHO Dan Sheridan / INPHO / INPHO
"I thought if I stayed at Ulster it was going to just fizzle out, and fade into the background being one of the old guys that trains with all the young guys sit looking at going, 'would you bugger off somewhere and get a real job'. I didn't want it to be like that, I felt I still had a lot to offer."
He leaves behind an Ulster side in turmoil, David Humphreys has joined him in the Premiership and that left Mark Anscombe short of an ally in a power struggle with the players.
The squad will have had numerous reasons, but Court feels some sympathy for the Kiwi, feeling he suffered by the proximity of a coach that has delivered instant success in both jobs he has taken up in Ireland.
"I wasn't somebody that got asked whether Mark should stay or go. I got on with Mark very well on a personal level. Whether boys had issues with his coaching ability or whether it was little details… the problem senior players in Ireland have got [is] they're comparing everyone to Joe Schmidt now.
"Joe is another level. I could easily say he's the best coach I've ever dealt with – which is disappointing because I was only with him for a couple of camps. His attention to detail and his precision and knowledge and everything is second to none.
"Everyone compared to him is going to come off second best. It's always going to be tough. And I guess guys had just been with Joe and seen the stuff he's offering, so going back is always going to be a bit of a let-down."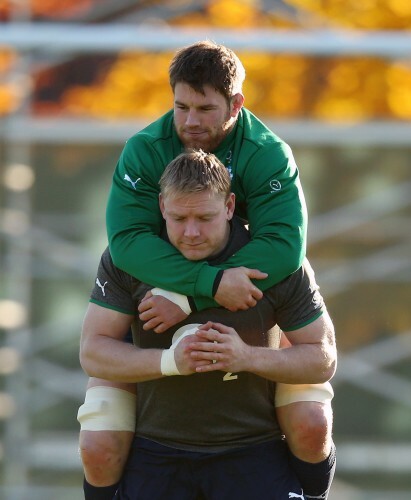 Billy Stickland / INPHO Court carrying his fair share of weight in camp last November. Billy Stickland / INPHO / INPHO
Court will start among the replacements for London Irish's friendly against Munster tonight in Waterford. He'll waste no time kidding himself that the move across the water spells the end of his international career. "I'm not Jonathan Sexton", he jokes.
This is no abrupt end either though. Court's years toiling away at tighthead proved fruitless. And by the time he hit his prime as a loosehead Cian Healy was fast on his way to becoming one of the world's best at number one. Throw Dave Kilcoyne, Jack McGrath and James Cronin into the mix and, well…
"You could see the writing on the wall with the amount of competition coming through. It's probably, if not the hardest-fought position, one of the hardest-fought positions in Ireland. The amount of depth we've got at loosehead is unbelievable.
"That's great to see from an Irish supporter's point of view, from a point of view of being one of the guys who wants a jersey, it's a pain in the arse."
"I got 32 caps more than I ever thought I would. When I started the game, it was just for a bit of craic. It took off fast."
"I was in the camp for November, had a word with Joe, realising what was going to happen. It's hard to argue with because he needs guys on hand and available so that he can build up together with the team and get to the World Cup.
"Saying that, the decision I made had a lot to do with needing to spend a bit more time with the family – I was probably getting a bit stale at Ulster and felt I needed a fresh start and something new."
Before a scrum has been set this season, the change of scenery and beginning of a three-year contract has reinvigorated Court. The Australian Irish international always had a look about his face that told you he was enjoying himself on the field. Yet as he grows older and continues to steer clear of injury, his appreciation grows for a life that could have been completely different if he hadn't made such bold decisions in 2006.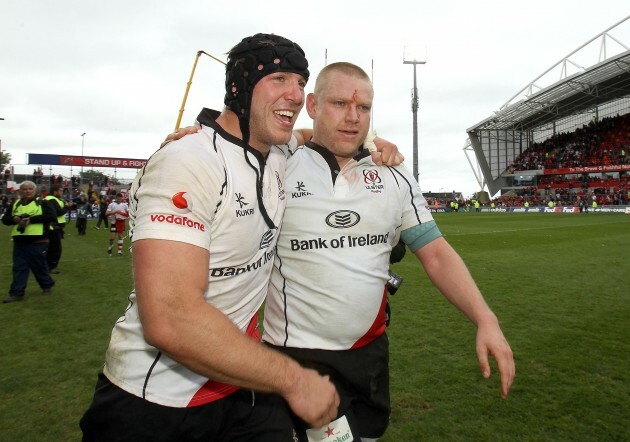 Dan Sheridan / INPHO Ferris and Court after one of Ulster's finest Heineken Cup performances in Thomond Park. Dan Sheridan / INPHO / INPHO
"The fresh start gave me a bit of a new lease on life. It makes you appreciate how fortunate you are to do things like this for a living. Especially after last year seeing two close friends Stevie [Ferris] and Paddy [Wallace] finish up.
"You just have to make the most of it and just try to suck every bit of enjoyment you can out of the game."
In total 69 exclusively live games from the Aviva Premiership will be shown on BT Sport 1 – BT Sport 2 & ESPN all now available to viewers in the Republic of Ireland as part of the Setanta Sports Pack.
New subscribers can sign up to Setanta Sports for just €1.