EVEN AS LITTLE as four years ago in the lead up to the 2011 World Cup, Tom Court was as dual a prop as a dual prop could be. His appearances for Ulster invariably came with a number one on his back, while his role as the Irish impact sub tended to be shoring up the tighthead.
However, by this stage, the days of the utility prop were already numbered. While it would be another 12 months before test rugby required three front row substitutes, the 23-man squad – and the front row requirements that came with it – had become the norm at the club game.
With that, the scrum became all about specialists. Natural looseheads who were trained and capable as a tighthead focused more and more on their natural positions and vice versa, safe in the knowledge that they no longer had to be a jack of all trades.
And so it came together in 2015, in the first World Cup where six front row players had to be in every matchday squad, coaches had to take a chance.
Joe Schmidt's options were plentiful. He could had Michael Bent, a strong loosehead with a chequered history at tight. He could have taken out-and-out loosehead Dave Kilcoyne given his fitness worries over Cian Healy, or he could have taken Leinster's young tighthead Tadhg Furlong.
Billy Stickland / INPHO Ireland are preparing to use Tadhg Furlong in an unfamiliar loosehead position. Billy Stickland / INPHO / INPHO
In the end, Furlong got the nod, with Schmidt opting for the powerful tighthead with limited loosehead experience, despite the continuous doubts over Healy's fitness.
As a player who's played at the highest level in both positions, Court explains just why Schmidt got it right with Furlong.
"I think selecting Tadhg Furlong is a great choice compared to somebody maybe like Michael Bent. He's a young guy, he's a local guy that's come through. He's probably not going to play a great deal but it'll give him a taste of what's to come.
"You're always going to be better having a tighthead covering loose, than a loosehead covering tight. It's one of those things where you really have to be playing in either position regularly to cover it properly."
The problem for Bent was that while he is trained as a tighthead, his gametime in the position just hasn't been enough. Last season, he had his best campaign since arriving in Ireland, but with just two starts for Leinster as a tighthead, Schmidt and Greg Feek had to establish which side of their scrum needed the most protection.
While Tadhg Furlong will potentially plug a hole at loosehead for Ireland, his selection isn't likely to be the beginning a long and fruitful career as a utility man in the front row. It's going to be one or the other.
"Obviously you can throw guys at a pinch if you need to cover a certain position but realistically it's a specialist position and probably should have been for a while. It's just one of those things where you can't effectively play one or the other unless you've been playing a consistent amount of games or a good amount of match minutes at those positions.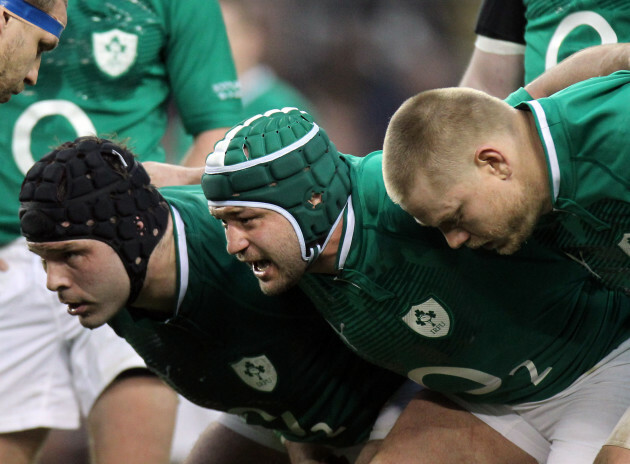 Billy Stickland / INPHO Court scrummaging at loosehead for Ireland in 2012 against Scotland. Billy Stickland / INPHO / INPHO
"There are a lot of props these days that say they're a loosehead that covers tight or a tighthead that covers loose, but to be honest it's a bit of a myth because there's not really anyone out there anymore that can convincingly play both sides at an International level," he adds.
The reason for this is the mechanics of each position. While both a tight and loosehead are ultimately using their right side to generate power, the specifics of each position differ greatly. For example, while plenty of looseheads will try to angle into the scrum to gain an advantage, doing that as a tighthead is disastrous, playing into your opponent's hands.
With so much to go wrong at tighthead prop, the position has become rugby's equivalent of a left tackle in American Football; unglamorous, yet structurally critical. The nuances of the position make the brain more powerful than brawn.
It certainly helps to be a big man with a number three on your back mind you, but if the technique isn't inch perfect, you're in for trouble. When Ireland played France during the Six Nations in February Mike Ross had more than 10kg on France's Eddy Ben Arous, but struggled, with the French loosehead exposing him on a rare off-day.
"It's one of those positions where if you can do well there and cement your position, you look at all these top teams around the world – Owen Franks, Dan Cole, Mike Ross, Castrogiovanni, all starting tightheads for their country for years now – it seems to be if you can get a guy who can lock that scrum down well and offer at least something outside of the scrum, they can pretty much monopolise that position.
Exclusive Six
Nations Analysis
Get Murray Kinsella's exclusive analysis of Ireland's Six Nations campaign this spring
Become a Member
"That's why guys like Mike Ross can stay there as long as he has because it ends up being something where he knows where he has to get his body, he knows how he wants to feel when he's in a scrum, and it just comes naturally, whereas younger guys are still trying to think about it and get that position right.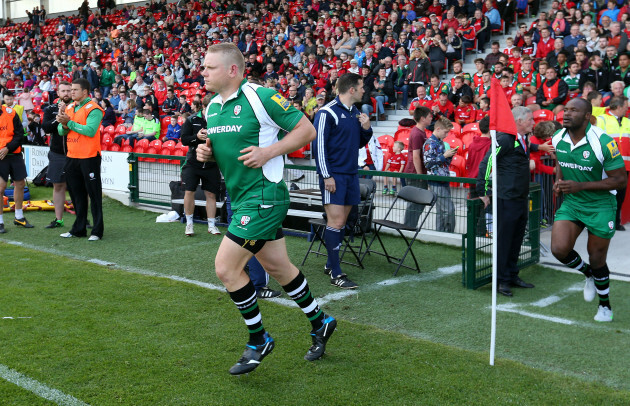 Now at London Irish, loosehead has become Court's home.
At this stage it's a rare occurrence for Court to feature at tighthead for London Irish. Strangely, he had that position locked down during his first two seasons at Ulster, before the major signing of BJ Botha in 2008.
From there, Court switched allegiances to loosehead, but his experience on both sides had made him a valuable asset for both province and country.
"I'm very comfortable at loosehead right now. If I had a choice I would have stayed at tighthead. We joke about it – the tighthead's where all the money is!
"I really enjoyed the challenge of it and got a bit of consistency there, but with BJ Botha coming to Ulster – at that time he was one of the best tightheads in the world – it was hard for me to argue that I'm going to stay there and challenge him. I had to get as much gametime as possible and obviously switched over to loose and started learning that side."
In recent years it's seemed that positions on the rugby pitch are starting to blend into one. Versatility was the buzzword of the summer, as wingers-cum-centres tried to prove they could do another job at fullback and maybe even at scrum half.
But in the front row, it's become a job for specialists. Even Court has become one, far removed from the utility man that travelled to the World Cup in 2011.
Even those four years ago, he was one of the few in that dying breed.