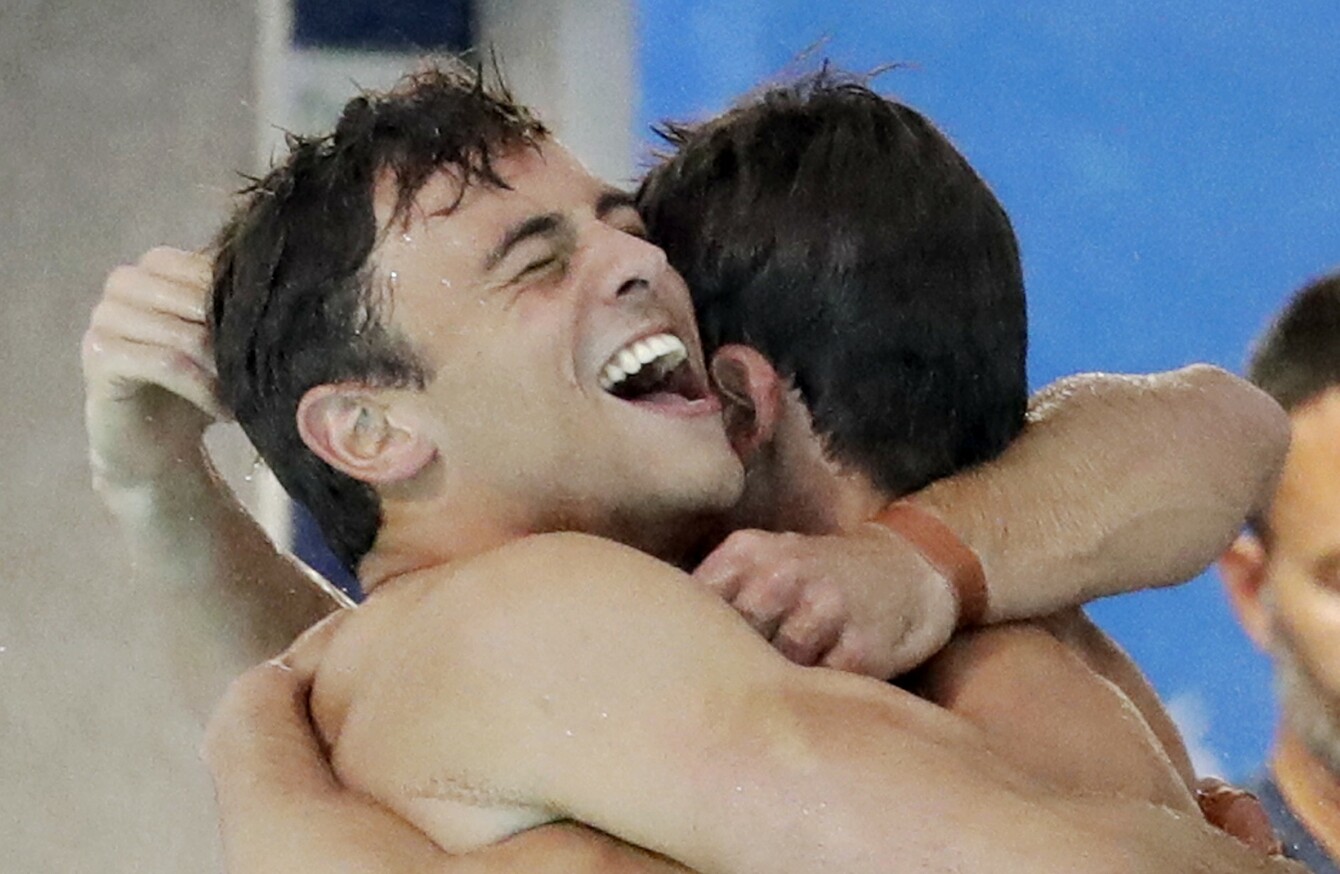 Image: Matt Dunham
Image: Matt Dunham
–Sinéad O'Carroll reports from Rio de Janeiro 
WE FIRST MET Tom Daley in 2008 when he became Great Britain's youngest athlete travelling to Beijing for the Olympic Games.
Eight years later, at the hefty old age of 22, he is now a two-time Olympic medallist.
At the Maria Lenk Aquatics Centre in Rio this evening, he and his 10-metre synchronised diving partner, 19-year-old Dan Goodfellow, landed on the podium after a fierce battle for the bronze against the Germans.
An even sweeter victory given he and his then-teammate Pete Waterfield just missed out on the medals in the same event in 2012, where he went on to take third spot in the individual event.
There were factors running against the Team GB divers from the get-go in the outdoor pool at Barra de Tijuca.
They were last to dive in a group of eight finalists – just after the Chinese pairing of Yue Lin and Aisen Chen who have so perfected the art of diving that they are out on their own in terms of the competition for gold. (China have won the Olympic gold during the past four Games. Everyone else is really just fighting for silver and bronze).
Lin and Chen nailed every dive, sending the crowd into a flurry, and Daley and Goodfellow would surely have heard the judges' constant scores of 9s, 9.5s and 10s.
Going into their sixth and final dive, they were in fourth place and knew exactly what they had to do to come away with a medal. The Chinese had sealed gold (they eventually finished over 39 points ahead of the second-placed US team of 2012 gold medallist David Boudia and the excellently named Steele Johnson).
It was time for Daley to show his experience.
"[The] last round, there is always pressure. When it's the Olympics, multiply that by a million. It was windy, it was cold and we were two points behind the Germans," the Plymouth man told reporters after the medal ceremony.
At the Europeans it was the same situation in reverse and they did us. So we got them back and we got the bronze medal.
"The last place you want to be in the start list is number eight of eight and behind the Chinese, so we were dealt a bit of a rough hand there but stepped up to the mark and stayed in the moment."
Goodfellow conceded how he nervous he was, given it was his first Olympics.
"I didn't know what to expect," he admitted. "But I've dived in this pool in the world cup and done well. We kept our nerve."
After their solid Back 3 1/2 Somersaults Pike on the final dive, those nerves were still there. Daley held his hand over his mouth, looking anguished as he waited for the news from the judges' table.
They did enough in that sixth dive to leap-frog the Germans Sascha Klein and Patrick Hausding and finish 6.03 points ahead.
What are they
really like?
Rare insights on sport's biggest names from the writers who know them best. Listen to Behind the Lines podcast.
Become a Member
Cue celebrations and signs of a boy becoming the man. In scenes evocative of his bronze in London, the pair ended up in the pool after an initial, impulsive combined leap-hug.
But then the calmer Daley. The one who has forged a healthy career (and presumably financial stability) away from the pool, a difficult task for an athlete whose sport is neglected and forgotten except for a few days in August every four years.
"Give it to him first," he directed the presenter as he approached the podium with the medal, beckoning to a stunned-looking Goodfellow.
Daley smiling, but not overcome. Goodfellow somewhere between acting stoic and trying not to cry rivers in public.
The elder – at 22 – guided his teammate around the lap of honour, making sure to wave to each and every British flag, hat and Union Jack blazer. He kept a protective arm over his fellow Olympian's shoulder and wouldn't separate from him when the photographers requested for it to be so.
Daley had been here before. He knew what to do, how to handle it and what Goodfellow needed.
This medal was more about the younger diver, as he expressed clearly on Twitter just hours later.
He doesn't look quite satisfied for himself just yet. This medal, a bonus. He now looks like a man on a mission. He dives again in the individual event on Friday, 19 August.