WATERFORD HURLER TOM Devine is celebrating an All-Ireland win with a difference.
The O'Brien Devines won RTÉ TV's 'Ireland's Fittest Family' last night, with Tom playing a key role.
"It was very good craic, in fairness," Tom told The42. 
"I was watching it last night but working nights and had to go to work straight away after it.
"I'm working in Clonmel as a care assistant.
"I really enjoyed the whole experience, it was great but it was a bit weird being scrutinised by the cameras, with the pressure of doing interviews.
"But it was good, you'd get used to dealing with it."
Current Clare boss and ex-Waterford supremo Davy Fitzgerald was coach for the victorious O'Brien Devines.
And Tom smiled: "It was a different atmosphere to hurling. If he started roaring at you in this, you'd start laughing but it was hurling, it would be more serious.
"We celebrated yesterday, over at the uncle's house. Our cousins came around to watch it together."
As the series was filmed over a number of weekends during the summer, Tom admits that he had to miss out some training sessions with the Waterford team.
"I missed too much training over it. It was in the middle of championship season so I missed two or three training sessions that I shouldn't have.
"But Derek (McGrath) was wicked accommodating about it."
Devine scored crucial goals for Waterford in 2015 against Cork in the Allianz National Hurling League final and again when the sides met in the Munster championship.
Cathal Noonan / INPHO Tom Devine finds the net for Waterford in the Allianz Hurling League final. Cathal Noonan / INPHO / INPHO
And he's hoping to kick on next year and potentially nail down a starting place in the Déise team.
"We have a young team again next year and we hope to go a bit further, there's no reason why we can't.
"We're back now doing a bit, the same as everyone, and looking forward to the New Year and getting back into it.
"Look, I'm the same as everyone else that wasn't involved as much as they wanted.
"We're trying to push on and get more game time, see how far we can get, the same as all the subs."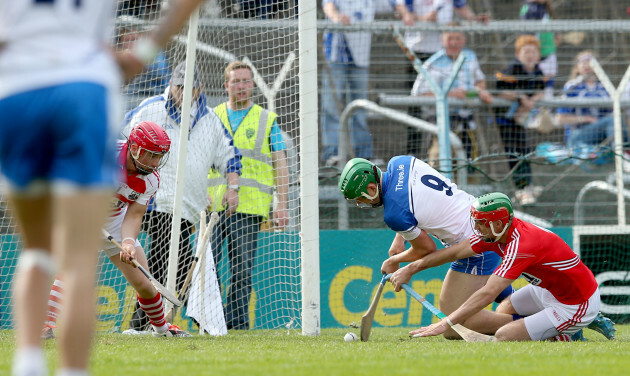 James Crombie / INPHO Tom Devine on target against Cork again - this time in the Munster championship. James Crombie / INPHO / INPHO
Devine has plenty of time to make a career for himself as a Waterford senior hurler, as he won't be 21 years of age until next April.
But for now, he'll enjoy a good Christmas with his family as the prize for winning Ireland's Fittest Family was a cool €15,000.
Nice work if you can get it!