A FEW YEARS back, a thread on an Irish football forum kickstarted a discussion among supporters of League of Ireland clubs regarding the hardest players ever to grace the domestic game.
Dermot Keely, Declan Daly, Jimmy Nolan, Tony Fagan, Richie Purdy, Peter Eccles and Paul Hegarty all received multiple mentions, but the player who was referenced more often than any other was a Scotsman by the name of Tom McNulty.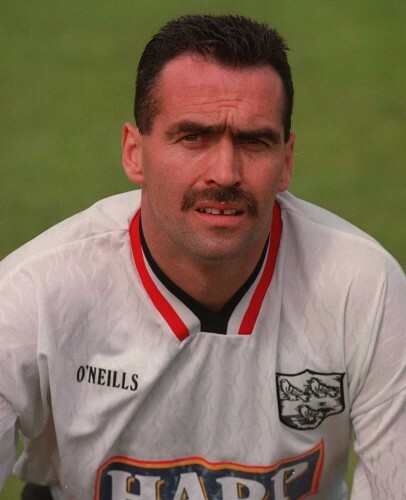 © Tom HonanINPHO Tom McNulty pictured in 1994. © Tom HonanINPHO
"When I was coming up, we played a lot of football in Govan in Glasgow, which was a really tough, rough area. There was a lot of hard football so you really had to look after yourself or you'd be walked all over," explains McNulty.
"One thing I always hated was getting beaten in a tackle. It drove me mad. I'd go home and my father would be straight on to me: 'How did you lose that tackle to that fella? You should never pull out of a tackle like that. Never let anybody know they've hurt you'. That always stuck with me."
During a 16-year period, McNulty left his mark on the League of Ireland — and on many of those who played in it — but Ireland didn't feature in his plans for a successful career in football when he was offered a professional contract by Bertie Auld at the age of 18. Auld, one of the legendary 'Lisbon Lions' who won the European Cup with Celtic in '67, was then managing Patrick Thistle in Scotland's top flight.
"I shook hands with Bertie Auld on a contract but I got injured the following week," recalls McNulty. "I ended up being out for about three months and Bertie had been sacked by the time I got back. After that, the club reneged on the contract."
McNulty was raised just outside Glasgow, in Hamilton, where he played on a school team with ex-Celtic defender Willie McStay and Colin Walsh, who went on to play as a midfielder for Nottingham Forest under Brian Clough.
After his hopes of making it with Partick were scuppered, McNulty eventually decided to follow his father, who had moved to Dundalk for work. While playing locally for the likes of Bank Rovers, Park Rangers and Greenfield, he came to the attention of Tommy Connolly, who signed him for Dundalk FC.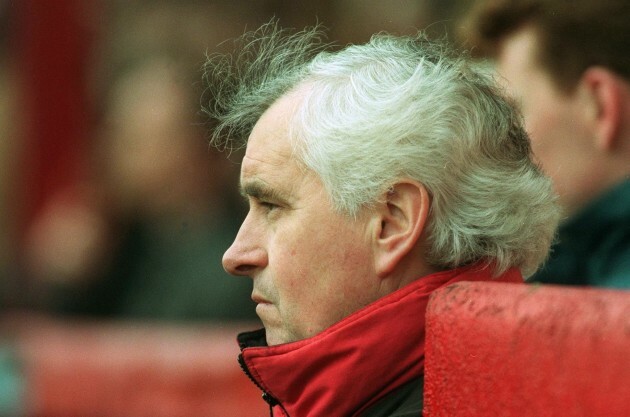 © Matt Browne / INPHO Former Dundalk manager Tommy Connolly. © Matt Browne / INPHO / INPHO
Although he was initially an outsider, McNulty didn't take long to endear himself to the locals. On his debut at the start of the 1984-85 season, he scored the only goal of the game against a Cork City side that was playing its first ever game in the League of Ireland. It was the first — but certainly not the last — time that he'd prove to be a thorn in City's side.
While McNulty's first couple of seasons with Dundalk didn't yield silverware, he was setting his stall out nevertheless. An energetic box-to-box midfielder with an eye for goal, the Hamilton hardman was good in possession, but — if the need arose — he could be even better without it.
McNulty's abrasive approach was a key element of his game, but his fiery temper often brought him into conflict with referees over the course of his involvement in football. Red cards and suspensions were more common than he would have liked. Having said that, the footballing education he received on the pitches of Govan also stood to him in the League of Ireland, especially when he came up against a particular Corkman.
McNulty says: "I'll tell you who I hated playing against: Patsy Freyne. I absolutely hated it. I played in midfield with Gino [Lawless] and — I probably shouldn't be saying this — we'd be going down to Cork on the train, and Gino would say to me: 'Right, Tom. What are we going to do today?'
"I'd say, 'I'll hit him first, you hit him after me, then I'll hit him again, and then maybe he won't be able to play on'. Get the retaliation in first, as Martin Lawlor [former Dundalk player] used to say. But he was a fine player, Patsy."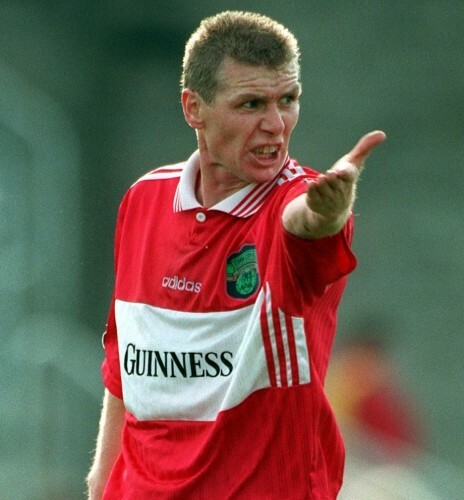 INPHO / Keith Heneghan Patsy Freyne INPHO / Keith Heneghan / Keith Heneghan
Like every other League of Ireland team in the mid-80s, Dundalk had to be content with residing in the shadow of a Shamrock Rovers outfit which is still widely regarded as the greatest Irish club side of all time. Jim McLaughlin's decision to swap Dundalk for Milltown in 1983 heralded the dawn of a golden era for the Hoops.
Under McLaughlin, Rovers won three consecutive league titles and two FAI Cups, including back-to-back doubles. When McLaughlin departed ahead of the 1986-87 season, Rovers' dominance continued for one more year when they added another double under Dermot Keely. But Dundalk were beginning to make inroads.
"I don't think that Rovers team had any bad players," McNulty admits. "Everyone in their team was an excellent player. Jody Byrne in goals, Harry Kenny, Peter Eccles, [Jacko] McDonagh centre-half, [Kevin] Brady left-full, Noel King, Pat Byrne, Noel Larkin, Mick Byrne up front — they had some absolutely brilliant players all over the pitch."
In March 1986, with just three rounds of fixtures remaining in the campaign, Rovers went to Oriel Park in search of a single point to claim their third league title in a row. McNulty struck with just five minutes remaining to give Dundalk a 1-0 win, although Rovers did still go on to be crowned champions, while the Lilywhites finished three points behind in third. McNulty had merely delayed their rivals' celebrations, but he would eventually make a habit of altering the expected destination of the league trophy.
McNulty: "We chased them down until about two games to go in the season. Even to stay that close to them was a great achievement because they were a really excellent team. It was only when McLaughlin moved on to Derry that Dundalk were able to force their way in."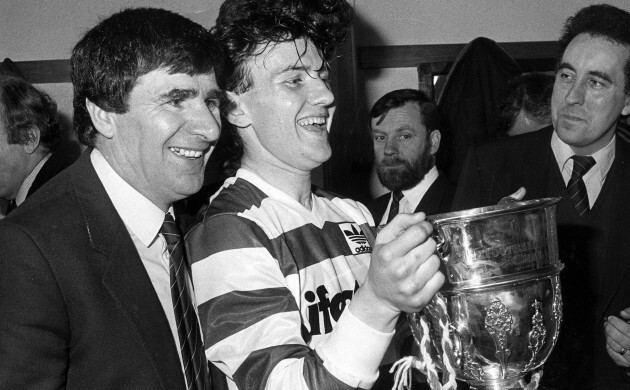 Billy Stickland / INPHO Jim McLaughlin and Paul Doolin with the FAI Cup in 1986. Billy Stickland / INPHO / INPHO
Keely guided Shamrock Rovers to their third successive double in 1987, which would have been a treble were it not for a Martin Murray penalty that gave Dundalk a 1-0 win in the League Cup final. Despite being second-best to Rovers in that season's league and FAI Cup final, Dundalk — under the stewardship of Turlough O'Connor — were getting closer.
The breakthrough came in 1988 when O'Connor's side experienced double delight of their own, but by then McNulty had departed. He made 45 First Division appearances during two seasons with Finn Harps, both of which ended with the Donegal side narrowly missing out on promotion to the Premier Division.
"There was no falling-out with Turlough, as such," McNulty explains. "He came to me and said I wasn't in his plans. I said I didn't have a problem with that but I wanted to stay and fight for my place. Then the offer from Finn Harps came along. I spoke to them and they gave me a great deal. I was able to continue training with Dundalk as part of the deal and I just turned up for games on a Sunday."
Remaining within O'Connor's line of vision afforded McNulty the opportunity to show the Dundalk boss that his decision to cut him loose was misguided. Missing out on Premier Division and FAI Cup medals added to his determination to do so, as did the fact that he had to watch from the terraces at Oriel Park as Dundalk took on Johan Cruyff's Ajax in a European Cup Winners' Cup tie.
"Turlough would have went to a lot of games, even in the First Division, so he saw me progressing. I was working really hard on my physique at that stage. I was in the gym three or four times a week, building myself up. I really improved as a player in that two years," McNulty says.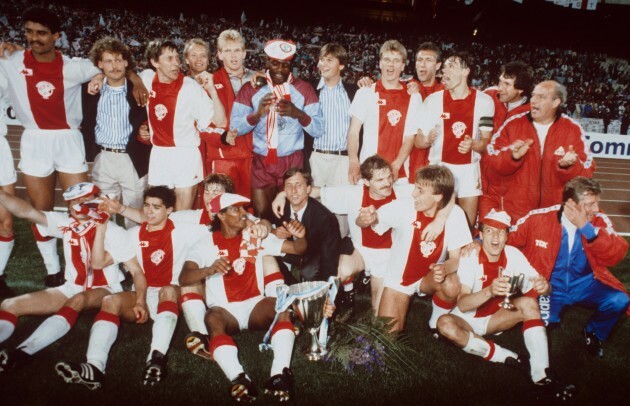 EMPICS Sport Ajax began their European Cup Winners' Cup defence against Dundalk in September '87 - but McNulty missed out. EMPICS Sport
"I probably had about three or four months left on my contract with Finn Harps and I actually played a game for Dundalk behind closed doors against an Irish international junior team. After the game, Turlough invited me upstairs and he offered me a deal for the following two years. I was still under contract with Finn Harps but I actually signed the deal that night.
"I wanted to try and prove people wrong, that I should never have been let go. I wanted to be one of the best midfield players in the country and I worked tirelessly to get there. When Turlough called me in that night, he said to me, 'Tom, I've made a mistake and I want to make it right. I want you to come back'. I asked him where he thought I'd fit into the team. He just laughed and said, 'Anywhere you like'. That was it."
If Tom McNulty was one of the hardest players in the League of Ireland, he was also one of the most hated in the eyes of the supporters of several of Dundalk's rivals. When the league title was on the line and McNulty was in a position to exert an influence, he had a penchant for scoring vital goals.
On the final day of the 1990-91 season, Cork City hosted Dundalk at Turner's Cross with the teams level on 50 points each at the top of the table. The game was decided in the 73rd minute when Gino Lawless split the City defence with a pass from midfield. On hand to poke the ball beyond Phil Harrington and seal his first league medal was Tom McNulty.
"What a brilliant occasion that was," he recalls. "To score the goal to win the league on the last day of the season, especially against your closest rivals in the race, it's the kind of thing you only think happens in dreams. It was a phenomenal feeling and the celebrations on the train on the way back up were very special. A great day."
It was the first of many dramatic season finales that McNulty played a significant role in:
1991: Dundalk are crowned champions after McNulty scores the only goal of the game against Cork City at Turner's Cross.
1993: McNulty scores at Oriel Park in a 1-0 victory over Bohemians, who only needed a draw to win the league. The Gypsies ended up losing out to Cork City in a three-way play-off which also involved Shelbourne.
1995: Dundalk win the Premier Division after capitalising on the failure of Derry City and Shelbourne to get the better of Athlone Town and St Patrick's Athletic respectively. Derry and Shels were pipped to the title due to Dundalk's 2-0 win over Galway United at Oriel Park. McNulty opened the scoring.
1998: McNulty was part of the Dundalk side that recorded a shock 2-1 home victory over leaders Shelbourne, which gifted the title to St Pat's.
Being the architect of the downfall of so many title bids cast McNulty as a pantomime villain in places like Turner's Cross, Dalymount Park, the Brandywell and Tolka Park. It was a role he revelled in. His propensity for making an important contribution when so much was at stake may not have been a mere coincidence either.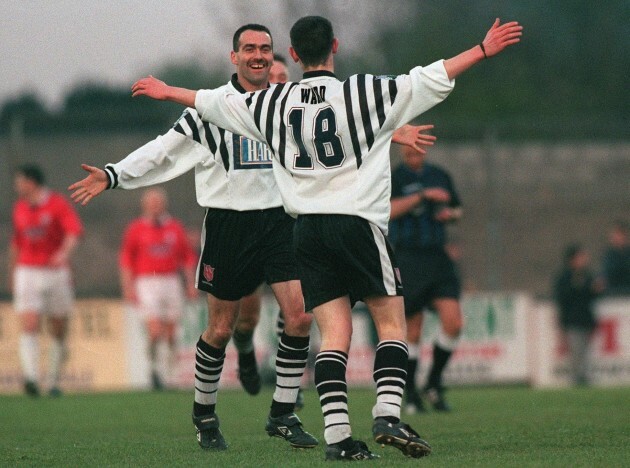 Billy Stickland / INPHO David Ward celebrates with Tom McNulty after scoring in Dundalk's 2-1 win over Shelbourne in May 1998. Billy Stickland / INPHO / INPHO
McNulty says: "I remember playing in a big game against Shelbourne and they beat us. It was the worst game I'd played in for a long, long time. I was terrible on the day. I swore afterwards that it would never happen again, especially in a big game.
"For any big game that we had after that, I always made sure that I was switched on and playing at my maximum. We might not always win, but at least I wouldn't be coming off the pitch disappointed that I hadn't performed. That was a turning point for me. Maybe it did play a part in what was to come."
He adds: "There would have been a fair bit of abuse from the supporters of other clubs during the games, but if you met supporters of any club out after the games or whatever, there was always great respect there. They would have hated you during the game, but they could always respect you for what you had done on the pitch. That was a great thing.
"Actually, one of those goals came back to haunt me as well. When I scored against Bohs on the last day of the [1992-93] season to deny them the league, I had already agreed terms to sign for them. But after that goal their chairman came back and said, 'No, the supporters won't stand for that now'. So that was the end of that."
Under former Shamrock Rovers boss Dermot Keely, Dundalk caused a major upset with their 1995 triumph. It turned out to be the last hurrah for an ageing team, however, as the club went into decline thereafter. Their gradual descent down the table culminated in relegation to the First Division in 1999, despite the return of Jim McLaughlin as manager.
INPHO / Tom Honan "If you met supporters of any club out after the games or whatever, there was always great respect there." INPHO / Tom Honan / Tom Honan
"Getting relegated was the most heartbreaking moment I ever had in football," admits McNulty, who by then was closing in on 38. "To see players who just didn't give the same commitment, it was devastating. On top of that, the club had no money; players weren't getting paid the right amounts. It was just a disaster of a season.
Exclusive Six
Nations Analysis
Get Murray Kinsella's exclusive analysis of Ireland's Six Nations campaign this spring
Become a Member
"I was really down, probably depressed, for a long time after that. I played on for a while after that but I'd had enough. It just sapped my passion and energy for the whole thing."
McNulty continued to line out for Dundalk during the early stages of their first spell in the second tier. There were offers at Drogheda United and Home Farm for him to continue his League of Ireland career, but he opted to call it a day. His disappointment was compounded by being beaten to the manager's job by former team-mate Terry Eviston.
"I played under Terry for a while and it just didn't work out," McNulty says. "He was obviously under severe pressure for results. I went for an interview for the job and I was gutted not to get it. I was so sure that I was going to get the job that I had a load of players lined up to come in. I have no doubt that they would have gotten us promoted too."
There was no fairytale ending for McNulty at Dundalk, but the club remains close to his heart. The unprecedented European success of Stephen Kenny's side last year reminded him of a missed opportunity in the 1991-92 European Cup, when Dundalk were paired with Hungarian champions Honved in the first round.
Patrick Bolger / INPHO Turlough O'Connor Patrick Bolger / INPHO / INPHO
Backboned by an inspired goalkeeping display from Alan O'Neill, Dundalk led for the majority of the first leg in Budapest thanks to a 27th-minute strike from Ricky McEvoy. Although Honved equalised with nine minutes to go, Dundalk's away goal gave them the upper hand for the second leg at Oriel Park a fortnight later.
The result came on a memorable day for League of Ireland clubs in Europe — 18 September, 1991 — as Cork City had also achieved a 1-1 draw with Bayern Munich in their Uefa Cup first leg at Musgrave Park.
"We did so well over there," says McNulty. "We set out a gameplan which we actually put into practice when we played Celtic and Liverpool in pre-season. Turlough set the team up to play the way he wanted us to play against Honved. I think we drew against both Celtic and Liverpool, so everybody knew their role when we went over to Hungary."
McNulty fancied Dundalk's chances of finishing the job with home advantage, but his chances of playing a part were dashed just days beforehand when he ruptured ankle ligaments during a league win in Athlone. It was a costly blow for Turlough O'Connor's side.
McNulty: "I had treatment twice a day leading up to the game. I had a fitness test that morning but I knew there was no chance of me playing after five minutes. The injury was bad and I actually ended up being out for about nine weeks.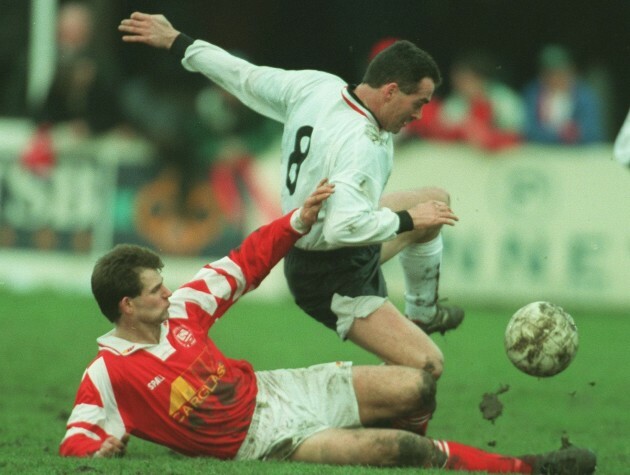 INPHO / Lorraine O'Sullivan McNulty is tackled by Noel Meenagh of St Patrick's Athletic. INPHO / Lorraine O'Sullivan / Lorraine O'Sullivan
"It broke my heart not to be involved. If you weren't in the team then you weren't allowed in the dressing room or anything like that. That was Turlough's policy, so I was stuck up in the stand. It was heartbreaking. The way I was playing at that time, I felt I would have made a big contribution."
McNulty was one of 6,000 spectators packed into Oriel Park to witness an underwhelming 2-0 defeat, which sent Honved through to a second-round meeting with Sampdoria. Nevertheless, the size of Dundalk's achievement in the first leg was put into perspective by Honved's narrow 4-3 aggregate loss to the Italian champions, who went all the way to the final, suffering a 1-0 defeat to Barcelona at Wembley.
"Because I was out [for the second leg], Peter Hanrahan moved from centre forward to midfield and Brian Irwin played centre-forward. I think that was the difference," McNulty says. "Peter was on fire at that time, he had loads of pace, he was strong. Brian Irwin had a great touch but he had no pace. We weren't really a threat on the night and they won comfortably in the end."
Although some success at European level would have been a welcome addition to Tom McNulty's list of achievements with Dundalk, the only regret that springs to mind when he reflects on his career is that he would have benefitted from being slightly less familiar with the sight of referees reaching for their pockets.
Instead of lamenting being on the losing side in two FAI Cup finals, he's glad of his two Premier Division and two League Cup medals. But perhaps even more so he's grateful for captaining a club which represented a town that soon embraced him as one of their own.
DFCTV / YouTube
His Scottish background is still evident from the accent, but it's blended with an unmistakable Louth lilt. McNulty is a local hero in Dundalk — where he still lives — even if his own son and daughter, now aged 19 and 20, weren't always aware of that.
"I never told my kids that I played for Dundalk," he laughs. "I suppose I didn't want them to feel pressure to play football too. My son especially, he played football and Gaelic because he enjoyed it, but in the end he chose horse-riding and he's now trying to be a professional.
"When my daughter was about 13 or 14, she came home from school and said, 'Dad, did you play with Dundalk? Why didn't you tell us?' It reminded me of something I read about Will Carling, because his son didn't know he played rugby. His son asked him did he play for England, and when he told him he did, his son said, 'But you couldn't have played for England. You're my dad and you're too fat'.
"I thought that was great. I could relate to that. I wanted my kids to make their own choices. I'm happy it turned out that way."