OUTGOING IRELAND WOMENS head coach Tom Tierney lamented the disparity of athleticism between Ireland and the world's best teams as he walked away from the job with an eighth place finish in a home World Cup.
The Limerick man led a squad with high expectations into this tournament, but the limitations of the gameplan and confidence in the skill-set soon became apparent through wins over Australia and Japan before the journey turned sour with losses to France, Australia and, today, Wales.
"I'm very, very proud of the job that I've done," Tierney said after making his way up the stand in the Kingspan stadium.
"Obviously it hasn't ended the way we'd like, but that's sport and life and you've just got to deal with that."
Tierney had already accepted that this campaign had been a failure before the build-up to today's seventh-place play-off was overshadowed by a damning interview given by Ruth O'Reilly to the Irish Times.
The prop, who retired after pulling out of the World Cup through injury, shed light on the problematic preparations in the months leading into this tournament. From O'Reilly's perspective, what women's director Anthony Eddy brands the best prepared women's squad this island has produced, was in fact an extremely disgruntled crop who found themselves shouldering the responsibility for analysis, tactics and gameplan with minimal notice.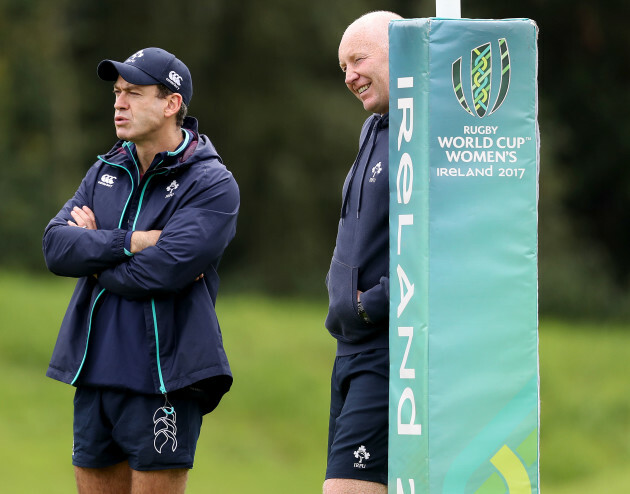 Dan Sheridan / INPHO Dan Sheridan / INPHO / INPHO
Other than expressing disappointment about the timing of the interview, Tierney would not be drawn about the specifics of O'Reilly's complaints. He has a new coaching role lined up, though he declined to reveal which team will be next under his tutelage.
All signs point to Tierney remaining in an IRFU tracksuit however and he will certainly be in Lansdowne Road to play a part in the review process that will follow this World Cup. The key learning for the former scrum-half is the need to continue unearthing athletes to make an impact for Ireland's 15-a-aide squad.
"Hindsight's great and everyone's brilliant in hindsight, but we'll take it nice and handy for a few days. Once we're rested we'll review it," said Tierney, who presided over Ireland's 2015 Six Nations win
"I suppose the glaring thing is the difference in physicality and the physiques compared to other countries (who work) on a larger scale.
I think that's where Irish women's rugby has to go. We're not there yet. We've unearthed a number of players. Now it's about building a player base that's athletic-based as opposed to anything else."
"That's the challenge. Unfortunately, not for me, my time is up, but I had a brilliant time. It's been an honour to be coach of the Ireland women's team.
He added: "I've always tried to make sure the players come first and all they have to concentrate on is the rugby side of things. I would pride myself as a coach to do that. Unfortunately things didn't go well on the field for us.
"We have to accept that. We'll review, we'll look at the areas and once that review is done by the IRFU then a plan will be put in place. And the plan will be so that we can compete at a World Cup tournament where there are five games over a short space of time with bigger, more athletic teams."
Subscribe to The42 podcasts here: