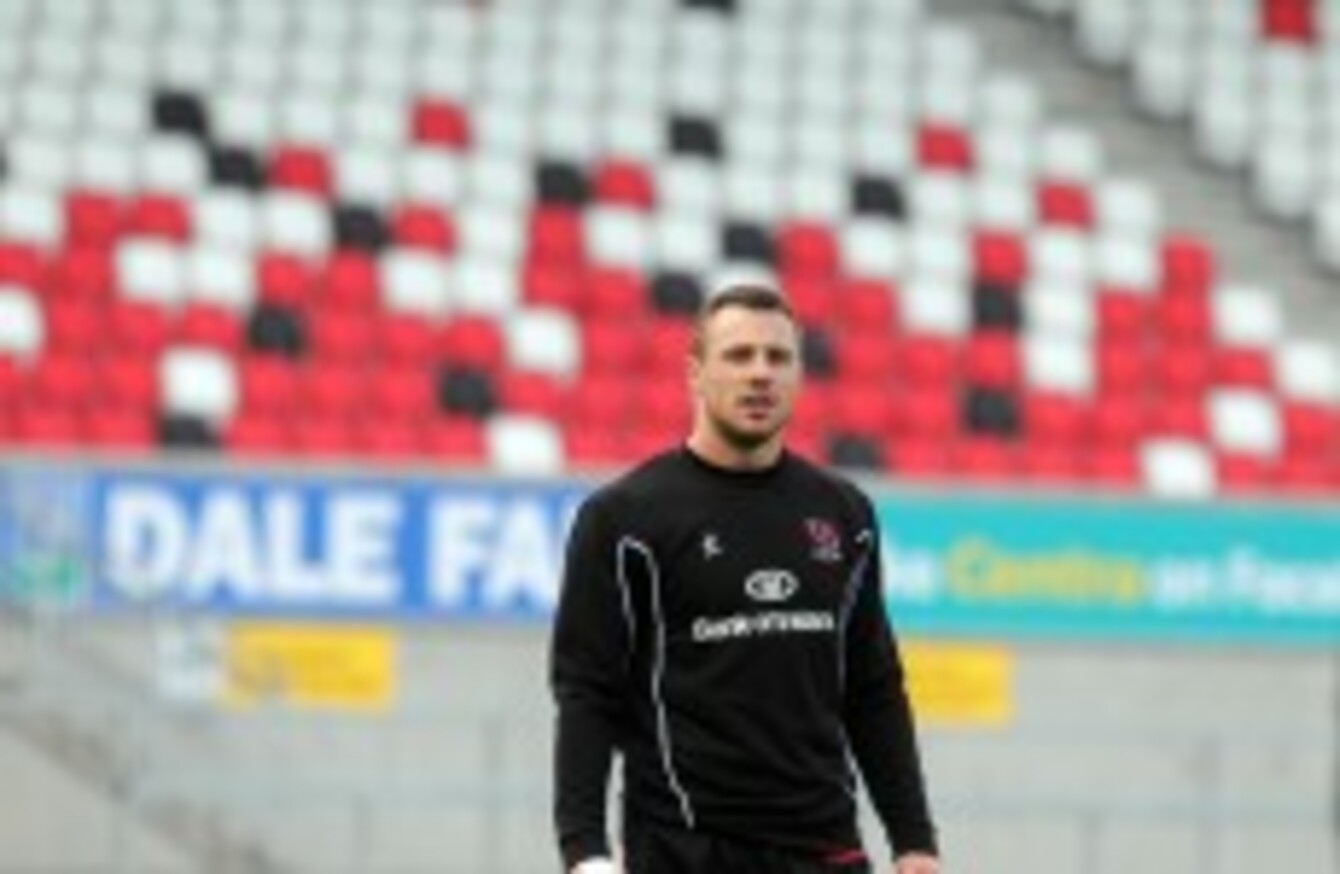 Tommy Bowe is set to miss Ulster's upcoming Heineken Cup clash with Leicester.
Tommy Bowe is set to miss Ulster's upcoming Heineken Cup clash with Leicester.
ULSTER COACH MARK Anscombe this evening reiterated that star winger Tommy Bowe is 'not ready to play' in this Saturday's Heineken Cup Pool 5 decider against Leicester at Welford Road.
With Craig Gilroy still deep within the mandatory six-day layoff after suffering concussion and a broken nose on during Friday's win over Montpellier, some had hoped that Bowe would be fast-tracked back into the side in his place.
Bowe did manage something similar in the opening round of European competition when he made a try-scoring return against Leicester having suffered a dead leg in his one appearance between Lions and Heineken Cup duty.
Groin injuries, however, are notoriously difficult to rush and Anscombe was adamant that he was not considering the Monaghan man.
Disappointment
The Kiwi coach reported that the few players who missed training today should be up and ready by Thursday and, left wing aside, he looks set to be able to name a line-up without many changes.
Should Gilroy fail to come through Thursday's cognitive tests, the left wing spot is likely to open up to Michael Allen – who had arguably been the in-form winger at the province before Gilroy and the return to fitness of Jared Payne edged him out to the replacements bench.
While there was a palpable sense of disappointment around Ravenhill in the wake of the 27 – 16 win over the Top 14 side last week, Anscombe bristles at the reminder, stating that the progress Ulster have made in recent years cannot continue in massive steps.
"People came here expecting it [the bonus point] to happen," the coach told TheScore.ie this evening after watching his side train until dark, "they shouldn't expect it against teams of that calibre.
"You can't do anything about it. People's expectations are what they put on a team and that expectation comes when the team has a little bit of success.
"We've had a bit of success in the last year or two, winning games, and it keeps progressing.
"Sometimes it can't keep going at the pace they think it will. You've got to be patient sometimes, but we're the only team in Europe that's made the quarter-finals for the last four years in a row and we're the only team that has gone five from five.
"You've got to put things in perspective – we should be a little bit happy, shouldn't we?"
Anscombe has been able to derive further happiness from looking back at the last meeting between the sides and he highlights two disallowed tries in the 22 – 16 victory – one for a Luke Marshall forward pass and another when Paddy Jackson was ruled offside on an intercept – as reason to believe Ulster can repeat the performance away from home.
"We created a lot of opportunities that day and dominated that game. We've got to believe that where the ground is, where we play, is irrelevant. It's about the teams and we've got to make sure that we're comfortable in ourselves to go to a place like Welford Road and play the game and get the result we want."