TOMMY BOWE IS back at Ulster and he likes what he sees.
The winger has returned to the province after four seasons with Ospreys in Wales.
He missed out on the Irish tour to New Zealand after surgery on a severely bruised kidney. However, he declares that the break has been good for him and he is ready to help Ulster to Pro12 and Heineken Cup glory this season.
This week, Bowe spoke to TheScore.ie about new faces, old motivations and many happy returns.
How are you finding it back at Ulster?
"I've been here about five weeks now and it is funny. There are so many things that are familiar to when I was here before but now you come out here and you see the new stand and other parts that are very different. There is a real sense that Ulster is heading in the right direction at the minute and it is exciting to be a player coming back to it. When I was chatting to the players here last year, every body seemed to be in good form and very upbeat. That has certainly rubbed off me now, coming in at the start of the season."
How was last season for you, as an Ulsterman, watching from afar?
"Getting to watch them in the Heineken Cup semi-finals and finals last season was sometimes hard for me to watch. I was so jealous of it but delighted, obviously, for them. Ulster will be looking at their consistency and trying to bring that consistency into their game, where they were pulling out massive performances against the top teams in Europe and then, maybe, slipping off the next week."
You are not the only returning star this season.
"Ulster played so many games last season and this season looks no different. It is about having a squad. You look at the Leinster team and they as many changes as others teams, if not more, and the guys seem to be able to slot in and win matches. They don't lose momentum. That is where we are looking to get – that when players slot in there will be no upset. Obviously, there will be teething problems trying to build a squad but with the likes of Roger (Wilson) coming back, myself, Niall O'Connor and the other guys, it is strengthening the squad."
How have you found pre-season?
"Yeah I had an operation and was off my feet for three months. I had a bruise on my kidney so it was a pretty lengthy operation. Touch wood I've got myself out of it and I'm back and ready, hopefully, for the new season. I took pretty much complete rest as the bruise went from my front, through my kidneys and out the back. I didn't do any upper-body weights or anything. But it was great for me as it totally refreshed my body and my mind. It was maybe exactly what I needed."
You left a gaping hole when you set off for Wales but there is stiff competition for places now.
"Without a doubt. That is one of the things that excited me about coming back here. When I went to the Ospreys, people didn't give me much of a chance. You had Nikki Walker, Lee Byrne, and Shane Williams there, all internationals. They had a very exciting backline there and people didn't think I could get into that.
"I showed that I had to up my game and improve myself. I think I did that. Coming back to Ulster you have something similar – Andrew Trimble, Craig Gilroy, Darren Cave, Paddy Wallace, these guys, they are really playing great rugby. I'll have to work hard to get myself into the team and that is exactly what I want.
What did you make of Craig Gilroy's wonder try against Munster?
"It was an exceptional try but it wasn't just that one, I had seen him do that a few times during the season. He had a great year. I'm sure he was very close to making the Ireland tour, himself and Simon Zebo would have been neck and neck, I'm sure."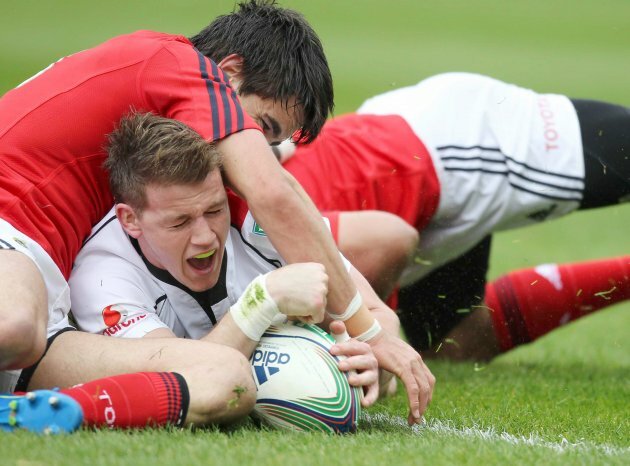 (©INPHO/Presseye/Matt Mackey)
"That is great for Ulster Rugby, that you have the young players coming through and really showing themselves in the big games. It doesn't come much bigger that Munster at Thomond Park in the quarter-final. He has got the temperament and is a top-class player. From what I've seen of him so far in the pre-season he looks really sharp and I will have my work cut out for me getting into the team."
There are a lot of new guys coming through, really exciting lads that are playing some great stuff. There were a lot of new introductions for me, which is good, because it makes it fresh and you have to show up and try to impress these new people.
Were you pleased to hear that Ospreys came to a payment agreement over their large tax bill?
"From a players point of view, the had been in touch with us and tried to assure us that everything would be fine. It is great to see that they are now safe. They are a great squad and a great team. I really enjoyed my time over there so it would have been dreadful to see them go under. I'm looking forward to playing them. We've got them second game of the season so it would be really exciting to go over there, if picked, and take them on.
"I always got on great with the fans. They are a great bunch of people, who really took to me. I felt really honoured and really appreciated it. Hopefully I'll go over and there won't be too many boos."