TOMMY BOWE REMEMBERS hearing the bone in his left ankle snap. A sickening, all too familiar, feeling. He'd been on the pitch no more than two minutes and there he was, stricken on the Millennium Stadium turf again. The second time in 18 agonising months.
"I just couldn't believe it," he says. "I got my leg caught, I got held up and I think Jamie Roberts landed on it.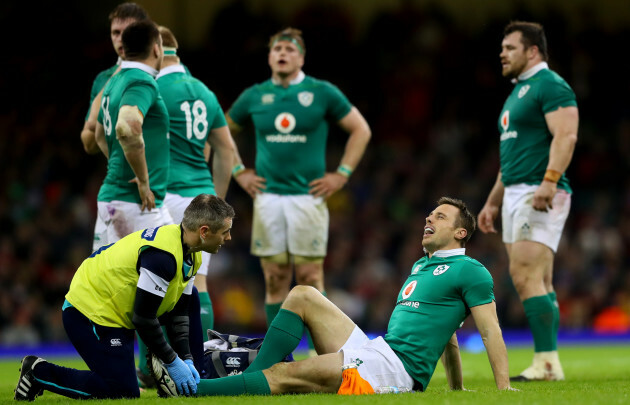 James Crombie / INPHO Bowe fractured his left ankle against Wales last month. James Crombie / INPHO / INPHO
"I was lying there and it wasn't that sore but Wayne Barnes said 'scrum down to Wales'. I said 'sorry Wayne I think I've broken my leg' and he goes 'what, you're only just on the pitch?'"
Back to full fitness and into the reckoning after a painstaking comeback from cruciate ligament damage to his right knee, Bowe had been thrown on by Joe Schmidt in the dying embers of Ireland's deflating defeat to Wales in Cardiff.
But before anyone noticed he was even on, the Ulster winger was being carted off with a fracture to his left ankle. That same buggy, that injury curse again. Another operation, another extended period on the sidelines.
"Coming off that pitch in the buggy it was just a full on 'for God's sake.' I grinned because you'd either laugh or you'd cry and I didn't want to cry in front of 80,000 people," he continues.
"But I just couldn't believe it, 15 months before it was that same buggy I was taken off on in that Argentina match. I just couldn't believe it, I sat there in disbelief."
Bowe saw a surgeon in Cardiff that night before travelling back to Ireland and the advice was that he didn't require surgery, but after a second opinion he felt it would be best to stabilise the fracture with a metal plate. Season over, the comeback cut short and 12 more weeks out of action.
It was another cruel setback for a player who has been plagued by injuries over the last number of seasons. Bad luck is one thing, but the appalling misfortune Bowe has endured is barely believable.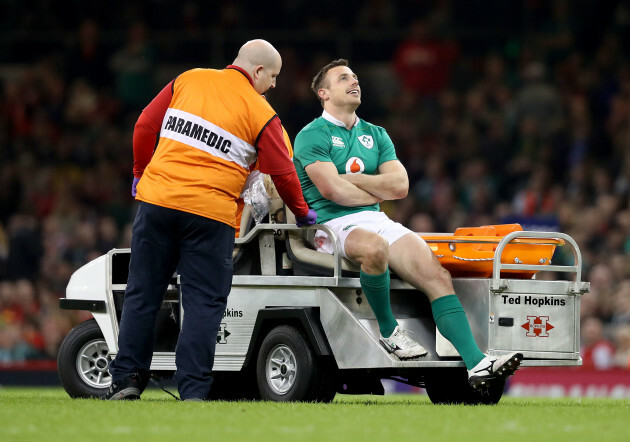 Dan Sheridan / INPHO A wry smile: being carted off at the Millennium Stadium again. Dan Sheridan / INPHO / INPHO
"I felt good coming into the Six Nations, that I was finally getting into a bit of form," he explains.
"My body felt good and I was well rested. I thought if I had got a bit more time in that Welsh game, if I could have got 20, 30, 40 minutes off the bench you never know what way things could have happened with injuries.
"I could have gotten another game and you know things can swing different ways but then when you get on for such a short time, then come off injured. I had to train as hard as I've ever trained before, I put everything into it and then to get injured again. It's so frustrating."
There are other words you could use, stronger than frustrating, to describe it, but Bowe has remained admirably upbeat and positive throughout it all. He is already four weeks on the road to recovery and is now off the crutches, although his mobility is still limited by a large space boot.
The messages of support he received in the days after the injury and operation were a great source of inspiration and encouragement for the Ireland international, as he was spurred on to make a full recovery and not let another setback get the better of him.
The birth of his first child — daughter Emma, who was born last Sunday week — has kept him busy and the monotony of rehab in the gym has been broken up with analysis and mentoring work with the Ulster senior and academy squads.
"Les Kiss has been brilliant, he's asked me to get involved with looking at different aspects of Ulster's play and opposition play to present that to the squad," Bowe explains.
Dan Sheridan / INPHO Irish International and Ulster Rugby star Tommy Bowe pictured at the launch of the SUBWAY® stores BBQ Beef Burnt Ends. Dan Sheridan / INPHO / INPHO
"I'm also trying to do a bit more mentoring with the academy boys, with Kieran Campbell, which is something I enjoy too, having been in and around the game for a long time, there's a lot of experience there to show with the young boys to help them come through."
Bowe's time on the sidelines over the last two years means he's had plenty of time to think about the future and life after rugby. He's always had interests away from the game with his own clothing and shoe line and a postgraduate diploma in Business through the University of London, as well as a construction engineering degree, gives him plenty of options going forward.
"I've spent a lot of time thinking about it," he concedes.
"Certainly with my knee injury, I was out for so long, there were times during that spell when I was thinking 'is this knee ever going to get itself right. As soon as you hit 30, I'd be good friends with Stephen Ferris, friendly with Felix Jones, guys who had their career cut very short, you kinda hit that mark 29/30 and start to think, I need to start looking at life after rugby.
Exclusive Six
Nations Analysis
Get Murray Kinsella's exclusive analysis of Ireland's Six Nations campaign this spring
Become a Member
"Felix has gone into coaching, and fair play to him, to go from directly from playing, Jerry Flannery too, I'd say it's a tough enough transition, I'd have some Welsh friends who did the same thing. I think I'd like a new challenge, I'd like to try something different. I love rugby, it's been so good to me, but initially anyhow, I'd like to try something different, the clothes and shoes I'm involved in gives an idea of how the real world works, how business works and I really enjoy that. If I could tie that into rugby it'd be perfect.
"Being injured a long time, I've had time to think about it, but little Emma coming along that's taken up a lot of my thinking the last while, I can imagine she'll take up a lot of time over the next few months."
While Bowe is giving the next chapter some thought, he insists he is not prepared to close the current one just yet and believes he can come back stronger than ever.
"Jeez, no, far from it, that's just Les asking me to help out, I enjoy doing it, it keeps me involved, and out of the gym, which can be monotonous," he says, when asked if all of this means it's the beginning of the end.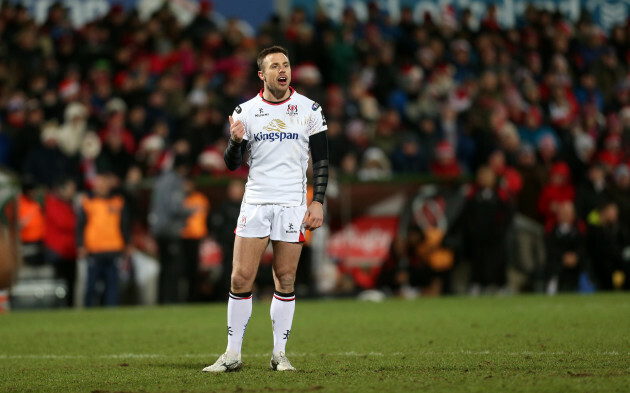 Presseye / Darren Kidd/INPHO Bowe has vowed to get back and stronger than ever for next season. Presseye / Darren Kidd/INPHO / Darren Kidd/INPHO
"Especially the amount of time I've been there doing single leg weight rowing sessions, it gets a bit boring. With Ulster in particular, I've a bit more (to do). This season's been very up and down, so frustrating, and last weekend [draw with Cardiff] just epitomised that.
"People were kind of thinking this injury was the end of me. If it was my knee again or ligaments again it would have been 'jeez I really need consider' but a broken bone is so much easier to deal with so it's never been in my intention to retire. I feel I've a lot more to achieve and my body feels good despite being in a cast.
"I'm 33, I've spent nearly a year or more out injured. Once my knee felt good, the rest of me felt fresh and mentally more than anything I feel fresh. I'm keen to keep going but at the same time I don't want to keep going and become a bit-part player.
"I'm too competitive, if I want to keep going I want to keep pushing myself to get into the Ulster squad, into the Irish squad and pushing on for things otherwise it would be a waste of time."
The42 is on Instagram! Tap the button below on your phone to follow us!