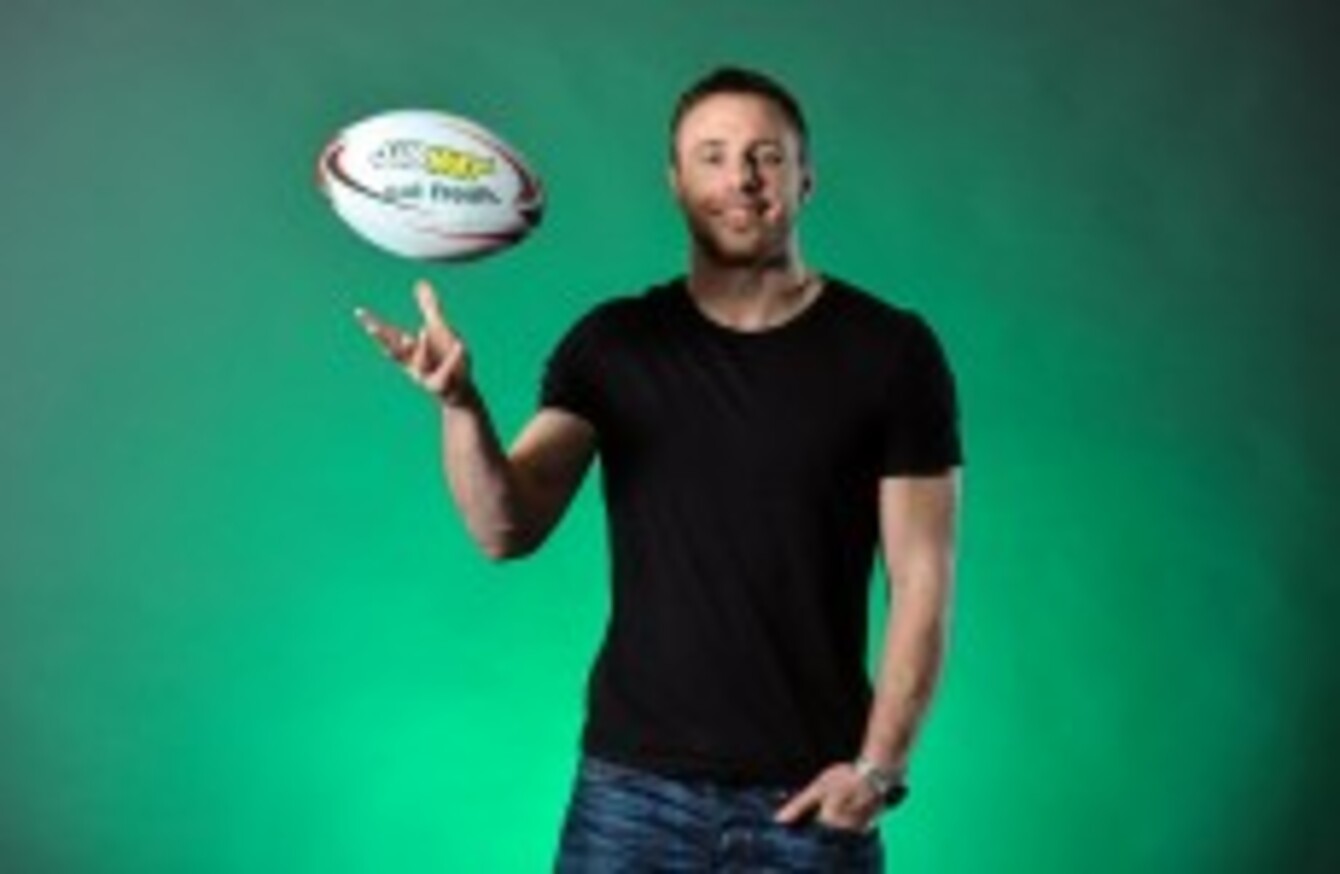 Image: Brendan Moran/SPORTSFILE
Image: Brendan Moran/SPORTSFILE
SEVEN WEEKS AFTER turning 30, Tommy Bowe believes his evolution as a wing still has some way to go.
The Ulsterman missed out on involvement in Ireland's 2014 Six Nations campaign due to injury, but having played under Joe Schmidt during the 2013 November Tests, Bowe is excited about the improvements the Kiwi head coach can inspire in him.
Bowe is a very different player to the raw 20-year-old who made a try-scoring debut for Ireland against the US in 2004, and acknowledges that the four seasons he spent with the Ospreys in Wales from 2008 to 2012 were key to the positive change.
It was massive," the Emyvale man tells TheScore.ie. "It was something I always wanted to do, I wanted to go and try a different team, try new things, meet different people. The opportunity was given to me and at the time they had a fantastic squad, 13 or 14 of the Welsh team that had beaten England that year.
"They had the likes of Filo Tiatia and Jerry Collins. They were a world-class outfit with serious players. For me, to be training in a backline of Shane Williams, Lee Byrne and Niki Walker, for example, was a great challenge.
"I think I went over there and people were even questioning whether I could get into the team. I think that bit of competition and the opportunity to prove myself was something that pushed me on and really helped me game."
The switch was also partly as a result of the fact that Bowe was "was out of favour and struggling" to get back into the Ireland team. Following his early try-scoring success, the 6ft 3ins wing found himself struggling to impress head coach Eddie O'Sullivan.
Geordan Murphy has previously written that the O'Sullivan was not open in conveying to players why they were not being picked, something that Bowe can relate to. However, the two-time Lion admits that the consistency of his form was the most obvious issue.
"I was very fortunate that Eddie gave me my first opportunity to play for Ireland when I was 20, so I have to thank him for that. But at that stage of my career, I wasn't as consistent as I should have been and I made the odd few mistakes in games.
"It was obviously difficult being dropped and you might like to hear a little bit more clarification as to why you weren't getting picked, but I think at the heel of the hunt, I just wasn't playing well enough.
Unfortunately, when I was out of favour it was very difficult to get myself back into the team. These things happen with coaches, they have people that they like. To get yourself back in there is always going to be difficult."
His international career was ultimately one of frustration in its earliest years, but having missed out on selection for the 2007 Rugby World Cup, Bowe realised that he had to make immediate and notable changes to his own approach.
There was little doubt as to the quality of the then 23-year-old's athletic capability, but the player himself realised that he needed to become a more imposing and influential presence during games.
"In my earlier days on the wing, I was just standing on the wing and expecting the ball to come to me. When it did, I tried to do something with it. When I missed out in 2007, I had to go back and re-assess where I was going.
"It was the first time, probably, that I'd missed out on a 30-man squad, and I needed to find out where I was going wrong. It seemed like I was going backwards at that time. One of the big things was that I just wasn't getting involved enough during matches."
To Bowe's ultimate advantage in that regard, he was playing alongside a man who rarely failed to make a telling impact on matches despite being a fellow wing.
Being at the Ospreys was was massive for me, because you see Shane Williams. Shane Williams in a match could pop up at scrum-half, out-half, he'd near enough be pushing in the mauls and trying to scrummage if he could.
"He was always trying to get his hands on the ball and any time he did, he was dangerous. Wingers are meant to be the most dangerous players on the pitch, we're meant to create things. So to be standing on the wing is a bit of a waste.
"That was something I wanted to do; I wanted to get involved and touch the ball more often, take on defenders. That's something that I've been encouraged to do more and it's something that I still try to push and push and push."
Another aspect of his game that the deep self-analysis in 2007 picked out as readily in need of improvement was consistency. Too often, Bowe realised, his most scintillating try-scoring performances were being followed by quiet displays the weekend after.
Understanding the longer-term impressions created by those weaker showings resulted in Bowe bringing a new-found dedication to his motivation levels.
"It comes with a bit more experience, but also I know that I've spent my time out of the Irish team. I know what it's like not to be getting picked and I know how hard people push themselves to get into that team.
"Whenever I'm in the team now, I know there's people chomping at my heels and doing whatever they can to get in there. All it takes is one bad game, one mistake, and it offers them that opportunity. That's the sort of motivation to go into every game with, making sure that you're playing at your best."
An area of clear strength in Bowe's game has long been his fielding of kicks. He gives a tip of the hat to his former life as a Minor footballer for Monaghan, before stressing that he still feels he can grow in this area too.
That's something that you have to continually work on. Playing a lot of Gaelic football back in the day obviously helped in attacking a ball. In general in rugby, sometimes you almost wait for the ball to come to you in the air.
"But certainly on the likes of cross-field kicks or box kicks, when you're competing with people, it's about attacking the ball in the air. It's a skill that I have to practice a lot and we're doing it in every training session."
The younger, rawer version of Bowe was more liable to make defensive errors, as with any fledgling wing. Making good reads is a bread and butter duty for any wide player, and something that is not immediately obvious when done well.
That ability has come with accumulation of playing minutes, says Bowe, but more importantly, the analysis of errors and misreading along the way. Experience is nothing if one does not focus on learning from it.
"The more situations you've been in, you know what way things play out, where the gaps are likely to be. I think you have a better understanding for the game. I think over time, and having done your video analysis, you get a trend of the way things are going.
"Then from a point of fielding the ball, your positioning as a back three player is vitally important. I suppose in a way, it does become second nature, that you're so used to being in the backfield.
You get used to playing against different types of kickers, some have massive boots, low trajectory, high trajectory. Every game changes and you have to do that little bit of homework, analysing the players you're going to come up against as well. That gives you that little bit of extra insight into what you can expect that week."
With a body mass of well over 10okg and possessing frightening pace, Bowe is well suited to an aggressive line speed in defence, something that he benefited from during his time with the Ospreys.
However, the former Royal School Armagh student outlines that such an aggressive system, led from out wide by the wing and outside centre, is difficult to pull off in today's game.
"I enjoyed it, I definitely did enjoy the line speed at the Ospreys. Back then, the defensive line was able to be on the back foot of scrums, now everything is gone back five metres. Now off line-outs, the referees are more looking at the defensive line, just to try and stop that.
"So the opportunity to blitz is maybe not as great as it was back then. You could nearly shut everything off and get stuck into the game. Whereas now you have to be a little but cuter."
Bowe himself has certainly become 'cuter' in his all-round play, offering Ireland and Ulster a world-class wing when fully fit. His pace, power, fielding, work rate off the ball and defensive confidence are sure to play an important part in next year's World Cup.
Before then, a possible tour to Argentina offers him to chance to remind the lengthy list of competition of his worth, and all the while Bowe will be looking for the chance to get better.
Schmidt accepts nothing less.
"I think with Joe coming in, there's a huge amount to learn in the Irish camp. I think that he demands perfection and such a high standard. It's great, a real sense that you are learning and having to push yourself to try and cater to him.
You can't switch off in a training session; that has been incredible. The guys from Leinster have been used to that, but the guys from Ulster, Connacht and Munster have been blown away by it.
"I think that's been a massive change in Ireland, that huge step-up when you go from provincial training to Irish training. Everybody's pushing and that's been a real driving force.
"Joe is a very intelligent guy. He's almost got eyes on the back of his head. Sometimes in training or a match, when you think you can switch off, he's able to pick somebody out who you think that he hasn't seen.
"That's one thing that I've noticed that keeps everyone on their toes. Everyone is looking at the ball, the ruck, and nobody's thinking about the fella who's standing three people away, but Joe is looking at them. That gives you the sense that you just can't switch off."
SUBWAY® stores are giving one lucky rugby team the chance to win a training session with Tommy Bowe and €2,000 worth of sports gear for their team. The #TrainwithTommy competition is open to school and local rugby teams under the age of 18.