ANY BRIEF GLIMPSE into Joe Schmidt's Ireland camp is a welcome one, given the reputation the New Zealander enjoys as one of the premier coaches in rugby.
Yesterday at Carton House, the man himself was only a fleeting presence publicly, sharing a quiet joke with Johnny Sexton, the out-half's wife Laura and young child Luca as they enjoyed lunch at Ireland's Maynooth training base.
Schmidt fielded phone calls, shook hands and spoke with various sponsors after the launch of Ireland's new Canterbury playing kit, very much the top man overseeing proceedings from a slight distance.
Fortunately, Tommy Bowe was on hand to provide a little more information about what Schmidt and his coaching team of Les Kiss, Simon Easterby and Greg Feek had been working on with the players over the course of the mini-camp on Sunday and Monday.
There was a lot of content in it," Bowe explained. "It's been a fairly short camp, but we've had a couple of sessions on the pitch, going through a few plans. We've been getting acquainted with the calls, different patterns and the opposition we've got coming up. In a fairly short space of time, we've got through a lot."
Clinical use of time and resources; Schmidt wouldn't have it any other way. The presence of relatively unfamiliar faces such as Jared Payne, Dave Foley and Nathan White meant this camp involved going through those basics that Bowe mentions above.
Not that Schmidt will accept his squad standing still to absorb new elements. Last season's Six Nations title was enjoyed, but now it's time to build.
"Joe doesn''t sleep at night thinking about how we can get better, how he can push the team on. He's obviously delighted, I'm sure, with how it went last year – to win a Six Nations in your first year is pretty spectacular," says Bowe. "But the man that he is, he wants to push us on, he wants to be the top team out there.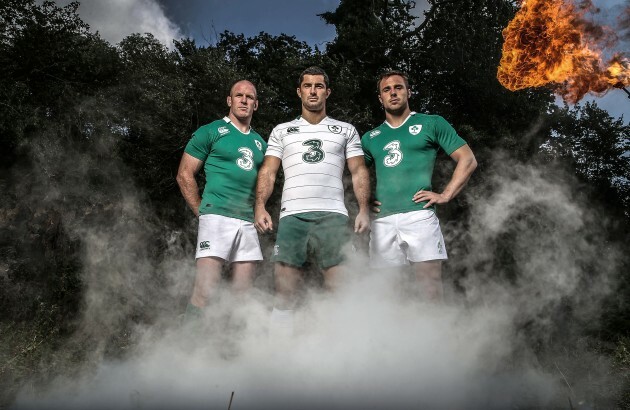 Dan Sheridan / INPHO Bowe helped the IRFU to launch their new Canterbury playing kit at Carton House yesterday. Dan Sheridan / INPHO / INPHO
"I think certainly the trend and the bits and pieces that he''s put in place, I think this weekend has definitely stepped it up another level."
Bowe says Schmidt did not make any mention of the 2015 World Cup over the course of the Carton House gathering, although he is sure the Kiwi has "spoken about it amongst his coaches."
In front of the players, all focus has been directed towards the November Test series, when Ireland take on South Africa, Georgia and Australia in Dublin – the second, 15th and third-ranked sides in the world at present.
Despite the demanding opposition, Bowe believes last year's narrow miss of a defeat against New Zealand has given the opposition advance warning of Ireland's ability, even if they were beaten by the Wallabies in the same series.
I'm sure all those teams would have seen our performance against New Zealand last year," outlines Bowe. "We weren't up to it the day against Australia and we've a lot to rectify from that.
"But we're Six Nations champs, we were so close to winning against New Zealand and I think that the Southern Hemisphere teams are not going to take us lightly."
Where exactly do Ireland need to improve to take the next step in Schmidt's plan, announcing themselves as genuine World Cup contenders?
Dan Sheridan / INPHO Schmidt chats to Bowe and Ian Madigan at an Ireland camp last November. Dan Sheridan / INPHO / INPHO
Priority number one, especially after profligacy in Argentina in June, is becoming as effective as possible when deep in opposition territory. Coming away with scores as often as possible from those visits is vital.
"The clinical part is the big thing," explains Bowe. "We create opportunities, this Irish team. We've created opportunities, got into the opposition 22 and [need to be] clinical. Against the top teams, when it comes to that last 20 minutes of the game, you might only get one opportunity and it's about taking it."
Another potential area of growth for Ireland is in their offloading game, something Schmidt limited last season, preferring instead to see his side secure rapid ruck ball as support players focused solely on clearing out defensive bodies.
Bowe says Schmidt hasn't directly addressed the point, but accepts it may be an aspect of the game plan that progresses this season.
It could be, it could be, I'm not 100 per cent sure. I'm sure offloading is something to take on the best teams, to try and get on the front foot.
"Offloading is a key part of the game, but I suppose it's another progression that we can definitely have, so I'm sure at some stage, the opportunity to offload, push the pass to a player, might come."
"I think going by the conditions that we play in in the Northern Hemisphere, a lot of the time it is 'Hold onto the ball.' That's what a lot of our coaches tell us. But I think that if you were to be able to give a good pass, a good offload, and we were going to go through to score off it, I don't think [Joe] is going to give out to us."
Roll on November.