BEFORE YESTERDAY'S MUNSTER semi-final, I expected Clare to be the better team, the more polished outfit.
They had indicated from early in the season that this was a game they wanted to be judged on.
Therefore, I expected them to put in a strong performance, and they did.
It was a solid and accomplished display.
What I liked about Clare was that they looked fresh, fast, dynamic and hungry.
One of the things that will please Clare supporters most is how they looked much more of an attacking threat compared to recent seasons.
There was good variation of their play and from very early on, they provided an indication that they were prepared to go more direct.
Early marker
Clare scored their first point in the fourth minute, and it was a clear statement of intent.
David McInerney is pictured here, and preparing to deliver a long clearance downfield: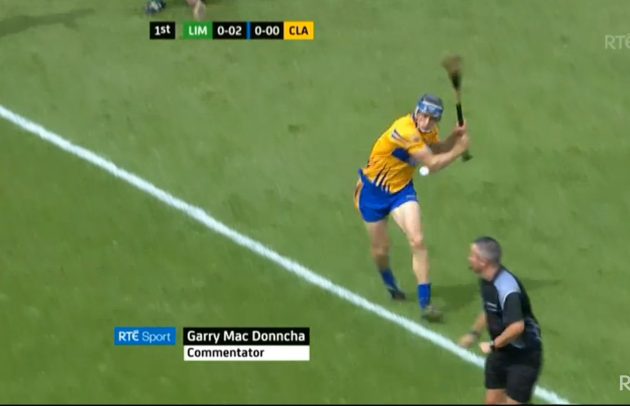 It's collected inside by Conor McGrath, who's out in front Sean Finn: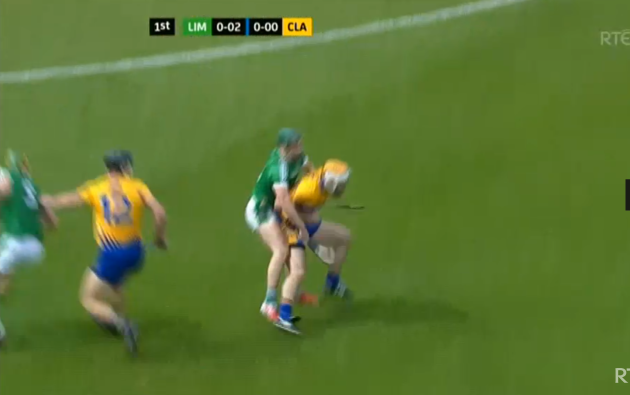 McGrath turns and heads for goal, another indication of how Clare wanted to play the game on their terms: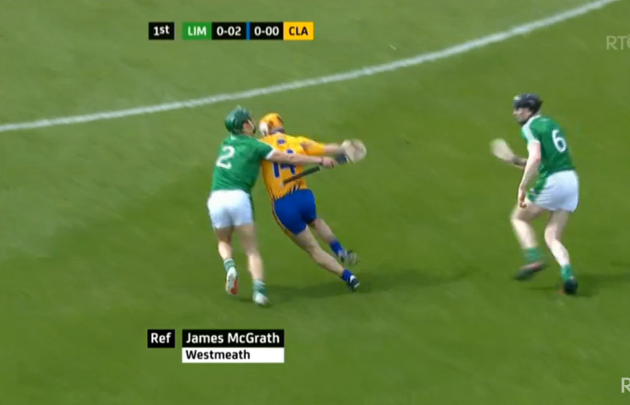 Bottled up by a combination of Finn and Declan Hannon, McGrath's forced back inside but he wheels around and prepares to put over the score:
This was good play from Clare. McInerney powered out of that full-back position with the ball before releasing a huge clearance.
McGrath contested the dropping ball, won it clean, and picked off a lovely score to open Clare's account.
When you have the likes of McGrath, Shane O'Donnell and Aron Shanagher in your full-forward line, the earlier the ball gets to them, the more dangerous they're going to be. And they looked very dangerous all day long.
There were times when Clare could have opted for a short pass or two further out the field but they didn't try to work it through the half-forward line as much.
More often than not, it was sent to the inside line fairly quickly, once possession had been secured out the field.
Have a look at Clare's first goal, in the fifth minute.
John Conlon was shooting for a point but the ball dropped on the edge of the square.
The important thing to note is that Clare had a presence in the full-forward position all day. Whether it was Shanagher, O'Donnell or McGrath, there was always someone in and around the danger area.
As Conlon's effort drops short, look at how close Shanagher (circled) is to the Limerick square: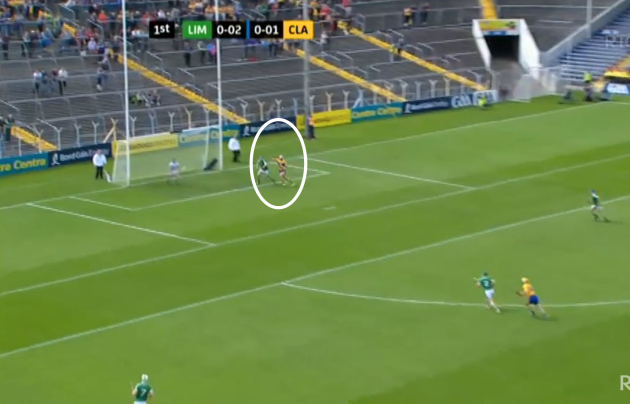 He contests it and when the ball is half-cleared, O'Donnell is on hand to whip it into the net.
Goalscorer O'Donnell is circled in blue but you can also see Shanagher and McGrath (number 14) inside the 20m line: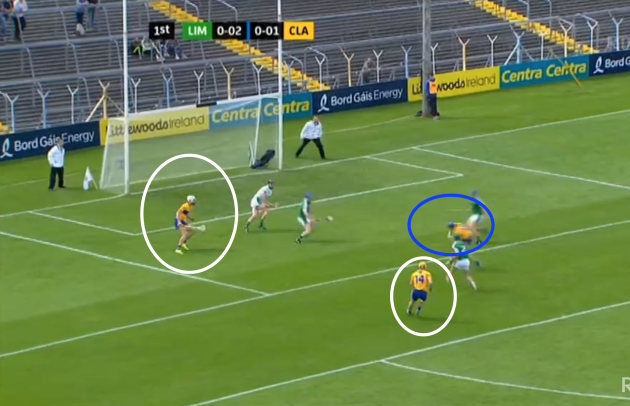 After Shanagher has contested the initial contact, O'Donnell and McGrath have both made ground to be in a position to potentially latch onto the second ball.
There's no real structure to this, as such, but the point is that they had a significant presence on the edge of that Limerick square, and were there to pick up breaking ball if and when it arrived.
Clare's direct play
Clare's commitment to going direct was a feature of their play all day.
In the 14th minute, they went short with a puck-out to David Fitzgerald, who fed a ball down the left touchline to Tony Kelly.
Again, as we freeze the picture here, Kelly's prepared to let the ball fly inside: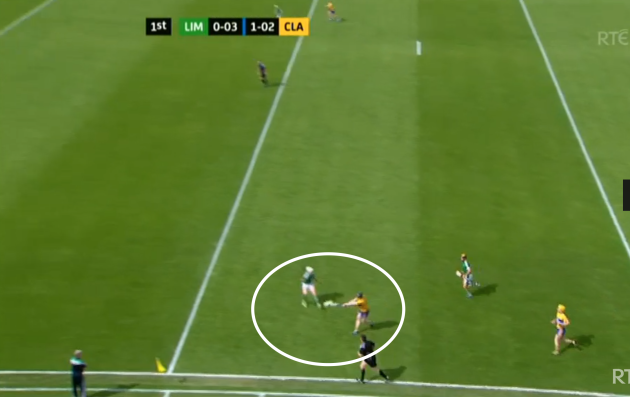 As the ball is delivered, look at Clare's three inside men again, all within the 45m line: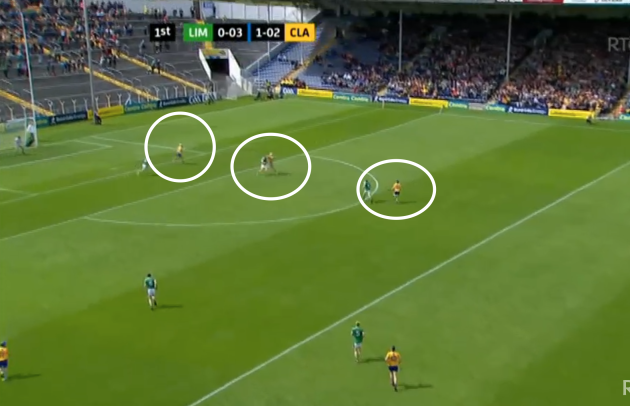 Conor McGrath's on the 14m line and Shanagher, who will contest the dropping ball again, is close to the 20m line.
The eventual goalscorer, O'Donnell, is furthest out but he eventually takes advantage of what is admittedly poor Limerick defending before racing through to score.
The point here is that the more bodies you have inside, the more likely you are to score.
It might sound simple enough but there's a two-fold effect. Having more players close to goal increases the chances of defenders making a mistake, or attackers forcing a turnover.
O'Donnell's second point, in the 32nd minute, was another example of how simply Clare played the game, and how centrally involved goalkeeper Andrew Fahy was in terms of his puck-outs.
It was a delivery into midfield won by David Reidy, transfer to O'Donnell and a point.
In the 33rd minute, David Fitzgerald took advantage of a loose sideline ball from Limerick, transferred the ball inside to Shanagher and he's fouled, in the next picture, by Richie McCarthy: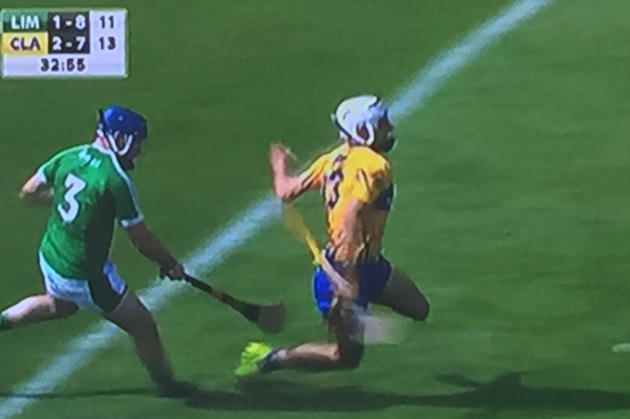 David Reidy puts over the resultant point and again, it's nothing too complicated from Clare.
When they had the ball, they were prepared to look inside for their danger-men as often, and as quickly, as possible.
Clare's precision play
The direct approach is not to suggest that Clare weren't prepared to vary up their play either.
Just before half-time, John Conlon picked off a point, following a short, snappy pass from Podge Collins.
Here, we see Podge in possession, looking up:
His body shape and line of vision might initially suggest to you in the freeze-frame that he's preparing to go long but next, he shortens the grip and prepares to get a pass away to Conlon:
It's the right decision, as we can see next. Podge (blue circle) is just yards from Conlon, the recipient in the white circle:
I've rated this Clare team highly for a while now.
They're coming off the back of that senior success in 2013 but also three U21 All-Ireland wins.
They're very skilful, very precise and have been playing together now for a number of years.
They know each other inside out and, to me, they looked very comfortable and in control of what they were doing.
There was a shape to them in so far as they had the inside forwards available for long deliveries but you also had the likes of Colm Galvin and David Reidy pulling the strings.
They could find each other very intuitively with their short game as well but it was refreshing to see them mixing up their game quite a lot.
Where I would fear for them going forward is that they could run into difficulty at some point on their puck-outs.
They're going to have to develop some sort of strategy or method of being more competitive under their them when they go long.
In the 25th minute, Paul Browne picked off a Limerick point from a long Clare puck-out that they weren't able to win.
That was just one example but what impressed me with Clare is that they could re-direct their puck-outs when they ran into trouble.
They were clever in that they recognised that when a particular strategy wasn't working, they managed to adapt, picked out their men again and developed their play in a different manner.
And make no mistake, Clare are one of the best teams out there when it comes to creating opportunities in limited space.
Limerick's poor attacking play
In contrast to Clare, Limerick's attacking play was a huge problem for them.
They only ended up losing the game by four points but they had 11 wides by half-time, and no score from play until the 20th minute, when Peter Casey was on target.
Before the passage of play that led to Clare's first goal, a ball went into the Limerick attack.
Exclusive Six
Nations Analysis
Get Murray Kinsella's exclusive analysis of Ireland's Six Nations campaign this spring
Become a Member
But Kyle Hayes (circled) is the only Limerick man inside the 45m line.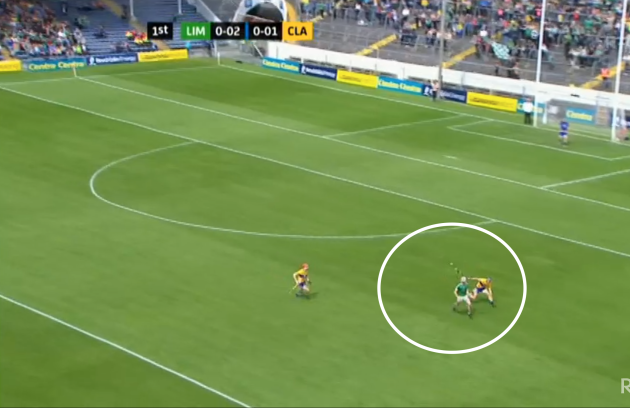 Hayes struggled to gather possession of the ball and when he eventually does, he's forced backwards in search of a supporting team-mate.
In the next shot, John Conlon (circled) is preparing to cut out the pass from Hayes, who's out of shot: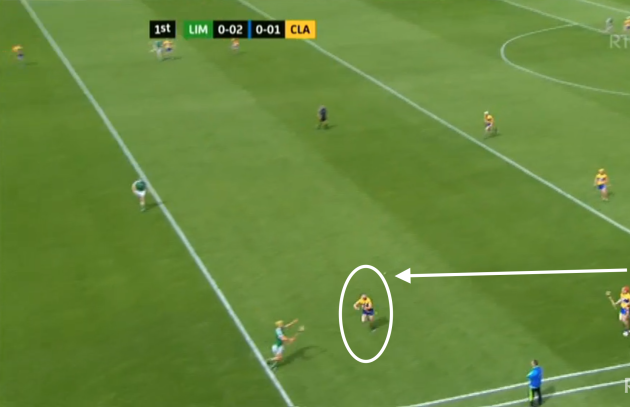 It's Conlon who surged upfield to deliver the effort for a point that dropped short, leading to O'Donnell's opening goal, as discussed above.
From Limerick's point of view, the policy of having just one player inside should not happen.
I don't know why it did, whether it was a strategy they employed, trying to keep their half-forwards deep and leaving one or two players inside.
But that early in the game, for a forward to be that isolated, is hard to explain.
There were other passages of play from Limerick that let them down.
Traditionally, Limerick's best style is renowned as a physical and direct approach.
For some reason yesterday, they played a number of short passes which didn't work for them.
There was as passage of play between the 25th and 26th minutes from Limerick where it was all very short and they didn't have enough precision to get it done. They ended up losing the ball on a turnover.
There was another example in the 40th minute when full-back Richie McCarthy soloed the ball up field, got caught and the play became really scrappy.
You can't develop forward play off that kind of stuff.
In championship hurling, it's all about creating opportunities and executing them.
Limerick weren't as polished as Clare although it has to be said that when the Shannonsiders did go more direct, and were more aggressive, there was a beautiful passage of play for their goal in the first half.
It demonstrated good use of ball and an end product.
Cian Lynch is running through here and he prepares to shoot, look at the two Limerick players either side of him (green circles):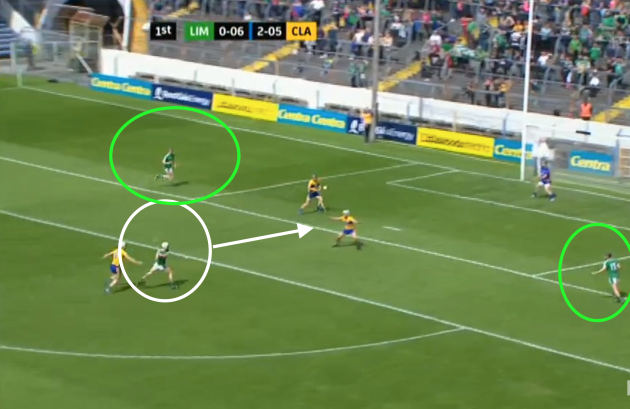 This snapshot is in direct contrast to the Hayes example above, illustrating a commitment to attack and having players in the danger zone.
Here's Lynch running hard at the Clare defence, and with options left and right should he choose to use them.
Gaps have appeared and when Lynch's shot is blocked, David Dempsey (circled) is in the perfect position to prod home the loose ball:
Limerick have the ability to be a lot better, and I do see potential in them.
In the 37th minute, there was another bit of good play from them, when Dempsey got an excellent score after good play from captain James Ryan.
If they change their style of play and revert to being that bit more direct, I think it would serve them well.
They have strong and powerful players like Dempsey and Hayes, who scored a cracking goal near the end.
Those two have that bit of presence and when you throw the likes of James Ryan, Lynch and Barry Nash into the mix, plus Diarmaid Byrnes and Gearoid Hegarty when they come back, they should improve.
Conclusion
Overall, Clare's approach and variation served them really well. They're now a team that's up and running, and will be strong contenders.
I think it's going to be a cracking Munster final against Cork or Waterford and there's not much between any of the teams left in the race for the provincial title.
Clare seem to have improved and the work they've done over the winter is standing to them.
They're pretty much injury free and started without Cian Dillon and Brendan Bugler in defence, with Andrew Fahy in goal making his debut in the Munster senior championship.
It appears now that there's real competition for places and that will serve them well going forward.
Going right back to the start, I always believed that this Clare team could play a more direct game and it was great to see that yesterday, because it really suited them.
The42 is on Instagram! Tap the button below on your phone to follow us!