AS PART OF our 2016 Hurling championship coverage, we've enlisted the expertise of Tipperary's 2001 All-Ireland winning captain and former team coach Tommy Dunne. 
Tommy has joined The42 for the summer and in his latest column, he takes a closer look at Kilkenny's impressive victory over Galway in yesterday's Leinster senior hurling final. 
**************************
Overview
This was a very competitive game for a long time, the first I've seen this year where the two teams went man on man from the start. No covering defenders, no sweepers, no extra man in defence. It was refreshing to see that.  
Galway were in charge in the first half and while they went in at half-time three points in front, it should have been five or six.
After the break, Kilkenny took over and dictated the terms of engagement. Their work-rate increased considerably and a number of key switches paid dividends. Brian Cody introduced Richie Hogan and John Power from the bench, and both had big impacts.
TJ Reid came out of full-forward to the wing, and Walter Walsh moved into corner forward, having played on the wing in the first half. What developed was the proverbial game of two halves, much of what Kilkenny did in the second half mirroring Galway's work in the first.
Now, I'll go a little deeper into some of the key factors that determined the outcome of the game…
Galway's early foothold
The reason why Galway were in charge in the first half was because their defensive game was very strong. They had Daithi Burke listed at number 6 but he went to full-back on TJ Reid from the start.
John Hanbury picked up Colin Fennelly and Galway had their match-ups spot on, with Pádraig Mannion on Eoin Larkin, Aidan Harte on Lester Ryan, Gearóid McInerney picking up Walter Walsh and Johnny Coen marking Jonjo Farrell.
TJ Reid was well held by Burke and the influence of Eoin Larkin and Colin Fennelly was negligible. Galway were excellent, with their midfielders dropping back to provide extra cover and Kilkenny had no real space to operate it in front of their full-forward line.
Galway were very much in charge from a defensive point of view and in the example, we can see how they were quick to get bodies around the ball and clear their lines: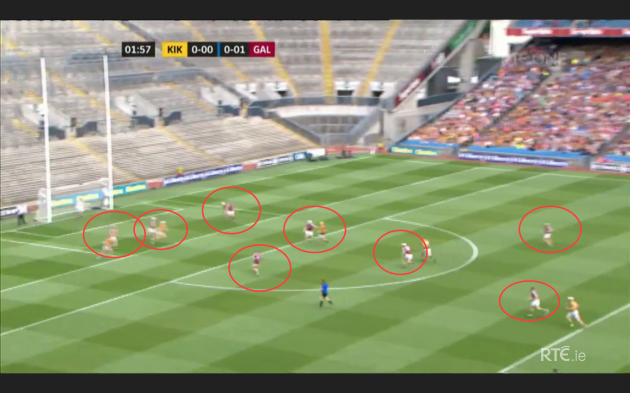 In the first picture (above), I've circled eight covering Galway players when the all lands between the 14 and 20-metre lines. In the next picture, look at how quickly Galway flood that area with bodies: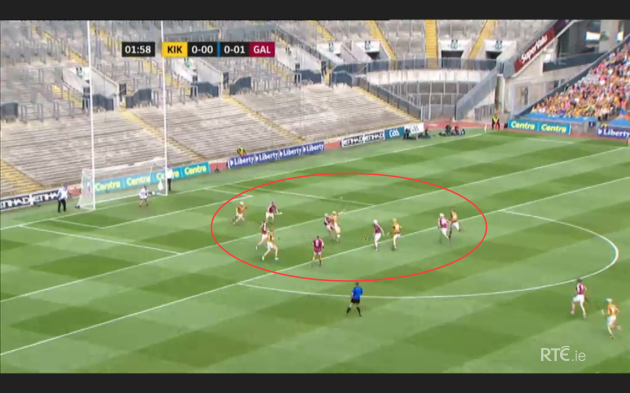 They pick up possession in the next picture….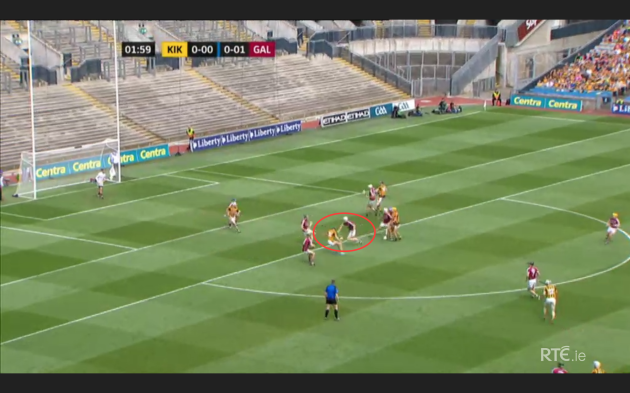 And David Burke has dropped back to take a simple pass and clear his lines: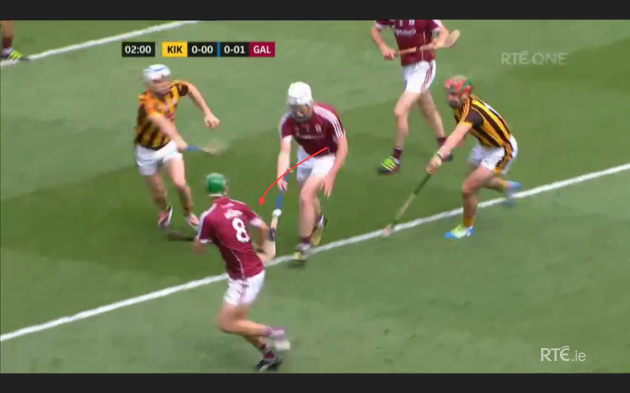 This kind of work provided Galway with a good platform and up front, they grew into the game. Conor Whelan and Cathal Mannion, right the way through, were the pick of the forwards and had particularly good first halves.
Mannion was particularly good at finding pockets of space. In the 28th minute, he gets in between two Kilkenny defenders to pick up a long ball from defence: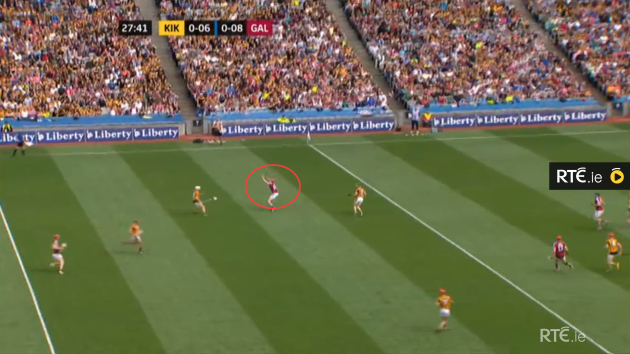 Not enough pressure is applied, unusually for Kilkenny, and Mannion has time to check onto his left hand side and pop over a point: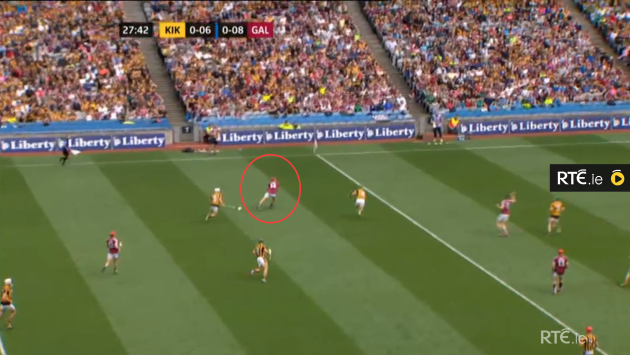 Four minutes later, Mannion finds more space in which to operate and is well-placed to pick up a pass from Joe Canning: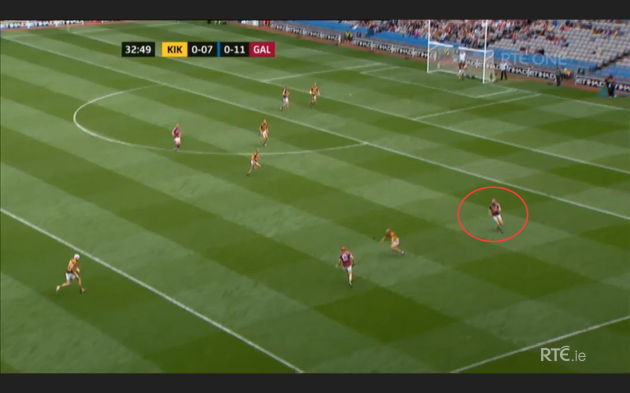 The covering Kilkenny defender has yards to make up and Mannion has time to exploit the situation:
He takes the right option, cutting onto that left hand side again, making a better angle for himself before popping over the point: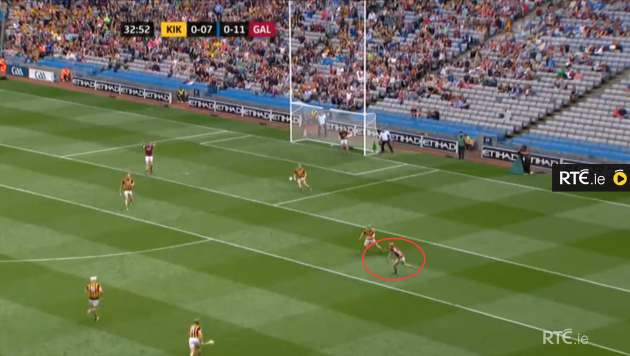 Galway's forward line was continually rotating in that first half. In the first example above, Mannion scored from the Cusack Stand side but for the second, he was over on the Hogan Stand side of the field. This movement caused Kilkenny problems in the first half but their backs weren't getting tackles in and applying their usual pressure.
That very seldom happens, and it didn't in the Dublin game, as I referenced in a previous column. However, it didn't happen in the second half of yesterday's game either, when Kilkenny put the shutters down.
When managers need to react
I started this piece by stating that it was refreshing to see both teams go 15 on 15 from the start – but it's also important to recognise when you need to drop back an extra man.
Kilkenny are three points down at half-time and their forward line is not functioning as it should.
Cody reacts by bringing in John Power and Richie Hogan, with Power operating at at number 11 and Hogan in the number 14 position.
The trend of the game changes immediately, within the first minute of the second half, in fact, when Hogan pops up in a space almost identical to that exploited by Mannion for the Galway man's point, which I've already discussed.
This time, it's Hogan in the pocket that Mannion profited from in the first half:
You've seen this before with Mannion, haven't you? Richie has the time to check onto that left hand side, as Mannion did:
The end result is a point and Kilkenny are off to a flier in the second half. The fundamental point is this: the ball comes into a place where Richie is able to go out very much unchallenged and as everybody knows, when Richie has the ball in hand he's going to cause trouble.
John Hanbury is now picking up Richie but he allows him to get out in front and the end result is a point. The reason why teams play an extra defender is to cut out that space, so the ball never gets into a player of Richie Hogan's quality in the first place.
But Galway didn't do anything to counteract this and after Richie gets that ball into his hand and scores, there's an immediate case to be made for Galway's centre back to sit deeper, and for the midfielders to drop back.
They didn't and Kilkenny hurt Galway just like Tipperary's Seamus Callanan hurt Cork and Limerick in the Munster championship. Seamus was running angles, coming out towards the number 11 slot and towards the touchlines.
Kilkenny were very clever in a similar way, and when Richie came out to the half-forward line, there were times when John Power had vacated that number 11 space, moving into a different area to allow Richie the time and space to get on the ball. From there, Kilkenny are in control.
Kilkenny's unsung hero
Conor Fogarty claimed the man-of-the-match award on The Sunday Game – and rightly so.
He scored three points from play, an excellent contribution from a midfielder, and provided the direct assist for Jonjo Farrell's goal, which was a really good pass under pressure.
Conor, right through, had a storming game. He's often pigeon-holed as a defensive player but that's slightly unfair on him. This guy has an appetite for real, hard work.
One of the fundamentals of Kilkenny's game is hooking and blocking. If someone is in the middle third of the pitch but not contributing in this area, he won't hold down a place on the Kilkenny team.
This guy is one of the best in the country when it comes to the arts of the game that don't generally get man-of-the-match awards – hooking, blocking, tackling, covering.
But there's another side of his game where he's very strong and that was very much on display yesterday – score-taking.
But first, we see Fogarty foraging inside his own half. Note the time, the 43rd minute:
Fogarty picks up the ball before releasing a simple pass to a better-placed team-mate, allowing Kilkenny to clear their lines: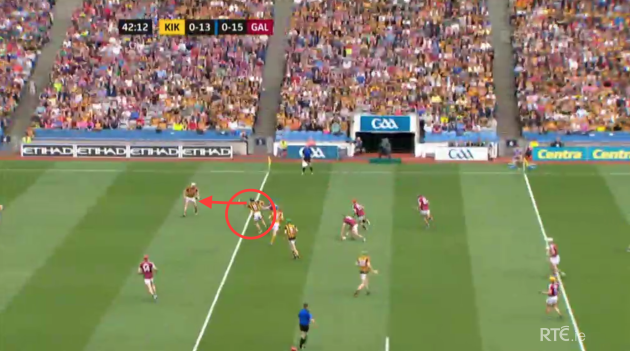 It's simple, effective stuff but so, so vital to what Kilkenny do. We've highlighted Michael Fennelly in that previous column and while he had a strong second half, Fogarty was Kilkenny's mainstay all through this Leinster final.
For the goal, he's involved at the other end of the field and again, note the time, the 45th minute. It's just a couple of minutes  after Fogarty's been involved in the dirtier work in his own half.
Now, he's further forward and in a position to create something. Fogarty puts the head down and drives through: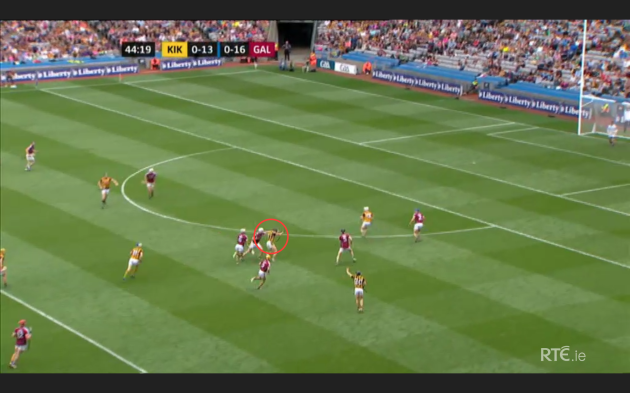 Now, Galway have a problem. Their covering player (purple arrow) has to make a choice and he's drawn towards Fogarty, which allows Jonjo Farrell to move into a perfect position to take a pass:
Fogarty, as he generally does, takes the right option and frees Farrell, who finds the net with a shot that admittedly, Galway goalkeeper Colm Callanan should have saved: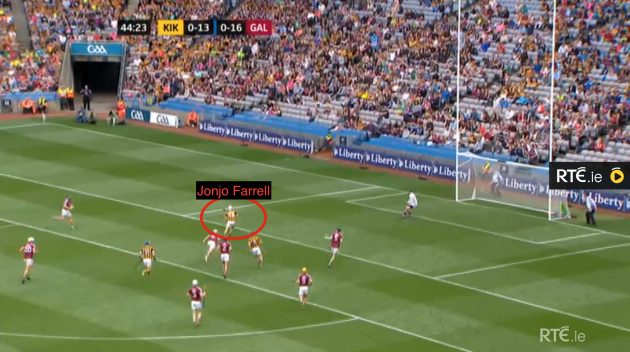 Galway crumble under pressure
This was a game that Galway could have won. There were aspects of their play that were very solid and they'll take a lot out of it but they were sloppy and untidy with a number of clearances out of their back-line.
Some of that, particularly in the second half, was down to the increased pressure their defenders were coming under from Kilkenny's forwards, as the Cats upped the ante.
Here, Johnny Coen finds himself surrounded by a posse of Kilkenny forwards:
Within two seconds, he's completely bottled up: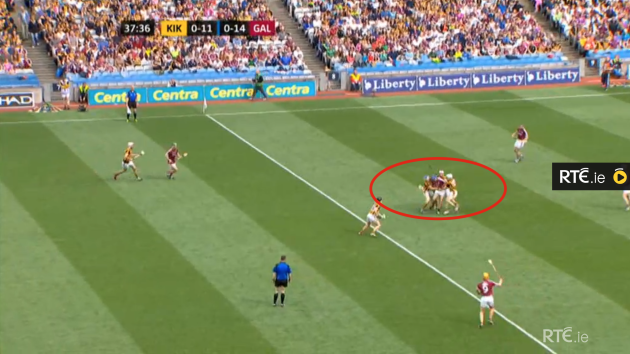 As the passage of play develops, Kilkenny win the ball but Richie Hogan is turned over and Galway have possession again.
What they do with it is not good enough as Conor Cooney (wearing 15) plays a ball down the right touchline, albeit under the rising tide of Kilkenny pressure:
Cillian Buckley (circled red) picks up the loose clearance and has two options inside, either Padraig Walsh or Conor Fogarty. Walsh looks the better option but Buckley is bold and when play develops, he picks out Fogarty and the result is a point: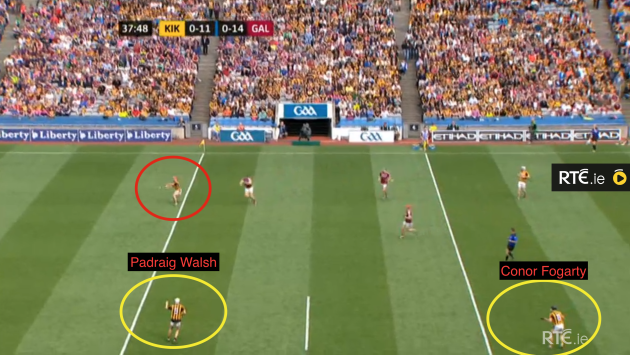 In those few seconds, Kilkenny turned over Galway, were turned over themselves, but picked up possession again from a loose Galway clearance and scored a point. It's a good example of Kilkenny's relentlessness when they get a foothold.
Another point to make here is that the deeper we got into the game, the more comfortable Kilkenny were at the back. There was one notable reason for that.
As Kilkenny put the squeeze on the Galway backs, the Galway midfielders and half forward were forced to retreat to provide extra bodies. That left a number of occasions where Galway's defenders, when they got the ball, were forced into aimless clearances straight to Kilkenny opponents, often unmarked.
This happened because Galway's midfield and half forwards had flooded back. That's admirable in a sense as it shows decent work-rate but it's also counter-productive in that there's nobody at the other end to profit when you do win the ball.
A good example of this is as early as the 46th minute, and Joey Holden (circled), has plenty of time to drop back and pick up possession, with Galway's attacking players well outside the 20m line, too far out to cause any real danger: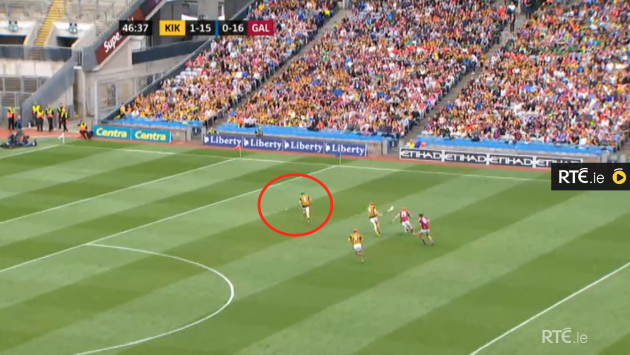 Kilkenny had the clamps on after half-time and while Joe Canning may come in for some stick after failing to score from play, maybe Galway's rotational set-up in attack had something to do with is performance, which was admittedly non-influential.
Sometimes, if you employ a rotating strategy in the forward line, some can really benefit and both Mannion and Whelan did. They flourished particularly in the first half because they weren't being tacked as closely as Kilkenny would have liked but Joe was one of Galway's least effective forwards in that first half, which was very unusual.
Joe worked hard in the second half but the thing with Galway is, coming as underdogs and with a point to prove, he's their leader, whether that sits comfortably with him or not.
He has incredibly high standards and is an unbelievable player but he does carry the pressure that goes with having to perform in big games.
What was encouraging from a Galway perspective was that other players, most notably Mannion and Whelan, stood up but if Galway are going to have an impact on the remainder of the championship, they need joe back in form.
Perhaps the rotation system knocked him out of his stride. Maybe he'd prefer to be left in one position for longer periods of the game but there was a stage in the second half where he was left on the edge of the square on Joey Holden, without much support.
Galway's other forwards had drifted out the field and their men went with them. Joe would flourish in that one-on-one situation but no ball came in during that period. He stayed there for a few minutes but was soon gone from the edge of the square.
Overall, he had little enough influence on the game and that was definitely a problem for Galway, particularly in the second half when they were playing second fiddle and could have done with someone putting their hand up and taking charge of the game.
The42 is on Snapchat! Tap the button below on your phone to add!