AS PART OF our 2017 hurling coverage, we're once again calling upon the expertise of Tipperary's 2001 All-Ireland winning captain and former team coach Tommy Dunne. 
Tommy is back with The42 for the summer and his first championship column of the season takes a closer look at Cork's stunning victory over Tipperary in yesterday's Munster SHC quarter-final at Semple Stadium. 
****************
Overview
I've had a theory about Cork for the last couple of years, that if, or when, they started defending properly, they would become very competitive again.
Yesterday, and even though Tipperary scored 1-26, Cork's defending was as good as I've seen over the last few years, possibly to as far back as 2013.
I'm going to illustrate that with some key examples. Colm Spillane's two catches over John McGrath in the first half were stand-out moments.
They set the tone for the Cork backs all day and for Spillane, on his championship debut, this was a remarkable show of confidence against one of last year's leading players.
Cork's defending
The first Spillane catch over McGrath was bang on nine minutes.
A brilliant fetch, which you can see below from two angles: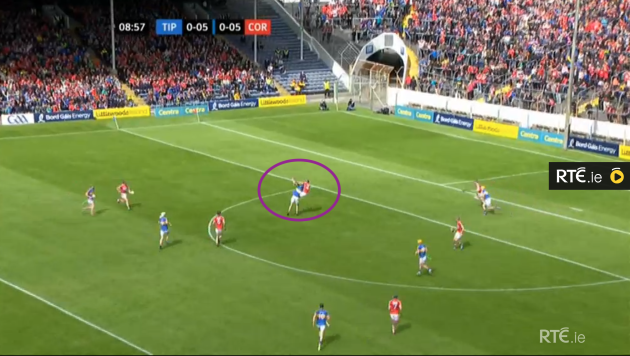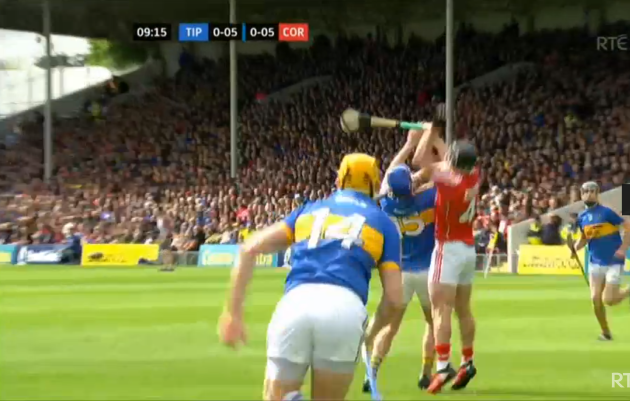 In the 12th minute, Spillane's second catch leads directly to a score.
He beats McGrath to the punch again, delivers a snappy ball to Bill Cooper and when the midfielder transfers the ball to Alan Cadogan, he escapes the attentions of John O'Keeffe and flashes over a point.
But Spillane is the instigator, first of all positioning himself well to take control of the dropping ball: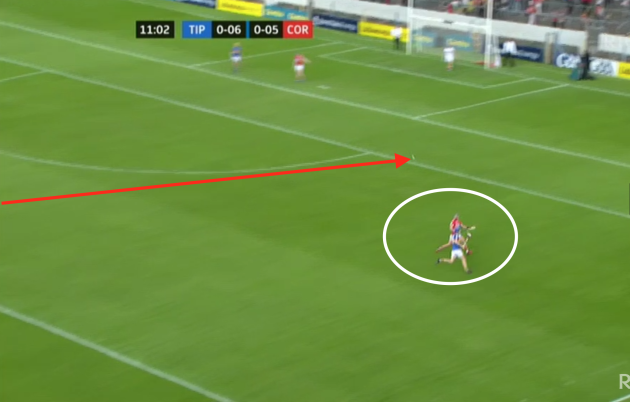 In the next two screenshots, Spillane first of all gathers possession, and then has to presence of mind to step out past McGrath before surveying his options: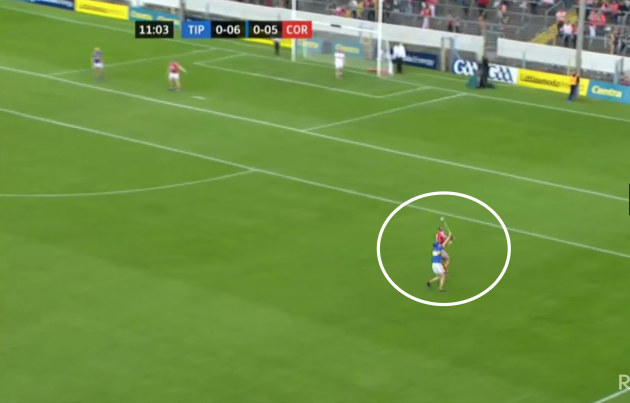 Spillane feeds a simple handpass to the waiting Cooper: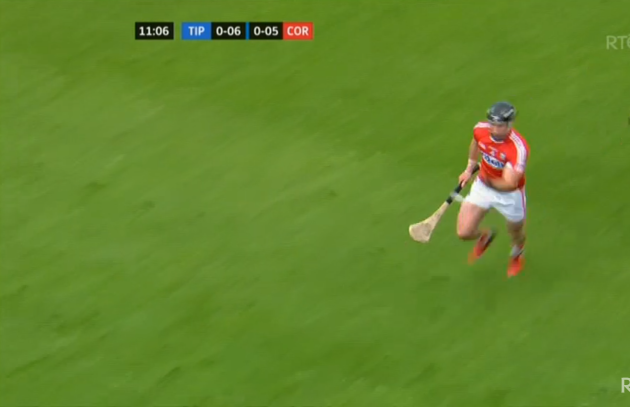 From there, Cooper drills a brilliant ball into Cadogan, who does the rest.
There's another great example of Cork defending on the front foot in the 29th minute.
Ronan Maher comes out with the ball for Tipperary in the first shot: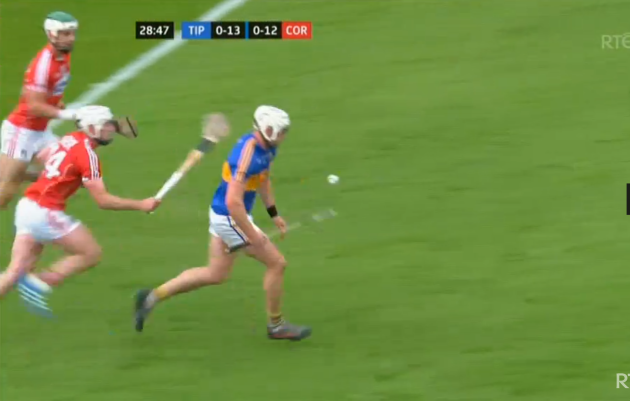 He's under pressure though, and is forced into a kicked clearance: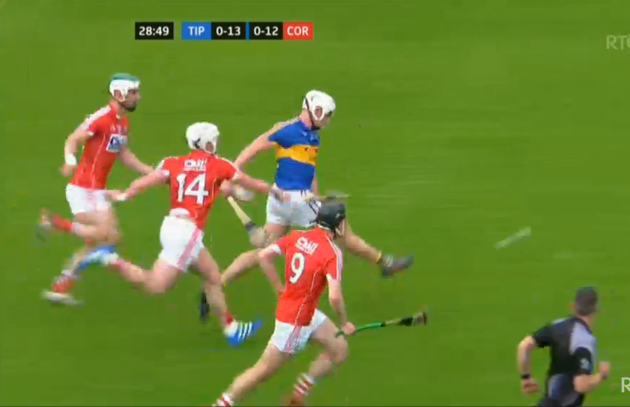 Stephen McDonnell, anticipating the play well, steps out in front of John 'Bubbles' O'Dwyer to collect the ball:
McDonnell now has the chance to lift his head and see what options are available inside: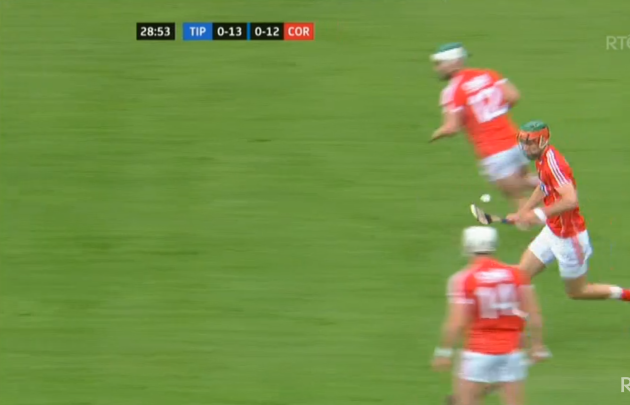 He drops the ball into Cadogan's patch again, and he's hauled down by Cathal Barrett. The resultant free is a Cork point.
I have numerous examples of this aggressive defending from Cork.
In the 21st minute, a high ball was delivered by Ronan Maher and McDonnell was very tight on Noel McGrath.
In the second half, in the 42nd minute, Spillane was out in front of John McGrath and McDonnell latched onto the break.
In the 44th minute, Cork were really aggressive again, with three players around Dan McCormack.
In the 45th minute, there was more brilliant Cork defending again, when Tipp did ask them questions from a 'Bubbles' pass to Sean Curran.
I'll just provide one more, deep into the second half with Cork still defending the way they started.
Niall O'Meara has possession of the ball in the 62nd minute, and is under pressure:
He slips through a gap but he's not free just yet: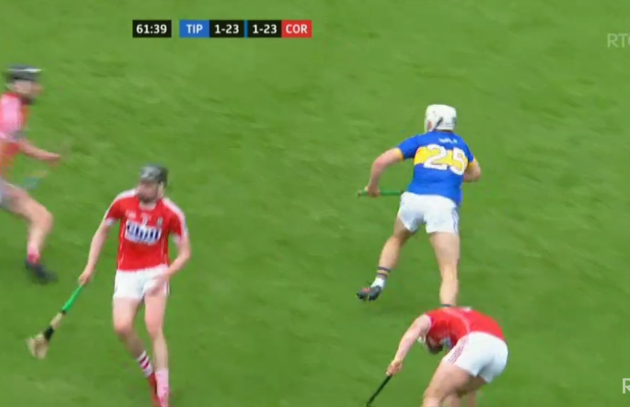 O'Meara slips through another tackler but there are still Cork players hunting him down: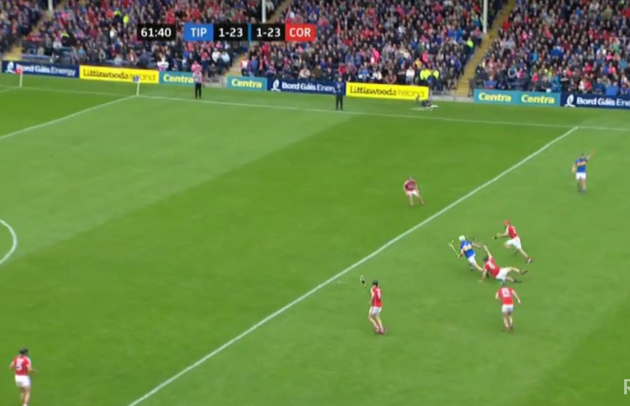 He goes to ground and the ball squirts through to Seamus Callanan: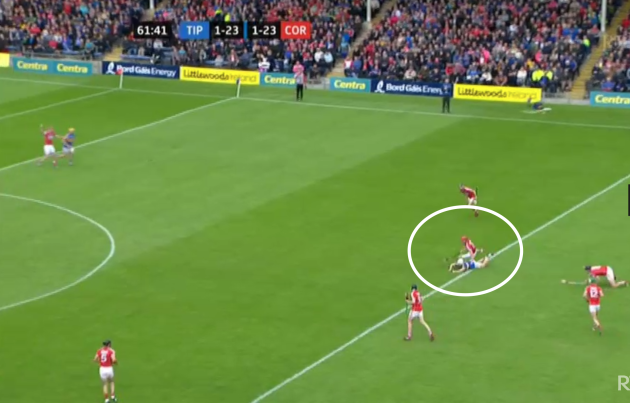 Now it's Callanan's turn to feel the heat: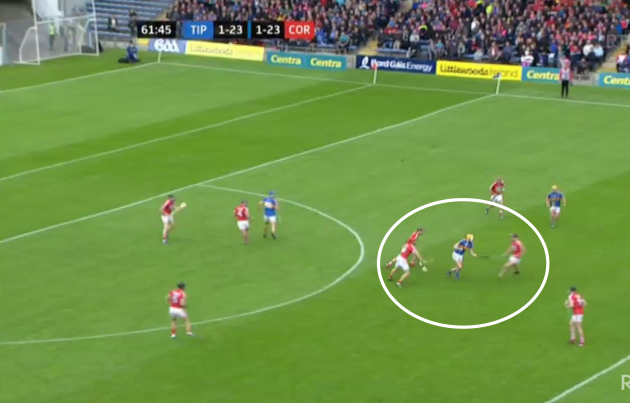 With no fewer than six Cork defenders within yards of him, Callanan goes to ground and Cork clear their lines: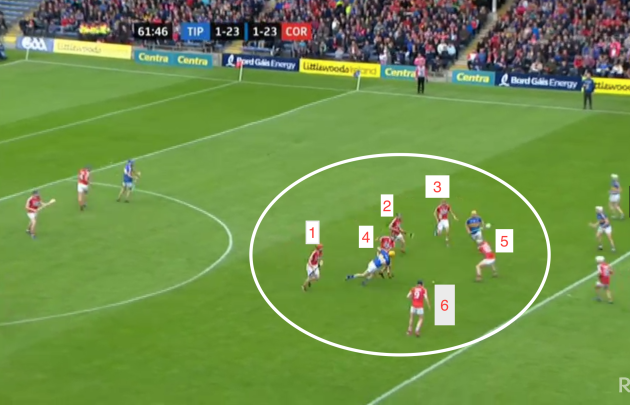 It was non-stop from Cork from start to finish, and one of the game's major trends.
It was a much different approach from the Rebels, compared to 12 months ago, when I illustrated how Tipperary destroyed their defensive system. 
Cork had a covering defender last year but it was a waste of time because nobody was defending their direct opponent in a proper manner.
On the occasions when Cork did use a covering player yesterday, their use of the ball was in stark contrast to the 2016 meeting between the teams.
Better use of possession
There's a brilliant example in the 42nd minute to illustrate how Cork learned the lessons from last year's defensive malfunction.
From a long Pádraic Maher clearance, Mark Coleman (circled) is perfectly placed, in that covering position, to pick up the ball:
Coleman carries the ball down the left touchline: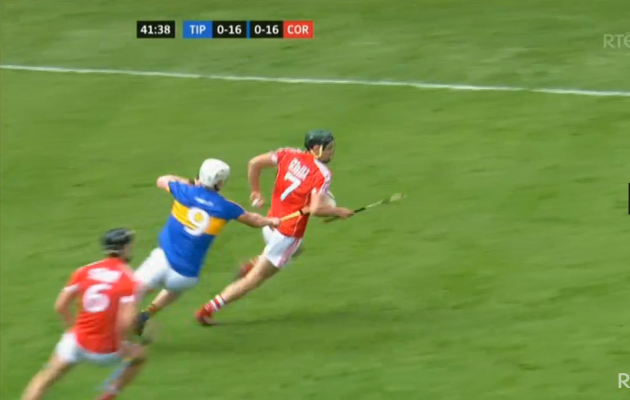 Forced to check back inside, Coleman lifts his head and has a look around to see what's on: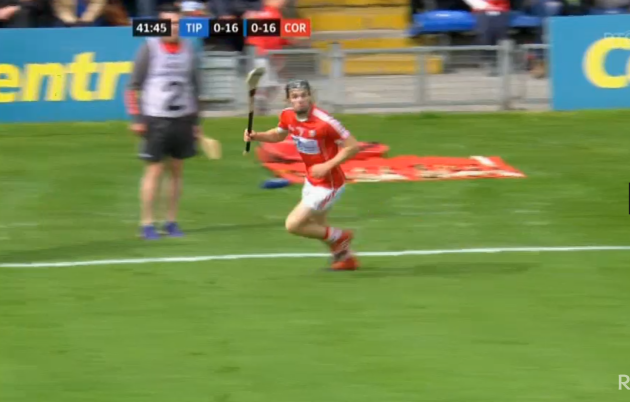 The crossfield pass is to Patrick Horgan, who is on hand to collect, and score a subsequent point:
Simple, effective play and Coleman did it brilliantly. He defended in a proper area, anticipated Maher's clearance, drove forward 30 yards and had the composure to take his time, wheel back inside, head up, and deliver the pass.
The game, in this regard, was played on Cork's terms right from the word go.
The Cork goal arrived from their very next attack and once again, Spillane and Coleman were involved.
Initially, Spillane touched the ball down and Coleman was onto it, before transferring a simple ball inside to Mark Ellis.
But look at how much space that Ellis (circled) has, as he looks up to deliver a clearance: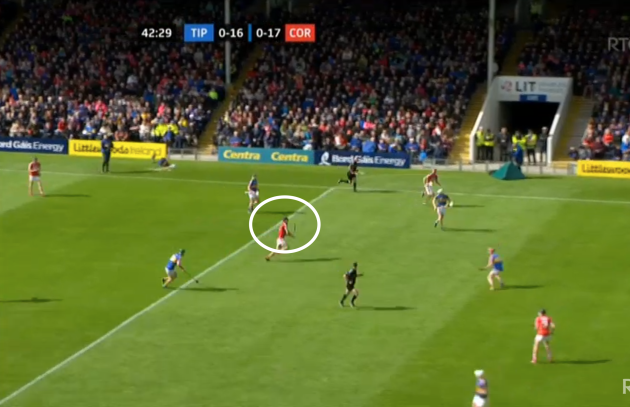 It's a good ball from Ellis, landed close to the touchline and in many ways, reminiscent of the ball that Cathal Barrett delivered for 'Bubbles' in last year's All-Ireland final, when he found himself one-on-one with Kilkenny's Paul Murphy: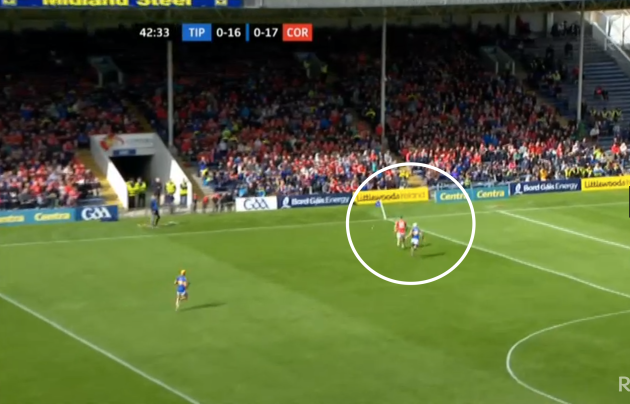 Harnedy trusts himself against James Barry and takes him on: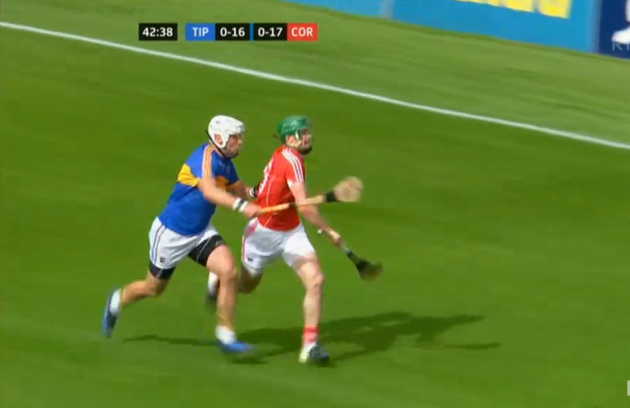 Harnedy offloads inside to Shane Kingston (circled), who's crowded out initially before scoring at the second attempt: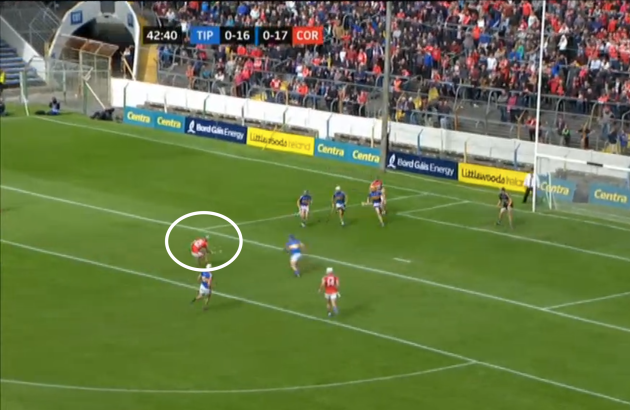 It all stemmed from Cork defenders being allowed to claim possession, carry the ball forward and deliver a ball that favoured their pacy forwards.
There were so many examples of Cork defenders and forwards gathering possession, completely untouched or unchallenged, and playing the game whatever way they wanted, on their terms.
They could go past a man, pick a pass, or shoot and score. This feeds into the next key point that I want to highlight, a complete lack of aggression from Tipperary.
Tipp aggression sadly lacking
As early as the third minute, there was a glaring example of how badly Tipp were off the pace.
Mark Coleman was the instigator with a brilliant crossfield ball to Seamus Harnedy (circled):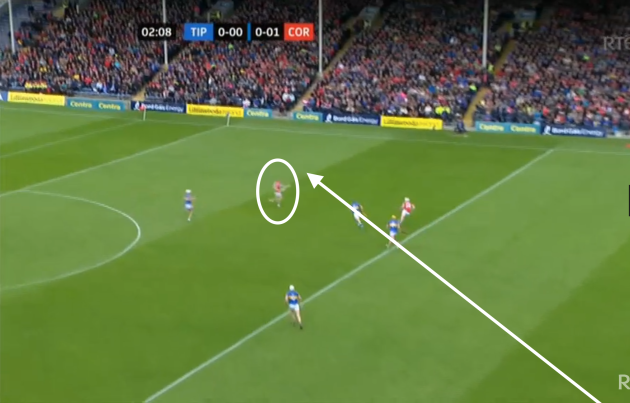 Harnedy's allowed to gain possession completely unchallenged and while, in the next picture, he has three Tipperary men around him, not one of them is laying a glove on him: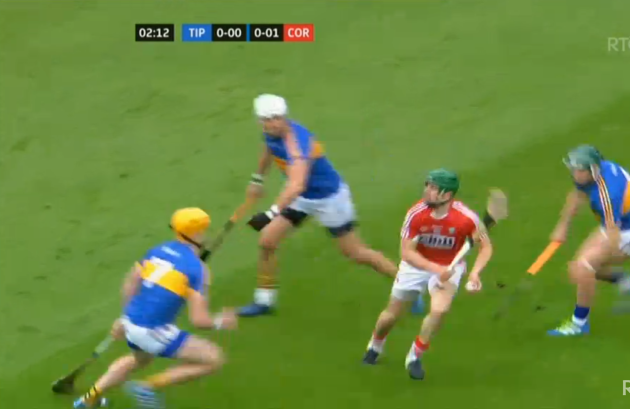 Harnedy makes an angle for himself and prepares to swing the ball over the bar: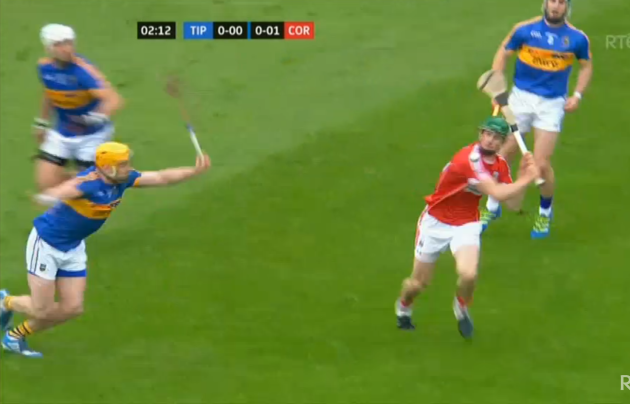 Again, there were multiple examples of this and for me, a critical one followed a bad Pádraic Maher wide in the 16th minute.
First of all, it's one of the rare times when Cork goalkeeper Anthony Nash was poor with his puck-out.
John McGrath's well-placed to pick it off, here: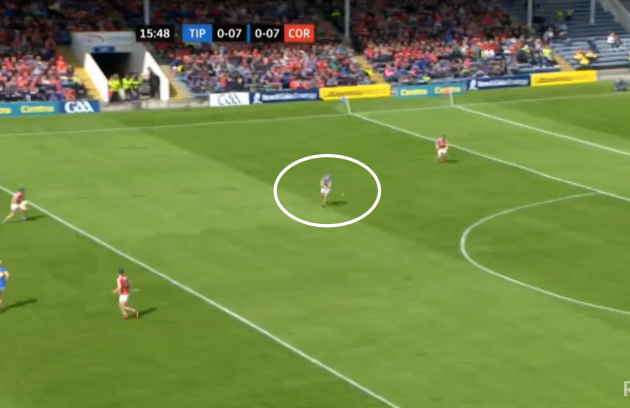 He doesn't and the ball runs through to Christopher Joyce, who can move upfield: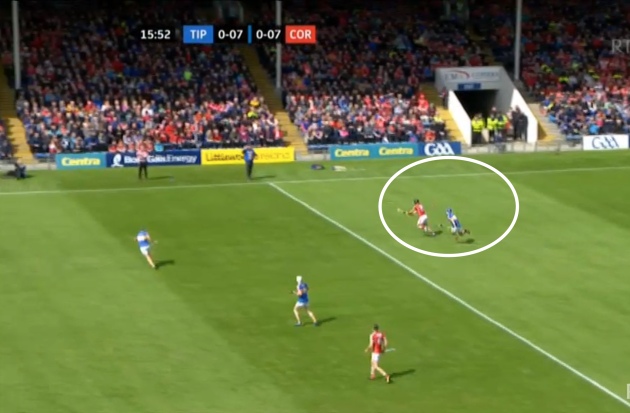 The ball moves on to Darragh Fitzgibbon, with the covering Tipperary player a couple of crucial yards away: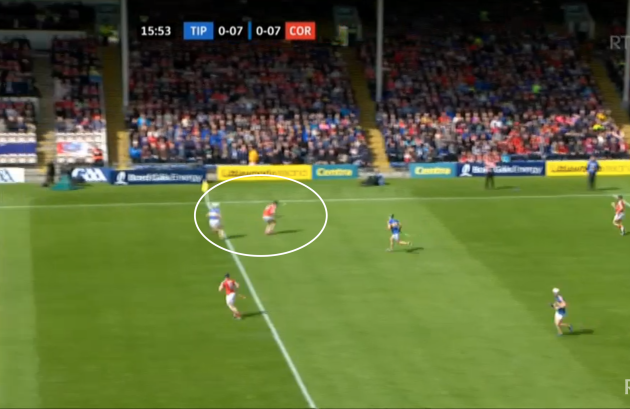 The ball inside to Conor Lehane is overcooked slightly, but the Cork player stretches for it: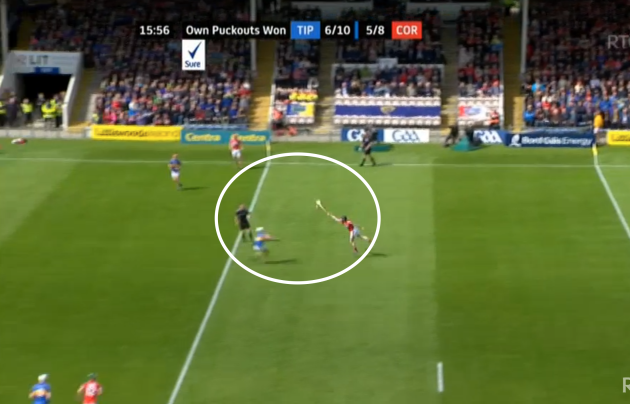 Lehane manages to tip the ball ahead, race onto it and score a point. Here, in the one passage of play and all within a few seconds, Tipp have chances to first of all cut out the puck-out and apply pressure but it doesn't happen.
Look at this next one, in the 19th minute.
A low Nash puck-out goes straight to Darragh Fitzgibbon: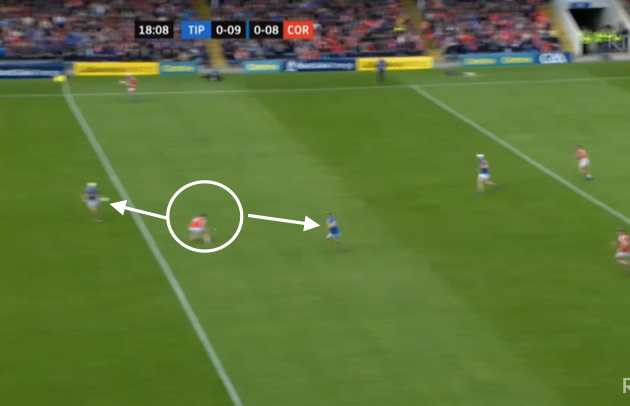 The arrows indicate how loose the two Tipperary players are but the next picture is worse, as Fitzgibbon has run through the two of them:
Fitzgibbon ends up hitting a poor wide and Tipp got away with it on this occasion.
But it was a trend that repeated itself on more than one occasion, and I'll go more in-depth into the role that Nash played shortly.
I noted another puck-out to Luke Meade in the 21st minute, no challenge from a Tipp player.
But it wasn't just defensively or around the middle third where Tipp were falling down in the work-rate department.
In the first minute of the second half, Seamus Callanan is well beaten to a ball by Damien Cahalane: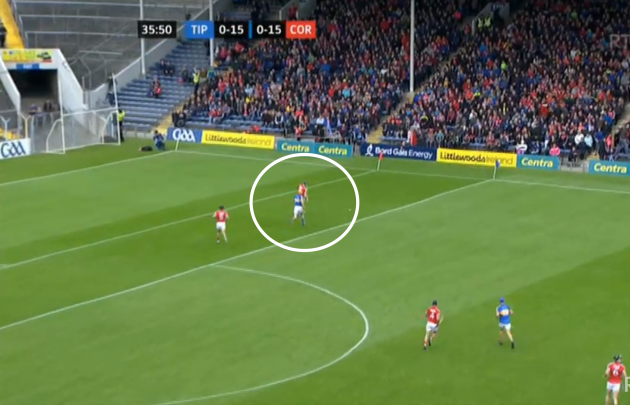 Ok, that can happen, but Callanan doesn't apply enough pressure on the Cork man, as he's allowed to turn back inside: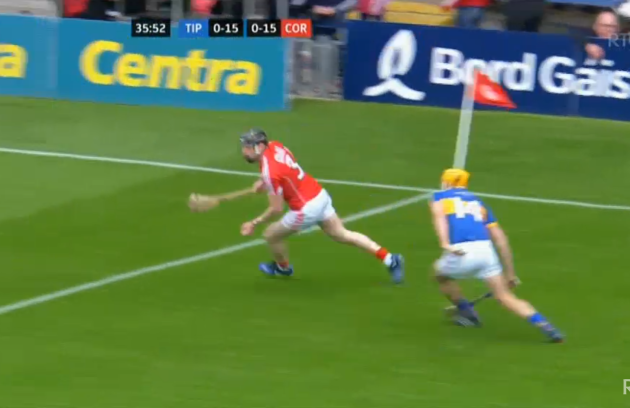 Cahalane has the simple task of picking out a team-mate inside, and Cork are on the move again: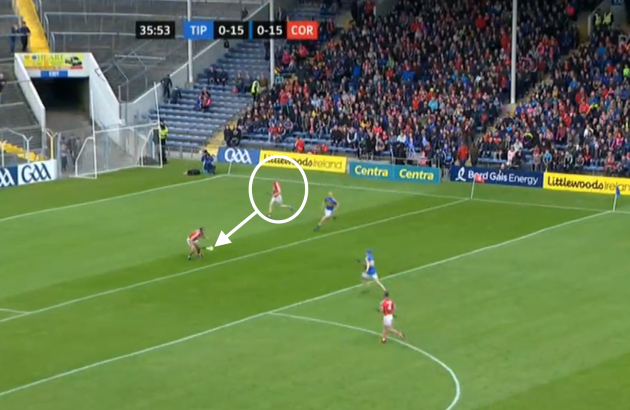 Soon after, look at the positioning of Seamus Harnedy (red circle) and James Barry (blue circle), after Luke Meade drops a ball into space, landing where the arrow is pointed to:
Harnedy wins it, feeds Conor Lehane, but he puts the ball wide. Again, another let-off for Tipp.
As highlighted earlier, Harnedy got ahead of Barry in a foot race to the touchline, gets turned with no challenge, and moved inside him to create the first goal.
Overall, Tipp had no answers to Cork's pace.
Anthony Nash's influence
This leads me nicely to the influence of Cork goalkeeper Nash.
He produced a masterclass in goalkeeping yesterday, mainly from puck-outs but he pulled off some brilliant saves too, an early one from Brendan Maher and a crucial stop before half-time to keep out Seamus Callanan.
There were a few prime examples of Nash puck-outs that led directly to Cork scores, or genuine chances.
I've already referenced one above, when Tipp had chances to first of all cut out the puck-out, before failing to apply the requisite pressure, leading to Lehane's score.
There was the other one I've discussed, when Fitzgibbon collected in the 19th minute before shooting wide.
Here's another one, in the 34th minute, that led to a Cork score.
Fitzgibbon wins possession from the puck-out, here:
Inside to Conor Lehane, with Pádraic Maher struggling to get close enough: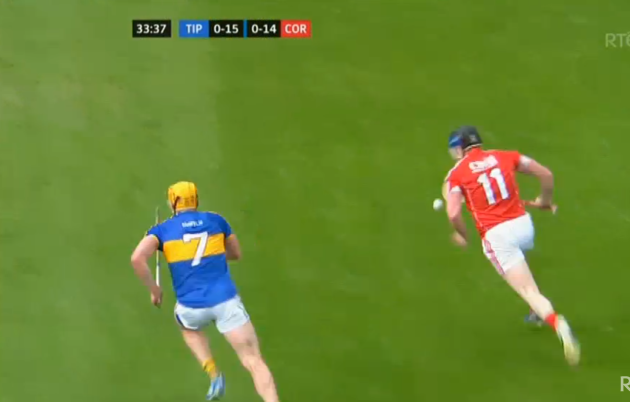 Lehane transfers the ball quickly inside to Cadogan (circled), who's preparing to put the ball over: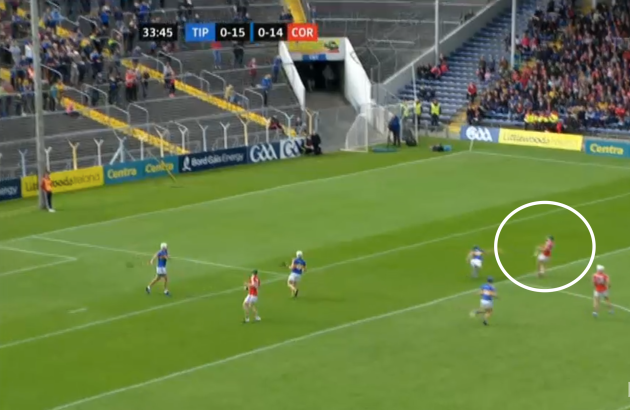 In the next three pictures, it's Nash to Ellis, to Harnedy, to Horgan, and a Cork score: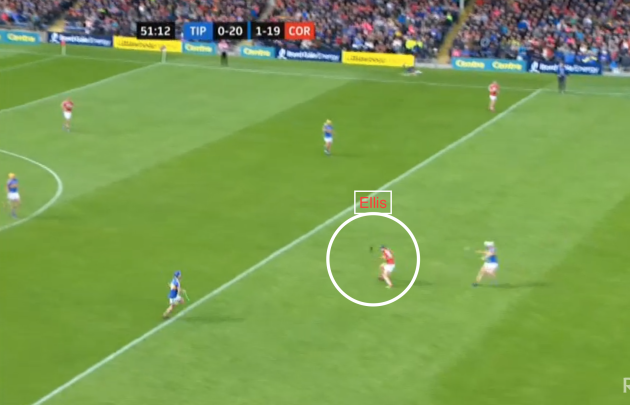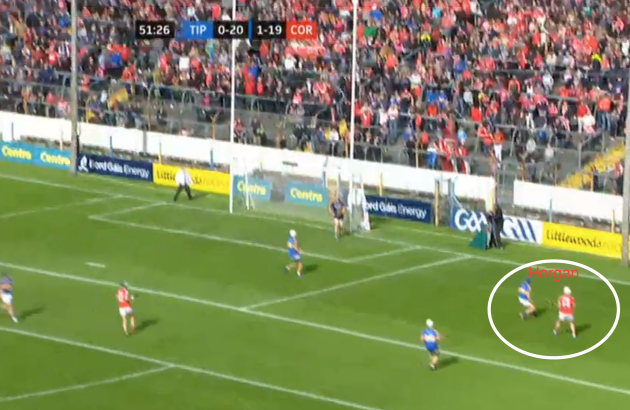 There was a crucial one in the 56th minute, seconds after Tipp's goal, when Lehane equalised from a Nash puck-out.
And here's another vital one, Cork a point down again and Nash lands one into Lehane's hand, before he goes past Ronan Maher and shoots another equaliser:
Conclusion
You just can't take away from this Cork performance, by being overly critical of Tipp.
Cork went about their business incredibly well, played to their strengths with their use of the ball, their cleverness in possession, and how they defended.
Now, they did get away with it a little bit, particularly when Tipp sliced through for a couple of very early goal chances which they didn't take.
There was that Nash save from Callanan before half-time and so, while Cork's defending wasn't perfect, and never will be, comparatively speaking when you consider where it was for the last couple of years, it was much improved.
Defenders were in front of their men, tight on their men, and they had that ability to win aerial ball.
Ellis had a phenomenal second half, Spillane executed those two early catches over John McGrath, and right through, Cork were just really, really aggressive and well prepared defensively to manage Tipp.
They played from the front whereas the Tipp backs couldn't get in front of a Cork forward, and were second to most of the balls that went in.
Good players, when in possession, will punish you and Tipp couldn't lay a glove on Cork.
This defeat leaves big question marks hanging over Tipp and for me, physically, they looked way off the pace.
The42 is on Instagram! Tap the button below on your phone to follow us!