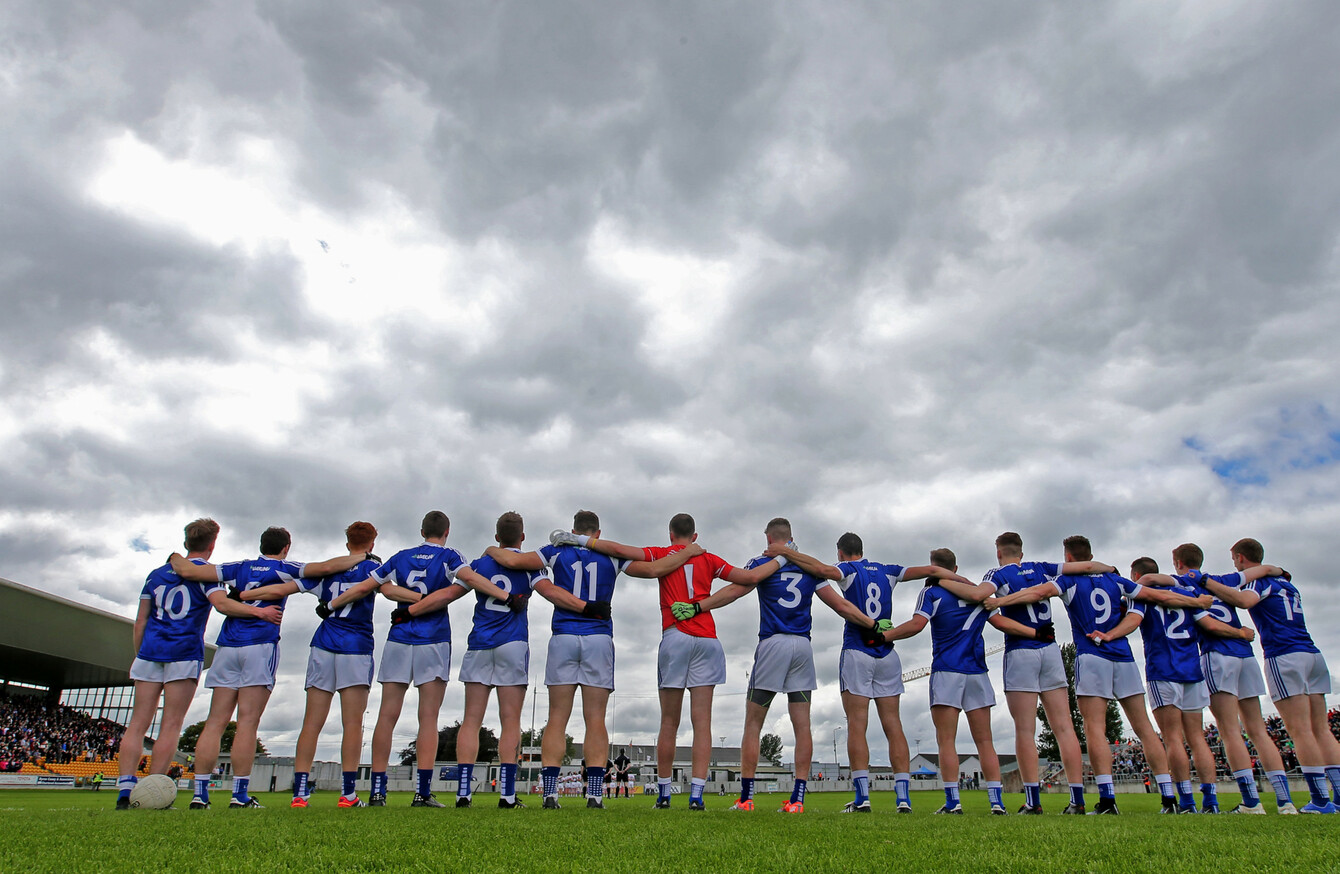 "YOU CAN'T DRINK pints of Guinness and talk shite in a pub, and then play football."
It was the quote of the week and no mistake. Crettyard club delegate John Burke was sharing lurid gossip about the struggling Laois footballers at an explosive county board meeting, but he also hit on one of the great tragedies of Irish life: that three of our favourite things to do can rarely be combined successfully, and certainly not in that sequence.
We may drink pints of Guinness and talk shite. We may talk shite and play football. But all three together? Not according to Burke's Law.
Of course, we can play football, then drink pints of Guinness and talk shite, as long as we win. Just ask the Dublin footballers. A photo emerged on Sunday on a fans Facebook page of the Dubs enjoying creamy pints in the aftermath of their Leinster title win, accompanied by congratulatory comments about how well earned the celebratory stout had been.
So the Laois footballers' only mistake was timing. In the words of Eric Morecambe, they were playing the right notes, but not necessarily in the right order.
The two cases are a reminder of the conflicted place of the demon drink in sport. It is, on one hand, an evil to be avoided, a scarlet temptress, a siren's song that lures many a sportsperson to their rocky demise. On the other, it is the guest of honour at every victory party, the life and soul of the celebration, the just reward for a job well done.
Take Roger Federer, who celebrated his record 8th Wimbledon title with the enthusiasm of a teenager on Junior Cert results night.
"My head is ringing," said the unlikely party animal when facing the press on Monday morning. "I don't know what I did last night. I drank too many different types of drinks I guess," Federer explained, using typical Swiss-German precision to analyse the down side of going on the batter until 5am.
Federer follows in a long line of happy sporting hangovers – see Darren Clarke's groggy press conference after winning the 2011 Open Championship, or Freddy Flintoff weeing in the garden of 10 Downing Street after the 2005 Ashes. That Flintoff subsequently suffered problems with alcohol abuse is a reminder that some can find it hard to tell when the party should stop.
Be part
of the team
Access exclusive podcasts, interviews and analysis with a monthly or annual membership.
Become a Member
Drink is both Dr. Jekyll and Mr. Hyde when it comes to sport, with winning the transformational potion between the two. Prior to the British and Irish Lions' decisive third Test against the All Blacks, the tourists were allowed to let their hair down in Queenstown, the adventure playground of the backpacker set. Photos of the bungee and booze interlude were shared on social media, provoking worry among Lions greybeards.
"I saw one or two posts of a couple of lads having a beer mid-afternoon," said Brian O'Driscoll on Newstalk. "I'm all for having a few beers, that's fine but there's no need to promote it to the world and let everyone know." This was a milder wording of Burke's Law, but following the Lions draw-that-felt-like-a-win in Auckland, the Queenstown jaunt was seen as a man-management masterstroke.
The role of boozy bonding sessions long been a part of Republic of Ireland squad folklore, but former Ireland goalkeeper David Forde cast a cold eye on these antics while speaking on the Second Captains podcast last week. Forde, now teetotal, found the atmosphere of beery bonhomie within the Ireland set-up oppressive and unprofessional.
"When I first got into that team, I knew it was so wrong," Forde said of the drinking culture. "But because I just wanted to fit in and be part of that group, I was so desperate to be in it, I actually betrayed certain parts of myself."
Ireland players from successive generations have pinpointed the role played by squad socialising in forging team spirit. But the revelation that not everyone was in the mood for the party somewhat waters down the idea that the team that drinks together, wins together.
Still, often the recipe for success does include a dash of the hard stuff. There's the story of the subject of socialising coming up at a Kilkenny hurlers team meeting at the height of their glory years. One zealous young player slammed their fist on the table and and said "Thirteen weeks to the All-Ireland lads, that's it – we're off the drink!"
A sharp intake of breath followed before an experienced and highly decorated older player stood up and began to count on his fingers "That's a Leinster semi, Leinster final, All-Ireland semi," said the veteran, listing the sessions to be sacrificed. "Sorry, no chance." To the relief of his team-mates the motion of abstinence was defeated.
While it may not have been the smartest move, a handful of Laois players indulging in a few drinks before a game probably wasn't the root cause of their struggles this season, if it really happened at all. There are few answers to be found at the bottom of a pint glass, and that includes the problems facing Laois football.
In sport, drink is blamed too much for defeat and enjoyed too much in victory. It is neither the devil's buttermilk nor the elixir of success, meaning Burke's Law can be replaced by a simpler slogan: Everything in moderation – including drinking pints and talking shite.
The42 is on Instagram! Tap the button below on your phone to follow us!