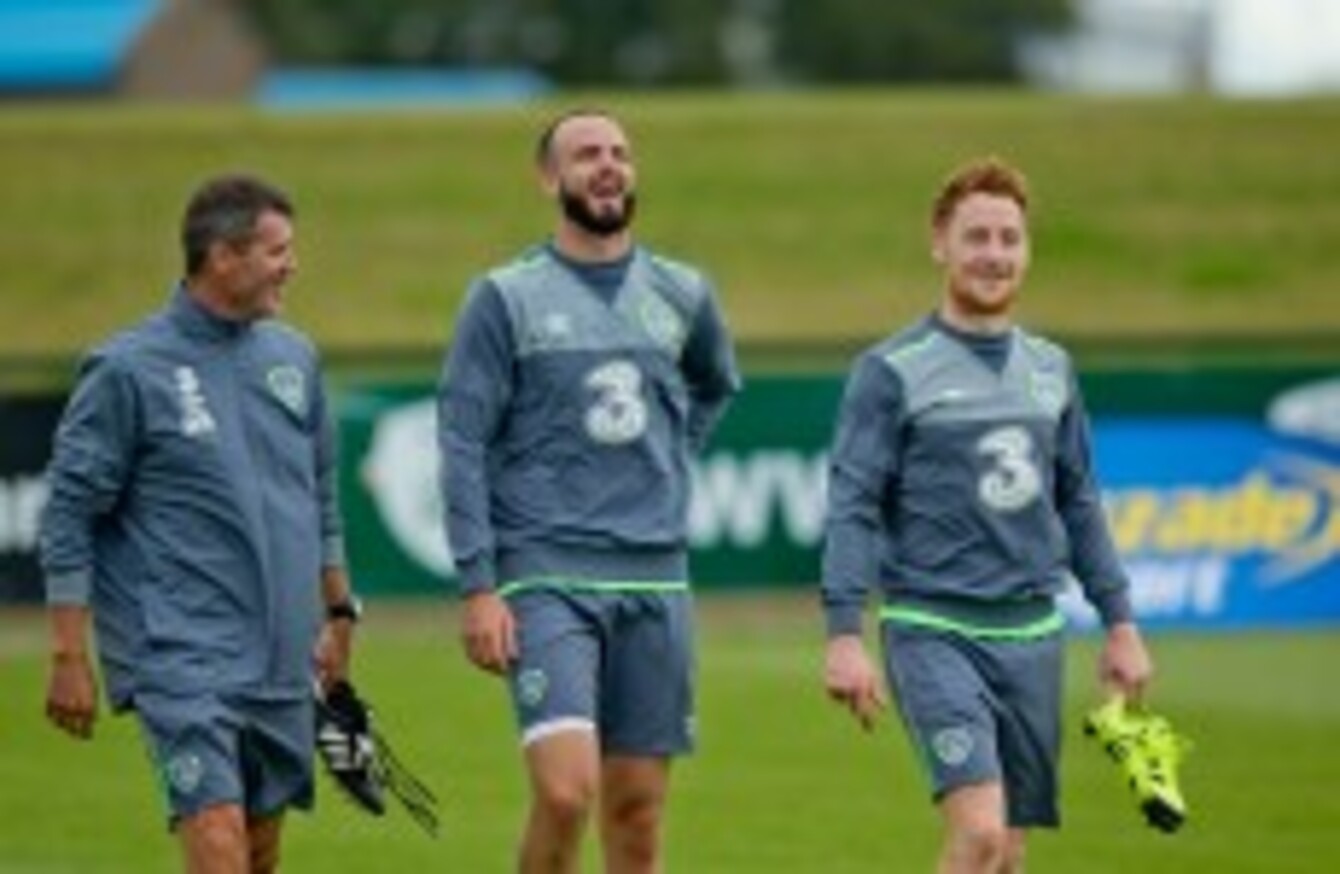 Roy Keane, Marc Wilson and Stephen Quinn enjoy the new facilities.
Image: Morgan Treacy/INPHO
Roy Keane, Marc Wilson and Stephen Quinn enjoy the new facilities.
Image: Morgan Treacy/INPHO
IF YOU BUILD it they will come.
The FAI's field of dreams – or the National Training Centre in Abbotstown, part of the rapidly burgeoning National Sports Campus – opened for business on Monday. Or, at least, big business, in the form of the Republic of Ireland men's squad, who stretched their groins and loosened their hamstrings on the new sod for the first time (the women's squad had first dibs a few weeks previously).
They flocked from all around the embryonic citadel of sporting excellence, executives and office staff, tracksuited coachy types and fluorescent-jacketed security men alike, all to see actual sportspeople, at last, walk among them.
"It's looks proper. It's like somewhere someone like, I don't know, Germany might train in," I told a colleague on my return from Abbotstown, in a moment of lucid, searing insight.
That's not to say dear old Malahide was a dilapidated hovel by comparison. The Gannon Park pitch always looked like a little piece of Augusta National in north Dublin to my uneducated eyes and that's before you took in a lungful of the bracing sea air.
But if Irish football does have a happy-ever-after future ahead of it, the new digs will do no harm. Six floodlit pitches — five grass, one artificial — will be abutted (let's go full estate agent on this) by a modern pavilion which houses four changing rooms, a lecture theatre, a classroom, and a fully-equipped kitchen area.
A national indoor arena will arise from the muck near where Martin O'Neill gave his pitchside media sermons this week and the shared expertise of the campus (GAA and IRFU have similarly swanky set-ups in development nearby, as do Athletics Ireland among others) will presumably benefit all.
I asked O'Neill whether the new surroundings might lift the players training performance any, in the way you might sit up straight and behave yourself in your auntie's good front room on a childhood Sunday. A patently stupid question — though not my stupidest — given that even the most ergonomically designed workplace will not help James McClean cross the ball any better or James McCarthy channel Paul Pogba or Shane Long become the Jimmy Greaves we keep telling him he needs to be.
O'Neill entertained the theme though, in the way he tends to when he's not cranky or feeling a liberty is being taken. "You may very well be on to something, but on the other hand probably not, but then I suppose why not. But yes, no. I'm joking of course. Yes, but probably no…," or words of that sort.
For O'Neill — a resolutely here-and-now rather than build-for-the-future manager throughout his career — the sleek architecture of Irish football's new performance palace is mere window dressing.
The squad that the Abbotstown staff have gathered to watch train, as they scuff their shots and hoof their passes too long, is what he has to deal with for the qualifiers against Gibraltar and Georgia.
SEE SPORT
DIFFERENTLY
Get closer to the stories that matter with exclusive analysis, insight and debate in The42 Membership.
Become a Member
In a week in which even the All-Ireland hurling final has struggled to draw down its rightful share of the public's attention, with Mayo v Dublin and rugby matters rudely butting in, a qualifier against Gibraltar is many miles off-Broadway.
But these two games are the last chance for O'Neill and his squad to somehow repossess the psychic energy of a qualifying group which has drifted away from Ireland. Positive performances and helpful results elsewhere — essentially, a major Scottish stumble — and October might get interesting.
But watching Ireland's current squad in the new complex is to juxtapose a vision of the future with the reality of the present. The FAI can be criticised about many things and have questions to answer on any number of subjects but are clearly not the blundering comedy troupe of yore. The new training centre and a recently unveiled Player Development Plan are among a number of initiatives in the effort to one day have an international squad to match the world class facilities. Let's hope it works.
Yet getting to that point is a challenge to dwarf even that facing O'Neill and co. in somehow getting the team back into Euro 2016 qualifying contention. Vested interests in Irish football — governing body, national league, schoolboy leagues, junior club structures, etc. — collide like tectonic plates, unwilling to yield for the greater good, fixed in self-preservation, making change impossible.
And even if can you change everything, will it work? Maybe our kids are too lazy, rich and Playstation fixated. Maybe we have too many competing sports. And what is success anyway?
Look at Wales. Why expend all this effort on a national strategy for developing players? Maybe we just need a national strategy for developing a player. Just one. Take a long-limbed, ruddy-cheeked youth, feed him up and have him run up down all those new fields in Abbotstown kicking a ball until he's good enough to drag us into a major tournament.
Imagine the crowds that would come to watch him train.