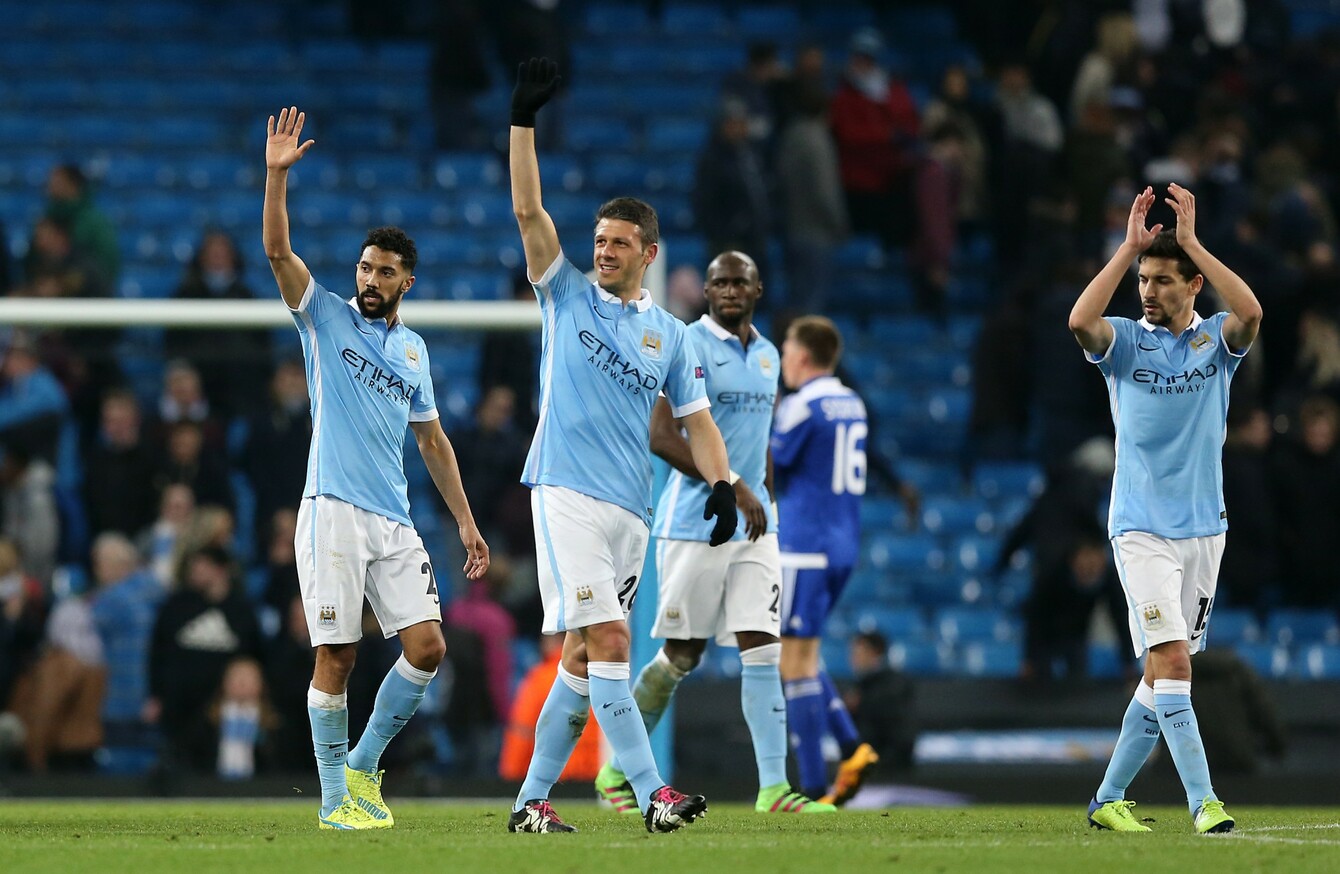 Manchester City's players celebrate their qualification for the Champions League quarter-finals.
Image: PA Wire/Press Association Images
Manchester City's players celebrate their qualification for the Champions League quarter-finals.
Image: PA Wire/Press Association Images
"SEE, THE PREMIER League is like The Hangover."
We were talking in the office about the struggles of English clubs in the Champions League these days, and one colleague's movie analogy was as good as any.
"The Hangover. It's a great laugh, great fun, loads of people love it, but it's not going to win you any Oscars, is it? You want an Oscar, you go for your…Schindlers Lists, you know?"
This guy doesn't go to the movies that often these days. But hey, let's update the references a bit and run with it.
The Premier League is more like football's Star Wars: The Force Awakens, with its $2billion in worldwide box office.
Now, Chewbacca and co. have some way to go before matching the Premier League's new TV deals, totalling more than US$8billion worldwide, but the comparison stands. The world loves watching these big, exciting, pop-culture blockbusters.
But when it comes to Oscar time, popcorn-scoffing takes a backseat to chin-stroking, with worthy stuff like Spotlight, The Revenant and Room allowing Hollywood to pretend it prefers character development to lightsaber duels.
Now, while the movie business, in truth, values cash in the till over statuettes on the mantelpiece, in football the Champions League remains the only barometer of real worth.
Manchester City are the only English team in the quarter-finals, an improvement on last year's last-eight no-show, but few expect them to pick up the top gong come May. It looks like rotten tomatoes for the Premier League again this season.
The Oscars are supposed to recognise things that the box office charts don't care about: intelligence, creativity, craft. Something similar happens in football.
The Premier League has all the explosions and car chases you want; it is football's Fast & Furious series. But the Champions League looks for something more thoughtful, and too often recently have the English productions been badly-cast, poorly directed and featured gaping, defensive plot-holes.
In Hollywood terms, the Premier League is one of those major studios spending millions on special effects, while skimping on the scripts.
Judging by wage bills alone, England's big clubs should be comfortably among the Champions League quarter-finalists.
A report published last year by Sporting Intelligence and ESPN The Magazine listed the top eight payers in European football thus: PSG, Real Madrid, Manchester City, Barcelona, Manchester United, Bayern Munich, Chelsea and Arsenal, while the Deloitte Football Money League is topped by the same eight clubs, based on annual revenue.
And as with Hollywood, where studios become creatively bankrupt with the sheer ease of churning out money-spinning superhero franchises, so too did the easy wealth of the Premier League lead to its current problems.
Manchester United's decline happened under the stewardship of the Glazer family, American vulture capitalists who leveraged debt to buy the club, ramped up its commercial power and sat back to enjoy the profits, oblivious to the decay of its football infrastructure.
Arsenal too have suffered from a barely interested American majority shareholder. Stan Kroenke can see the handsome bottom line that being a Premier League club in Europe's richest city provides, which is why he has allowed Arsene Wenger's eccentric running of the football operation to continue with minimal oversight.
Greed too attracted the Hicks and Gillette regime to Liverpool, who have never recovered as a European force from their hapless spell in ownership.
What are they
really like?
Rare insights on sport's biggest names from the writers who know them best. Listen to Behind the Lines podcast.
Become a Member
Because the owners of Chelsea and Manchester City wanted to legitimise petrochemical empires rather than generate easy cash, they've tended to be less negligent on the football side.
Still, having lots of money hasn't stopped City from wasting plenty of it, while Chelsea have repeated a classic Hollywood studio mistake: milking a once-successful format dry. Jose Mourinho's time as manager resembles Adam Sandler's movie career: a simple, winning formula that people grew tired of, to the point of irritation and then deep loathing.
"Nobody knows anything. Not one person in the entire motion picture field knows for a certainty what's going to work," wrote screenwriter William Goldman in his classic Hollywood memoir, Adventures in the Screen Trade. "Every time out it's a guess and, if you're lucky, an educated one."
That just about sums up the last five years of English clubs in Europe. But it may be changing. In the late 1960s Hollywood was forced to abandon the swords-and-sandals epics, cowboy romps and camp musicals that had served it so well.
Responding to a desire for cinema that reflected a time of great social change, a generation of brilliant young directors was allowed to make some of greatest movies of all time, critically and commercially. Francis Ford Coppola, Martin Scorsese, William Friedkin, Roman Polanski, George Lucas and Steven Spielberg emerged from this era.
Leicester City have been English football's Bonnie and Clyde, the low-budget 1967 sleeper hit that sparked the New Hollywood era.
And next season some of the Premier League's top clubs will be led by football's version of those young auteur directors: Pep Guardiola, Antonio Conte, Jurgen Klopp, Mauricio Pochettino, with further changes possible elsewhere. After the dumb blockbusters of recent years, English clubs are going highbrow. Will awards in Europe follow?
Nobody knows anything, remember?
The42 is on Snapchat! Tap the button below on your phone to add!