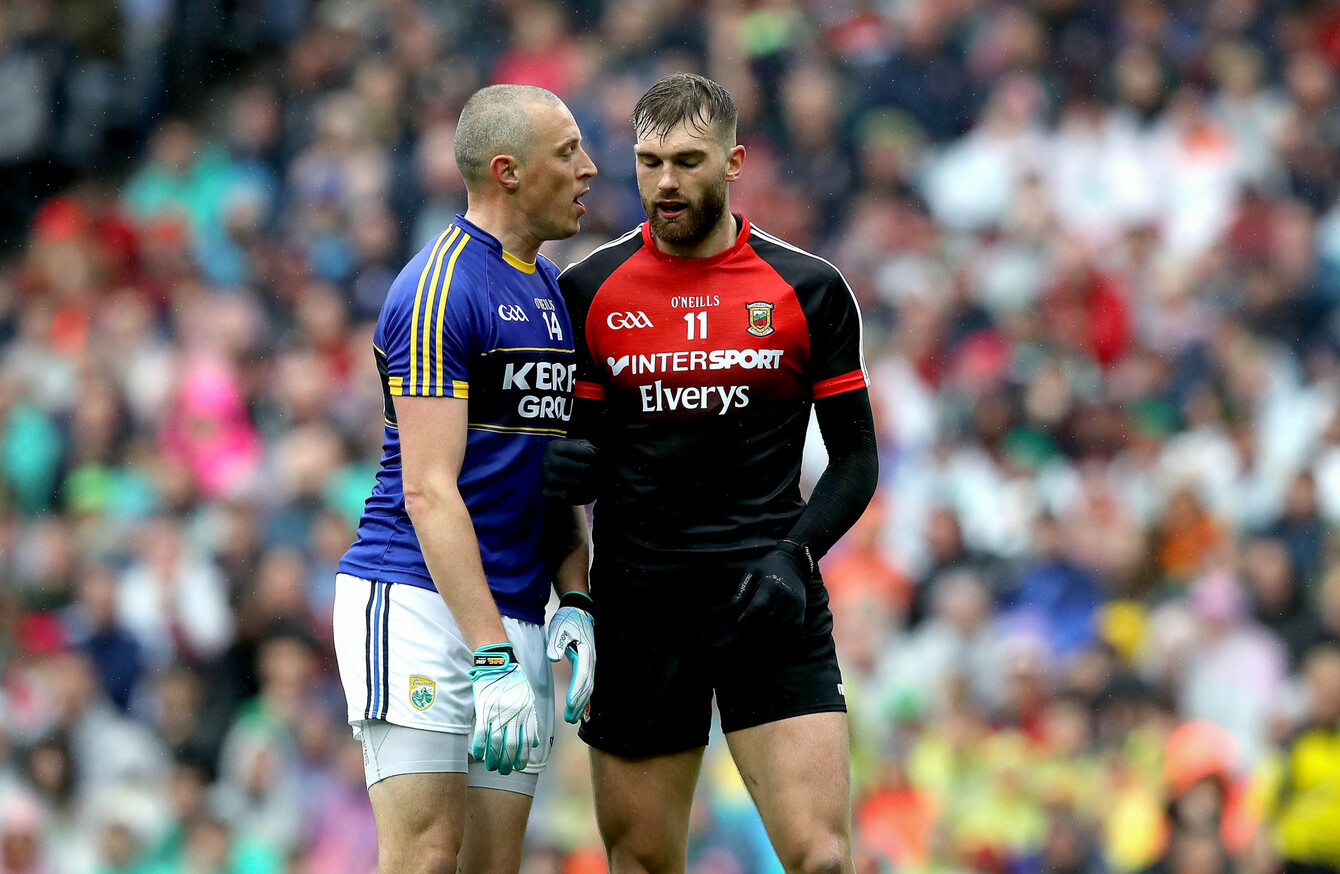 Donaghy and O'Shea at Croke Park last weekend.
Image: Ryan Byrne/INPHO
Donaghy and O'Shea at Croke Park last weekend.
Image: Ryan Byrne/INPHO
Updated at 12.00 
IF HISTORY IS written by the victors, what happens when it's a draw?
The thought came to mind this week after the epic battle between Mayo and Kerry, and in particular the keynote skirmish involving Aidan O'Shea and Kieran Donaghy.
In the immediate aftermath there seemed no doubt: Putting O'Shea on Donaghy was one of the great strategic blunders of all time, like Hitler invading Russia, David Cameron's Brexit referendum, or that time Ed Sheeran was in Game of Thrones.
The pundits were unanimous. "Donaghy was the most influential player… Aidan was all over the shop," said Joe Brolly. "A bizarre decision," declared Colm Cooper.
Ciaran Whelan delivered his verdict in that familiar grave style of a Garda telling a mammy that little Johnny had been caught shoplifting. "It didn't work," he said, removing his hat and speaking softly, "it was a brave call that failed badly, and it's something they're going to have to look at the next day."
Eamonn Sweeney in the following day's Irish Independent had no such regard for sensitivities. "When it comes to big tactical calls, Mayo are lions led by donkeys," he wrote, invoking the famous description of World War I British infantrymen sent to their doom by the claret-quaffing buffoons of High Command.
And even for those of us who would not claim to be experts in Gaelic football's tactical niceties, it seemed an open and shut case. O'Shea already looked like he needed a full system reboot by the time Donaghy galloped away from him to set up Stephen O'Brien for Kerry's first goal.
And when Donaghy grabbed his only point of the game later on in the first half, wheeling away from a totally discombobulated O'Shea, the makeshift full-back resembled a vanquished combatant in Robot Wars — spinning uncontrollably, gearbox in flames, awaiting the fatal blow of Sir Killalot's lance.
But even as the ink dried on the initial savaging of Stephen Rochford's big call, something was afoot. Tuesday morning saw Jim McGuinness — whose gig assessing the football championship for the Irish Times has survived a change of code, country and now continent too — give Rochford his seal of approval.
"This was an example of lateral thinking; of being willing to think outside the box and try something different. It takes guts to do that and particularly in an All-Ireland semi-final," said the man who shocked the GAA world back in 2011, with, one presumes, a modicum of self-awareness. "And I think it worked to an extent."
While McGuinness pointed to the shutting down of the airspace above the Mayo square, others went further. In a piece headlined Why Rochford Got It Right, The Irish Daily Star's Karl O'Kane described criticism of the manager as "severe, ill-informed and totally out of order," before mounting a well-argued defence of the move. And another heavyweight GAA scribe, John Fogarty of the Irish Examiner, referred in his Tuesday column to "Aidan O'Shea's stilted [if not terribly disappointing] assignment at full-back."
What we were getting was a dose of good old-fashioned revisionism. Agincourt, the Napoleonic Wars, Blur vs Oasis — all the great historical conflicts are subject to changing perspectives after decades of laborious academic research. But you have to hand it to Donaghy and O'Shea — they'd got the full treatment within 48 hours.
It was hard to know what to think. Yes, there was the fresh memory of O'Shea stumbling around the Mayo rearguard like a drunken teenager who's just realised he's staggered into his parents' bedroom. But then there was the general flow of the game, with Mayo the better team despite being underdogs. And, most importantly, there was the result: bizarre decision or lateral thinking? The draw meant both sides could make their case.
But then, what is revisionism but an attempt to declare history a draw?
Take the lions and donkeys of World War I. Revisionists say that history gave the blundering British generals a raw deal (though admittedly not as raw as the one the unfortunate soldiers got) by not considering the poor standard of military communications at the time, as well as the sheer, bloody, messy madness of the whole thing.
Which is not an altogether inaccurate description of Croke Park on a day like last Sunday. The fact is that, as William Goldman once wrote of Hollywood, nobody knows anything. Nobody actually knows for sure if playing O'Shea at full-back was an act of self-harm by Mayo to rank high on a long and miserable list.
Or if O'Shea, by shutting down Donaghy's aerial threat, spared Mayo a catastrophic blitzkrieg of goals, took the sting out of Kerry's full-forward line and, by his absence, allowed Andy Moran and Cillian O'Connor the space to thrive at the other end.
This week's debate has shown that, like the historical tussles subject to endless revisionism, football matches are complicated things, with so many unintended consequences accompanying every manager's decision or player's action that what transpires is surely governed by chaos theory as much as any tactical masterplan, never mind a simple division of lions and donkeys.
But the result gives us a nice, neat outcome to make sense of the whole thing and to decide — a little too conclusively — who got it right on the day.
And whoever wins gets to write the history. Pens at the ready.
Subscribe to The42 podcasts here: