It's not you Joe, it's us. We've been here before. There was Eddie. He was a bit like you… controlling… in a nice way! But it didn't end well. Then there was Declan. He made us feel… safe. But that kind of fizzled out. Why do we keep making the same mistakes all over again?
Are we falling out of love with Joe Schmidt?
It seems incredible that just six months ago most of us would have trusted the man with almost anything — coaching us to World Cup glory, landing a jetliner in a thunderstorm, delivering our first child — on the back of his achievements with the Irish rugby team.
We had flickers of doubts, of course. Murrayfield apart, we had won the 2015 Six Nations with IKEA rugby: practical and functional, as long as you carefully followed the instructions. For the World Cup we kinda, sorta knew we might need something a little bit more sophisticated. But we quickly reassured ourselves. Joe would have something "up his sleeve".
There were some things up his sleeve, but nothing we hadn't seen before. After an anaemic performance against Italy, Ireland destroyed France with the sort of blitzkrieg rugby that had been so successful at Leinster. But the resulting injury toll meant we couldn't really put our finger of judgement properly on the subsequent quarter-final defeat to Argentina.
Still, we were finding it harder to ignore the doubts. Joe went on the Late Late Show after the World Cup and talked about the injuries and said there wasn't really anything that might possibly have been done better, and where before we would've shrugged and said "well if Joe says so!", now we weren't so sure.
The Rugby World Cup has a lot to answer for in Irish rugby. For us, it's like a nuclear bomb: there's the explosion itself and then the toxic aftermath. Not only do we fail, but the failure seems to pollute the landscape for months to come. Eddie O'Sullivan's descent from high priest to pariah was accomplished frighteningly quickly after the debacle of 2007. Just seven months after getting a four-year contract, he was gone, never to work in Irish rugby again.
Declan Kidney lasted a little longer after 2011, hanging on until the abject 2013 Six Nations. 2011 wasn't even that bad, but Brian O'Driscoll's recent comments about the quarter-final defeat to Wales suggest a fatal fracturing between coach and players.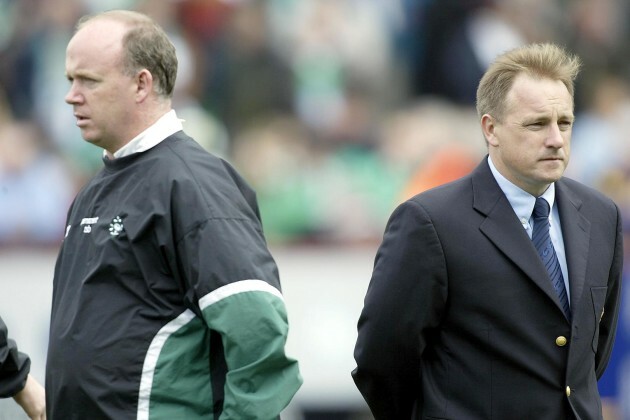 INPHO Declan Kidney and Eddie O'Sullivan. INPHO
"I think we had a really bad attack shape and we didn't have a full understanding as to how to get the most out of players," he told Off The Ball last October. "That's where coaching becomes such a huge aspect."
Deccie's decline started then.
"You can see what really good coaching is doing to this [current] Ireland side," O'Driscoll added that night. It's amazing how quickly views, post-World Cup again, have changed. Even O'Driscoll's. Speaking again on Off the Ball, this time after the defeat to France last month, O'Driscoll wondered whether Ireland's lack of offloading was due to Schmidt's over-censorious video review sessions.
Exclusive Six
Nations Analysis
Get Murray Kinsella's exclusive analysis of Ireland's Six Nations campaign this spring
Become a Member
"Joe's philosophy is 'It's the right offload if it goes to hand'. Well sometimes that can't be the way. You're going to lose a few offloads here and there, but… high risk, high reward."
O'Driscoll touches on a common criticism of Schmidt: that his intense focus on detail and accuracy and prescriptive coaching style has choked any sense of self-expression out of the players. That Carton House has become a battery farm, churning out frightened, clucking little rugby hens, afraid of their own shadows.
There's been a definite attempt to be more expansive in this Six Nations, but often the moves have seemed forced and lacking in spontaneity, like a slightly embarrassed newsreader on Strictly Come Dancing. Shane Horgan, writing in the Sunday Times, put Ireland's meagre tally of two tries in three matches down to "small deficiencies in execution, slightly clouded decision-making". Video session gold.
And then there's the view that Ireland's lack of flair extends to Schmidt's writing up of team-sheets. Take some of the comments on this site's story about Schmidt's squad selection for the Italy game: "Sick of this shite"… "You'd nearly become depressed with these team selections"… "What a joke".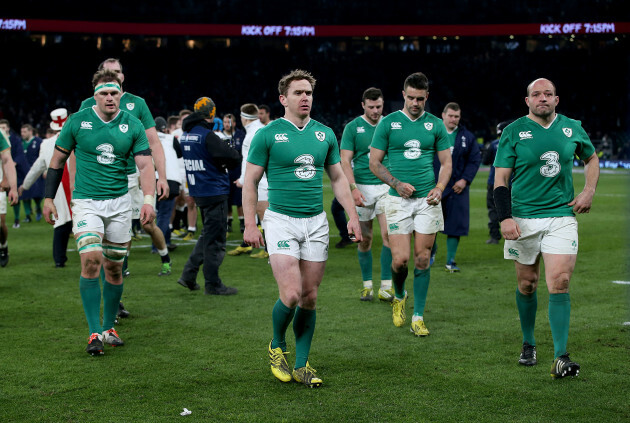 Dan Sheridan / INPHO Dejected Ireland players after the recent defeat to England. Dan Sheridan / INPHO / INPHO
Despite keeping Josh Van Der Flier in the team and Ultan Dillane in the 23, the decisions to drop Stuart McCloskey, return Jared Payne to centre and persist with Ian Madigan and Fergus McFadden on the bench reeked of 'boring old Joe' for the critics.
So is Schmidt inexorably losing our affections just like O'Sullivan and Kidney did? It feels like it, but let's hope not. Perhaps he can balance the need to evolve the style of play and personnel with the need to get wins on the board. Perhaps he can manage the transition from the O'Connell/O'Driscoll era and find a way to succeed without the supermen. Maybe the arrival of Andy Farrell will bring some heavy metal to the chamber music of the current coaching set up. Maybe Carton House will become less like a CIA psych-torture camp and, who knows, maybe we might see an offload or two.
But let's just catch ourselves before we push another coach down the rubbish chute. Are we really doubting whether Irish rugby's greatest ever coach deserves the chance to lead us, wherever we are heading, as he sees fit?
"There's a little bit of a transition period," said Schmidt after the defeat at Twickenham. "We're building past that hopefully. But don't lose faith that we won't keep building and hopefully that will be sufficient to keep people enthusiastic about what we do in the next two games."
Give him time. He can change. Can we?
The42 is on Snapchat! Tap the button below on your phone to add!