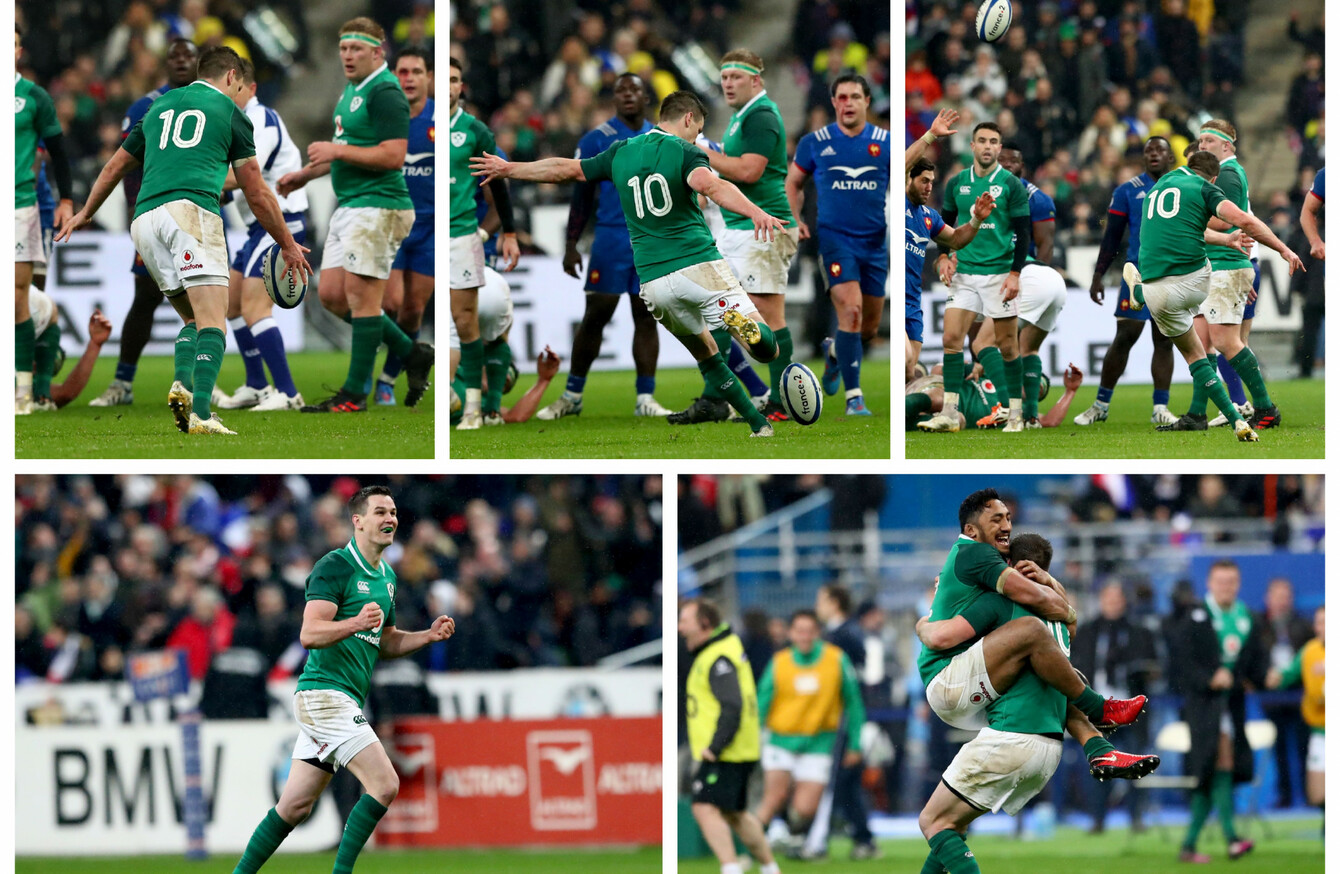 Johnny Sexton kicks the winning the drop goal.
Image: James Crombie/INPHO
Johnny Sexton kicks the winning the drop goal.
Image: James Crombie/INPHO
LET'S HOPE HIS budding bromance with Leo Varadkar did not lead Canadian prime minister Justin Trudeau to watch Ireland's Six Nations opener last weekend.
The famously right-on Trudeau made the headlines this week when he corrected a woman campaigning for the status of female-centred churches after she made reference to the "future of mankind".
"We like to say 'peoplekind', not necessarily 'mankind', because it's more inclusive," Trudeau tut-tutted. The incident provoked a minor gender wars skirmish, the doe-eyed Canadian premier drawing fire from both sides, accused of 'virtue-signalling' on one hand, and 'mansplaining' on the other. The rest of us just thought he was being bit silly.
Anyway, Leo's mate would have been back on the offensive pretty quickly had he watched Ireland's dramatic victory over France. It was not Jonny Sexton's remarkable drop goal that would have bothered the pontiff of political correctness, but rather the aftermath, dominated by two unmistakeably non-gender neutral characters.
I speak, of course, of Sexton's testicles, those magnificent orbs, the size of which, as well as their likelihood of being constituted of some sort of metallic substance, was the dominant subject in post-match discussion.
"The stones on Jonny!" exclaimed a breathless Rob Kearney in his pitchside interview with the BBC, bringing an earthiness to Auntie's rugby coverage not heard since Bill McClaren used to wax lyrical about Hawick sheep farmers in the Scottish back row.
"Johnny Sexton – Balls of steel" tweeted Aidan O'Mahony, a man who knows all about this sort of thing, having done the Paso Doble on national television in very tight trousers.
By Saturday evening Sexton's family jewels were trending on Twitter, with one particularly memorable meme depicting the heroic out-half in cartoon form carting his hideously swollen reproductive glands around in a wheelbarrow.
If he was watching Trudeau would surely have turned to Michael Bublé (I'm just presuming they're mates and hang out together all the time) and wondered why this soaring example of sporting excellence was automatically being associated with the ultimate symbols of masculinity. Why, he might have speculated, furrowing that gorgeous brow and angrily spilling the maple syrup, must such moments belong to mankind, and not 'peoplekind'?
(At this point Bublé breaks into song, and Justin forgets about crushing inequality for a few blissful moments).
Testicular fortitude was also on the agenda at Anfield the next day, as Tottenham manager Mauricio Pochettino paid tribute to Harry Kane. "To score 100 Premier League goals, you need big, big balls," Pochettino speculated, after Kane had reached that milestone with a nerve-shredding penalty to earn his side a draw with Liverpool, just moments after missing an earlier spot kick.
Pochettino follows in a proud tradition of South American scrotal obsessives. "I want to thank the mothers of these kids," said Atletico Madrid coach Diego Simeone after his side won through to the 2014 Champions League final, "because they were born with balls this big" [hand gesture miming two ripe watermelons].
Look, no-one's saying that Rob Kearney was deliberately striking a blow for the patriarchy by extolling Sexton's masculinity at the moment of triumph. Neither are Argentinian soccer managers, awestruck at their players gargantuan gonads, actually claiming that sporting character can only be revealed by the contents of a man's underpants.
It's just an expression, of course, part of the lexicon of sport. Modern sport was largely invented and codified by Victorian headmasters keen to stop young boys playing with themselves, and ever since has been used by men to measure other men. So moments of nerveless derring-do are ballsy, pundits extol the virtues of 'manliness' and if you don't like it, well, it's a man's game.
Except it's not any more. Maybe it's the influence of the Trudeau doctrine, but it feels a bit weird to have the male unmentionables clanging around loudly when the shifting landscape of gender equality is such a hot topic in the discussion of sport. What if Niamh Briggs slots over a winning drop goal for the Ireland women's team in the last seconds of their next Six Nations match? What's the go-to anatomical area in that situation?
It might seem like petty semantics, but the idea that top players depend on large vats of testosterone-fuelled bravado to pull off their big moments is inherently sexist, and ignores a few salient facts. Sure, men produce more testosterone, which promotes the risk-taking needed at crucial, match-winning moments. But they also endure higher spikes in cortisol, the stress-producing hormone, meaning that women are more likely to make better decisions under pressure.
A recent academic study entitled "Choking Under Pressure and Gender", which examined over 4,000 Grand Slam tennis matches for both genders, came to the conclusion that top female players were statistically more likely to come through in high pressure situations, or, as we might say, display more 'balls'.
When it comes to the big moments, 'clutch' athletes depend more on mental preparation, visualisation and hours and hours of repetitive practice than reservoirs of swaggering machismo.
Sexton's drop goal was more about what was between his ears than between his legs, as Justin will no doubt point out next time he has Leo over for a singsong with Bublé.
The 42 is on Instagram! Tap the button below on your phone to follow us!