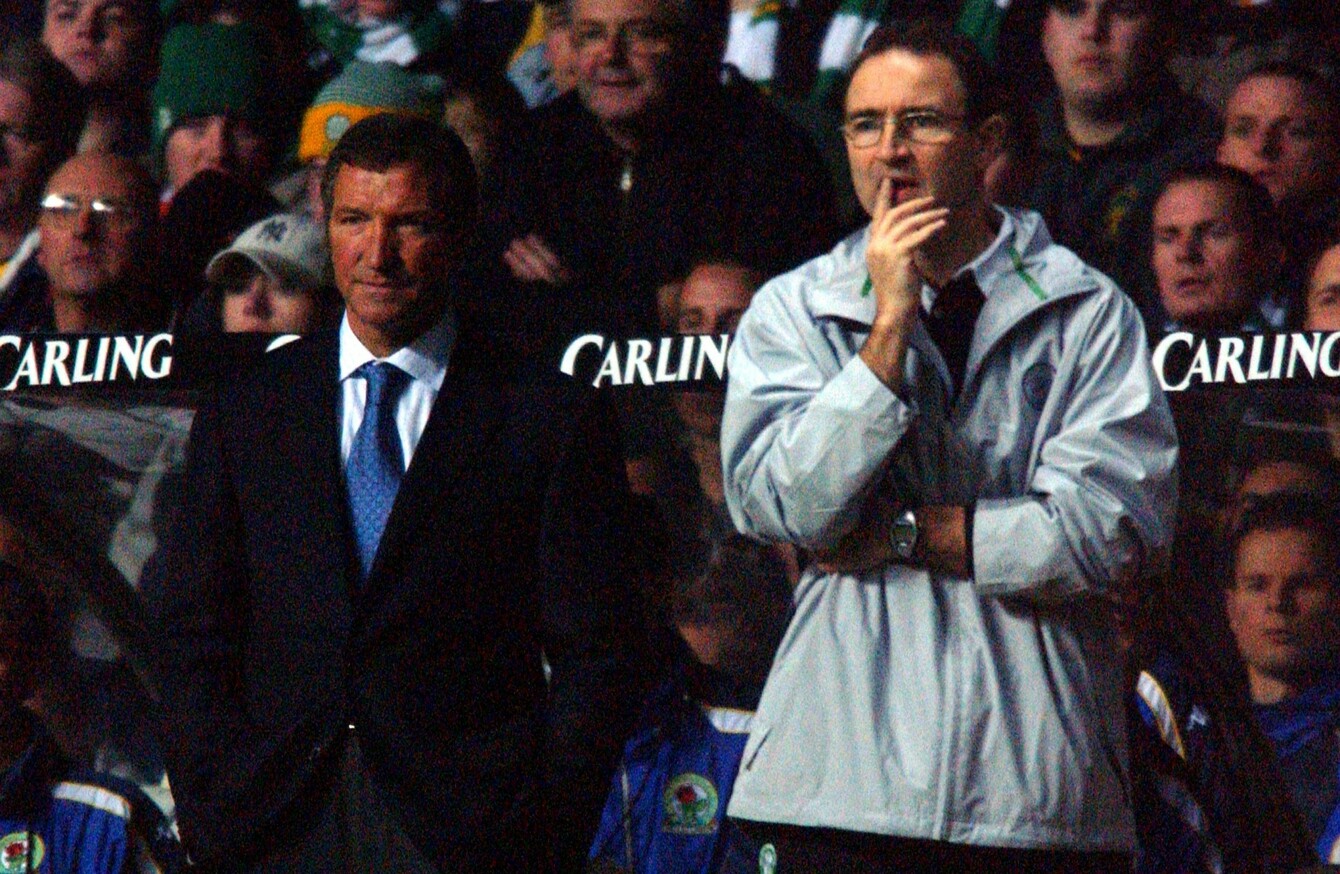 Blackburn Rovers' manager Graeme Souness and Celtic's boss Martin O'Neill watch on in a UEFA Cup match in 2002.
Blackburn Rovers' manager Graeme Souness and Celtic's boss Martin O'Neill watch on in a UEFA Cup match in 2002.
"JUST IMAGINE THEM in their underwear" is my wife's not particularly helpful advice for dealing with big Champions League night nerves.
"But good God darling…it's Harry Redknapp tonight!" I reply, horrified.
Thankfully, composing yourself to work with well-known football figures doesn't really require any such mental techniques.
We're talking about middle-aged men in suits here, not Taylor Swift or Lady Gaga. As with most things in life, tea is key.
Even though they may have bestrode the great arenas of Europe in their playing days, once you've heard someone order a cuppa they seem pretty normal. After "milk…two sugars…nice and strong please!" it's impossible to be starstruck.
Before last Tuesday's program, however, I did find myself momentarily forsaking cold professionalism and taking a step back. It wasn't that there was anything special, as such, about working with Graeme Souness, who had been a studio guest on several occasions already, and Martin O'Neill, who I had dealt with on a number of occasions since he became Ireland manager.
It was that they were together, in the same room, at the same time.
You see, this pairing brought the two extremes of my football self crashing together in a potentially cataclysmic collision. For a boyhood Celtic fan Souness, during his time as Rangers manager, was the Dark Lord, the ultimate enemy; O'Neill was the great bespectacled redeemer, who delivered us from evil and led the Parkhead tribe to the promised land.
What would happen when they met? Would the colliding energy fields short-circuit my entire football brain map, wiping away everything? Would I be left with no set of values about the game, or worse, become a Chelsea fan?
For most kids in the 1980s Darth Vader was the number one bogeyman. Gargamel and Skeletor were up there too. For me though, it was Souness.
He arrived at Ibrox early in my football consciousness, mustachioed, permed and sneering. He brought with him a brigade of Sassenach mercenaries who would crush all before them and subject the Hoops to a decade of misery. They were blue-shirted, tight-shorted, grizzled killing machines and Souness was the ruthless warrior king, Govan's Vlad the Impaler.
O'Neill, on the other hand, was the white knight. Celtic had stopped Rangers winning 10 league titles in a row in 1998, but that only served to spur the Ibrox overlords to push for greater dominance.
"For every fiver Celtic spend, I will spend ten!" trumpeted their chairman David Murray (unwittingly presaging the amounts of both clubs' current actual transfer budgets). When O'Neill arrived at Parkhead in the summer of 2000, Rangers had just spent £16.5 million on Tore Andre Flo and Ronald De Boer and, dismissive of their Scottish fiefdom, had their sights on Champions League glory.
"I promise, I will do everything I can to bring success to this football club," O'Neill told the downtrodden hordes on his arrival at Celtic Park in July 2000.
Deliverance came soon, just over a month later. The 6-2 victory in O'Neill's first Old Firm derby was the moment when the pain stopped. The balance of power shifted and would never return; the dark days were over.
O'Neill was at his peak: inspirational, charismatic, at once charming and infuriating. He was for Celtic everything Souness had been for Rangers: a symbol, a totem, a seal of success.
So how could they share a green room in an Irish television studio? All this psychological energy, all this historical import; these were surely more gods than men; what would befall us mortals when their forces collided?
"Have you been away, Graeme?"
"Just doing a bit of work in Doha. Got back yesterday. Been away yourself, Martin?"
"I'm just back too, a few days' holiday. Very nice. Just got back this morning in actual fact…Excuse me, could I get a cup of tea? Just milk please."
"One for me too. Milk, one sugar. Thanks."
Sometimes you wonder what the point of it all is, all the loving and hating part of being a sports fan; these passions and loyalties that occupy such huge swathes of our emotional landscape.
It turned out that Martin O'Neill wasn't the messiah, Graeme Souness wasn't Darth Vader and that actually, there's no baddies and goodies in football.
When you meet them — preferably in a situation involving tea — they're mostly just blokes doing a job, trying to get on as best they can for themselves and their families. Some of them are good at it, some of them aren't. Some of them are decent guys, some of them are assholes. Just like the rest of us.
Maybe knowing that takes the edge off the mad fun of being a supporter, but there it is.
As we've learned in recent years, the bad guys in sport tend to do their stuff well away from cheering masses. Corrupt administrators, doping doctors and rapacious businessmen are the real malign forces.
As far the good guys, how about the other studio guest on Tuesday night? Brian Kerr's lifelong devotion to Irish football is well-known; his absence from any position of influence in the game here is widely mourned.
He and a few of us chatted about that subject on Tuesday night long after Graeme and Martin left and his concern and passion burns bright.
Sometimes it's no harm to meet your heroes, and your villains too. And you don't really need to picture them in their underpants.
- First published 07.30